Ramstein repeats as D-I champion
by
Marni McEntee
May 23, 2004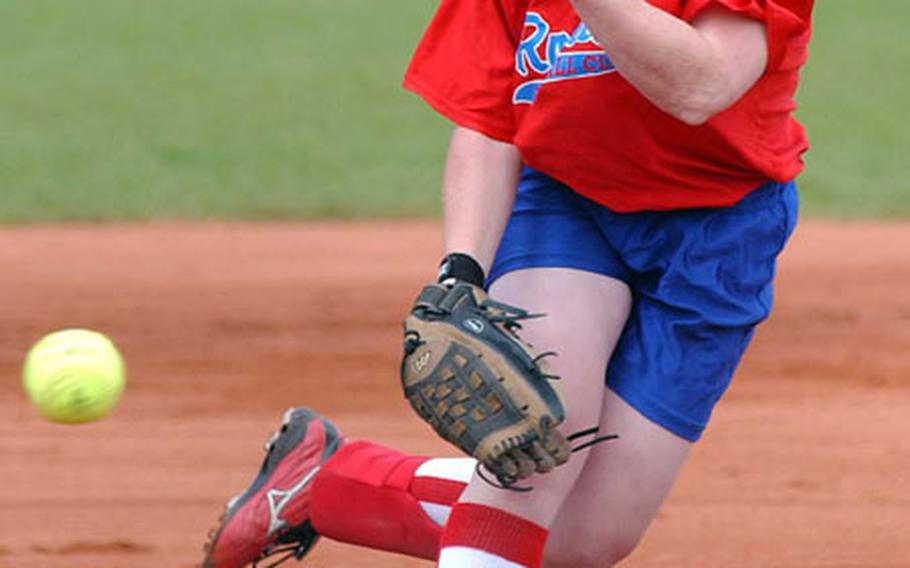 RAMSTEIN AIR BASE, Germany — The Ramstein Lady Royals steamrolled their way to a 10-0 victory over the Wiesbaden Lady Warriors to claim their second straight Division I softball championship on Saturday.
The Lady Royals scored two runs in the first inning and had a 5-0 lead when junior shortstop Victoria Apodaca expanded the bulge with a three-run triple in the second inning.
"Our team needed the hits and we got 'em," Apodaca said. "This whole tournament, we pulled together as a team on defense as well as offense."
Tatreka Polite drove in two runs in the bottom of the sixth inning for Ramstein.
Standout senior pitcher Jenn Morton, who gave up just one hit, said she liked ending her high school years with a shutout.
"We were unstoppable," Morton said.
The Lady Warriors entered the tournament with a 4-8 overall record and a 2-6 mark in the division. Warriors coach Candie Lopez said pitcher Melissa Mueller had to work through the game with a sore shoulder. She is the team's only pitcher.
"She [Mueller] really gutted it out," Lopez said. "[The players] have nothing to be ashamed of considering the shape they were in."
Despite the loss, Mueller said the team's advance to second place in the division was a victory.
"I'm just glad we came from fourth place to second place over the weekend," she said. "They're [Ramstein] just a good team. They deserve it."
Ramstein coach Kent Grosshuesch said his team had been dominant the whole year, but losses to Heidelberg and Lakenheath had made them more determined.
"A little adversity just made them stronger," Grosshuesch said.