D-I football final
Ramstein regains title after strong second half
by
Gregory Broome
November 3, 2018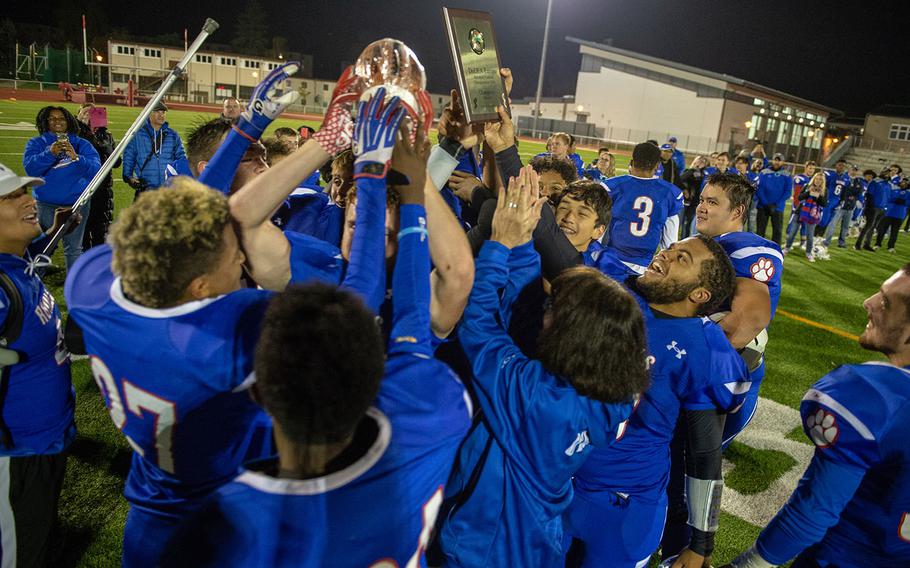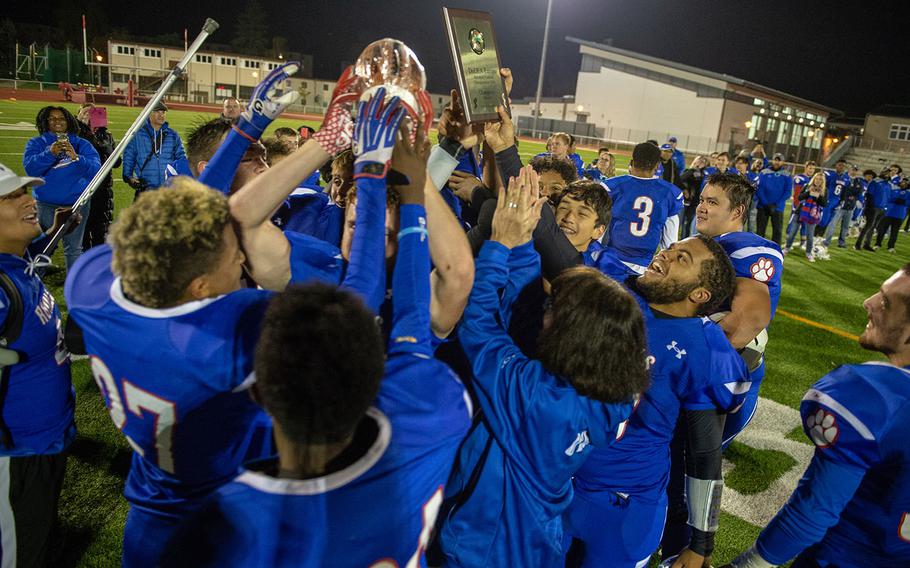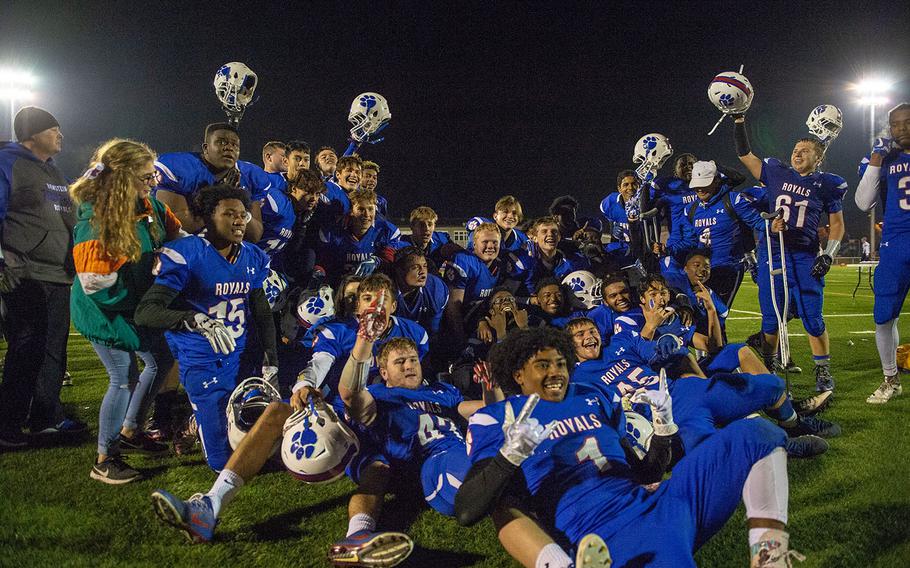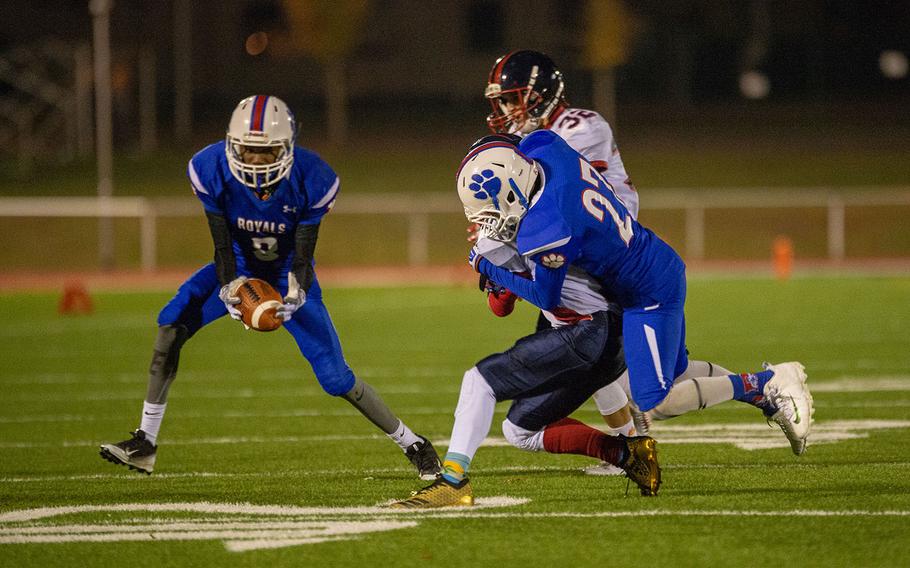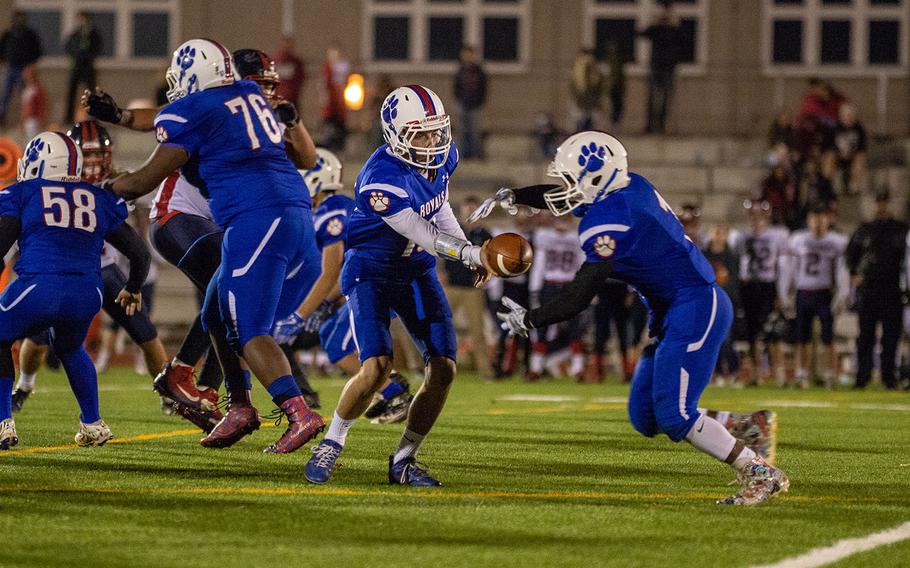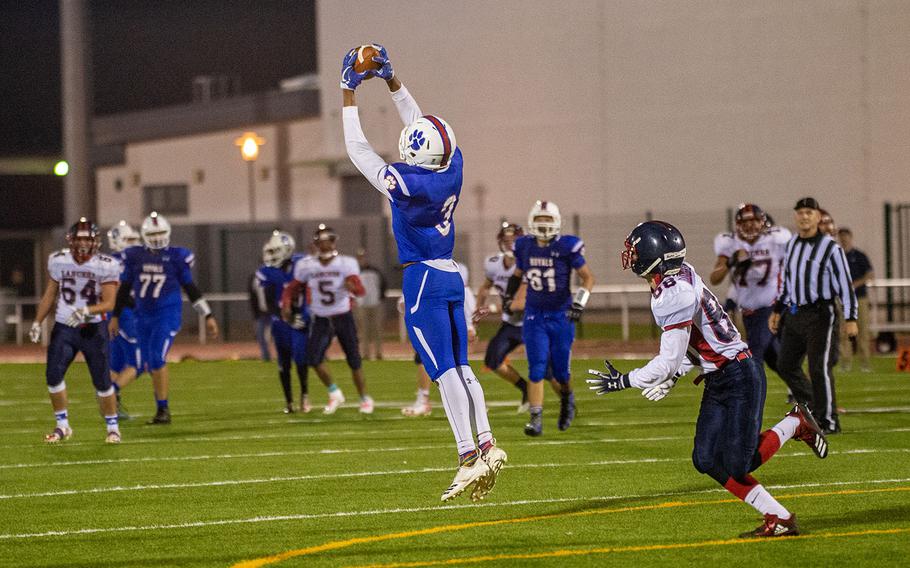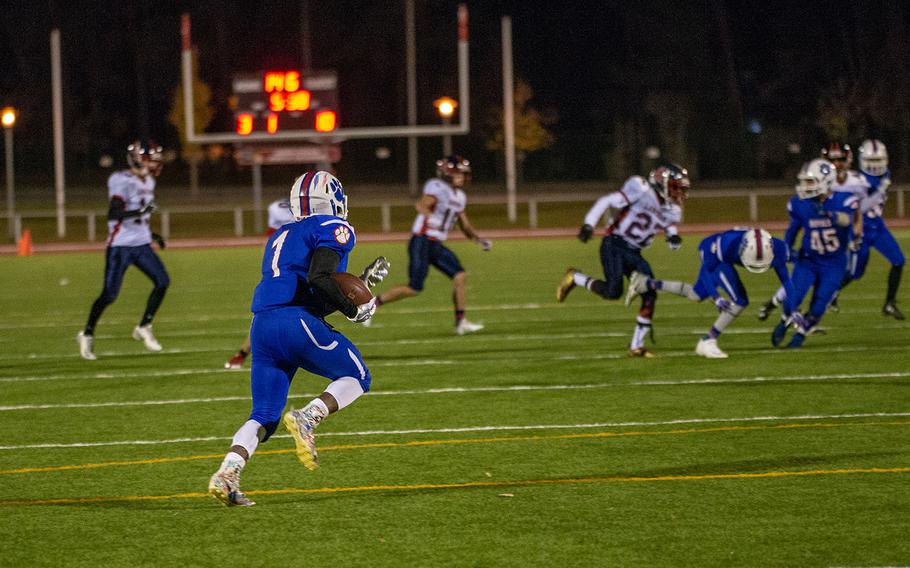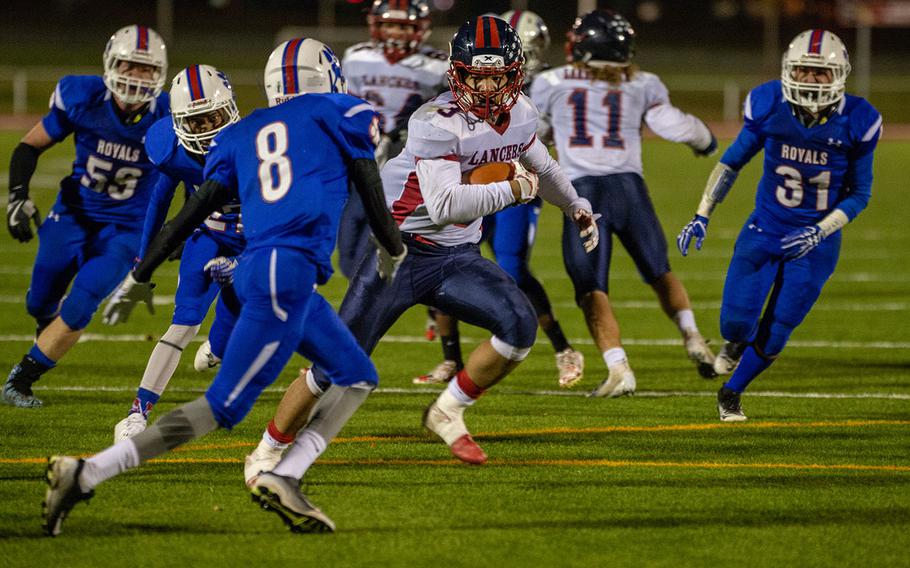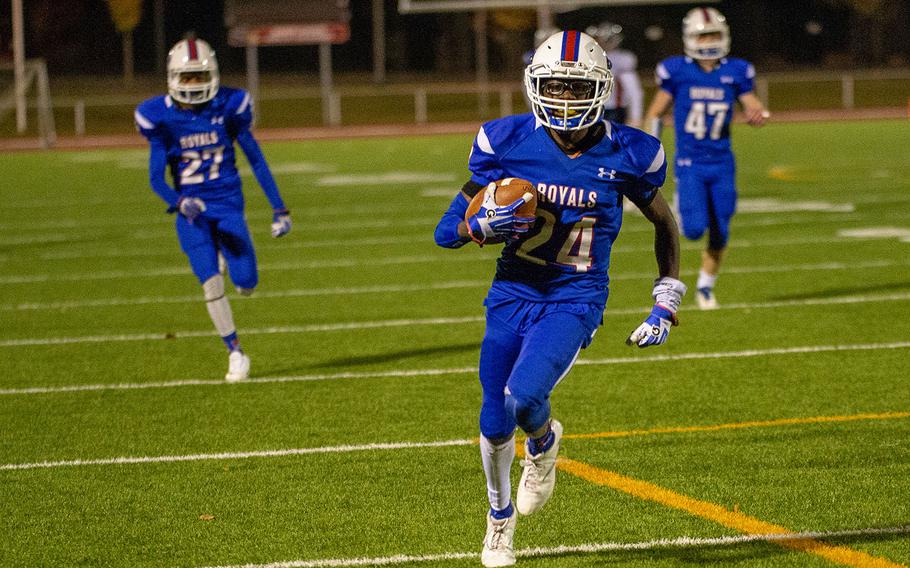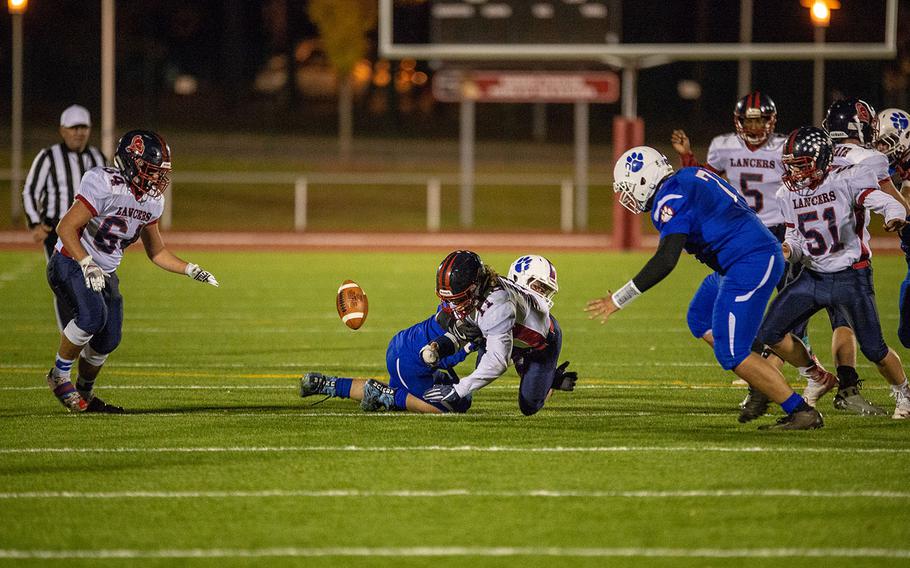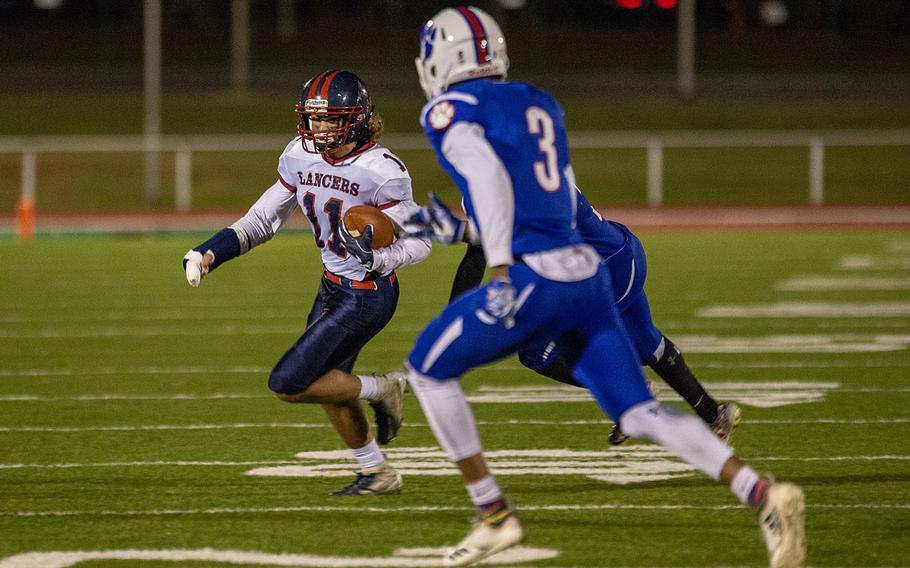 KAISERSLAUTERN, Germany -- The Ramstein Royals won their second DODEA-Europe Division I football championship in the last three seasons Saturday, surviving a furious upset bid from the Lakenheath Lancers to earn a 30-12 win and complete an undefeated 2018 campaign.
Ramstein throttled Lakenheath 40-0 in the teams' regular-season meeting, but coach Carter Hollenbeck did not prepare his team for another romp. He prepared them for a battle, and that's exactly what the Royals got.
"We knew going into this game it was not going to be like it was earlier in the year," Hollenbeck said. "We really had to tell our kids to forget that previous score. This is going to be a different game."
Lakenheath fulfilled Hollenbeck's prophecy in a first half that hardly resembled that one-sided Sept. 29 game. Lakenheath found success through the air and on the ground over the first two quarters while its defense largely subdued the dangerous Ramstein attack.
It just didn't translate to the scoreboard.
Lakenheath put together two promising first-quarter possessions but came away with nothing on either trip, squandering the first on a missed field goal and the second on a fourth-down fumble. But Ramstein, too, failed to mount a scoring drive, and the second quarter saw both teams swap fruitless possessions until an eventful final minute.
The Royals pinned Lakenheath deep in its own territory, sent heavy pressure on the Lancers' punt attempt and deflected it. Ramstein lineman Logan Ridenbaugh collected the loose ball and pushed it forward to the 5-yard line, setting up a quarterback sneak by Jakob Steinbeck for the game's first score with 36 seconds to play. A failed attempt at a last-second tiebreaker came up short, sending the frustrated Lancers into halftime with nothing tangible to show for a very solid first-half showing.
"I just felt like we had a lot of missed opportunities," Lakenheath coach Gabe Feletar said. "We just didn't capitalize when we needed to, and obviously they did.
"It just wasn't meant to be."
As is their tendency, the Royals came out of halftime in overwhelming fashion, putting together their first sustained scoring drive of the evening on their opening possession of the third quarter. JJ Little broke off a 30-yard run to push the Royals over midfield, Steinbeck connected with Naser Eaves for a big gain through the air and Little finished off the three-minute drive with a touchdown run to put the Royals up 14-0.
"In the third quarter we started fixing things that we didn't get in the first half, and just went on from there," Eaves said.
Even the Lancers' finest moment was quickly overwritten by a Ramstein response. Dom Arizpe took the kickoff ensuing from Lakenheath's first touchdown and returned it 95 yards for a touchdown that swung the momentum back to Ramstein and put the Royals up 21-6 midway through the third quarter.
"I was afraid, I thought I was going to drop the ball, but I held onto it," said Arizpe, who scored again on a short-range rush with 5 minutes to play in the fourth quarter to further pad the lead.
"I hid behind my tall man (Eaves) and just read off of him, and just took off."
Ramstein is back on top after losing 26-21 to Stuttgart in the 2017 title game. The Royals were the clear class of the division throughout the fall, posting a blowout-heavy 6-0 regular season and dismantling rival Kaiserslautern 48-14 in an Oct. 27 semifinal.
The triumph was particularly rewarding for those Royals who were on the roster for the unsatisfying runner-up finish.
"It was like a chance for redemption," Eaves said. "It was just a second chance, basically."
Though it fell short of a title, Lakenheath took another step on its steady ascent into the Division I elite. The Lancers earned a long-sought home playoff game on the strength of a 4-1 conference record and ousted reigning champion Stuttgart in a dramatic 31-26 semifinal win. Lakenheath didn't make the long trip to Germany in pursuit of a moral victory, but the team plans to return to England with collective heads high.
"I feel bad for the guys, but we had a great season," Feletar said.
Twitter: @broomestripes