Ramstein, Naples rally to post Little League victories
---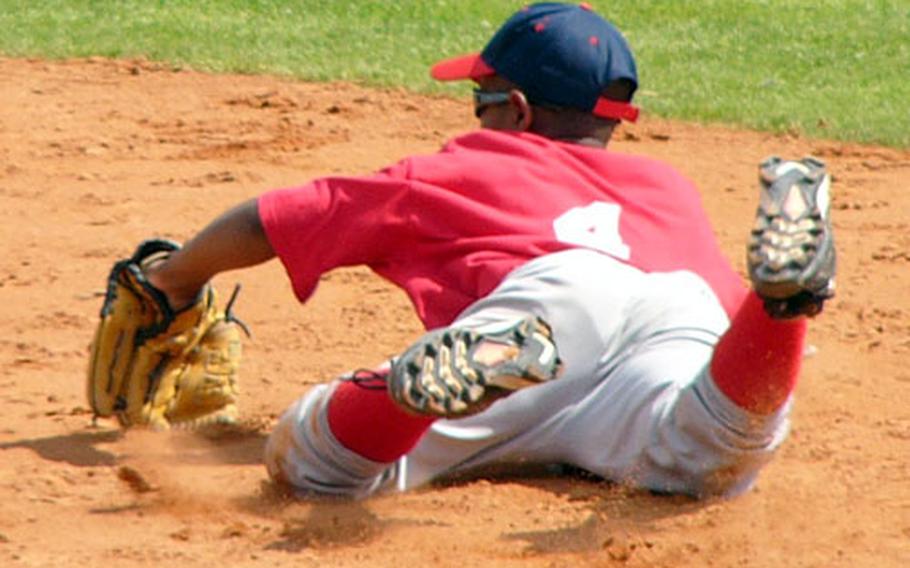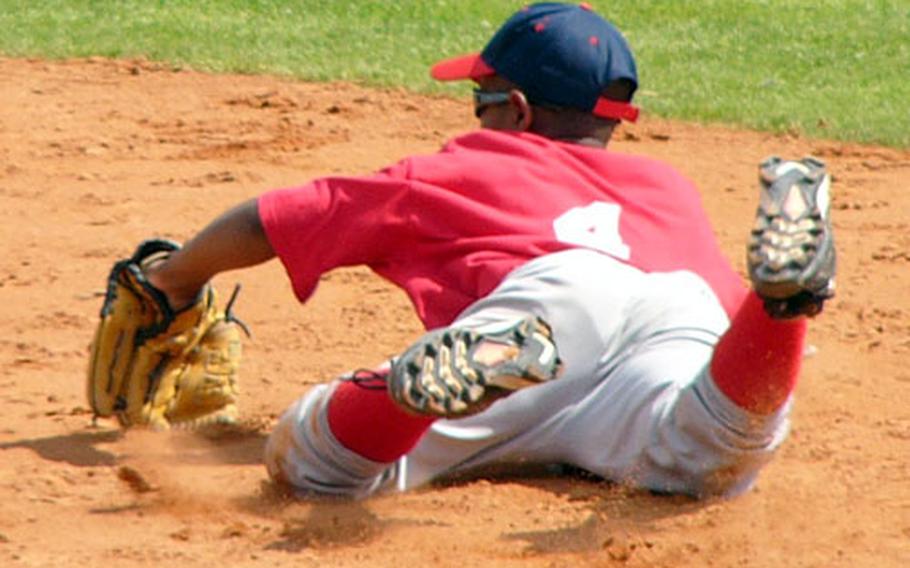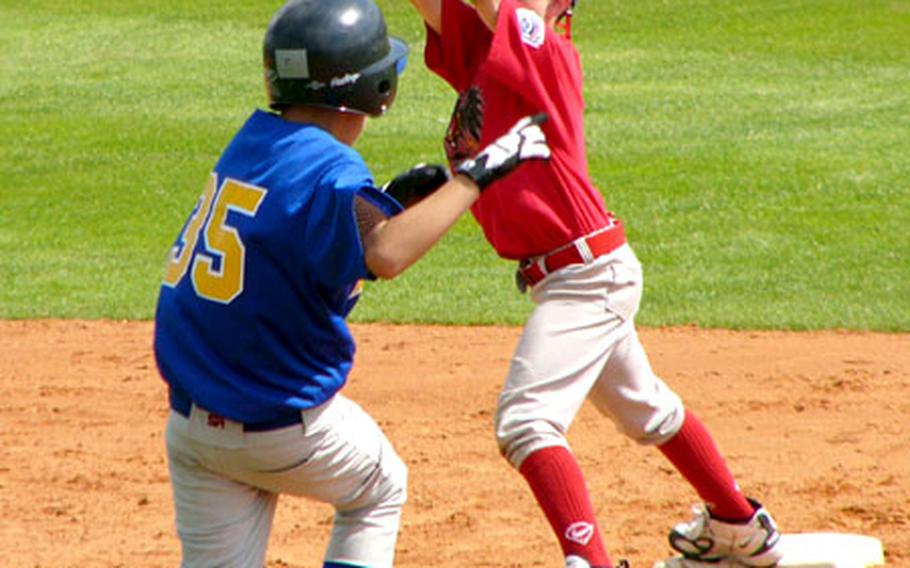 KUTNO, Poland — Ramstein and Naples posted come-from-behind victories Tuesday in Little League Baseball's Transatlantic Regional tournament.
Ramstein, champion of Germany, defeated England champion London 8-6 to assure itself a berth in Thursday's semifinals. Naples rode an eight-run fourth to a 13-8 victory over Belgium.
Germany 8, England 6
Stephen Braden used a pitch he developed in the Ramstein AYA school of hard knocks to shut down England for the final three innings.
"I was using my fastball and curve," Braden said about his near-perfect three innings of relief that allowed Ramstein to erase a 6-5 deficit on the hottest day so far of this eight-day event. "I used to hang curves to this guy all the time in AYA," he said in gesturing to tournament home run leader and teammate Chris Johnson, "and he'd whack it. I learned not to hang them."
Tuesday, when the 10-15 mph northeast breeze that has moderated the temperatures here all week died, all Braden hung — out to dry, that is — were the first seven England batters he faced, striking out two. The only hit he allowed was a groundball single up the middle to Josh Halvorson with one out in the sixth. Ramstein second baseman Dreshawn Murray made a diving stop of the ball, but Halvorson beat Murray's throw to first.
The victory put Ramstein (4-1) into Thursday's semifinals regardless of what happens in the final round-robin games on Wednesday. Ramstein has a game left against Italy, which could assure itself of a spot in the semis with a victory.
England (3-2) plays Spain (2-3 and idle Tuesday) on Wednesday in a game with major implications for the semis. Both teams are playing musical chairs with Italy for the two semifinal berths not claimed by Saudi Arabia and Germany.
Italy 13, Belgium 8
Naples fell behind 7-3 in the top of the fourth, but found the answer in their half of the inning when Belgium ran out of pitching and, for all intents and purposes, out of the semifinal picture. The Brussels-area stars (1-4) face Saudi Arabia on Wednesday in their final game in pool play.
A.J. Alejandro opened the fourth in relief of Brussels starter Matt Rohn but left after surrendering three walks and a single. Kevin Nelson took over and took it on the chin.
After allowing a run on a grounder by Joni Fatora, Nelson walked Devon Mitchell with the bases loaded; hit Jorgio Richardson with a pitch to force in another run, then threw the ball into right field on a nubber in front of the plate by winning pitcher Tyler Jacobson to clear the bases.
"I'm a magnet for the ball," said Richardson, who was hit by a pitch for the fourth time in this tournament.
To completely ruin his day, Nelson threw the ball away on an appeal play at third that allowed another run to score in a coup-de-grace two-run Naples sixth.
Saudi Arabia 16, Netherlands 0
Saudi catcher Colt Hankamer deposited the first pitch of the game over the left-field fence to give the Netherlands champion a quick indication of how this one would go.
Saudi Arabia sent 15 batters to the plate in a 12-run fourth inning.
The run-rule victory eliminated the Netherlands (1-5) from semifinal contention, and nailed down the No. 1 seed for the Saudis (5-0).
---
---
---
---