Ramstein aimed to break through against K-town in boys tourney
---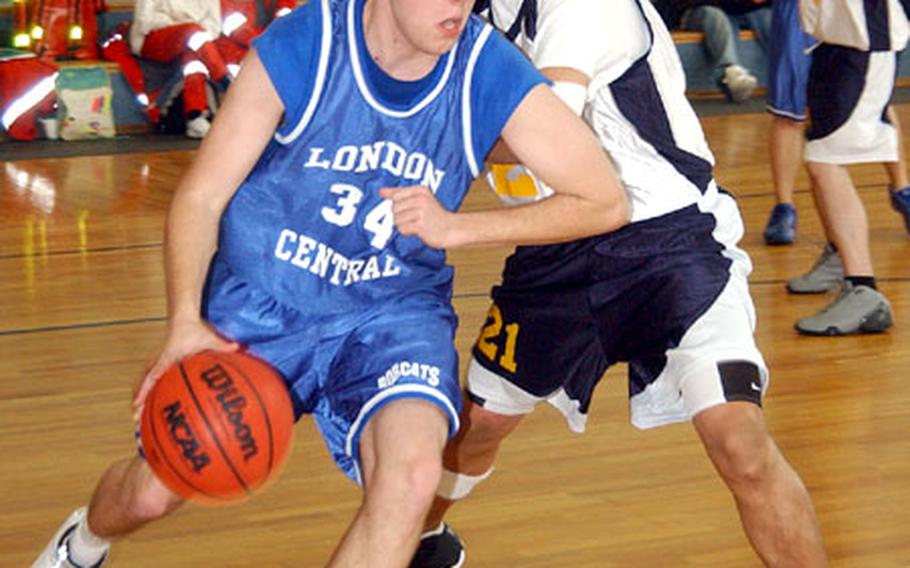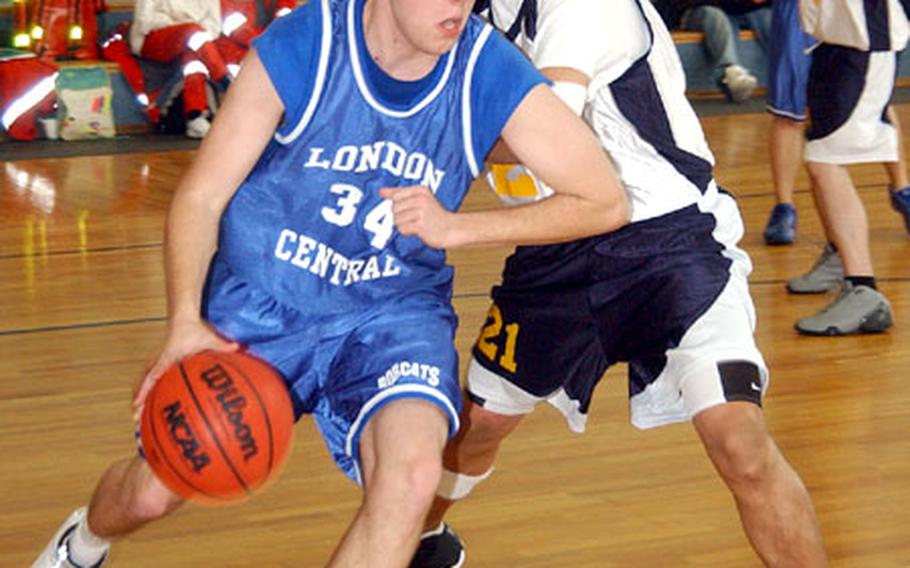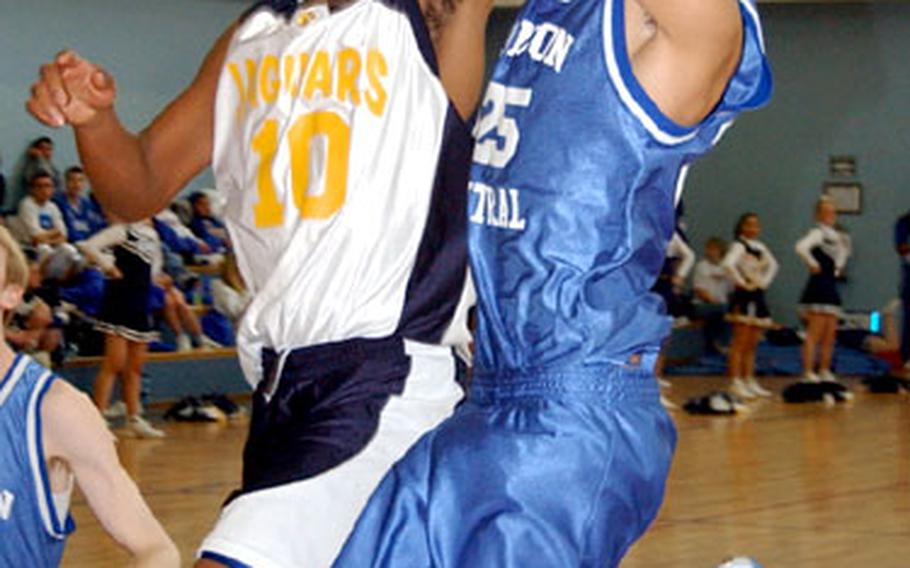 (List of scores at bottom of story)
MANNHEIM, Germany — The Ramstein Royals were hoping the third time would be the charm when they squared off against cross-town rival Kaiserslautern in Thursday night's late semifinal game of the boys' European Division I basketball tournament.
The second-seeded Royals advanced after going 3-0 in pool play, setting up the game against Kaiserslautern, runner-up in the other bracket. K-town has beaten Ramstein on the court twice this season, although the Royals were awarded a victory via forfeiture when an ineligibile player slipped through pregame checks for the second game.
"We're playing the best we have all year," said Ramstein coach Len Tarnowski after the Royals closed out the pool-play portion of the tournament Thursday morning with a 55-37 victory over sixth-seeded International School of Brussels. "We've been focused right off the bat so far."
Ste'phan James scored 13 points, Allen Weaver had 10, Whitney McCloud nine, and Brennan Relaford and Marquiston Showers eight each against ISB. The Royals had earlier beaten Wiesbaden 53-47 and Lakenheath 52-31. Kaiserslautern finished 1-1 in its pool play, including a big win, 45-32, Wednesday against five-time defending champion Heidelberg.
"This is the third time we've played them. Let's hope we've learned something," Tarnowski said.
The game was scheduled to tip off at 8 p.m., after this edition of Stars and Stripes went to press. Thursday's other semifinal pitted Würzburg against Wiesbaden.
Wiesbaden tops Lakenheath: Justin King scored 21 points Thursday morning, but it wasn't enough to keep the Lancers (1-2) from elimination from the Division I event.
Robert Edwards paced Wiesbaden (2-1) with 12 points as the Warrriors finished second in their bracket and will play Würzburg (2-0), winner of the other bracket.
Hanau escapes Bitburg: Guard Malcolm Lane scored 20 points and grabbed 12 rebounds, both game highs, as top-seeded Hanau defeated No. 7 Bitburg 50-48 in overtime Wednesday. Ivan James contributed six steals as Hanau rallied from nine points down in the fourth quarter to force the extra period.
Mannheim rallies past BFA: Jamal Womble scored 23 points as third-seeded Mannheim outscored No. 6 Black Forest Academy 17-11 over the game's final seven minutes to claim a 44-40 victory that left the Bison at 2-0 at the end of Day 1 in the Division II event. BFA fell to 1-1.
Rota, Hohenfels get Div. III started: Third-seeded Rota downed Giessen 59-36 and Hohenfels edged Vicenza 60-59 Thursday as the Division III tournament got under way. Top-seeded Ansbach and second-seeded Bamberg will join the Division III bracket Friday when the tourney goes to an eight-team single-elimination format.
Brussels stays perfect in Division IV: Brussels edged Livorno 48-46 Thursday to improve its record in the boys Division IV event to 3-0.
Tourney scores
Late first-day results Wednesday and early results Thursday from the European Divisions I, II, III and IV high school basketball tournaments which end Saturday (pool-play games are 7-minute quarters; semifinals and finals are 8-minute quarters):
Thursday's games
Division I
Pool play
Wiesbaden 48, Lakenheath 42
Ramstein 55, International School of Brussels 37
Semifinals
Würzburg vs. Wiesbaden, late
Ramstein vs. Kaiserslautern, late
Division II
Mannheim 67, Patch 59
Hanau 52, Vilseck 42
Black Forest Academy 55, SHAPE 38
Naples 48, Bitburg 37
Aviano 53, Mannheim 40
Vilseck 45, AFNORTH 31
Patch 59, SHAPE 46
Hanau vs. Naples, late
Bitburg vs. AFNORTH, late
Aviano vs. BFA, late
Division III
Hohenfels 60, Vicenza 59
Rota 59, Giessen 36
London Central 69, Sigonella 51
Hohenfels 46, American Overseas School of Rome 33
Giessen 46, Marymount 30
Sigonella vs. Baumholder, late
Vicenza vs. AOSR, late
Rota vs. Marymount, late
London Central vs. Baumholder, late
Division IV
Brussels 48, Livorno 46
Iceland 47, Ankara 44 (OT)
Alconbury 48, Milan 17
Semifinals
Brussels vs. Alconbury, late
Iceland vs.Menwith Hill, late
Wednesday's late results
Division II
Aviano 67, Patch 51
Mannheim 44, Black Forest Academy 40
Hanau 50, Bitburg 48 (OT)
Division IV
Iceland 61, Alconbury 45
Ankara 41, Milan 15
---
---
---
---