Rams win shootout for USFE title
by
Rusty Bryan
April 5, 2004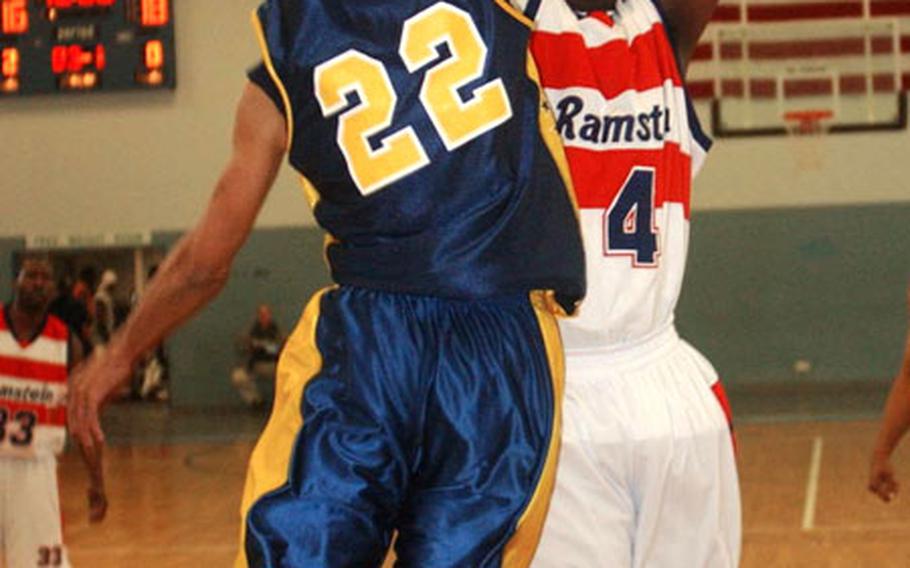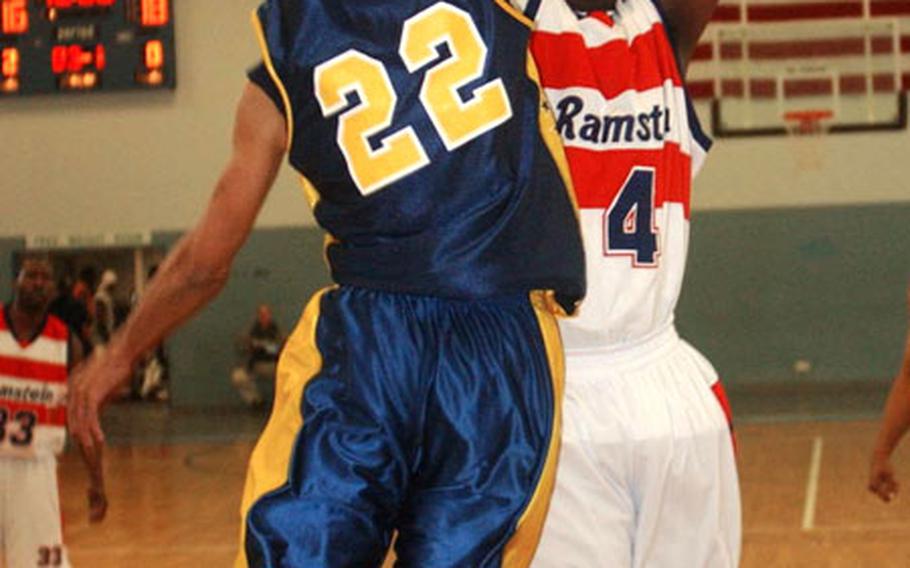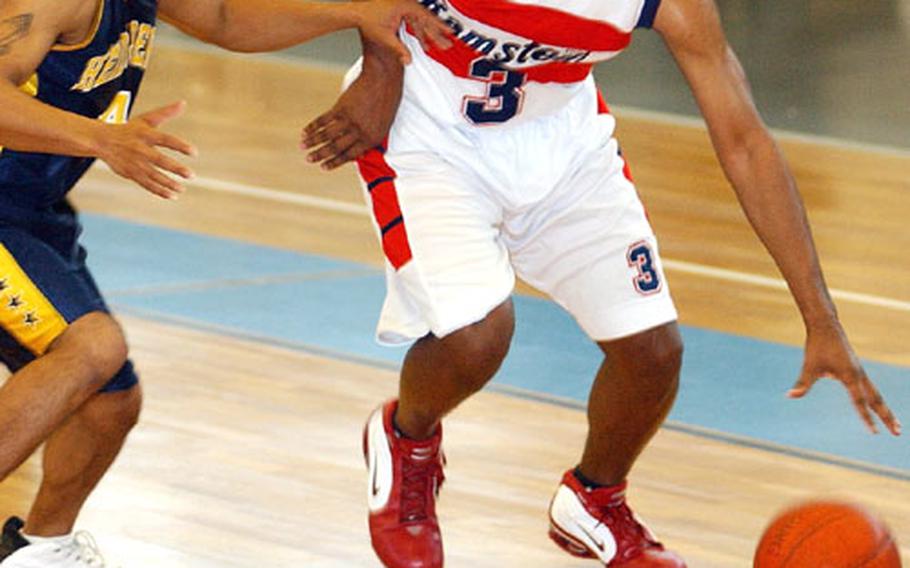 KAISERSLAUTERN, Germany — USAFE champion Ramstein shrugged off a 15-point halftime deficit Sunday and rallied to down USAREUR champ Heidelberg 84-82 to win the 2004 U.S. Forces Europe basketball championship.
The Rams looked to be on the ropes after Heidelberg's Andre Barnes followed a two-point jumper 28 seconds before the break with a three-pointer off a Ramstein turnover just seconds later. Heidelberg's Craig Marcelin followed with a pair of steals he converted into a lay-up and two free throws in the final 12 seconds.
Just like that, Heidelberg was up 50-35.
"We were frustrated," said Kenny Bean, who led the Rams with 17 points, "but we talked about it in the locker room. We knew we had to come back. We had to do it for Coach [Larry Glover.]"
Glover departed Friday to coach the All-Air Force women's team in California.
The discussion centered around how to get the job done.
"We knew we had to buckle down and play defense. We were allowing too many offensive rebounds," said Ramstein's Robert Batiste, who added the USFE trophy to the USAFE hardware he collected Tuesday as the coach of Ramstein's women's team as well as a player for the men's squad.
The Generals, playing without 6-9 Rodney Bailey and with 6-8 Keyatta Mack hampered by a sore hand, grabbed nine offensive rebounds in the first half and converted many into easy buckets.
Control of the boards changed after intermission.
"We're the bigger team," said Ramstein's Germichael Kelly, who took up the slack for 6-9 Austin Layton, slowed by a sore foot he suffered Friday. "We knew we had to come back as a team."
Ramstein transformed its words into a 25-10 run that leveled the score at 60 with 11:35 left in the game. Its improved defense limited Heidelberg to one shot per trip as Paxton Grice grabbed six defensive rebounds — plus two offensive ones — during the span. Grice and Brandon LeBlanc revived the offense with eight points each during the run.
Ramstein was back in the game, but the victory wasn't secured until the final shot.
After a three-pointer by Marcelin (31 points) cut Ramstein's lead to 82-79 with 12.5 seconds to play, Heidelberg was forced to foul Bean on the inbounds pass. Bean, a longtime small-base star for Rhein-Main, sank both of his double-bonus shots to give Ramstein enough of a lead to survive a Barnes three-pointer in the final seconds.
"I've played in lots of big games," Bean said. "When I got fouled, I knew I could win it for the guys."
The victory capped Ramstein's unbeaten run through the four-day tournament, which pitted the top two Army and Air Force teams in Europe against one another. It also ended the Army's domination of this event, which began in 1999.
It was Ramstein's toughest victory of the season. That was fine with Batiste.
"We've been winning all season," he said. "It made it better to have to fight for it."
---
---
---
---