Marksmanship athlete of year
Pressure didn't keep Dickinson from shooting her best
by
Gregory Broome
March 2, 2017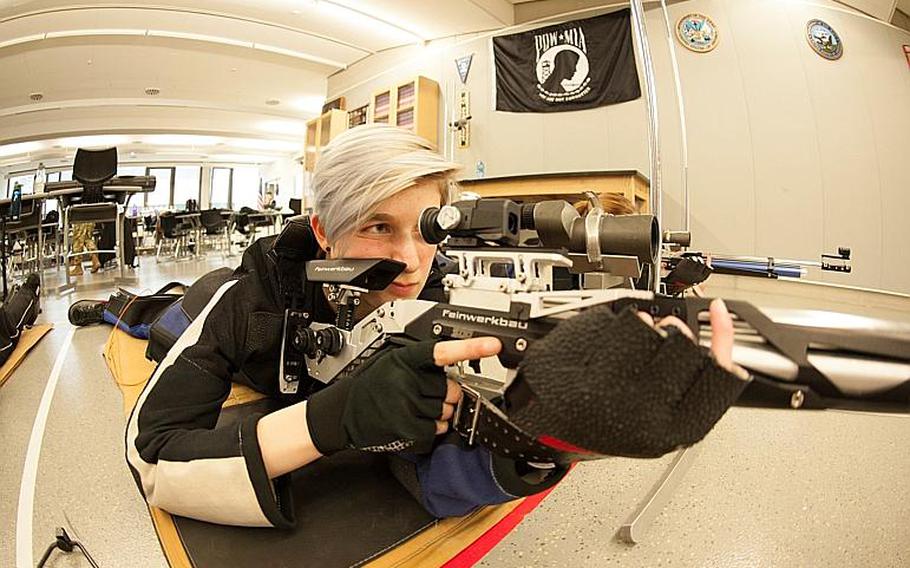 There's a lot of pressure that comes with membership on the Stuttgart Panthers marksmanship team. Junior Fallon Dickinson has experienced, and conquered, all of it.
Dickinson reached the sport's endgame in DODEA-Europe this season, winning an individual championship, helping her school continue its team dynasty and now being named as the 2016-17 Stars and Stripes marksmanship Athlete of the Year. Those accomplishments are all the more remarkable considering the various forms of pressure she's withstood to achieve them.
It started as soon as she joined the program as a freshman. The depth of talent present in Stuttgart means that even the program's secondary shooter squad is highly competitive, and young prospects are expected to show both immediate results and the potential to develop into a contributor for the main varsity team.
"As a freshman, there was a lot of pressure to try to be the best that you could be," Dickinson said.
Once she'd graduated to the main roster, Dickinson faced a new form of pressure. Stuttgart's dominance of the sport means each new group of shooters operates under the weight of history. This year's team successfully won the school's fourth consecutive European championship, a streak the Panthers dread eventually breaking.
"I don't think any of us want to be the team that dropped that," Dickinson said. "That would be bad."
In order to sustain the program's high standards, Stuttgart shooters need to be consistently proficient every time they compete.
"One score will drag the rest down. Everyone has to shoot their best," Dickinson said. "It requires individual performance to raise the team performance."
As effective as she's been dealing with this "growing amount of pressure through the years," Dickinson hasn't been entirely immune to it. Stuttgart coach Raul Pinon said Dickinson briefly "lost her self-confidence," but quickly recovered it when he reminded her of "how much the team and I depended on her."
In other words, she responded to just a little more pressure.
"Fallon and I had a heart-to-heart talk on what she means to the team," Pinon said, "and how the team needed every ounce of her strength to maintain the lead over the other teams."
Dickinson delivered down the stretch to claim both individual and team titles. But those aren't the only rewards marksmanship has given her. No matter how demanding it can sometimes be, Dickinson said she still loves the sport as much as ever.
"Even with the pressure, it's an extremely relaxing sport," Dickinson said. "It's very mental, so having the ability to focus on something other than school is extremely helpful at times."
Twitter: @broomestripes