Prep teams learning — sometimes the hard way — at Osan hoop tourney
by
Dave Ornauer
December 23, 2004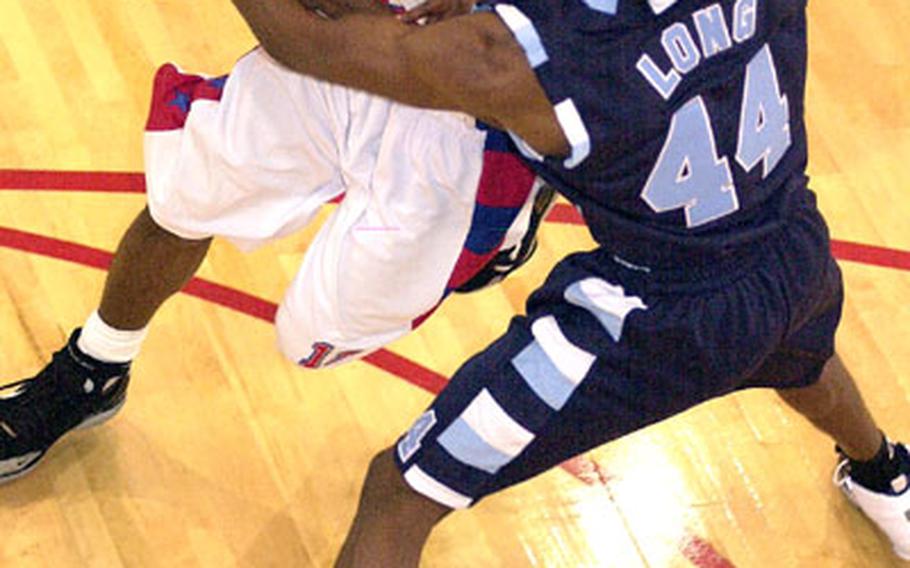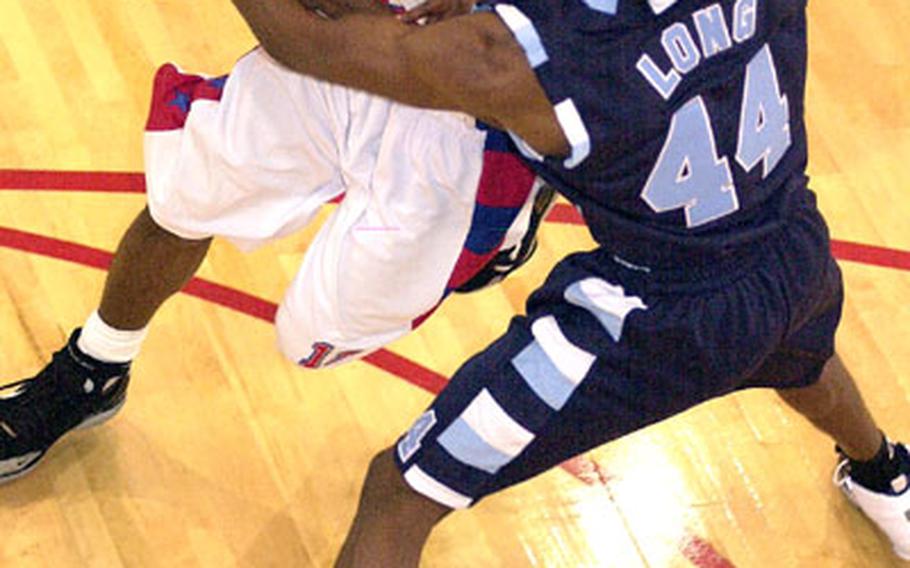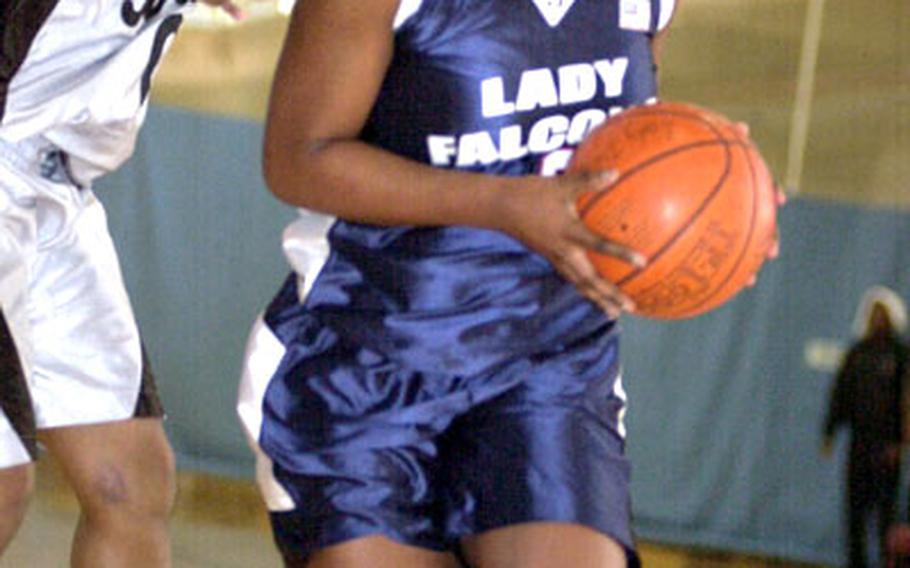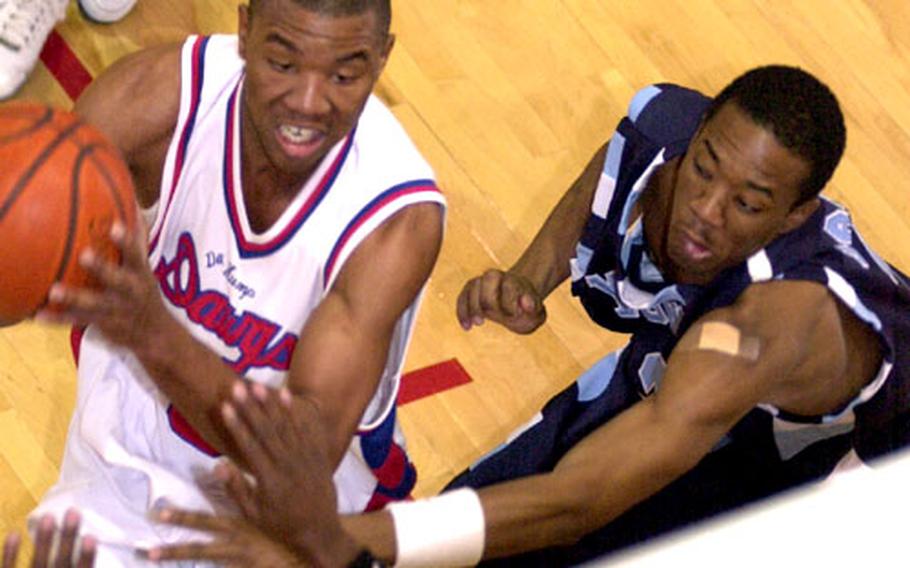 (Tuesday's Osan tourney results at end of story)
OSAN AIR BASE, South Korea — For three base high school teams, this week's Osan Pacificwide Open Holiday Basketball Tournament has been a different sort of classroom.
"Sort of School of Hard Knocks 101," tournament director Tony Mason said of Seoul American's boys and girls teams and Osan American's boys team, all competing against post-level adult teams from Korea, Okinawa and Guam.
They've faced a much different caliber of opponent than in Korean-American Interscholastic Activities Conference play: older players, bigger, stronger, more aggressive, physical and experienced, who regularly make the moves and plays they're just starting to learn.
The learning curve has varied by team:
¶ Seoul American's boys played like two-time defending Far East Class AA tournament champions. They not only won a game — the first by a high school team since the tournament began in 1987 — but clobbered Korea's Suwon Trail Blazers 68-42 and cut a 22-point deficit against Camp Humphreys to six before falling 93-83.
¶ Seoul American's girls lost their opener by 20 points to Osan American but then fell by a combined seven points in their next three games. In a two-point loss to Camp Humphreys and a one-point setback to Yongsan Garrison, the Falcons had chances to win in the closing seconds.
The Falcons broke through on Tuesday. Led by senior Janel Daniels' 21 points, the girls joined the boys team in the win column with a 55-41 victory over Suwon.
¶ The Osan American boys have had the roughest time, losing by 66 points to Yongsan and 45 to Korea's Kunsan Wolf Pack.
But players, coaches and tournament officials said the experience in beneficial.
"They learn individually as players and collectively as a team," Seoul American boys coach Steve Boyd said. "This is growth."
"These guys are helping us out," added Osan American boys coach Bruce Collins. "We're running our plays against a higher level of opposition. Our growth shows. It makes all the difference in the world. It's all positive."
When Pacificwide open tournaments such as the Martin Luther King on Okinawa have opened their doors to high school teams, they've been a platform for the younger players' experience and growth.
Since 1995, Kadena and Kubasaki High Schools on Okinawa have played in the MLK. Only a few times did their boys or girls teams make the playoff round. Kadena's and Kubasaki's girls placed third and fourth in the MLK last year, the highest any prep team has finished there.
When Osan American entered its boys and girls teams in the 2002 Osan tournament, each finished 0-5 in round-robin play and failed to win any playoff games.
But players and coaches say it isn't about wins and losses; it's about what they learn.
Seoul American's girls dominate KAIAC. They've won the league title and postseason tournament yearly since 1993 and finished in the final four of the Far East Class AA Tournament seven consecutive times.
The Falcons' closest game in this KAIAC season was a 31-point victory over Osan American. Coach Charlotte Hicks said she wanted something a little tougher, and the Osan tournament has given just that to a team that will host the Class AA tournament in February.
"To get that competition, we enter this tournament and others to try to get us ready. I'm up for it."
The teams were an attention magnet among post-level players this week. Said Suwon's Josh Smith, "They're young, they have a lot to prove against grown men. But they don't have anything to lose — and that's what makes them dangerous."
"Even though we beat them by 20 points," Defenders guard Kazue "Jo-Jo" Dancer said of the Falcons girls, "they fought all the way to the end."
But the tournament has risk; fear of injury while facing more aggressive players sometimes can lead to intimidation. That's why players must "keep it real," said Osan American senior guard Chris Durham. "Everybody knows their limits. You don't try to match their physical play but stay within yourself. I'm not intimidated at all. Others, you can see they are, but you can see them play better as they play more against these guys."
Mason and other tournament officials said they took pains to impress on post-team coaches how they, too, can help with the prep teams' growth.
Injuries are "a concern to us but in our coaches' meeting, we tell them the primary purpose of high school teams here is to help them progress and develop," he said.
Coaches and players try to do their part with mentoring the high school players.
In Osan's 79-55 victory over Seoul American's boys, "I told my guys to play hard and let them know how it feels, give them something real, show them what it's like," Defenders coach Tony Jones said. "If we laid down, it wouldn't do them any good."
Sometimes a military player will get a high schooler one-on-one during a break in the action and impart "small hints" to help improve the younger player's fundamentals, said Osan swingman Ramon Moss.
"I'm happy to help them with that," he said. "If you truly love the game, you don't mind giving back to it. They're the next generation."
Wherever the three prep squads finish, the lessons they learn this week are priceless, Collins said.
"We're learning a lot running plays against defenses we haven't seen," he said. "We're learning to slow it down, think about running the plays, don't feel the pressure and have fun.
"We'll be a lot better team" after the holiday break.
Osan Pacificwide Open Holiday Tournament
At Osan Fitness and Sports Center, Osan Air Base, South Korea
Men's double-elimination playoffs
Tuesday's summaries
Andersen 65, Spotlight 58
Halftime-Andersen 33, Spotlight 25. Leading scorers-Andersen, Clifford Claybrooks 15, Michael Walters 15, Marvin Harris 12 (all second half); Spotlight, Justin Brown 17, Jimmie Lucas 12 (all second half), Peter Jackson 10, Aubrie Daphney 10.
Camp Humphreys 91, Yongsan 77
Halftime-Camp Humphreys 44, Yongsan 28. Leading scorers-Camp Humphreys, Maurice Graham 21 (four three-point goals), Jerry Flowers 11; Yongsan, Ronald Bartley 23 (three three-point goals), Trey Stephens 15, Ken Johnson 13. Noteworthy-Runnin' Rebels commit 16 first-half turnovers to help Bulldogs build 34-18 lead four minutes before halftime.
Kunsan 81, Suwon 57
Halftime-Kunsan 42, Suwon 28. Leading scorers-Kunsan, James Byers 20, Corie Fletcher 17; Suwon, Josh Smith 14, Quincy Randolph 12, Gaston Grey 10.
Andersen 88, Osan 68
Halftime-Andersen 45, Osan 31. Leading scorers-Andersen, Michael Walters 26 (five three-point goals), Marvin Harris 22 (10-for-12 from foul line), Deon Johnson 10, Clifford Claybrooks 10; Osan, Ramon Moss 17 (13 first half), Ryan Vaught 17. Noteworthy-Game featured 48 fouls and five foulouts.
Kunsan 77, Camp Humphreys 73
Halftime-Kunsan 39, Camp Humphreys 32. Leading scorers-Kunsan, Corie Fletcher 22, Aaron Hunter 12 (10 second half), James Byers 12; Camp Humphreys, Wallace Ruff 16, Brett Thomas 14, George Gross 14, Jacobe George 12, Maurice Graham 10. Noteworthy-Hunter's two lay-ins and a three-point goal helped Wolf Pack break game open after Bulldogs rallied from a 12-point deficit.
Women's double-elimination playoffs
Tuesday's summaries
Camp Humphreys 55, Suwon 44
Halftime-Camp Humphreys 29, Suwon 21. Leading scorers-Camp Humphreys, Todd 12, Faydinne Walker 10, Tenise Roberts 10; Suwon, Wynn 22, Moore 10. Noteworthy-Bulldogs used press to spark 13-0 run for a 47-29 lead with 12:30 left.
Osan 63, Yongsan 45
Halftime-Osan 31, Yongsan 22. Leading scorers-Osan, Tonya Holmes 15, Arlitha Ivey 12; Yongsan, Mandi Metzger 21 (six three-point goals). Noteworthy-Runnin' Rebels lost without starting swingman and leading scorer Cassandra Randall in lineup.
Kunsan 58, Camp Humphreys 50
Halftime-Kunsan 32, Camp Humphreys 18. Leading scorers-Kunsan, Amoni Sutice 21, April Hill 18; Camp Humphreys, Sandra Hernandez 17, Jackson 10. Noteworthy-Wolf Pack scored 19 straight and held Bulldogs to no points over nine minutes to lead for good.
---
---
---
---