Prep football: Yokota runs streak of on-field wins to 40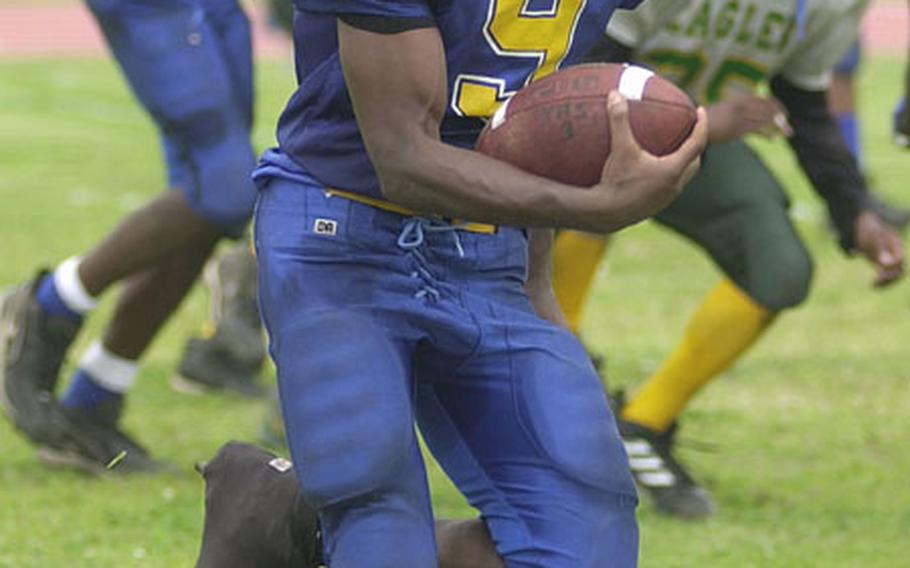 YOKOTA AIR BASE, Japan — One Roach departs, another takes his place. And for the Yokota Panthers on Saturday, the second Roach's heroics yielded a Pacific-record 40th consecutive win on the field.
Senior tailback Chris Roach piled up 215 yards and scored six times on just nine touches and the Panthers rolled to a 56-7 triumph over the Robert D. Edgren Eagles.
"I'm proud of the way the kids played today," coach Tim Pujol said. "Good timing, good execution, good rhythm. For Japan Football League game No. 1, I'm encouraged."
Especially encouraging was the performance of Roach, whose older brother Roy graduated last June after breaking the JFL season rushing record with 1,891 yards.
Chris Roach, who gained 1,051 all-purpose yards and scored 18 touchdowns last season at wingback, moved into Roy's featured back spot and performed just as capably, scoring the last five times he touched the ball.
"It's tradition," he said. "We have the same intensity, determination and heart, even if the faces have changed."
The last of those was a 71-yard punt-return touchdown. He bobbled the punt, then picked it up, crossed the field to the left sideline and ran untouched into the end zone.
"He sees things developing in front of him," assistant coach Steve Sanchez said. "He knows which way to run."
"I have good blocking this year," Roach said. "You can see the play develop being so far back. It's like seeing everything in slow motion. I follow my key blockers."
Despite the blowout, Pujol feels there's plenty of room for improvement.
"Gap control, proper pursuit on defense. We had some blown assignments, we left some people unblocked at the point of attack," Pujol said.
Still, Pujol took pride in the Panthers' winning streak, which began on Sept. 30, 2000, with an 18-6 victory over the American School In Japan.
Of the 40 victories, the two which opened the 2002 season had to be vacated when Pujol discovered the Panthers had used an ineligible player, leading some to say the streak isn't legitimate.
"I understand the other viewpoint," Pujol said. "But as far as what the kids did on the field between the lines, I know in my heart that it's 40."
The coach of the vanquished Eagles was suitably impressed.
"The record is no accident," Jim Burgeson said. "They've been very successful. I doubt they ran any more than five plays, it was so well executed. If it ain't broke, don't fix it."
The Eagles play their home opener Saturday against ASIJ, which is making its first football road trip out of the Kanto Plain in school history. Yokota hosts Zama American on Friday.
Father Duenas 37, Guam 0: At Mangilao, Guam, Eddie Calvo ran nine times for 141 yards and two touchdowns as Father Duenas shut out Guam High in the Independent Interscholastic Athletic Association of Guam opener for both teams.
Matt Sgro and Vinson Calvo each recovered fumbles in the end zone and Vince Phillips scrambled 9 yards for a touchdown for the Friars, who also scored a safety and forced five fumbles.
Guam High was held to 31 yards on the ground and minus-10 passing. Dustin Lopez set the pace for the Panthers with 28 yards on three carries, and Joey Chop had a team-high eight tackles.