Boys tennis AOY
Posthumus added to game and showed it on court
by
Dave Ornauer
November 26, 2019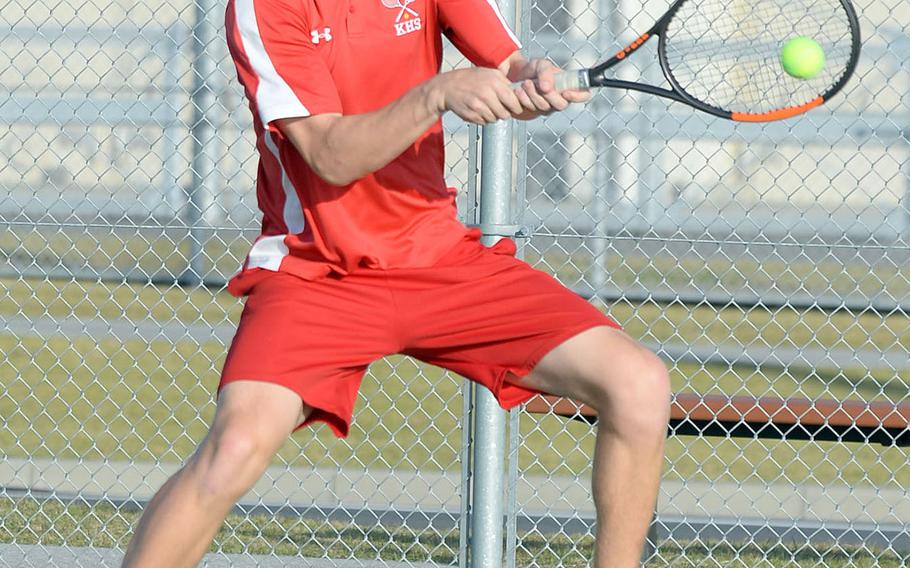 In his first three seasons on the court, it was pretty easy to figure out Daniel Posthumus and his game: "Serve and a prayer," as his coach Nico Hindie called it.
While the Nile C. Kinnick right-hander had that all-powerful weapon to open each point, there simply wasn't a lot there to follow, and Posthumus would generally finish somewhere in the pack when it came to district or Far East tournament play.
Until this season.
Posthumus and his coach said they spent much time in the offseason working on making his game more well rounded for his senior season.
"What was he going to do with his serve," Hindie said. "Once serve was returned, what would be his next move? What would be his plan? Understanding where he would serve, where his opponent would return, what was next? Not just a serve and a prayer, but a complete game."
"Getting more consistency in the ground strokes, getting better defensively, knowing how to construct points to win, take advantage when players leave an angle or leave the ball short," Posthumus said. "Once you get that consistency, all kinds of possibilities open up."
The retooling of Posthumus' game worked. In his senior season, Posthumus went 13-4 in singles play and became the first DODEA-Pacific player to reach a Far East singles final since 2010. He lost that final to Matei Bistriteanu of St. Mary's, but it was close, 7-5, 6-4.
"If you had told me I would place second (in Far East) in a very competitive match, I don't think I would have believed you," Posthumus said.
Over the years, he had watched Far East finals, the players who won those titles, and one day dreamed of doing the same.
"To put myself in their position, that was really special," Posthumus said. "It felt really good, especially knowing this was my last match. There was a certain finality to it that felt really good."
Though his final resume did not include a tournament title, Posthumus' work was solid enough to earn him Stars and Stripes Pacific boys tennis Athlete of the Year honors.
Just providing Posthumus with the tools needed to round out his game wasn't enough; it took putting those tools to work in competitive environments, and there were a couple of stumbles along the way, Hindie said.
Twice he lost to Kodama, once the weekend before the DODEA-Japan tournament, when Posthumus played what Hindie called "arguably his worst match mentally."
"We talked about it and he made a much better showing" in the DODEA-Japan finals, Hindie said.
"When I look at … how my Far East went match-by-match and how I got progressively better, I was happy with how I played in the final and the tournament in general," Posthumus said. "I always told myself not to build up an expectation, just go out there and play and see what happens. I had no idea what to expect at Far East."
Next, Posthumus says he's focusing on throwing in track and field, then possibly playing intramural or club tennis in college. "It's a lifelong thing, and that's the nice thing about tennis," he said.
Ornauer.dave@stripes.com Twitter: @daveornauer