Playing small pays off big for Edgren
by
Dave Ornauer
November 13, 2008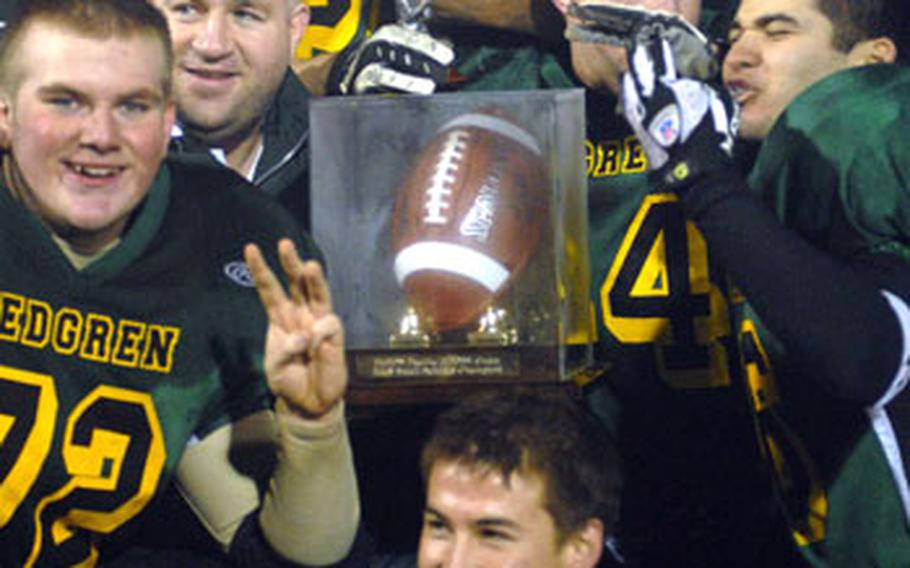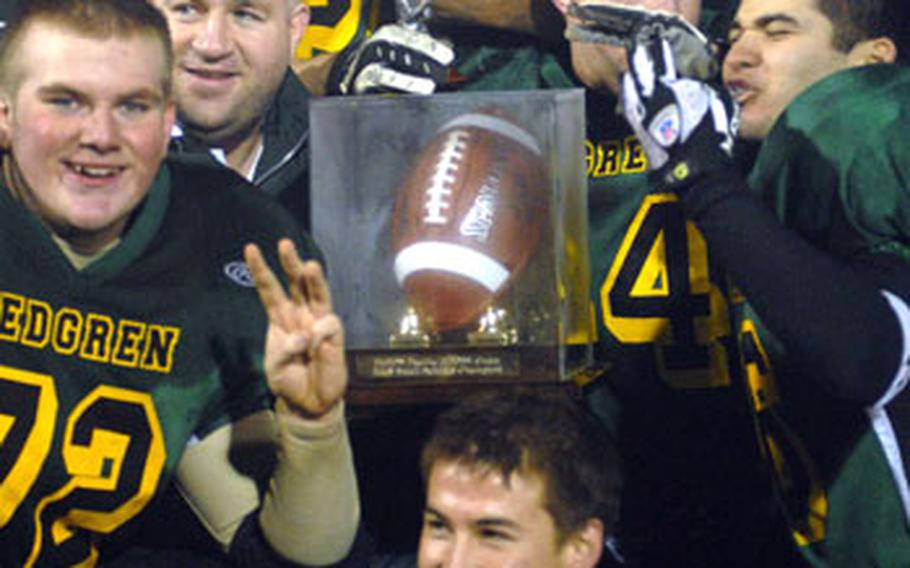 MISAWA AIR BASE, Japan — Acquiring Far East tournament banners at the small-school level is paying off big time for Robert D. Edgren's teams.
The Eagles football team claimed its third straight title earlier this month, and the cross-country team followed three days later with a team title in Class A in the first year two team banners were awarded.
That sort of success is bringing out student-athletes in record numbers. Nearly 100 percent of Edgren's students are involved in at least one after-school activity.
Cross country attracted less than 10 runners in Edgren coach Andre Thibert's first season six years ago; these days, he's averaging between 35 and 40. Edgren's football program has fielded a junior varsity team the past two years; prior to that, just a varsity squad.
"Word gets out on the street. When people step off the [PCS] plane, sponsors tell them that they have a good cross-country and football program at Edgren. And when you win, people extend their tours, you stay tough, you're having a good time being successful," Thibert said.
For almost two decades prior to this school year, Edgren competed at the Class AA level, with its enrollment averaging 350. But for the second time in three years, the school's enrollment shrank below the 300 eligibility line this year, and the Eagles dropped to Class A.
Football's enrollment line is 360; thus, Edgren has played in Class A since the Far East playoffs began in 2005.
Last spring, DODDS-Pacific's Far East Activities Council voted to award Far East cross country team titles in both Class A and Class AA.
All of that has worked to the benefit of those teams hoping to join the championship parade at some point.
One key, Thibert, football coach Chris Waite and FEAC chair Don Hobbs say, is selling a team to new recruits. It's easier when there are banners hanging in the gym.
"Success sells itself," Hobbs said. "You'll have more kids wanting to be a part of that. You have to have coaches combing the hallways, get them out and raise them to that level of success. It begins with the adults, then the kids take over."
Thibert parlayed the individual successes of past Eagles Daniel Sanchez, Peter Kamau and Jade Thrasher into a bonanza of new runners.
"Sometimes you need that push to kick-start the program," Thibert said.
With the separate Class A and AA banners, the Eagles no longer get overshadowed by powerhouses such as Seoul American and Kadena.
"We're competing on the same ground [with other Class A schools] and we beat them," Thibert said. "We'd have finished fourth or fifth otherwise."
It was easy for Waite to persuade more students to try out for football as the Eagles posted one banner after another in the gym.
"There's no doubt. When teams do well and are successful, it increases interest and desire for students to participate," he said.
Participation has spiked to the tune of 98 percent of students involved in at least one activity, Waite said.
"It's pretty off the chart," he said.
According to Hobbs, "well over half" of students are involved in some sort of co-curricular activity Pacificwide; he said specific figures would be available in a month.
But he called the 98 percent figure at Edgren "incredible. That's a great stat to hear. It makes it easier to sell the students, especially when it has a snowball effect."
Though Eagles girls volleyball isn't yet a Far East power, competing against teams with similar enrollments conveys some tangible benefits as well.
"We would have to work hard just to stay afloat" at Class AA, coach Sarah Richardson said. "Small is the place for them to get something out of the tournament. They're able to learn and see what their mistakes are, work on things to try to become competitive."
Winning team or otherwise, Eagles in all sports are coming together to celebrate their big payoff for playing small.
"I'm proud of our football team, I'm proud of our cross-country team. I'm proud of Andre. He's worked hard for this for a long time," Richardson said.
With the football title trifecta in the bag, it could be easy to refer to Edgren as a small-schools dynasty. But Waite stopped well short of agreeing with that.
"We are perpetually the underdog, and that's the tack I'm going to take," Waite said.