Playing big, dreaming big
by
Dave Ornauer
October 29, 2009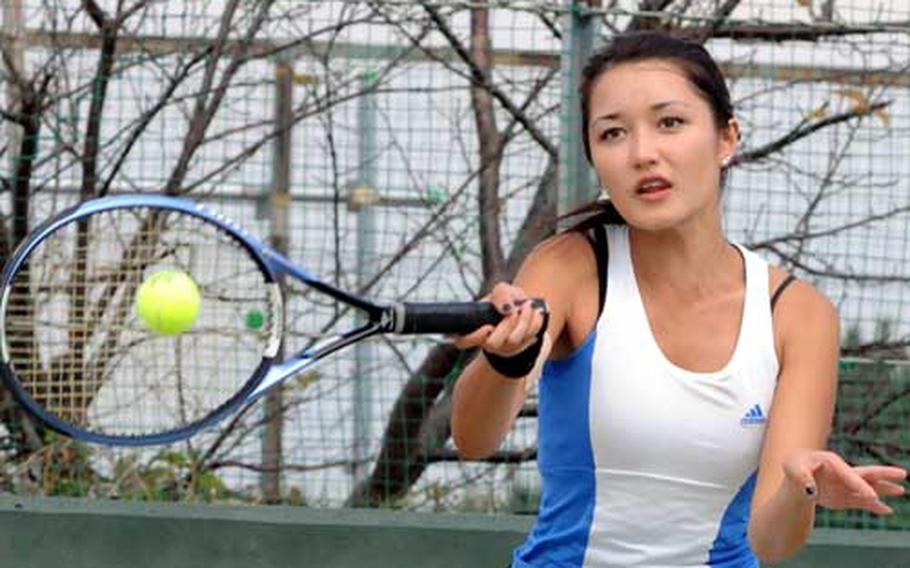 SHIRAKO, Japan — Erika Youngdahl might have given up tennis soon after taking up the sport two years ago.
Her father, Michael, put a racquet in her hand and introduced her to tennis. The hard way. Taking it to her as though he were playing Billie Jean King or Chris Evert.
"The first year was really tough," Erika Youngdahl said. "Dad expects perfection. And I cried so many times" after their workouts.
Then one day, "it clicked. And I fell in love with it," she said.
She has the record to show it: 17-1 in her freshman season, she became the first DODDS-Japan player to win a Kanto Plain Association of Secondary Schools Tournament singles title, and she led Yokota's girls to the Kanto regular-season title.
"She's just one of those shooting-star players who just graces your whole season and gives the team excitement and spirit," her coach, Tommy Palmer, said after Yokota took second in the Kanto tournament here Thursday on the omni courts of Shirako's Tennis Center.
Youngdahl's victory also makes her one of the favorites to chase the singles title in next month's Far East tournament on Okinawa. Palmer made Youngdahl the Panthers' No. 1 singles seed from virtually the moment she set foot on Yokota High School's courts.
"She's the complete package," Palmer said. "Her game speaks for itself. She blocks out everything else and she's very serious about the game. She brings a new level of competition to the team. Plus, she's such a good kid."
As for Yokota's girls' performance, the best in school history, "All the games have been good and challenging," Palmer said. "We've just come out on top."
Youngdahl might have taken her roots from her father, a high school football, basketball and baseball star at Moose Lake in northern Minnesota. In his mid-20s, he said, he took up golf and tennis.
"He's just a really good athlete and he just taught himself," said Erika, who was born on Okinawa, has lived in Japan much of her life and speaks Japanese and English. Her father teaches at Mendel Elementary on Yokota's east side.
"We wanted to get her interested in something," Michael Youngdahl said. They tried soccer, swimming, even piano. "Nothing really clicked."
So he handed her a tennis racquet. At first, "she was ambivalent about it. One day, we were playing and I told her, 'You could be really good with this if you stick with it,' " he said.
Admittedly, her father said he was "tough" on her, "but it paid off." Aside from tennis fundamentals, Michael said he worked on strengthening her mental game.
"When she'd get ahead, she'd play well, but when she'd get behind, she'd quit," he said. "I thought she was mentally weak, so I'd just pound her. At the time, she was hooked on the sport but probably didn't realize it."
Now, her mental game is "a strength," Michael said. He cited Youngdahl's Kanto singles championship win 6-2, 2-6, 6-0 over Kelsey Leon of American School In Japan, one of the league's premier players.
"She could have given up" after losing the second set, "but she bageled her. I was really proud of her," Michael said.
He also emphasizes old-school fundamentals such as sportsmanship. "He teaches me everything about life, and he makes sure I keep my grades really good," Erika said.
What would be considered Erika's game's main strength?
"She has a beast backhand," Palmer said of a two-handed slap that slants sharply across the court. "She has that angle down perfectly."
If there are things she needs to work on, Erika points to groundstrokes, serving and return of serve.
One aspect of her game that improved dramatically on Thursday, an opposing coach said, was Youngdahl's forehand.
"You could see her gaining confidence with it in every match," said Hydi Peterson, who's coached at Christian Academy In Japan for five years and played for CAJ in the 1970s and '80s.
"She has a lot of potential. A good attitude. Good court sense. A lot of things going for her. Young and eager to play," Peterson said.
Though she's never faced her main opponents at Far East, such as reigning champion Elissa Mason of Kadena and 2007 champion Kennedy Allen of Seoul American, Youngdahl said she's been "keeping up with them" and is "excited" about facing them.
"I have no idea" how well she'll do against them. "I'm just going to do my best and see what happens. I'm really competitive and I want to win," Youngdahl said.
In addition to playing singles, Palmer plans to pair Youngdahl up with another newcomer to Yokota tennis, sophomore Erika Ettl.
How far does Palmer envision Youngdahl and Yokota's girls going?
"We have a long way to go and a short time to get there, but we're going to get there," Palmer said. He sees Youngdahl "in the finals. This year."