Home Team
Play through pain or sit to play another day?
---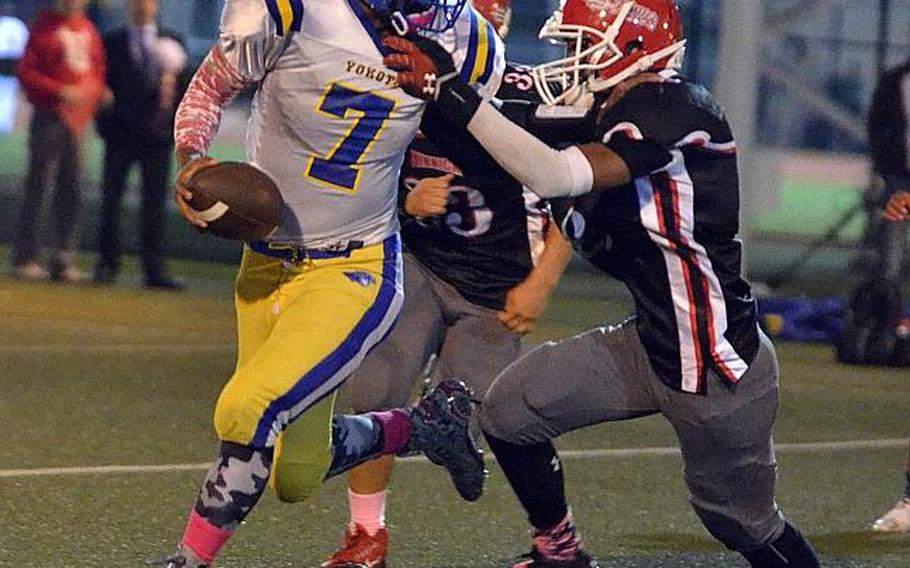 If anything could dampen a 34-point win over American School In Japan, Marcus Henagan experienced it.
Yokota's senior quarterback took off running with the football on Sept. 18, only to get dragged down in the second quarter when a defender grabbed his arm, and he "landed wrong," as Henagan put it.
He suffered a fractured sternum and pain like he'd never experienced. And doubts about whether he could continue. Not just that game, but the rest of a season in which Yokota is chasing its first Far East Division II football title. Not to mention helping the school defend its D-II basketball and baseball titles later in the school year.
"At first, I thought I couldn't continue" during that game, which Yokota won 48-14.
But he did go back and even scored a second-half touchdown.
He sat out the next two games as a precaution, according to coach Tim Pujol. But he returned Friday and amassed 254 yards total offense and accounted for four touchdowns in a 62-34 win at Nile C. Kinnick.
Henagan isn't the only DODDS Pacific athlete this season who has faced the question of playing with pain – and sometimes through injuries that might lead some to question their participation in the sport.
Among the others: Guam High brothers Juan and Jujuan King. Juan King suffered a fracture in his left leg in the team's first game of the season. He hasn't returned. His brother sustained a strained right knee in the team's third game and just returned to the team's playoff opener, a 20-12 victory over Okkodo. The team lost four times while Jujuan King begged to return, according to coach Jacob Dowdell.
"You have to balance it," Dowdell said, adding that it can be a battle making a player – and his parents, sometimes – retain perspective.
"I have to tell them, I'm doing this for you. I love you. This is why I'm not allowing him to play. It's for his own good. But it's hard to convince a young person of that."
Henagan said he didn't have to think too long about whether to keep putting on the Panther blue and gold uniform.
"To put all that hard work in just to see it end with an injury," Henagan said. "This season means a lot to me. I want to finish what I started."
That journey actually started when he was a freshman backup on Yokota's last Division I title team in 2012 to starter Stanley Speed.
"I don't want to be known as Stanley Speed's backup; I want to be remembered as Marcus Henagan," he said, adding that he and running backs Jamarvin Harvey and Shota Sprunger "started this together and it feels like we could end it together on a great note."
As both football coach and the school's athletics director, Pujol says he's primarily concerned about Henagan's long-term health. But as much a life lesson as this is for Henagan, it's also a lesson in team building.
"It's never about one person; it's about the team," Pujol said, adding that Yokota had Ty Dotson – who transferred from Ramstein where he quarterbacked the Royals to the Europe D-I title last year – replace Henagan, and guys like Harvey step up to take leadership roles.
"It functions a bit more potently with Marcus under center or in the shotgun; he was my No. 1 choice at quarterback," Pujol said. "But Jamarvin stepped up as a team leader, Ty is battle tested at Ramstein, he did well in two starts and we're glad to have Marcus back and have a great game against Kinnick. We're a better team because of it."
Coaches say every case of athletes getting hurt – and whether or not they return to action – has to be taken on a case-by-case basis.
"That is a bad place," said coach Phillip Loyd of Daegu. "Football is only a little time, but you have to live with yourself the rest of your life. I caution against it."
Jimbo Davis of Seoul American was down two linemen against Daegu last Friday, and cites the difference between injury and just being hurt.
"We're not inside their bodies," Davis said. "If you're injured, you sit. If you're just hurt, you suck it up. Can he play? Yes, he can play. Is he cleared to play? Perhaps. If he wants to walk and talk and play with his grandchildren? It's a fine line."
For his part, Henagan says he takes special care to wear the sort of gear that can protect his chest and regularly goes to physical therapy at an off-base hospital recommended by assistant coach Stephen Ferch.
On the field, he said he takes a conservative approach and tries "not be too aggressive."
"Every day, people come up to me, they're showing concern and I appreciate it," Henagan said. "But only I know how badly it hurts and only I know how badly I want to play."
With the Panthers maturing and "stepping up" as a team, "I feel like we have a good shot" to win the D-II, Henagan said. "I want to stay in it and contribute to us winning."
What if he and the Panthers come up short?
"I just want to say I left everything on the field" no matter the outcome, Henagan said. "Whatever I have left in the tank, I want to give it, no matter what happens. I'm not going to regret my decision."
---
---
---
---