Girls tennis AOY
Piras finally wins it all in final season
---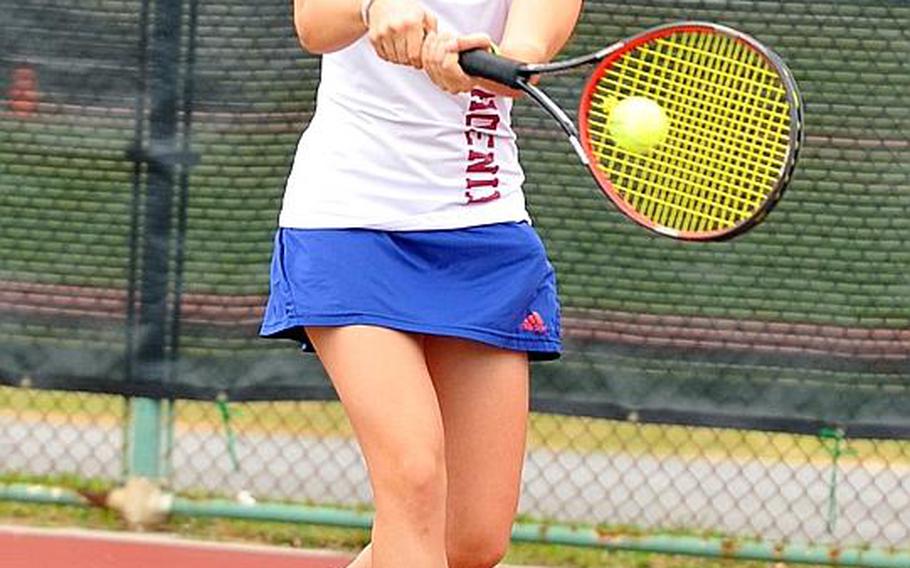 KADENA AIR BASE, Okinawa – Good enough to win Kanto, but not Far East.
That was the narrative two years' running for Matilde Piras, a Seisen senior. In 2014 and '15, she captured top honors in the Kanto Plain Association of Secondary Schools tournament final, but lost in the 2014 Far East semifinals and the 2015 singles final.
But finally, in her last outing of competitive for Phoenix maroon and white, Piras doubled her title pleasure, beating freshman teammate Sarah Omachi in three sets for the Far East singles title, then teamed with her to win doubles.
That came on Nov. 10, less than a week after Piras had lost in the Kanto finals to Omachi in three sets.
"I really wanted to do it. This was my last one," Piras said minutes after her Far East singles victory, 1-6, 6-4, 6-2 over Omachi.
For her feats, both regular season and tournament, Piras has been named Stars and Stripes' Pacific high school girls tennis Athlete of the Year.
The defeat against Omachi in the Kanto finals may have worked to Piras' benefit, she said.
"Coming in here (to Far East), I'm like, 'OK, I know how to win a set (off Omachi), I can win a set, there's hope that I can win a set or two'" off Omachi, Piras said.
Rather than trying to match Omachi's power, Piras "changed her plan and she did it well," Phoenix coach Geoffrey Perez said. Piras "used her brain," exercising patience, mostly operating from the baseline and forcing her opponent to make mistakes.
The singles final closed with Omachi double-faulting on match point, and Piras said she was "kind of thrown off by how it ended. I felt badly that it had to end with a double fault."
Piras, originally from Rome, closes her career at Seisen with one regular-season defeat, as a sophomore against former two-time Far East champion Lili Kobayashi of American School In Japan. And thanks to Piras and Omachi teaming in doubles, Seisen dethroned defending Division I girls champion ASIJ.
Twitter: @ornauer_stripes
Stars and Stripes Pacific's All-Far East girls tennis team Matilde Piras, Sarah Omachi, Seisen International, Japan, Kanto Plain singles finalists, Far East singles, doubles champions. Adelle Ashby, Kubasaki, Okinawa, won Okinawa district singles, doubles titles. Kaia Austin, Yokota, Japan, won DODEA Japan district singles, doubles titles. Elicia Lee, Seoul Foreign School, won Korea Blue regular-season and tournament MVP. Eriya Hara, American School In Japan, won Far East mixed doubles championship.
---
---
---
---