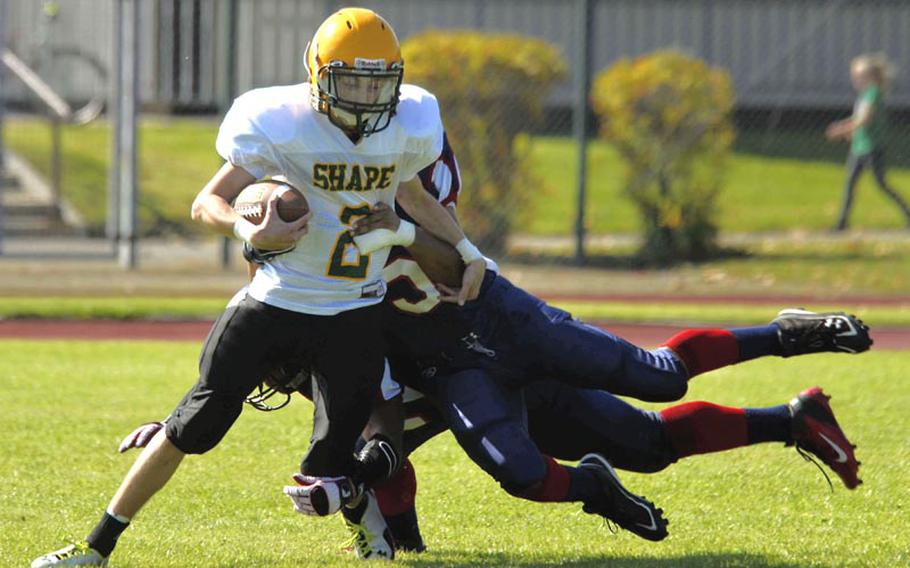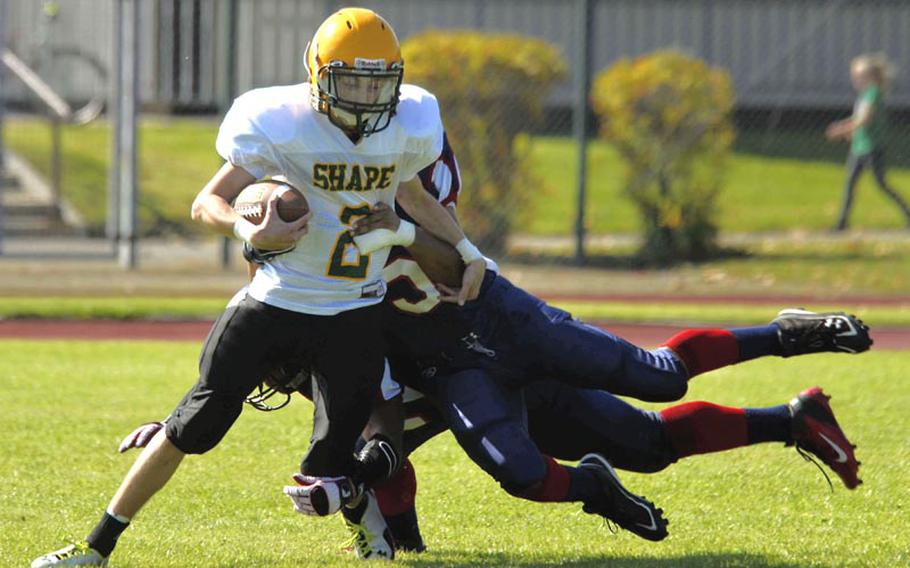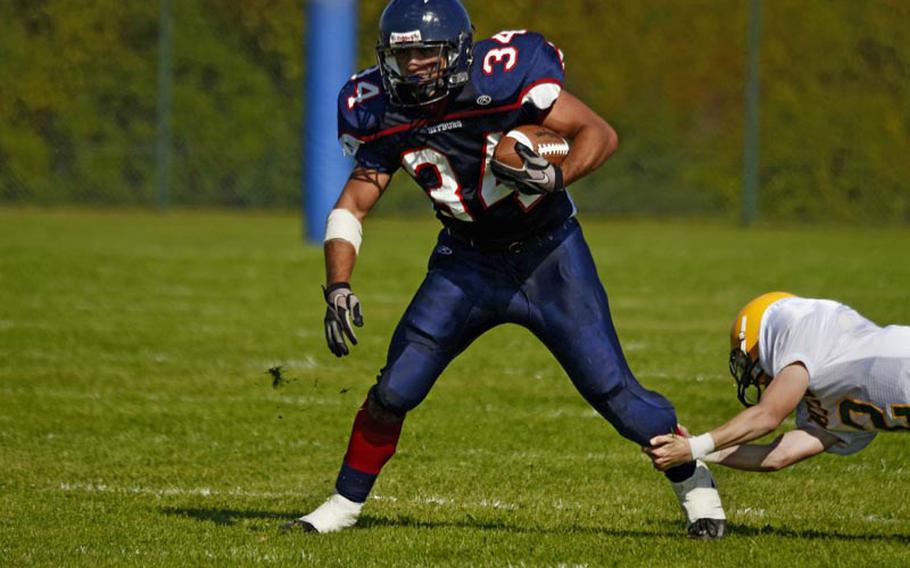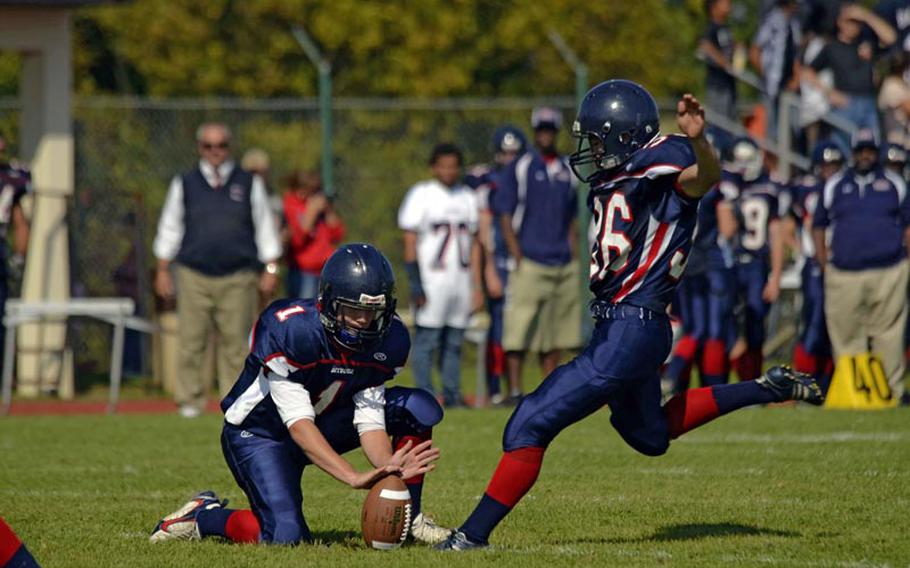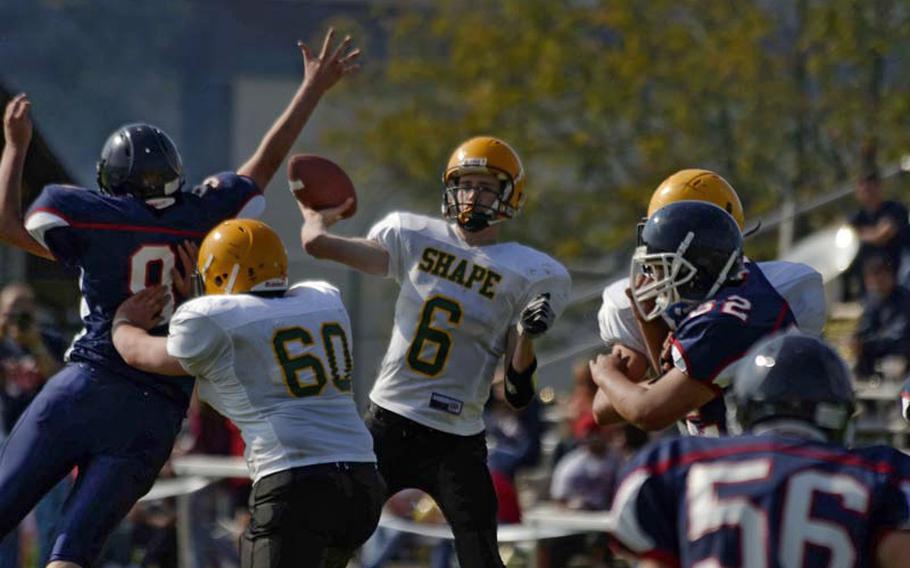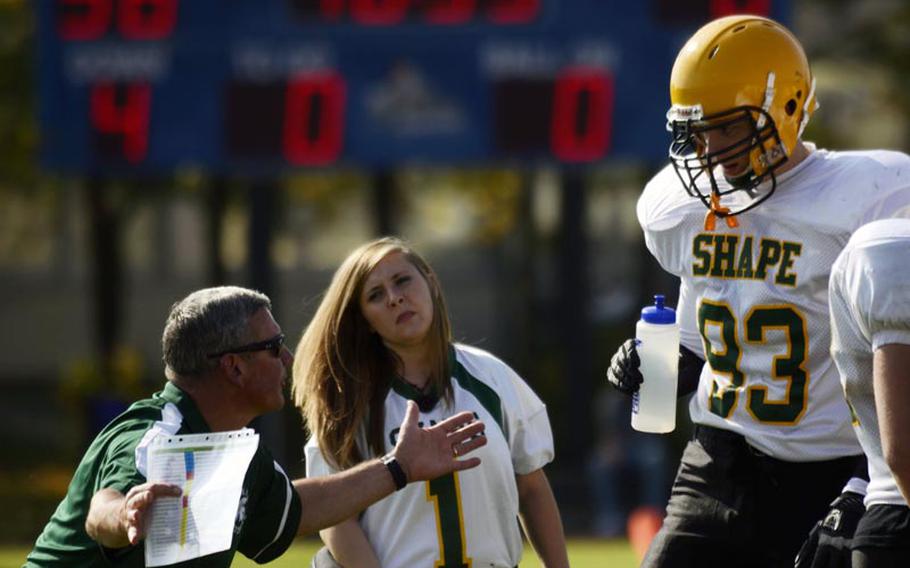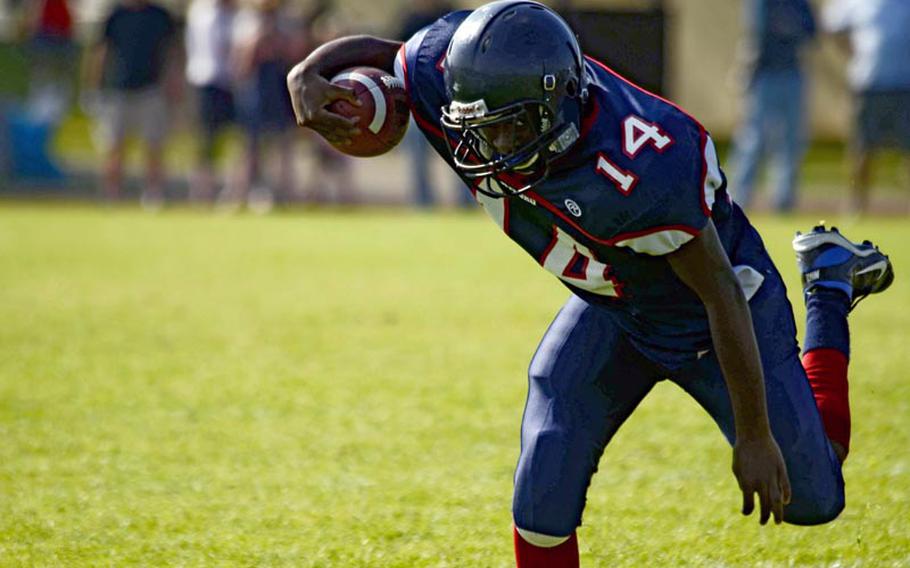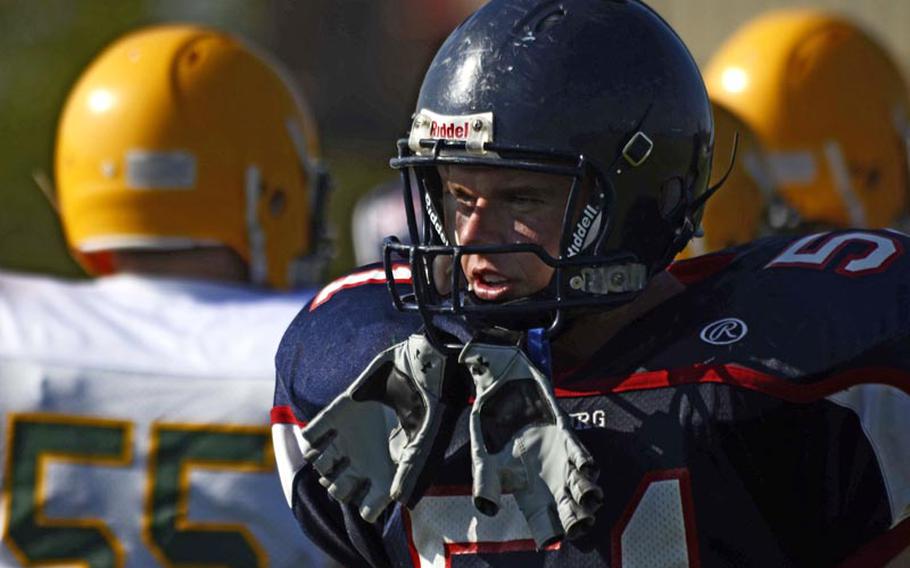 BITBURG AIR BASE, Germany — Even though the points scored by Bitburg in their 56-20 romp Saturday over the SHAPE Spartans was right around their 2011 average output per game, the two-time defending European Division II champion Barons still broke some new ground.
All-Europe running back Kyle Edgar scored four times. Nothing unusual about that — Edgar had already tallied three touchdowns this season — but Saturday he supplemented two rushing scores with a fumble return and a 65-yard kickoff return. For the day, he ran the ball just five times for 46 yards, according to Bitburg coach Mike Laue, whose team scored all of its points in the first half to lead 56-6 at intermission. Matt Flood carried the ball in from 4 and 9 yards out in the opening 24 minutes, Corey Bason completed a 34-yard touchdown pass to Rashaun Wimberly, and Edgar posted scoring runs of 25 and 4 yards to go with his return touchdowns.
Austin Schmidt had the big run of the day for Bitburg, which is averaging 55 points per game this season and won for the 17th straight time. Schmidt, who carried five times for 120 yards, broke a 67-yard touchdown run in the second period.
Bitburg's defense benefited from two tackles-for-loss by Shaquille Williams and a tackle behind the line each by Colton Enbgelmeier, who also blocked a punt, and Flood, who also forced a fumble. Bryce Randall topped the Bitburg tackles sheet with seven.
Next up for Bitburg (3-0 overall, 2-0 in II-North), is a Friday night game at unbeaten Baumholder. The Bucs were idle this week.
SHAPE, which scored on Amari Wilson's 86-yard first-quarter kickoff return and added fourth-quarter scores on a 64-yard run by James Workman and a 26-yard touchdown toss from Ryan Howard to Austin Eperjesi, fell to 0-2 overall and in II-North. Next up for the Spartans, whose David Brackett registered two tackles-for-loss, is a Friday night game at the International School of Brussels.
Ansbach 48, Schweinfurt 14: The Razorbacks drew one of European football's toughest nuts Saturday in their first home contest in history.
Too tough, it turned out, as the Ansbach Cougars rode three first-quarter touchdown runs by Xavier Jones to a Division II-South victory over the new kids on the block.
Quarterback Jake Voorhees did most of the rest of the damage as Ansbach (2-0 overall and in II-South) hit the 48-point plateau for the second straight week. Voorhees completed six of 10 passes and ran for 131 yards.
Andrew Haynes and Devontay Collier each had the distinction of scoring in the first home game in Schweinfurt history. The Razorbacks, a team which came into being this school year, fell 37-7 the previous week at Aviano in the school's first-ever football game.
Naples 51, Vicenza 0: Joseph Pitts ran for one touchdown and passed to Jun Jun Gallardo for a second score Saturday as host Naples gashed Vicenza for 38 first-half points en route to a Division II-South victory.
The first-half burst was more than enough for the Naples defense, which averages 230 pounds across the front, according to Naples coach Dirk Lambertson.
"I'll put our defense up against any in Europe," Lambertson said in a Saturday night phone call. "Our defensive coach, Steve Altstiel, does magic."
Aviano 9, Hohenfels 0: Andrew Bert booted a 33-yard first-quarter field goal Saturday, and Corey Webb ran 5 yards in the third quarter for the game's only touchdown as host Aviano stretched its Division II-South winning streak to two games with a blanking of Hohenfels.
"It was a defensive battle with multiple turnovers and over 200 yards in penalties for both teams," emailed Aviano coach Richard Dahlstrom. "Darnell Lewis led the Saints defensively with nine tackles, and Myron McRae had seven."
All told, Dahlstrom reported, the Saints (2-1 overall, 2-0 in II-South) held the Tigers, who did not complete a pass, to 49 yards rushing.
In Friday's game:
ISB 33, AFNORTH 28: The Lions remained winless Saturday, but you'd have a hard time persuading International School of Brussels of that after the host Raiders pulled out a victory.
"It was an extremely hard-fought game with the lead changing many times," ISB coach Wil Vreugdenhil wrote in a Saturday morning email. "We were leading 20-14 at half, then the Lions took the lead and were dominating the third quarter…"
How dominating was the Lions' third period?
"ISB ran only four offensive plays during the whole third quarter," Vreugdenhil reported, "and AFNORTH forced two fumbles."
Vreugdenhil, whose offense was led by Matias Bifani (20 rushes, 177 yards and a touchdown), Vinny Culotta (nine rushes, 78 yards and a TD, two TD receptions), and quarterback Marshall Kontos, who completed 5 of 9 for 62 yards and three touchdowns, finally took the lead at 33-28 with 5:30 left in the game.