Boys soccer preview
Pick a favorite: Plenty of contenders vying for titles
by
Gregory Broome
March 16, 2017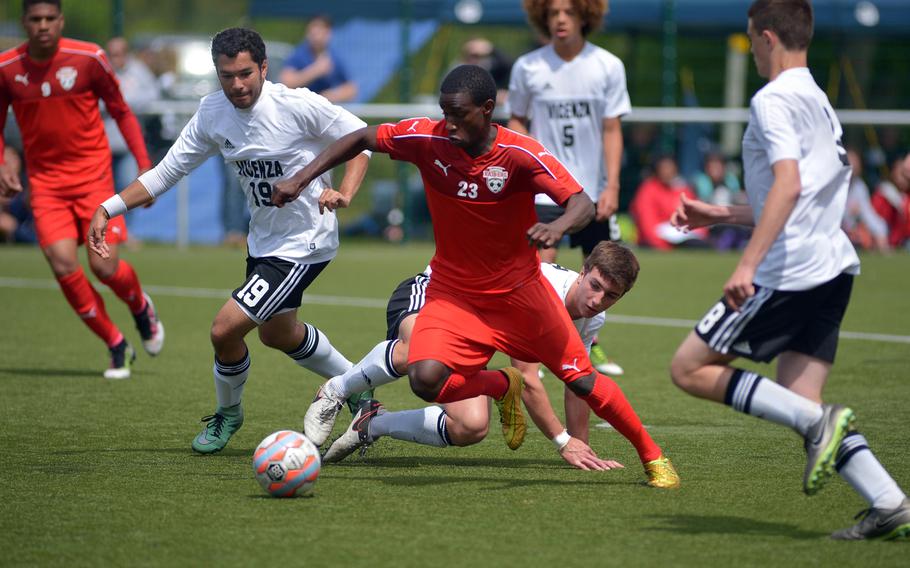 The 2016-17 DODEA-Europe boys soccer season appears to be filled with teams that could just as easily reach the finals as miss the elimination round entirely. And that's before a spring's worth of injuries, attrition and other complicating factors contribute to the chaos.
Even if its endgame is unknowable, the season at least has a clear starting point. Four openers are set for Saturday, including three in Italy and one in Bavaria. The campaign starts in earnest a week later, pauses soon thereafter for spring break and proceeds to the European championship tournament May 17-20 at Kaiserslautern Military Community.
Division I There's a solid favorite in place on the girls side of Division I soccer in two-time defending champion Stuttgart. The boys' field, then, represents the other extreme.
If the field has a frontrunner, it's International School of Brussels. The Raiders have appeared in four of the last five European championship matches, and won the title in 2012, 2013 and 2016. But ISB isn't immune to a down year; the Raiders missed the elimination round entirely in 2014, and its patient, probing style generally allows good opponents to stay close late into games.
All of that makes ISB the perfect symbol for this inscrutable soccer season. The Raiders return nine players, including five starters, but will lean heavily on juniors such as striker Arthur Everard, defender Ioan Bishop and midfielders Jurriaan Kruidenier and Keiko Petzold.
Lakenheath surprised many last spring by advancing to the European title game, and nearly upsetting the Raiders in a tense 2-1 final. The Lancers figure to again dominate the North and arrive at the tournament a full-fledged contender. They have the senior skill and leadership to meet or exceed last year's showing, with striker Tristin Reyes applying constant pressure to defenses and Riley Fleming anchoring the Lancers' own strong defensive unit.
Kaiserslautern appeared on track for a home-stadium title berth last season before falling to Lakenheath on penalty kicks in a heartbreaking semifinal loss. The Raiders will rally around their own experienced core of seniors, a group that includes dynamic forward and former Stars and Stripes boys soccer Athlete of the Year Alexander Dexter and defenseman and team captain Thomas Robinson.
Ramstein was excluded from the elimination round last year after winning consecutive European titles in 2014 and 2015. But like ISB, the Royals' retreats from contention are usually short-lived. Ramstein will look to return to the title hunt this season behind senior midfielder Keal Collins and a fresh crop of Royal recruits.
The instability at the top of the Division I bracket could create opportunities for new contenders.
Wiesbaden has a solid group of five incumbent starters back, including junior midfielder Matthew Rangel. Senior defenders Matteo Pugliese and Kyler Ward set the tone for a physical Naples team. Vilseck has experience, returning nine starters from a year ago, but would need to make a major leap forward from last year's tournament struggles to figure into this year's title scene. SHAPE figures to be strong in the crucial midfield area, a solid start for any title hopeful. And 2016 semifinalist Stuttgart, now five years removed from its last title-game appearance, is eager to get back to the tournament's main event.
Division II The Marymount Royals restarted their championship dynasty in emphatic fashion last spring, blasting the AFNORTH Lions 7-0 in a lopsided title game to cap a dominant run through the Division II bracket.
Marymount won four straight European titles before meeting upstart Bahrain in the 2015 championship match and losing its title reign on a penalty shootout. The Royals enjoyed redemption in 2016, knocking off Bahrain en route to recapturing the title.
It's unclear what teams will emerge to challenge Marymount, returning runner-up AFNORTH and a potentially resurgent Bahrain squad.
Rota has developed into a Division II powerhouse in a wide swath of team sports in recent years, and a group of eight returning players will look to add boys soccer to that list. Returning semifinalist Black Forest Academy fields a largely new varsity roster this spring, but the promising young roster might be talented enough to make some noise this season. Aviano, meanwhile, gets the first crack at Marymount this spring with a home match against the champs this Saturday.
Division III There's yet more uncertainty among the small schools, a division that has produced four different champions over the past four seasons.
Defending champion Alconbury is entering a self-described rebuilding season, but it's got some foundational pieces in place in goalie Robert Diamond and midfielders Tyler Gilhuys and Anthony Stewart.
Runner-up Brussels is in a similar situation with experienced midfielders Aljaz Urbanc and Alex Crowson buttressing a roster heavy on newcomers.
Sigonella has just two returning starters, but could get by on a talented youth movement including freshman midfielder Sean Murphy.
Twitter: @broomestripes