Patch's Lalau leads senior-laden All-Europe volleyball team
---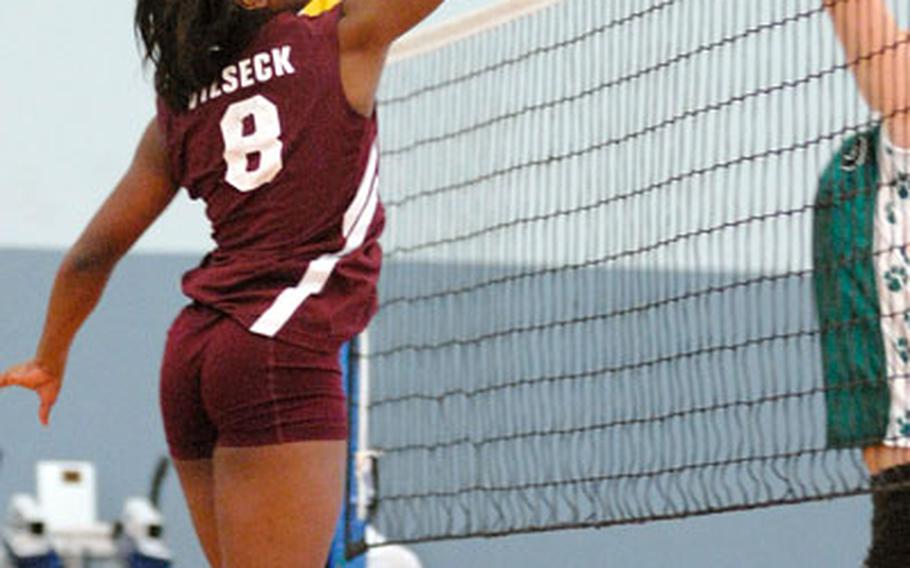 Kasy'e Lalau's third straight selection to the DODDS All-Europe volleyball team highlights the 2006 squad chosen by a panel of high school coaches.
Lalau, a senior outside hitter at Patch who averaged nearly four kills per game, made the team despite having her comfort level upset this season.
"When we changed from Division II to Division I this year, I didn't know if I could do as well," Lalau said by telephone Tuesday. "I'm really excited and really happy about making the team again."
Lalau's selection to the first team came as no surprise to Kori Pollock, coach of European D-II champion Vilseck and one of the All-Europe selectors.
"Kasy'e has been a joy to watch," she wrote Wednesday in an e-mail. "I wish I had a couple of her on my teams."
Lalau is one of seven seniors on this year's 12-player first team, and one of three returning first-teamers from 2005.
Regina Fleming and Jayci Cachuela, who helped Ramstein claim a second straight D-I title last month, are the others.
Two players made the jump to the first team from last year's second 12. Senior Kelsey Anderson of Naples, an outside-middle hitter, was her team's leader, according to coach Eric Vining, and senior Alania McKinnis, a middle hitter and middle blocker who helped Vilseck claim the European D-II title, "was the most powerful player on the court," according to Pollock, her coach.
Making All-Europe for the first time as seniors were setter Lindsey Jackson of Aviano and outside hitter Courtney Buchwald of Heidelberg.
According to Aviano coach Hans Hillestad, Jackson was the best player on a team that lost only one set during the regular season, while Heidelberg coach Kara Mittenzwey praised Buchwald's determination and reliability.
Juniors Nicole Doeden of Frankfurt International School and Brittany Wright of Hohenfels and sophomores Ashley Hicks of Vilseck, Lisa McBride of Lakenheath and Bethany Walcott of Rota's Division III champion rounded out the top 12.
Wright, whose Lady Tigers finished second to Rota in D-III, is the first player selected to the All-Europe first team as a defender.
Wright "always rotated from the back row to the front and was 'the defense' for us," wrote her coach, Kathy Clemmons, in nominating her mainstay for All-Europe. "… [W]ithout her outstanding and consistent defense … some of the outcomes simply would have been different."
Despite their youth, McBride, a setter, and Hicks, a middle hitter and blocker, had their teammates relying on them, according to their coaches. McBride "helped keep the team focused" wrote Lakenheath coach Kathy Schick; Hicks' play earned Vilseck's Coach's Award from Pollock.
Walcott, an outside-middle hitter, said she'll be at Rota through graduation, giving her a chance to follow Lalau as a three-time selection. She racked up big stats in the tournament — 52 kills (19 in the championship match), 15 aces and eight blocks, according to her coach, Judy Scarbrough.
Walcott credited a regular season spent honing her skills against Spanish teams, one of them second-ranked nationally, for her progress.
"They were really good hitters," she said by telephone. "They helped us with our blocking. We learned we could block big hits."
Like most All-Europeans, Walcott, whom Scarbrough called "the ultimate team player," downplayed the individual aspects of being an All-European.
"It's nice to do something for the school," she said.
2006 All-Europe volleyball team
First team
Player School Class Position Statistics/coach's comments
x-Kelsey Anderson Naples Sr. MH/OH 211 kills, 75 aces, 34 blocks
Courtney Buchwald Heidelberg Sr. OH 88% service, 97 kills, 7 blocks
y-Jayci Cachuela Ramstein Sr. Setter 20 assists per game
Nicole Doeden FIS Jr. MH 8 kills, 3 blocks/game
y-Regina Fleming Ramstein Sr. OH 8 kills, 5 blocks, 3 aces/game
Ashley Hicks Vilseck Soph. MH/MB 85.5% hitting, 90.16% service
x-Lindsey Jackson Aviano Sr. Setter 5 assists/set, 97% service.,17 aces
z-Kasy'e Lalau Patch Sr. OH 3.7 kills/game; 1.5 aces/game
Lisa McBride Lakenheath Soph. Setter 37 aces, 540 assists
x-Alania McKinnis Vilseck Sr. MH/MB 86.6% hitter; 80.8% service
Bethany Walcott Rota Soph. OH/MH 98 kills, 38 aces, 19 blocks
Brittany Wright Hohenfels Jr. Defense 85% of digs playable
Second team
Kaylen Bannister Ramstein Sr. MH 4 kills, 6 blocks per game
Cathy DelaRosa Vilseck Sr. Defense 95% service
Tyler Fleenor Ramstein Sr. MH/defense 101 kills, 16 aces
Greta Gerstner Lakenheath Sr. OH 28 kills, 205 digs
Kristin Hickey Würzburg Sr. MH/MB 63 kills, 62 blocks, 78% passing
Tiffany Hight Aviano Jr. MB 109 kills; "best blocker"
Becky Linka Vilseck Sr. Setter 93.6% service; .820 hitting pct.
Allison McKearn Würzburg Jr. MH/MB 54 blocks, 47 kills, 36 saves
Lizz McVicker Brussels Jr. OH 87 kills, 206 assists, 55 digs
Shizue Reid Naples Sr. MH 5 kills, 2 blocks per game
Courtney Roberson Bitburg Jr. MB 71 kills, 29 digs, 19 blocks
Caiti Stewart Alconbury Soph. MB/setter 12.3 kills, 8.7 assists per game
x-All-Europe second team 2005; y-All-Europe first team 2005; z-All-Europe first team 2004 and 2005.
All-Europe selectors
Chair: Karen Seadore, DODDS-Europe athletic director. Panel: Kathy Clemmons, Hohenfels; Kara Mittenzwey, Heidelberg; Kori Pollock, Vilseck; Hia Sebastian, Ramstein; Eric Vining, Naples; Vicky Westland, Brussels
Click here to get the All-Europe volleyball team page from Stripes' print edition (PDF format)
---
---
---
---