Patch, Heidelberg girls earn final
by
Rusty Bryan
May 22, 2010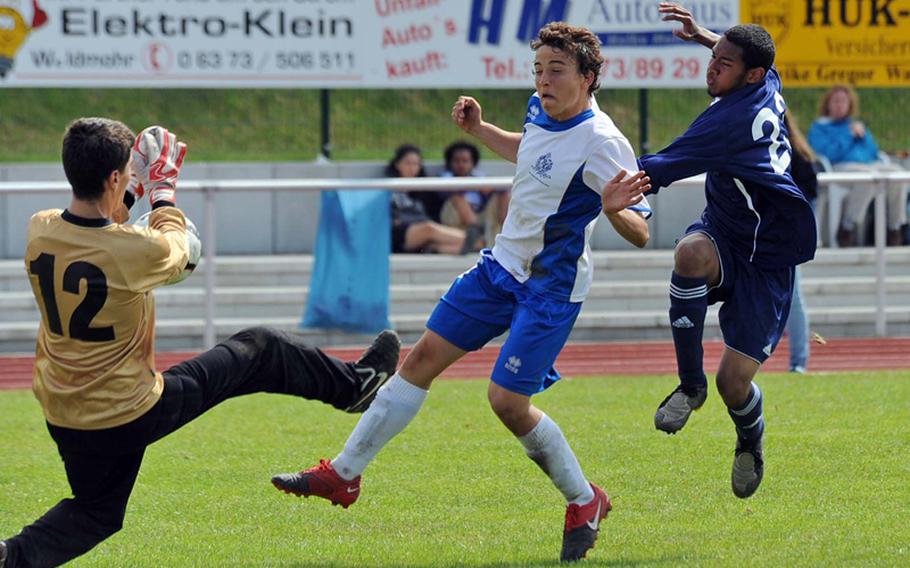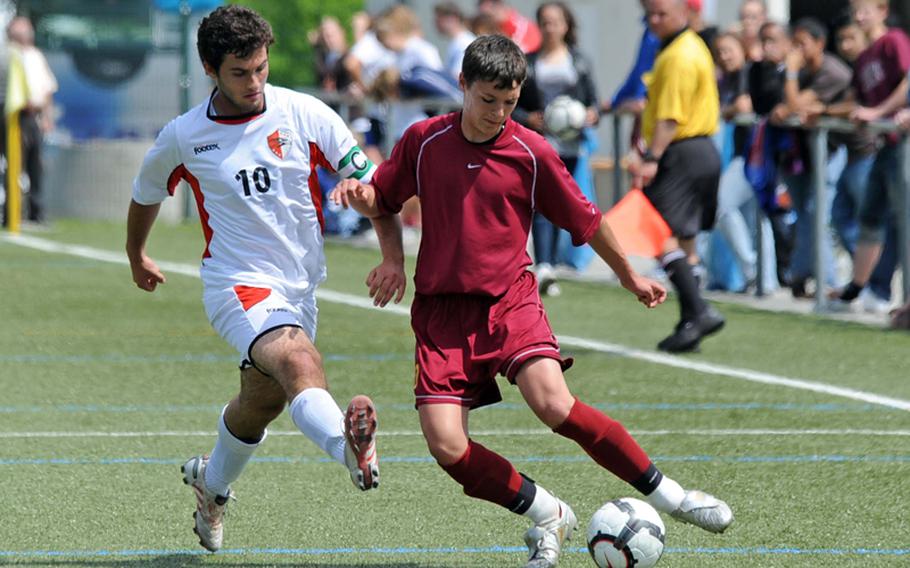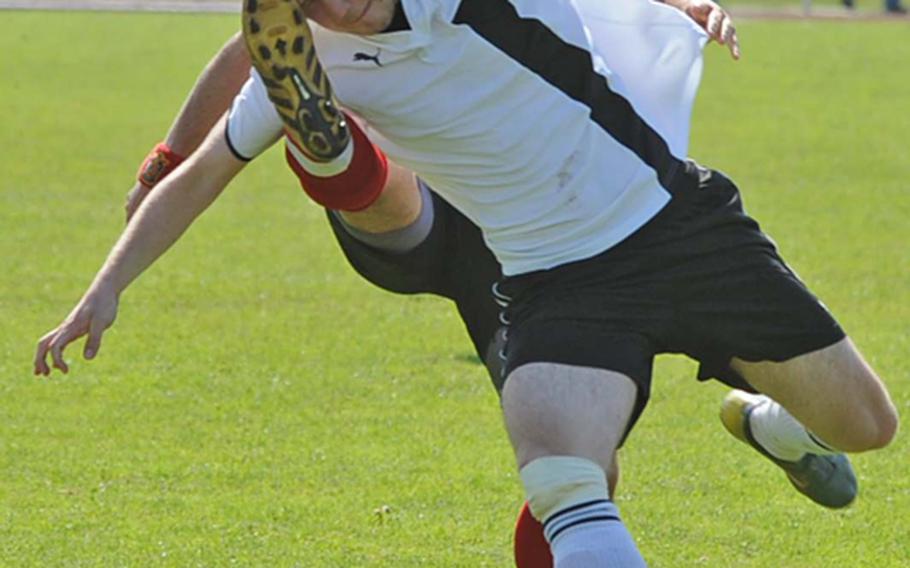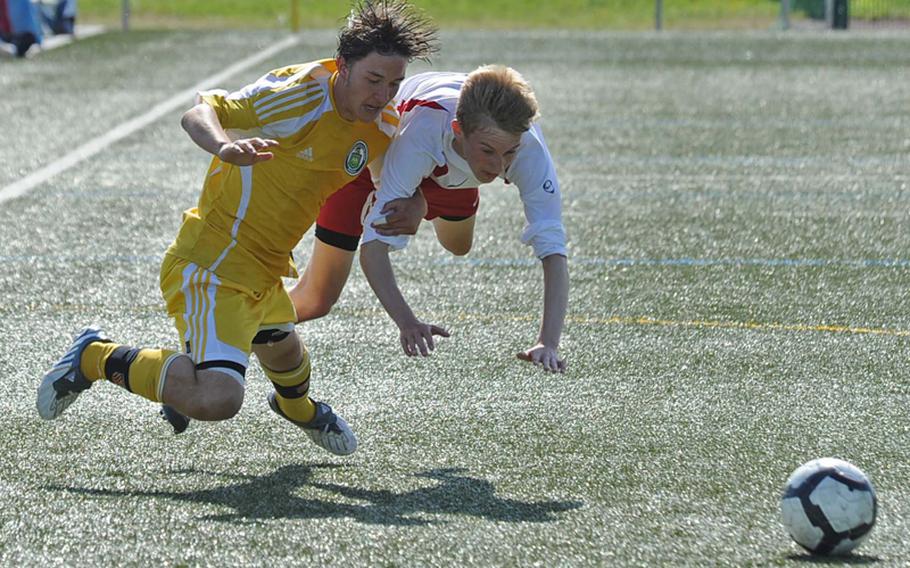 WALDMOHR, Germany — With shocking ease Friday, second-seeded Patch and No. 4 Heidelberg became the first teams to earn berths in Saturday's championship games of the DODDS-Europe Divisions I, II and III soccer tournaments.
"I got wonderful passes from my teammates," Patch All-European Emma Murray said after her four goals fueled an 8-1 romp over the defending champion and top-seeded Ramstein Lady Royals. "Two of them were headers, so I really enjoyed that."
Second-seeded Patch will face Heidelberg in the 4:15 p.m. Division I title game. Heidelberg rode a hat trick by freshman Celina Fry to a 6-2 elimination of No. 3 Wiesbaden in a game that all but ended after two Heidelberg goals in the first three minutes. The Lady Lions earned nine corner kicks in the first half, four of which led to scores.
"We played our hardest," said Fry, who was appearing in her first European semifinal. "I was nervous until the game got started."
Murray said Patch, which remained unbeaten, particularly savored eliminating Ramstein.
"It was payback for last year's championship game," Murray said, recalling Ramstein's 4-0 victory that capped the Lady Royals' unbeaten 2009 season.
Friday, obviously, was a different story on the artificial turf field.
"The field was short, and they were just too fast for us," Ramstein coach Ricardo Buitrago said.
Patch, which got two goals from All-Europe striker Nelly Loney, will be facing Heidelberg for the second time this season. Patch won 3-2 on the road April 24, but Heidelberg, which has allowed just three goals in its four victories here, has caught fire in the event.
In the other events that culminate in Saturday's title games at Ramstein High School:
n Division I boys: In its first season in D-I, 2009 D-II champ SHAPE slipped into Saturday's 6:30 p.m. title game with a 2-1 victory over Lakenheath. Kewin Nielsen and Trent Castro scored for the Spartans, who trailed 1-0 early.
"We play our football the same way," Nielsen said about his team's realignment. "We don't care where we play."
SHAPE will be facing Region I rival International School of Brussels in the final. The Raiders shrugged off a red card issued for profanity to their captain and All-Europe star Robert Brown to pull out a 2-1 victory on Majed Al-Suweidi's determined rush to the net three minutes from game's end.
"It's all about believing," ISB coach Philippe Kaisin told his team. "You became achievers in a difficult situation."
It's a situation which will continue today. Brown will have to sit out the finale to atone for his red card.
n Division II boys: The expected all-Italy final between top-seeded Marymount and No. 2 American Overseas School will kick off at 3 p.m., but Bitburg did all it could to crash the Roman holiday.
Brandon Massie scored three minutes before the regulation whistle to forge a 1-1 tie against the Marymount Royals, but the Italians eventually prevailed 4-2 in the shootout.
Even that was close, however. Neither keeper could manage a save, but Bitburg's Thomas Collins saw his try bounce off the crossbar, and teammate Taryn Smith booted his try just wide right.
AOSR put on a clinic against Baumholder, scoring five times in the first half and winning 6-0 to set up a rematch of an April 24 game between the Rome-based schools that Marymont won 3-2.
n Division II girls: No. 4 Naples and fifth-seeded AFNORTH will kick off this showdown at 1:15 p.m. after blanking Bitburg and Mannheim, respectively.
AFNORTH won 3-0, and Naples ended the improbable run of No. 7 Mannheim 1-0.
n Division III boys: A 1-0 pool-play victory Friday by Sigonella ended the tournament for top-seeded Brussels and landed the Jaguars in Friday's semifinal, in which Alconbury surprised the Sicily-based squad 1-0 to move into Saturday's 11:30 a.m. title game against Ankara.
The Trojans toppled Rota 2-1 in the other semifinal.
n Division III girls: The top-seeded Brussels girls also ran into speed bumps on Friday, falling to Menwith Hill 1-0 and probably out of the championship race in the single-round-robin event.
At the end of Friday's play, Menwith Hill and Rota were tied atop the six-team table with nine points each. Menwith Hill closes its schedule against winless Ankara, and Rota is to play one-victory Alconbury. Both games are scheduled for 9 a.m. at 1FCK Rote Teufel Sports Park. Brussels and Sigonella, each with seven points, conclude against each other at 10 a.m. at Ramstein High School.
bryanr@estripes.osd.mil