DODDS-Europe wrestling
Patch has numbers, but many classes up for grabs
---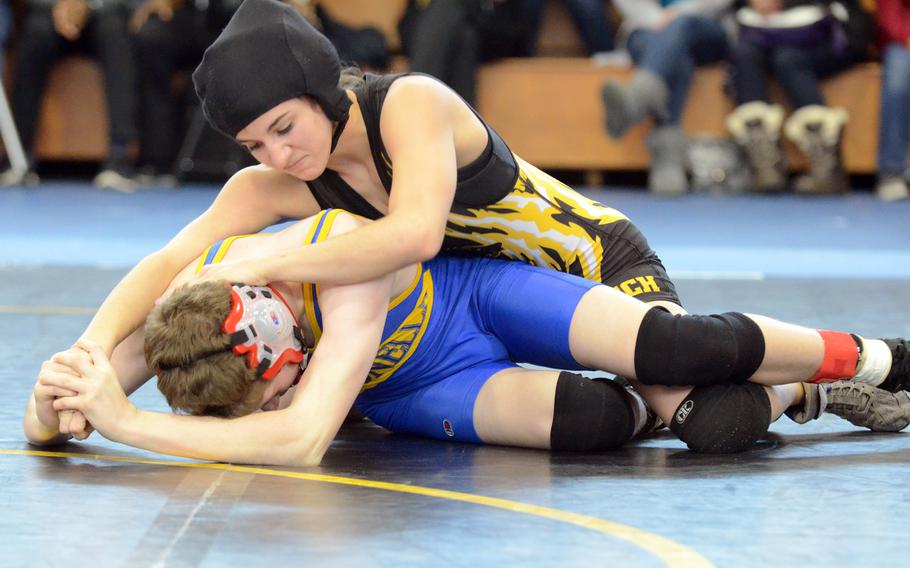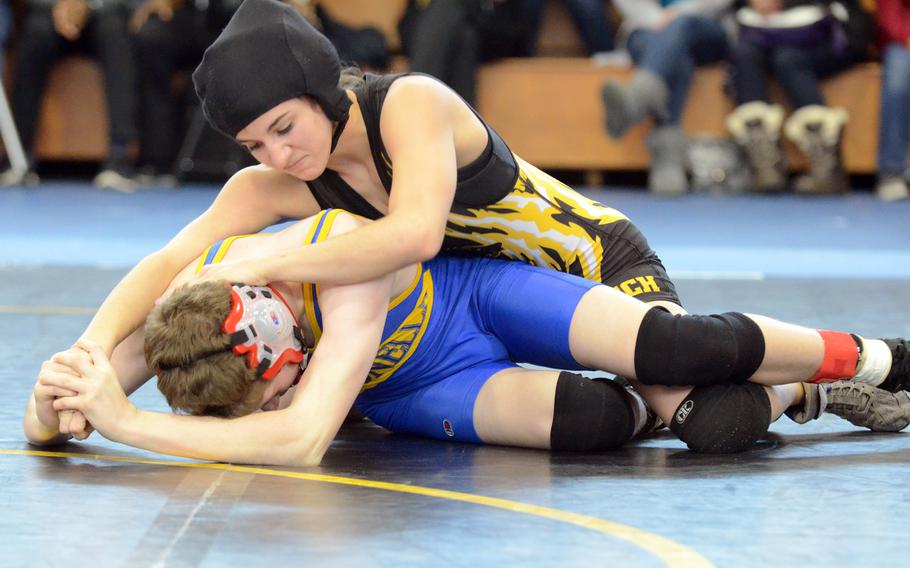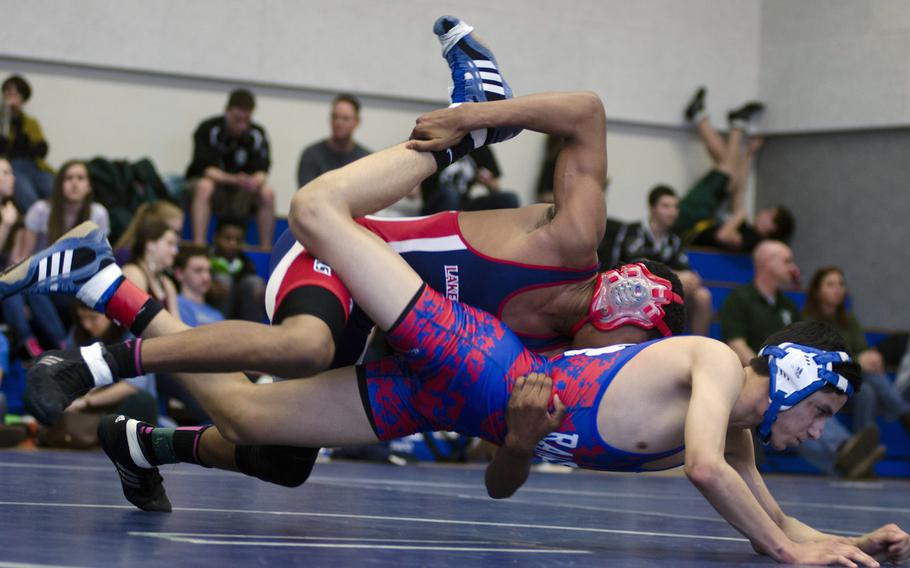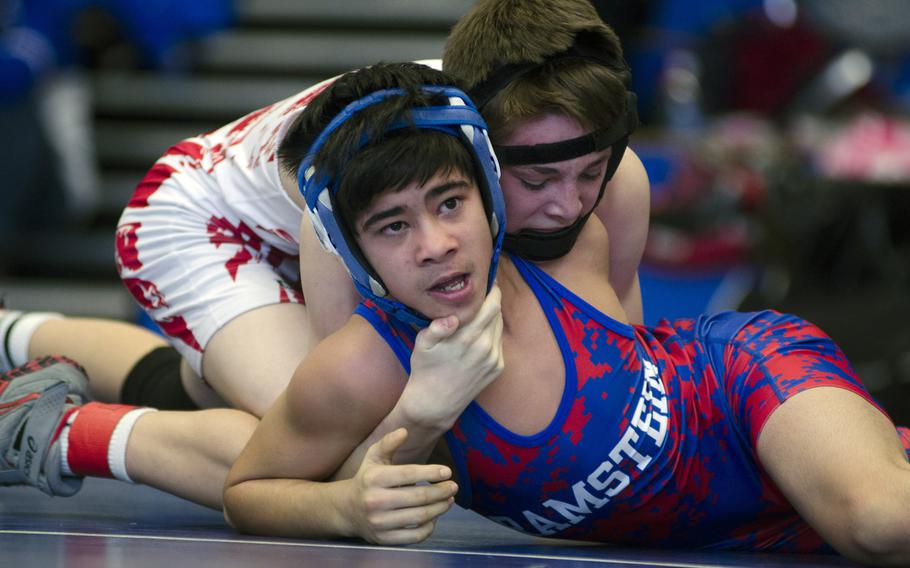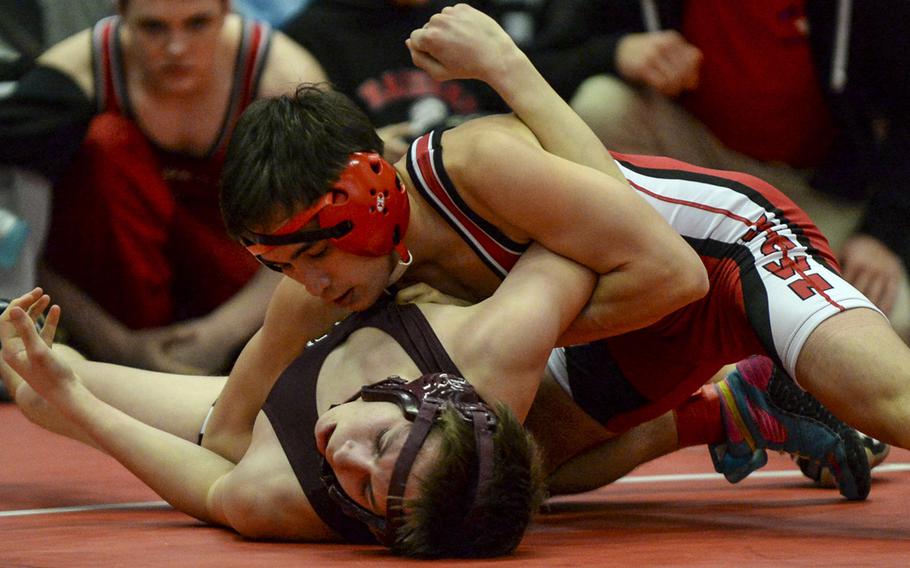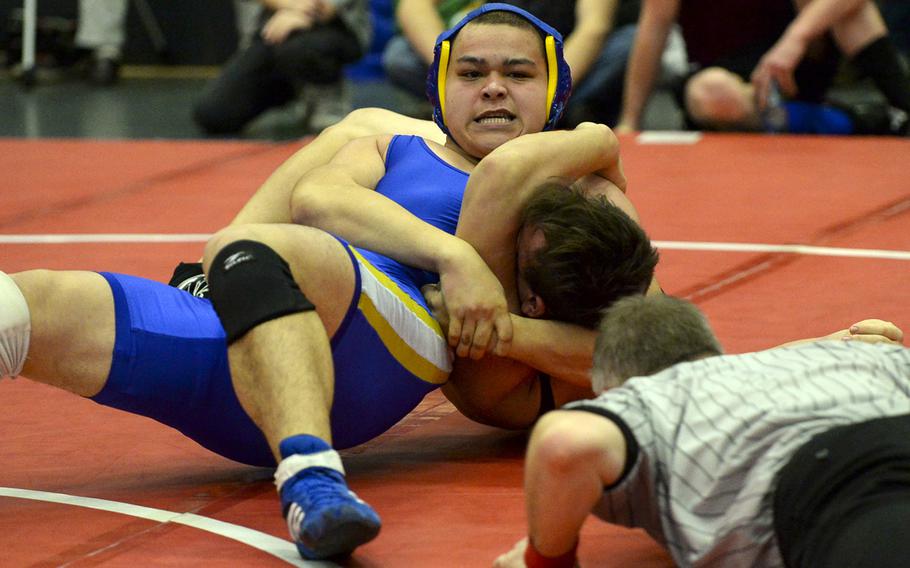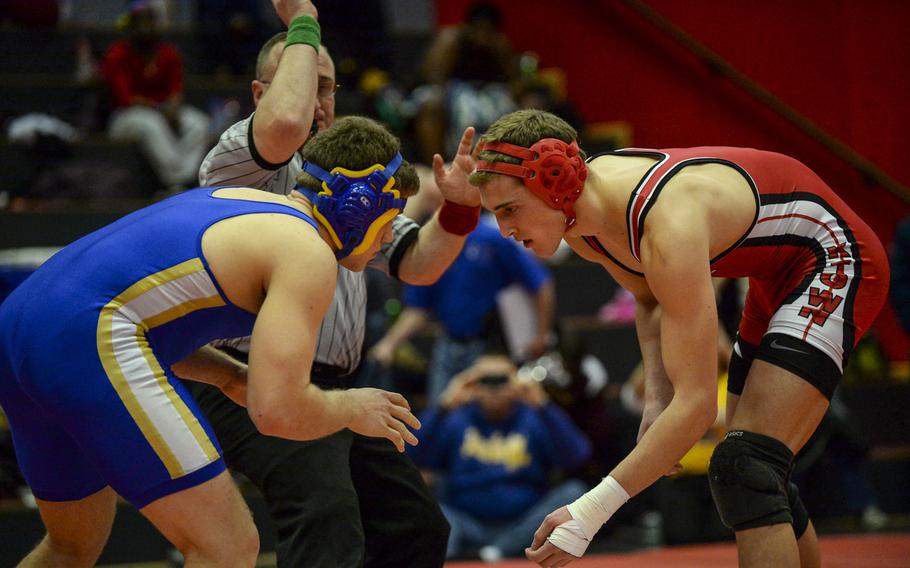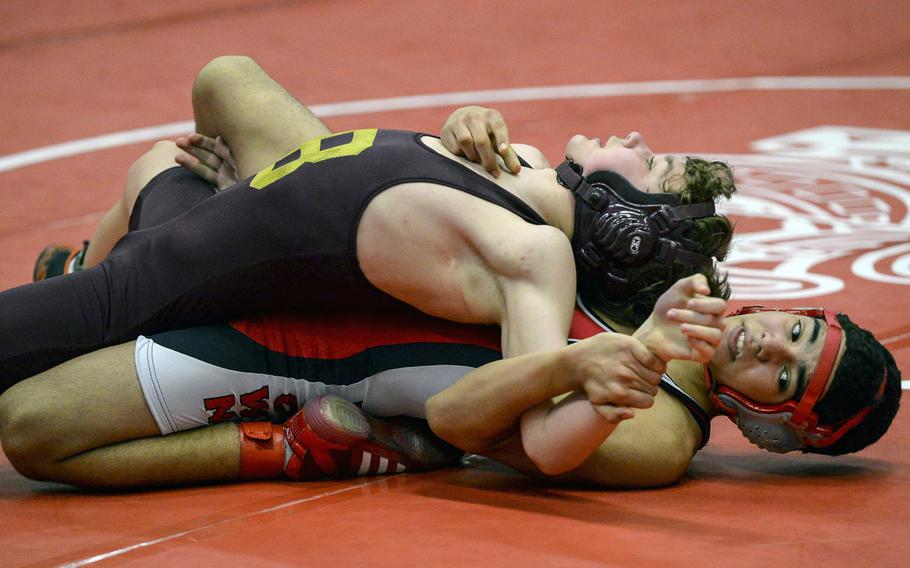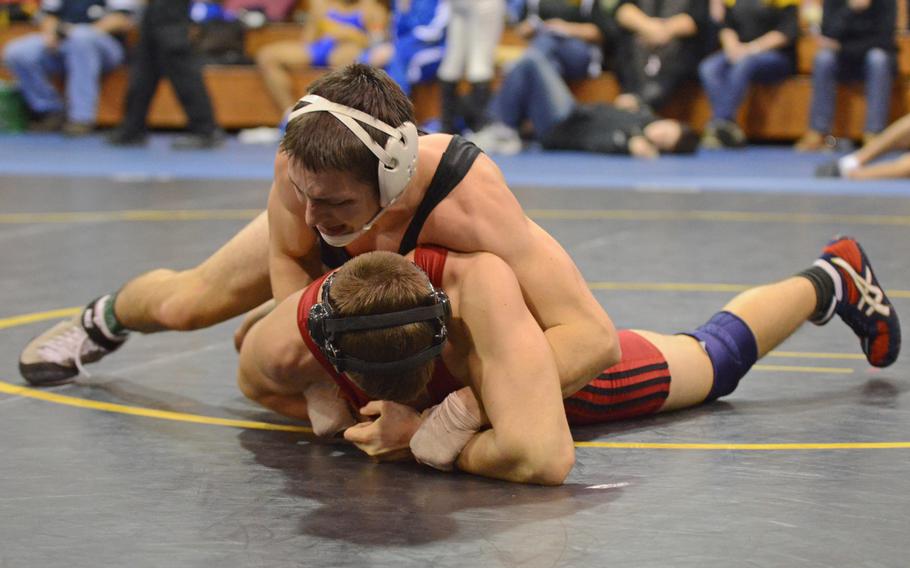 After Patch lost its four-year grip on the DODDS-Europe Division I wrestling championship last year, Panthers coach Norm Matzke had a simple message for his team.
"We will use it to motivate the kids next year not to take it for granted," Matzke said as Ramstein celebrated its long-pursued team championship.
Next year has arrived. The 2014 European wrestling championships are set for Friday and Saturday at Wiesbaden, Germany. And the Panthers are back in force.
Patch will field at least one contender in all 14 of the weight classes at stake. The Panthers likely won't win them all, but a handful of individual champions and a slew of points-earning top finishers might be enough to snatch the title back from the Royals.
The field for this weekend's championship meet is comprised of qualifiers from last week's three sectional meets, held at Brussels, Kaiserslautern and Vicenza, and a collection of wild-card entries selected by a DODDS-Europe panel led by athletic director Karen Seadore.
Here's a look at the top contenders in each weight class:
106 pounds – Larger student populations lead to more available athletes to spread around the fall sports, which leads to larger wrestling teams. As a result, Patch, Ramstein, and fellow Division I schools Lakenheath, Kaiserslautern, Vilseck and host Wiesbaden are heavily represented in nearly every weight class. DODDS-Europe's lightest group is no exception.
Wiesbaden's Dominic Vatcher, Lakenheath's Grant Barkhurst and Patch's Matthew Bolduc enter as favorites after winning last weekend's sectional qualifiers, but they'll have plenty of competition. Ramstein fields a contender in Stan Cruz, while Lakenheath's Brandon Lovett and Patch's Jonathan Becker give the Lancers and Panthers depth another shot if Barkhurst or Bolduc falter.
113 –The class with perhaps the most diverse set of top contenders includes a fast-rising freshman, a few Division II hopefuls and a returning runner-up poised to take a title.
The emerging freshman is Carlos Muniz of Kaiserslautern, who fought off a tough field last weekend to claim the top spot at his home-gym sectional. With a long wrestling history and Saturday's successful postseason debut, it's hard to hold Muniz's relative youth and inexperience against him.
Muniz will meet resistance from fellow sectional champions Jared Ferguson-LuGrain of SHAPE and Peter McCollaum of Vicenza, the latter of whom reached last year's 106-pound title match.
Kaiserslautern's Division I rivals also field contenders in Ramstein's Seiji Aponte and Patch's Christopher Matzke and McKenna Fields.
120 – The local Kaiserslautern-Ramstein rivalry might reach the continental stage in this class, where Raider Matthew Fischer and Royal Joey Fortunato appear to be on a collision course.
Fischer finished second at 113 pounds last year, while Fortunato won European gold at 106 pounds.
The two have stepped up to a higher class and found similar success, including against each other. Fischer finished ahead of Fortunato on Dec. 7; Fortunato took first in a rematch Feb. 8.
Plenty of worthy contenders stand ready to disrupt a third go-around between the two, including Vilseck's Mikhael Ragay, Lakenheath's Preston Booth and Vicenza's Drake Fichthorn.
126 – The big schools are back in force for this class, albeit with fresh talent. Wiesbaden's Brendan Sturman, Ramstein's Kenny Berry and Patch's Johnathan Brabazon each won their respective sectional meet last weekend, and all are newcomers to the European tournament.
Jacob Nantz of Hohenfels, Marlon Fouse of Lakenheath and Brandon Beaumont of Bitburg, meanwhile, are back in the mix from last year's tournament.
132 – Part of the reason for the clean slate at 126 is the upward move of Patch's Robert Call, a semifinalist at 126 last year. Joining Call from last year's 126-pound field is Wiesbaden's Matthew Hall, a Heidelberg transfer and sectional champ.
Lakenheath's Benjamin Lovett won the third sectional last weekend. But the class is deeper than those three champs, including Naples' Miles Davis, Ramstein's Mike Montano, Ansbach's Shawn McDonald and Kaiserslautern's Daniel Rinard.
138 – The large schools really begin to press their numbers advantage in the middle weight classes, DODDS-Europe's most crowded and competitive wrestling divisions.
Sectional champions Joseph Spiszer of Wiesbaden, Andres Rios of Ramstein and Zachary Bolduc of Patch represent the favorites here, while Kaiserslautern's Lawrence Abbott and Lakenheath's Zac Adamson pose threats. Aviano's Brady Walker and Aaron Norton of Brussels represent small-school hope.
145 – The Division I grip tightens with three sectional champions from the same three mega-schools: Wiesbaden's Thomas Greig, Ramstein's Justin Zapata and Patch's Jaden Fields. The dominant Fields is the favorite after winning last year's 138-pound European title and cruising through this year, including some impressive wins at 152 pounds.
152 – The growing trend only perpetuates in this deep class, with sectional winners Alex Wieman of Wiesbaden, Eric Carter of Ramstein and Daniel Matzke of Patch.
Carter ranks as the incumbent, having dropped last year's 152-pound European title match to Patch's DeSean Horton in one of the most competitive matches of last year's Saturday slate.
Count Marcus Dudley of Hohenfels and Wiesbaden's Brayden Lamb among the contenders as well.
160 – Vilseck won't have the numbers to get in on the Division I team race, but the Falcons have a shot at an individual title in Will Peters, who travelled to the sectional qualifier in Italy and came away with a first-place finish.
Fellow sectional champs Steven Brown of Wiesbaden and Matt Sharpy of Ramstein represent his toughest competition, along with Aviano's Daniel Dinges, Lakenheath's Dillon Thompson and Kaiserslautern's Aaron Gauff.
170 – Their title hopes were snuffed out prematurely last year, but improved versions of Kaiserslautern's Arvin Hrushka and Wiesbaden's Brett Wisti are back for what they hope is a deeper run in the same weight class this weekend.
Hrushka reached last year's semifinal round and set up another title shot with a sectional win last weekend. Wisti is right on heels after a promising showing in last year's 170-pound bracket and a runner-up finish to Hrushka on Saturday.
Colten Menges of Lakenheath and Daniel Alvarado of Patch will carry the banner of sectional champ into Wiesbaden; Alconbury's Nick Dufresne and Vicenza's Nathan Fullmer, both sectional runners-up, rank as dark-horse candidates.
182 – Dufresne's contendership at 170 marks the beginning of Alconbury's pursuit of the Division II title, an effort that intensifies here. Dragon Zain Leach won the northern sectional last weekend and is a solid contender to take gold back to the U.K. come Saturday evening.
Incirlik's Eli Spencer, meanwhile, showed up largely unknown at last week's Kaiserslautern meet and took a sectional title back to Turkey.
Southern sectional champ Steve Ashbaugh, Kaiserslautern's Bradley Lemon, Wiesbaden's Justin Vatcher, SHAPE's Bradley Malmquist, Naples' Josh Hensy and Patch's Matthew Cass fill out a deep class.
195 – This class holds another Dragon hopeful in sectional champ Chris Dufresne, though his flight path is blocked by the formidable frame of Vilseck's Kraig Sumpter, who finished a strong second to Bitburg's Bryce Randall in another of last year's most hard-fought final matches.
Wiesbaden's Gumchoi Cho, Ramstein's Lucas Mireles and Patch's Andrew Brabazon rank among their primary competition.
220 – One of the season's best regular-season matches might get a sequel Saturday as Wiesbaden's Hunter Lunasin and Patch's Will Miller are poised to again cross paths. Miller won the first edition of the match.
Ramstein and Patch have hats in this ring, too, in Royal Erik Gerena and Panther Jesse Long.
285 – Ironically enough, the ranks thin considerably in the heavyweight division, where many teams can't find a wrestler with the required size to fill this spot. The class belongs to reigning European champion Armando Saldana of Vilseck unless Wiesbaden's Adam Beasley or Ramstein's Christian Biacan are up for knocking him off.
Twitter: @broomestripes
---
---
---
---