Patch girls win D-I crown in overtime
by
Dan Blottenberger
May 23, 2010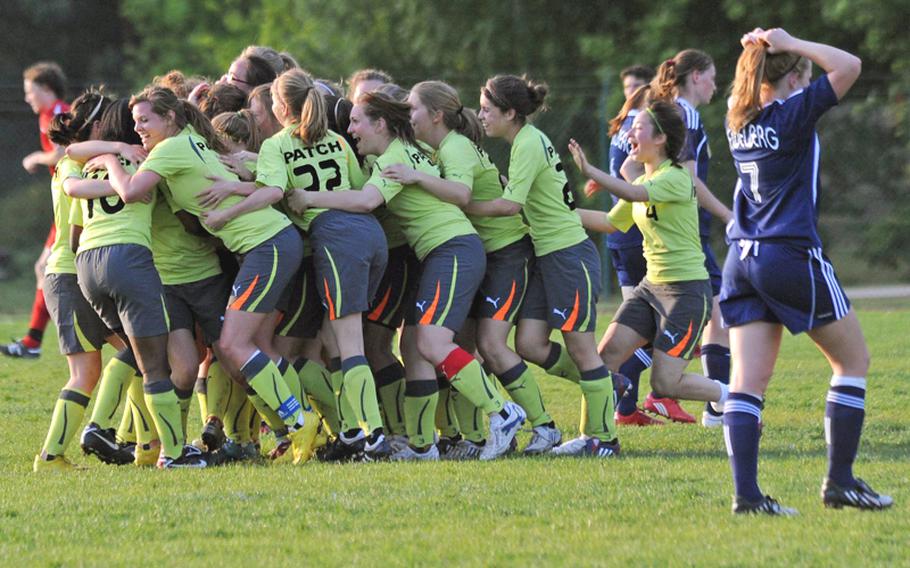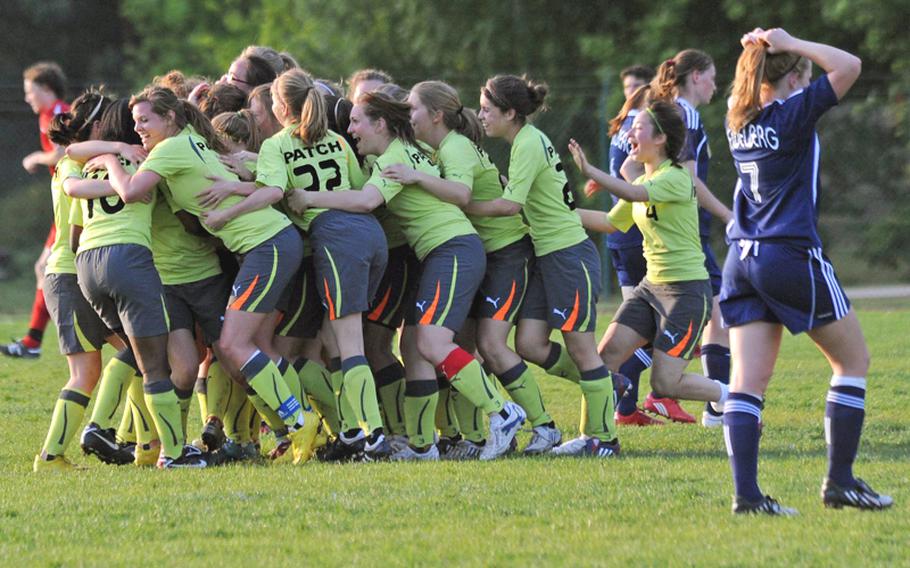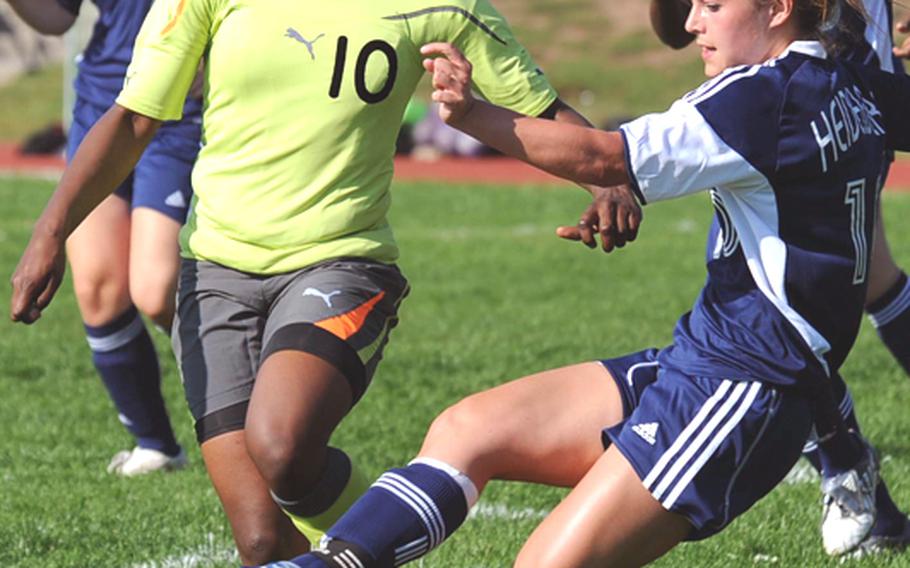 RAMSTEIN, Germany — As the final whistle blew, members of the Patch girls soccer team rushed the field to celebrate their overtime victory over Heidelberg in the DODDS-Europe Division I soccer championship and the completion of an undefeated season.
It took 100 minutes for Patch to finish Heidelberg, 2-1, and as the game neared the end of the second overtime the defensive battle appeared destined to end in a penalty-kick shootout.
Then, with about five minutes left, Patch's Emma Murray passed to an open Nelly Loney, who placed a shot in the corner of the net just above the reach of Heidelberg's Mellanie Stordahl for the winner.
"I just got a pass from somebody hoping it would go in, and it did," Loney said.
After Patch scored eight goals against defending champion Ramstein in one division semifinal and Heidelberg got six in the other against Wiesbaden, many were expecting an offensive showcase.
That isn't what they got.
Almost from the kickoff, fourth-seeded Heidelberg appeared to have found the answer for slowing No. 2 Patch's attack by making strong defensive stands against its dangerous forwards. Patch's defense was also up to the challenge.
In the opening advance downfield, Patch was given a corner kick that Murray nearly tapped in before it was batted away by Stordahl. From then on, opportunities were few and far between as most of the game was spent in the middle of the pitch with both defenses keeping the game in check. The first half ended scoreless.
The disciplined battle continued until the 60th minute, when Patch's Hayley Faruqui sent a shot into the hand of a Heidelberg defender, leading to a penalty shot. Heidi Heber was chosen to take the kick and delivered a shot past Stordahl for a 1-0 lead.
The goal ignited Heidelberg. Less than three minutes later, midfielder Celina Fry tapped in a bouncing corner kick from Melissa Frye to even the score.
As the battle intensified in the final minutes of regulation, Patch threatened, but each time the Heidelberg defense answered and forced overtime.
As extra time began, Heidelberg forward Melissa Fry took what looked like a go-ahead shot only to have it denied by Patch keeper Ellie Welton's diving save. Patch answered with several shots on goal, only to miss wide and whiff on a cross.
That left it to Murray and Loney to team for the winning goal.
Patch captain Heber credited teamwork for the Lady Panthers' perfect season.
"We worked on [teamwork] all season and it came together for us on the field," she said. "We just pulled it together for this one game."
blottenbergerd@estripes.osd.mil