Patch girls adding more power with move to Division I soccer
by
Rusty Bryan
March 15, 2007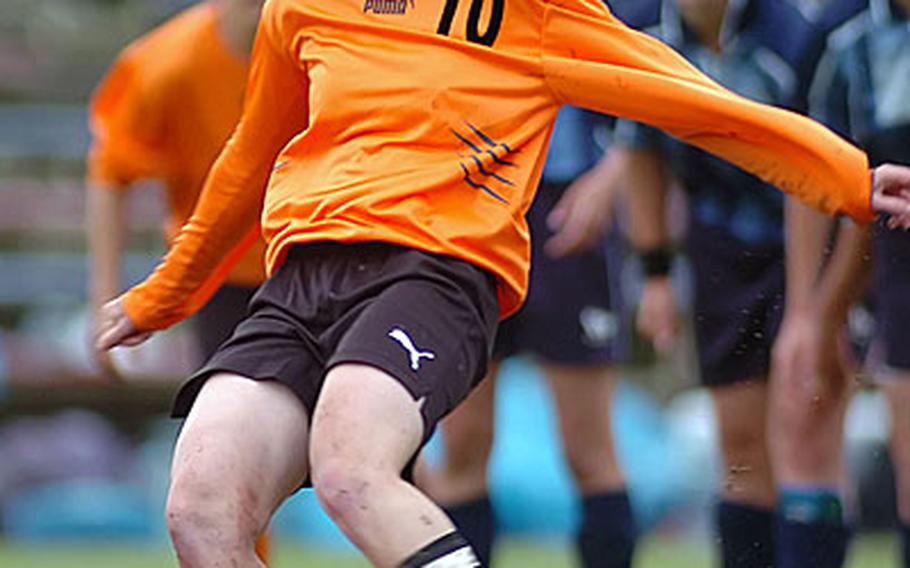 When the 2007 girls high school soccer season kicks off Saturday, there'll be anoticeable logjam at the top.
Longtime Division II dominator Patch will join power-programs Heidelberg and Ramstein in Division I this year.
"It'll be fun to see their style of play," Patch coach Tom Manuel said Wednesday. "We'll have to be patient."
Patch has won six of the eight D-II crowns ever awarded — including the past two — along with three European titles in the single-class tournament used in the 1980s. The Lady Panthers also topped Heidelberg for the title in the combined D-I/II event held in 1999.
"We've played Heidelberg for the last four or five years," Manuel said. "But it was always just a friendly where we were trying to get everybody into the game. It'll be interesting to see how they play in a divisional game."
The interest starts Saturday at Patch, which welcomes back All-Europe performers Kylie Marchant, Kate Frasca and Ciarra McGregor, but that's a non-conference game, too. The two powers don't play for real until April 28 at Heidelberg.
"They'll be a welcome addition," Heidelberg coach Jim McCauley said about the new kids on the D-I block. "[Manuel] runs a very professional organization."
Ramstein coach Ricardo Buitrago agreed with McCauley's assessment.
"[Patch] has an excellent track record," Buitrago wrote in an e-mail. "They are very disciplined and very talented. I'm sure it will be a challenge."
McCauley, whose Lady Lions have won 15 of the 24 European championship tournaments staged since the event began in 1983, have All-Europe players Ana Anger and Lauren Brosseau in harness for a run at title No. 16.
Heidelberg and Ramstein, which has three European-title plaques in its trophy case, have played one another for the D-I title every year since 2000. Heidelberg has won five of the seven showdowns since the turn of the century, most recently last May's 5-4 shootout victory.
Aiming to even the score for that one, Ramstein's Buitrago can call on All-Europe returnees Jayci Cachuela, Lauren Williams and Helen Della-Rovere, as well as Ramstein's usual intake of talented transfers.
With Patch vacating the D-II throne, perennial contenders — such as Aviano, Naples and Black Forest Academy, the last team other than Patch to claim a D-II championship — and a newcomer, Vilseck, will be vying for the crown.
Two-time D-III champion Sigonella is rebuilding behind cross-country star Erika Anderson, according to Jaguars' coach Shawn McCarthy. He sees 2006 runner-up Hohenfels and D-II transfer Hanau, led by All-European Fei Oloi, along with Vicenza, as the teams to beat.
Brussels, which welcomes back All-European Michelle Rosas, is the D-IV champion and will out to defend that crown at the European tournament, scheduled for May 16-19 at Ramstein.
2007 conference lineupsDivision IHeidelberg, Internat'l. Schl. of Brussels, Kaiserslautern, Lakenheath, Patch, Ramstein, Wiesbaden
Division II-NorthAFNORTH, Baumholder, Bitburg, SHAPE
Division II-SouthBlack Forest Academy, Mannheim, Vilseck, Würzburg
Division III-NorthAlconbury, Brussels, London Central (co-ed), Menwith Hill
Division III-SouthAnsbach, Bamberg, Giessen, Hanau, Hohenfels
American Schools in Italy LeagueAm. Overseas Schl. of Rome, Aviano, Marymount Int'l. of Rome, Milan, Naples, Sigonella, Vicenza