Patch boys show Ramstein it's not going to be easy
By
Stars Stripes European editionSunday December 6 2009
December 6, 2009
---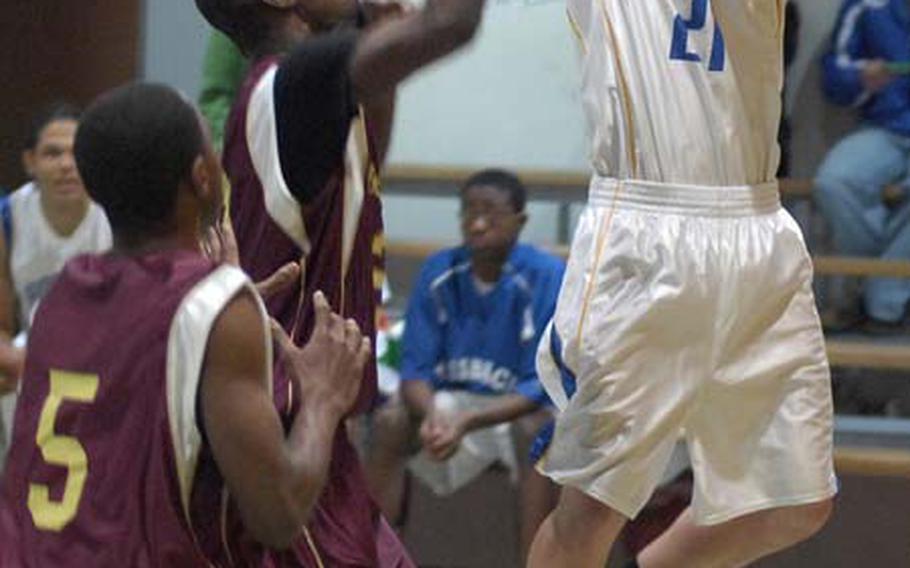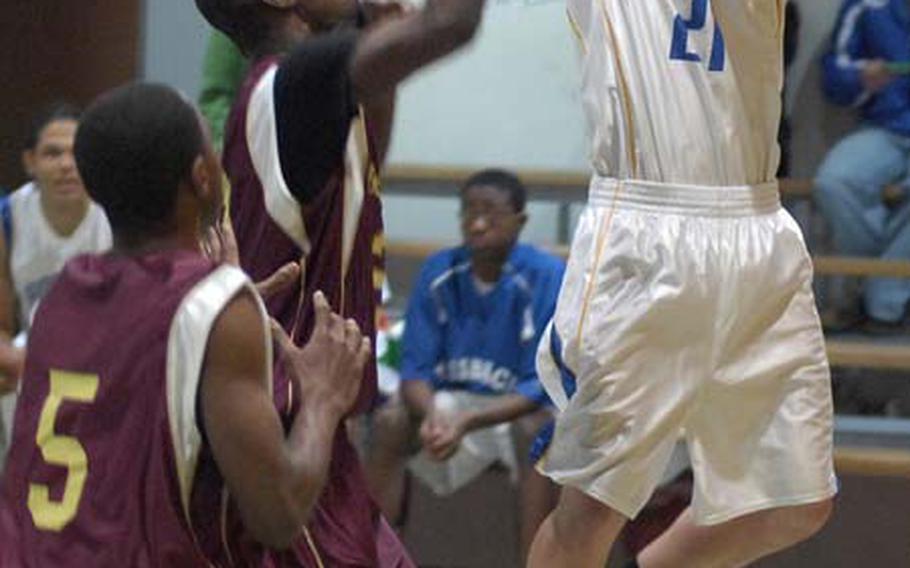 Although the Ramstein Royals probably knew the path toward a second straight European Division I championship wouldn't be clear sailing, the visiting Patch Panthers, just to make sure, delivered a storm warning Friday night with a 58-47 victory.
"Patch came to Ramstein and flat-out whipped us," Ramstein coach Arthur O'Connor wrote in an e-mail Saturday.
"They came out in the first quarter in a championship-winning mode, and we were still in preseason mode. While we were busy turning the ball over 10 times in the quarter, Justin Phelps was leading the way for Patch, scoring 10 in the quarter, including nailing his first two three-pointers."
Phelps finished with 28 points, negating Ramstein rally attempts by hitting two three-pointers to open the second half and going 4-for-4 from the foul line in the late going, according to O'Connor.
"We were able to cut the lead down to ... five," O'Connor added, "but had to use so much energy just to get back in the game that we could never get over the hump."
John Gonzalez had 13 points and five assists for Patch in this matchup of D-I contenders.
Inside presence Julius Johnson-Rich added 10 points and 10 rebounds. JeDarius Ford led Ramstein with 10 points and eight rebounds.
Patch claimed its second road victory over a D-I school on Saturday, turning back Kaiserslautern 60-40 as Phelps pumped in 24 points. Gonzalez again registered 13 points, and Johnson-Rich 10 had points and 10 rebounds.
In other games of note on basketball's first weekend:
Ansbach 64, Baumholder 47: Friday at Baumholder, another 2009 European champ dropped its season opener as Ansbach rode the three-point shooting of Derrius Flake to a 20-11 first-quarter lead that the D-III champion Bucs were unable to overcome.
Flake "caught us off guard during the first quarter with his three-point shooting," e-mailed Baumholder coach Lahoma Hendrix, who took over this season from Spencer Bean.
"However, in the second quarter, a joint effort from Reshard Matthews and JMil Wilson shut him down."
Flake finished with a game-high 18 points, and got scoring help from teammates Xavier Jones, who had 14 points, and Al Vasquez, who had 10, when he drew most of Baumholder's defensive attention.
All-Europe selection Artrell Davis led Baumholder with 16 points.
Ansbach dropped Baumholder to 0-2 after its first weekend as a D-II school by prevailing 48-42 Saturday behind Flake's game-high 22 points.
Wiesbaden 61, Vilseck 57 (OT): Saturday at Wiesbaden, the Warriors needed all of Tyrece Davis' 27 points to complete an opening-weekend sweep of their D-I guests.
Davis' big game, along with 10 points each by Tre Johnson and Roscoe Johnson, allowed Wiesbaden to overcome a 27-18 halftime deficit.
Davis scored 19 in Wiesbaden's 56-50 victory Friday.
AOSR 67, Naples 51: Friday at the American Overseas School of Rome, Lorenzo Mannzotti poured in 30 points as AOSR jumped to a 28-7 lead after the first quarter and rolled to victory.
Saturday's game was closer, but the outcome was the same.
Mannozzi scored 21 points in a 60-57 AOSR triumph as Naples was unable to overcome a 35-26 halftime deficit.
Lakenheath 56, Alconbury 26: Friday at Alconbury, Zach Reynolds connected for 22 points to lift the D-I Lancers over their D-III hosts.
---
---
---
---