Panthers girls dethrone two-time champ Kubasaki
by
Dave Ornauer
May 2, 2004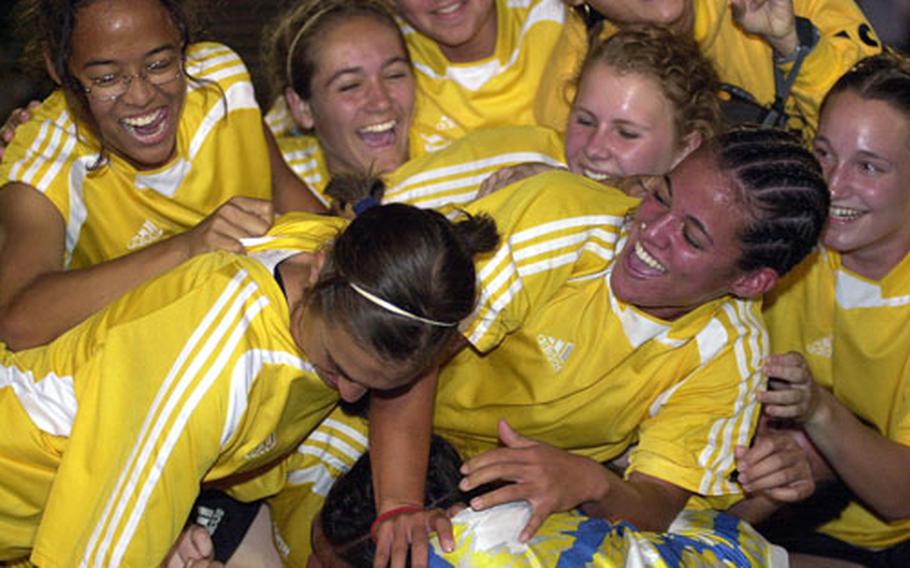 CAMP ZAMA, Japan — Kadena's girls team erased the frustration of its past two Far East tournaments on Friday, defeating two-time defending champion Kubasaki 2-0 in the Class AA championship match.
Katie LaGrave and Dianne Abel, selected the tournament's Most Outstanding Player, scored goals and Theresa Gittens posted a shutout, the Panthers' 19th in 21 games this season.
"This is the best way to end my senior year," said Gittens, whose team allowed only three goals this season. "It puts the lid on everything."
Led by sophomore Dianne Abel's region-leading 34 goals and the exploits of wingers Katie LaGrave and Vanessa Williams (17 goals each), the Panthers have plenty of offensive firepower. But coach Hoa Nguyen has stressed defense "from Day 1" of the season.
"We play tough defense, and it paid off," Nguyen said.
Kadena's defense kept a close eye on Kubasaki junior striker Erin Foote, a two-time All-Far East striker and former tournament MVP who has 25 goals this season.
"We marked Erin really well," Nguyen said.
Kubasaki coach Terry Chumley said the Dragons had difficulty matching Kadena's quickness.
"They're explosive," she said. "They have good speed and they have very good passing."
Abel's freshman sister Jennifer set up the first goal of the match in the 23rd minute. She lofted a free kick that went through keeper Debra Kinzley's hands. A pack of Panthers charged toward the loose ball, with LaGrave scoring from point-blank range.
Kinzley kept Kubasaki close with several timely saves.
"Deb played awesome," Chumley said. "She kept us in the game."
Dianne Abel scored an insurance goal in the 76th minute, gathering the rebound of a Williams shot from close range and knocking it past Kinzley.
Amid the celebration came a harsh reality for Kadena: There are seven seniors on the team.
"I'm going to celebrate this for about two weeks," Nguyen said. "Then, I'll have to rebuild."
Chumley praised her youthful squad, which will count Foote among a handful of returnees next season. Foote has 89 goals in three seasons.
"They gave it everything they had," Chumley said. "I'm proud of them. We got outplayed but we played the best match we've played. If we play our best and fall short, we're OK with that."
Kadena's girls joined the Panthers' boys team in wiping away a bit of unsavory history.
Three previous times that Kadena and Kubasaki met in a Class AA final, the team that won the Okinawa Activities Council season series lost to the other in the championship.