Panthers appear to be the team to shoot for again
by
Gregory Broome
December 12, 2019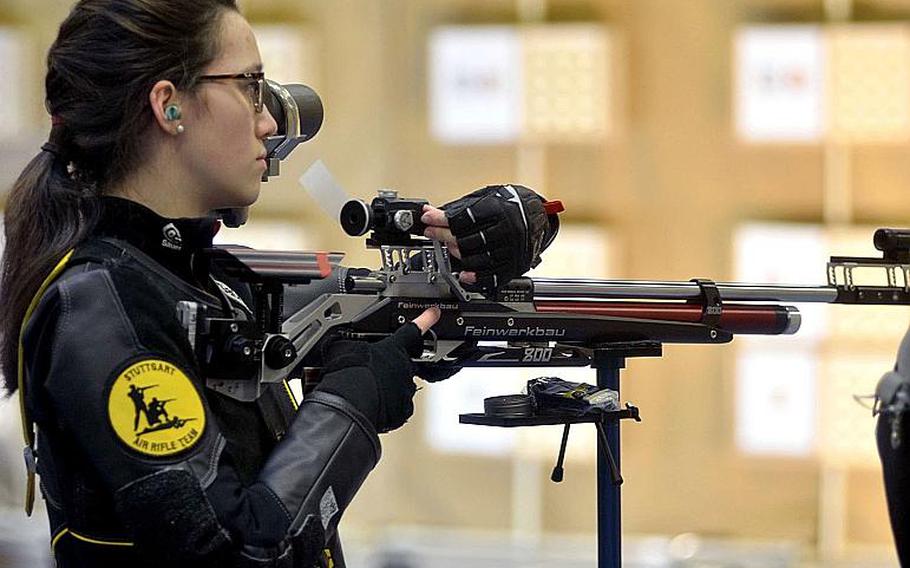 The Stuttgart Panthers are competing as much against themselves as with any of their rivals in DODEA-Europe marksmanship.
The six-time reigning European champions were victorious again Saturday, opening the 2019-20 regular season with a 38-point team victory ahead of conference rival Vilseck. And after a year of uncharacteristic uncertainty, albeit with the same familiar outcome, the Panthers' aura of invincibility has returned.
The Panthers' runaway 2018 title team was led by established seniors, leaving Stuttgart facing an unusually murky future at the end of that era. But a new crop of Stuttgart shooters stepped up last year to hold off a pack of rising European challengers and preserve the Panthers' dominance.
Having triumphantly survived what might have been a gap year in its title reign, Stuttgart now returns to the familiar template on which its dynasty is founded.
Proven performers serve as role models for less experienced shooters, even as they protect their own positions on the varsity from those same up-and-comers. No amount of preceding achievements can overcome the raw math of a younger prospect outscoring a more accomplished teammate; a fresh, blank target presents a literal clean slate with each successive meet.
"There are returners who must compete for spots amidst a wave of new talented shooters," Stuttgart coach Raul Pinon said. "It pushes each person to do their best each week. They are pushed to their limits and must show what they can bring to the match and the team as a whole."
That dynamic was evident in Saturday's season debut.
Returning shooter Kayla Boudreaux, who didn't rank among the Panthers' top four at last year's European championship meet, demonstrated what Pinon called her "remarkable improvement" with a first-place individual finish. Her total score of 289 points put her three points ahead of teammate Salome Cook, who finished second in last year's championship meet, and five points in front of Maria Tortorelli, the defending European champion.
That's evidence of a system that's working exactly as designed. Pinon said it's been "easy to integrate new shooters" into the program given the generosity of its stars, who happily "shared their knowledge" with the newer recruits.
"Cook and Tortorelli began this season with a better understanding of what a shooter must be," Pinon said. "And their successes have filtered down to all the members of the team."
The marksmanship season continues Saturday with meets at Alconbury and Vilseck, the last before the holiday break. The schedule resumes Jan. 11 ahead of the calendar year's first DODEA-Europe championship event Feb. 1 at Kaiserslautern.
broome.gregory@stripes.com Twitter: @broomestripes