Girls basketball athlete of year
Palacios' persistence paid off for Royals
---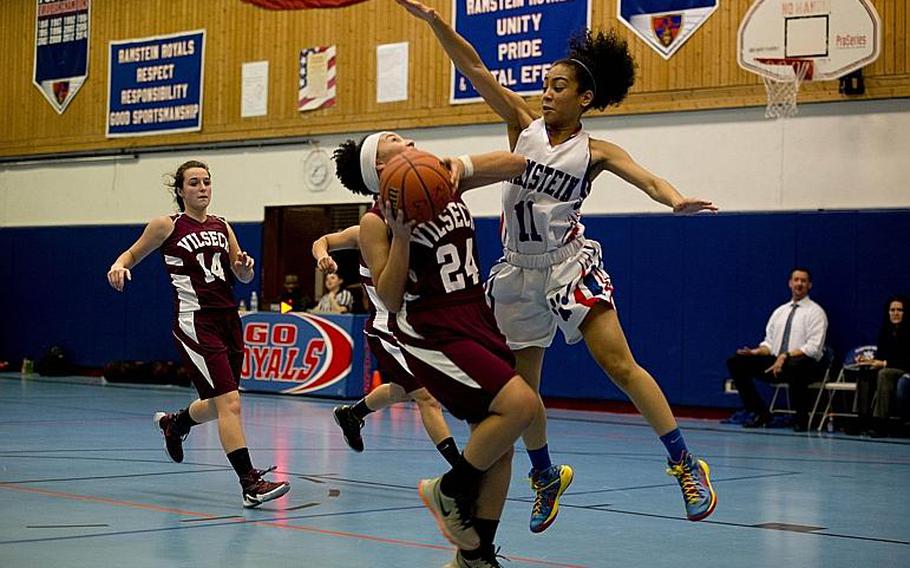 Desiree Palacios was never all that interested in being the best individual player. She wanted to be the leader of the best team.
As it turned out, she didn't have to choose.
In February, the senior successfully guided the undefeated Ramstein Royals to a DODEA-Europe Division I championship. Now she is the Stars and Stripes girls basketball Athlete of the Year.
Even as the postseason accolades arrive - including most valuable player honors in the Division I European tournament - Palacios knows her highest achievement was unlocked Feb. 27 at Wiesbaden, when the Royals outlasted Vicenza in overtime to earn their long-awaited European title.
"I'm not in it for myself," Palacios said. "I wanted everybody to be involved and I wanted us to win as a team. I wanted us to all work for each other and fight for each other.
"I felt happy that I was able to help lead that, in a way."
That dramatic win over Vicenza was just the final step in a process that spanned Palacios' entire Royals career.
Four years ago, Palacios moved from Alaska to Ramstein in time to take the court as a freshman. She built on a promising debut season to steadily grow into one of the continent's best guards as the Royals developed a talented roster around her. But the project didn't yield a championship in Palacios' first three seasons, the Royals' deepest run ending with a 2015 title-game loss to Wiesbaden.
As her senior season approached, Palacios shared a single-minded vision with her teammates.
"We all just wanted to win it," Palacios said. "We had it within us. We just had to bring it out and make it all work."
It worked perfectly throughout the winter as Ramstein tore through an undefeated regular season. As the wins piled up, the intensely focused Palacios made sure even success didn't slow down the Royals.
"We definitely had the confidence, but we didn't let that get a hold of us," Palacios said. "We didn't let the wins affect us."
That was fortunate, because the dominant regular season gave way to a treacherous postseason tournament. Stuttgart nearly pulled off a semifinal upset before Ramstein took a 31-30 win, paced by Palacios' 10 points. The next day, Vicenza, the parallel power that had spent its season on a collision course with the Royals, pushed Ramstein to overtime before succumbing 49-46. Palacios scored 12 points, including a few key late baskets, and made six steals in the title game.
Having crafted its perfect ending, Palacios, who next year plans to play for NCAA Division III program Eastern University in Pennsylvania, can now look back and appreciate a fully realized high-school hoops journey.
"I can definitely say that I've grown as a player, as a leader and as a person," Palacios said. "We made it to where we wanted to get."
broome.gregory@stripes.com
Twitter: @broomestripes
---
---
---
---