Perry wrestling champion China headed to next level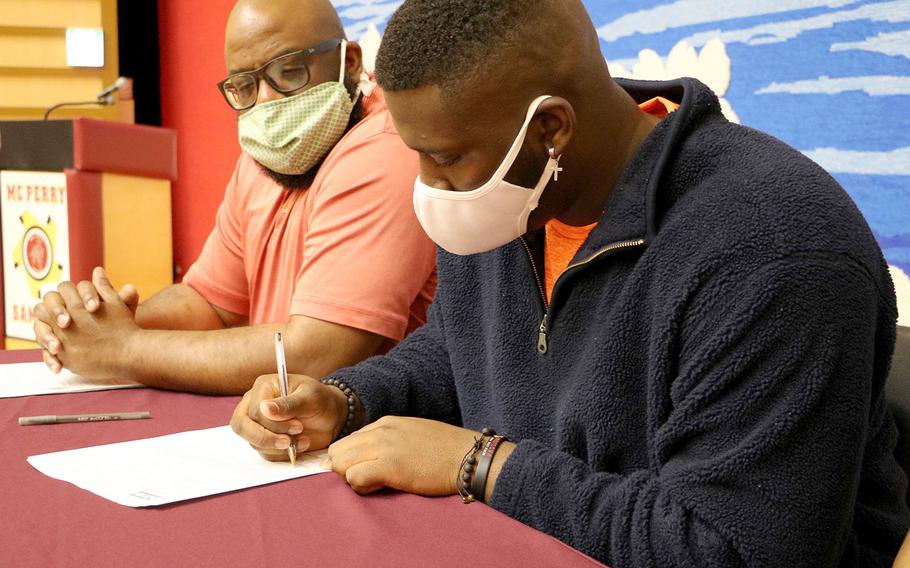 He went unbeaten in his last 37 bouts over three years, and capped those seasons with heavyweight division championships in Far East wrestling tournaments.
Now, Marshall China of Matthew C. Perry is taking his game to the next level. On Wednesday, China signed a National Letter of Intent to wrestle at Campbell University.
Campbell is a private NCAA Division I school in Buies Creek, N.C. The Fighting Camels wrestle as an affiliate member of the Southern Conference.
"I am extremely proud of him and know that he will be great at the next level," Samurai coach Chris Munsell said. "He is a very coachable kid and with his work ethic and desire to compete, I believe he will be a tremendous asset to the Campbell program."
China capped his high school career with a pin over Myles Bradley of Osan in the heavyweight championship bout, a back-and-forth affair that proved to be the toughest of China's career.
China becomes only the third student-athlete at Perry to sign an NLI to play at a D-I school, the others being Kai Lange and Gaku Lange, who each signed NLIs to play soccer at Pacific University of Stockton, Calif., of the West Coast Conference.
---
---
---