Kinnick's Stravers taking grid game to next level
by
Dave Ornauer
February 10, 2021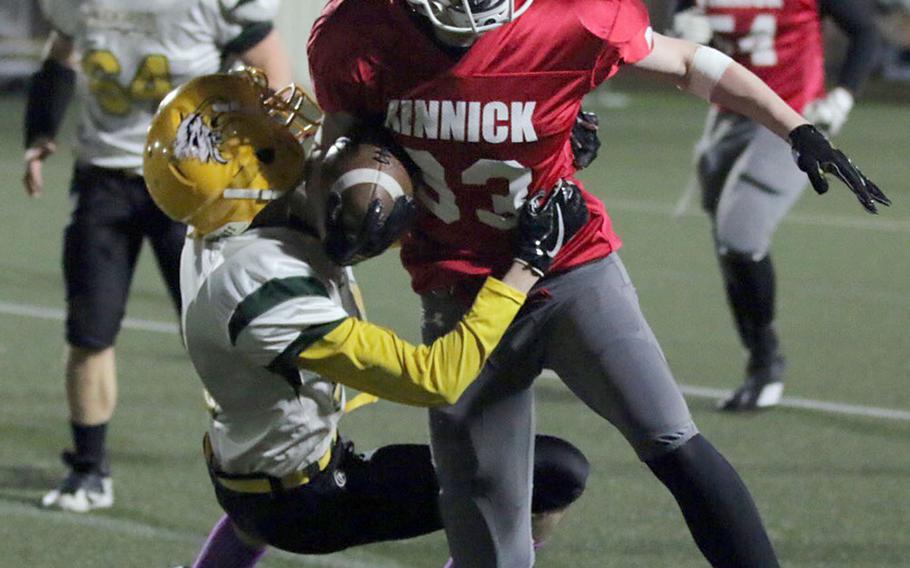 Gabriel Stravers of Nile C. Kinnick's football program plans to play in college next season.
The senior, who played linebacker for the Red Devils when they won the Far East Division I title in 2018, has committed to play defense for Greenville University, an NCAA Division III school in Greenville, Ill.
"We're very excited about Gabe coming to join our program," said Panthers coach Robbie Schomaker by email to Stars and Stripes on Tuesday.
Stravers was in the lineup on Nov. 10, 2018, when Kinnick avenged a 2017 D-I title-game loss, beating Kadena 38-20 at Yokosuka Naval Base's Berkey Field – the first Far East football title in Kinnick's 72-year history up until then.
The Panthers program is getting a player whom Kinnick head coach Dan Joley calls "so versatile … that the Greenville coaches really have a blank slate to work with once Gabe steps on the field for them.
"If Gabe can adjust to more complex defense coverage schemes, I believe he will excel in the defensive backfield," Joley said. "He is a great tackler who can cover a lot of ground on the football field."
Schomaker said that Stravers needs time in the weight room to build his body to keep up with the rigors of the sport at the college level.
But his passion for the game "really stands out in his film. Gabe has the physical tools and intelligence to be successful in our scheme," Schomaker said.