Kadena gridders to take their game to the next level
by
Dave Ornauer
May 21, 2017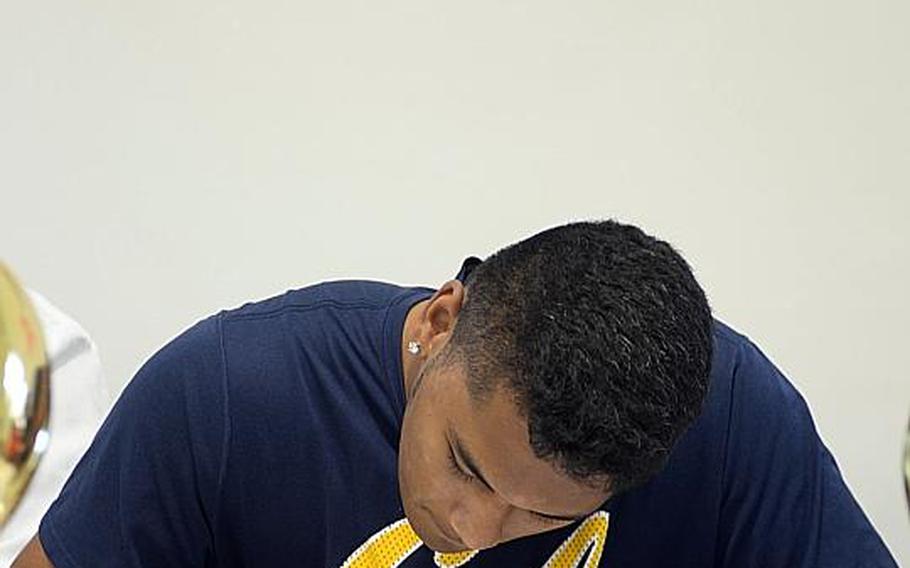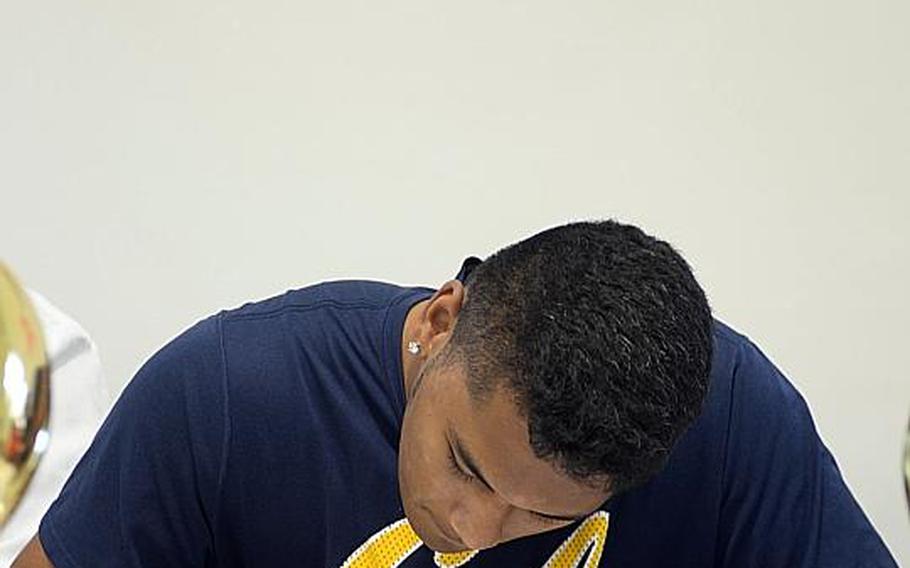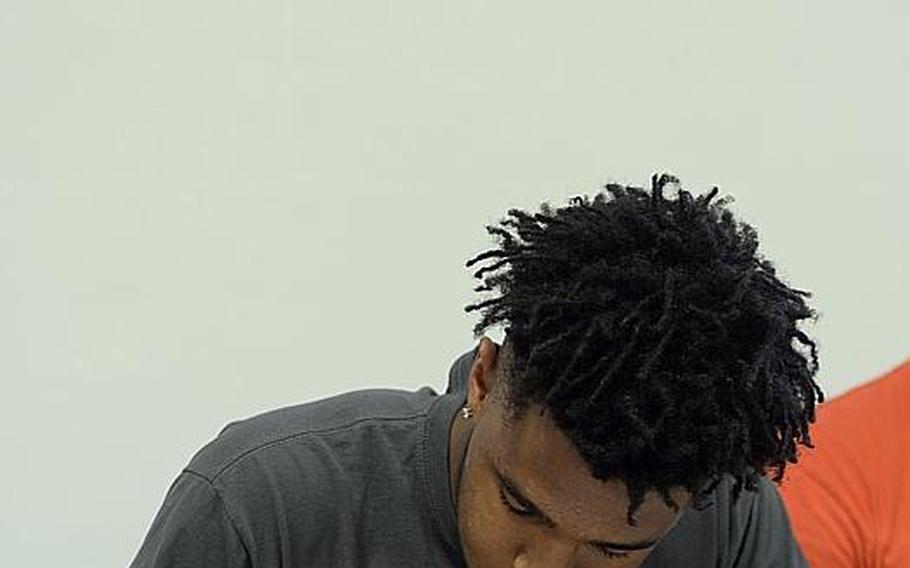 Siulagisipai Fuimaono has made history for both Kadena High School and the University of California at Berkeley.
The 6-foot-4, 280-pound senior became the first football player in Kadena history to sign a National Letter of Intent to play at a major Football Bowl Subdivision program, earning a full scholarship with the Bears of the Pacific-12 Conference. Fuimaono's signing was announced on Cal's Web site last Monday.
"We are excited about the potential we see in Siulagisipai," Cal coach Justin Wilcox said in a story published at the school's Web site. "His film is good and he is a big, strong athlete that we think will help us on the defensive line."
Sharing cake with his classmates and teachers and smiling for photographs following the signing ceremony on May 12 in Kadena High School's information center, Fuimaono said he was not expecting this. "It's all surreal," he said. "It's a humbling experience. I feel honored. I'm really excited for it."
Fuimaono as a senior recorded 94 tackles, 21 for losses including seven sacks and one forced fumble. The Panthers played in the Far East Division I football championship game all four years he attended, winning titles in 2015 and 2016 over Okinawa island-rival Kubasaki. Fuimaono has been named all-district three straight years and was named the team's defensive Most Valuable Player as a senior.
Kadena coach Sergio Mendoza said Fuimaono has the "biggest upside" that one can get from the Pacific in a player. "He brings strength, intensity, football knowledge, violence in the trenches. … He can bring a lot of positives to Cal."
Fuimaono first caught the attention of Cal through a California-based outfit called Bankhead Routes, under the direction of John Bankhead and David Hill who staged a football clinic over the spring break on Okinawa.
"Siu's physical stature alone caught our attention and from there, we were inclined to ask more questions. 'Have you thought about playing in college? What schools have you talked to? What are your grades like?'" Hill said.
Bankhead and Hill developed a digital profile for Fuimaono, Hill said, which included data about his character, academics, work ethic, physical attributes and performance, among other factors. The data was stored at stealthratedathlete.com, which can be accessed by 1,500 universities and their coaches, Hill said.
"He made a connection with somebody who could help," said DODEA-Pacific Far East athletics coordinator Tom McKinney, a former Kadena teacher who attended the signing.
"It's a great thing. Kids in the Pacific can make it. But you have to work hard to get there," McKinney said.
Fuimaono will join a Cal squad that in 2016 was 5-7 overall, including 3-6 in the Pac-12. At the same signing ceremony, Fuimaono's senior teammate Abe Patterson committed to Heidelberg, a Division III school in the Ohio Athletic Conference, receiving an 80-percent financial grant-in-aid. The Student Princes went 6-4 overall and 6-3 in the OAC in 2016.
"Never give up. Anything is possible, no matter what anybody else says," Patterson said of the message that signing with a college football program sends to other DODEA students harboring similar dreams. "You have to put your heart into it."
Patterson will bring the Student Princes "incredible discipline, heart and desire, some of the best tight-end hands I've ever seen and a body that can take on 30 to 35 more pounds," Mendoza said.
Heidelberg coach Scott Donaldson declined to comment on Patterson, stating in an e-mail that he's not permitted to comment on prospective student-athletes "until they are on our campus," he said.
Kadena has had previous graduates sign with and play for college football programs in recent years. Justin Sego, the school's career rushing leader, signed in 2015 with Division III Whitworth (Wash.). Aaron Ahner, Class of 2016, and his brother Gabe, Class of 2017, each signed with Louisville as walk-on defensive tackles.