Zama's fast start helps Trojans clinch D-II title spot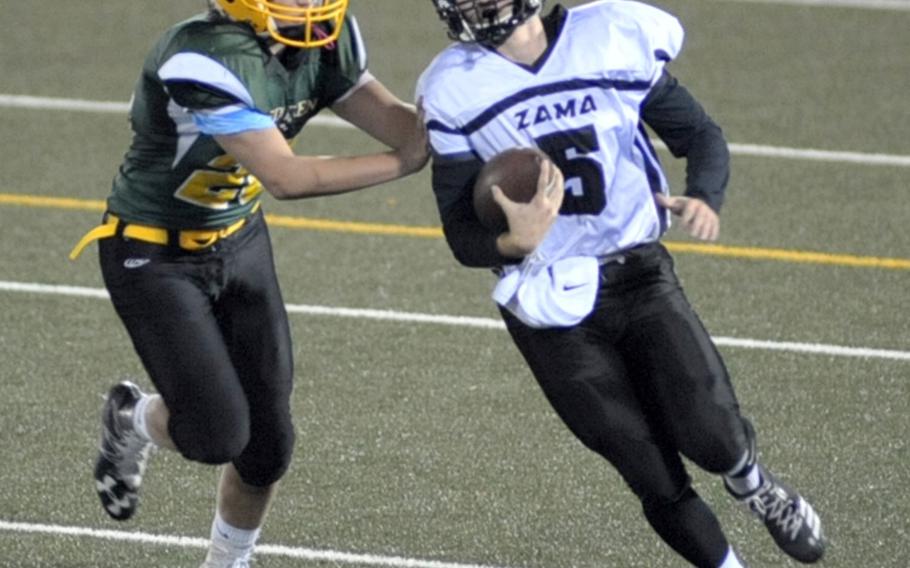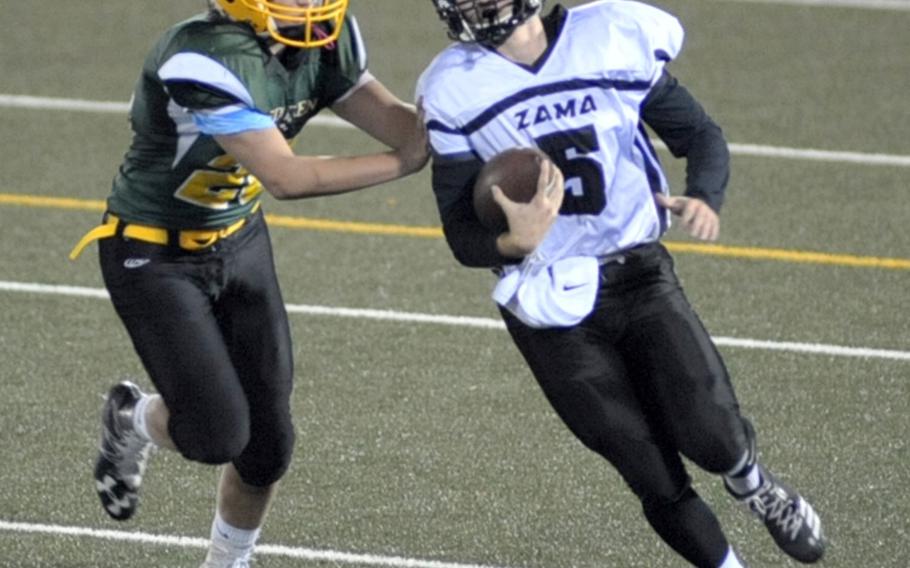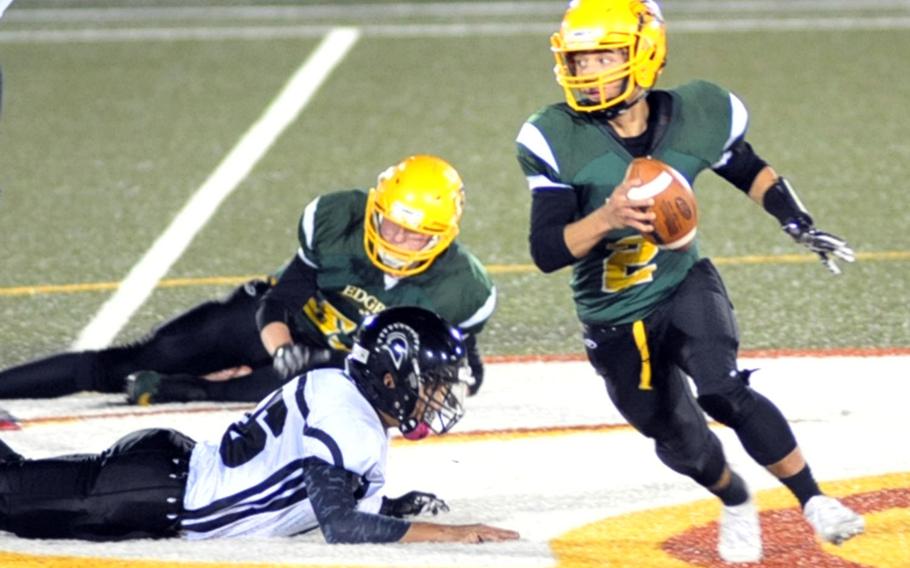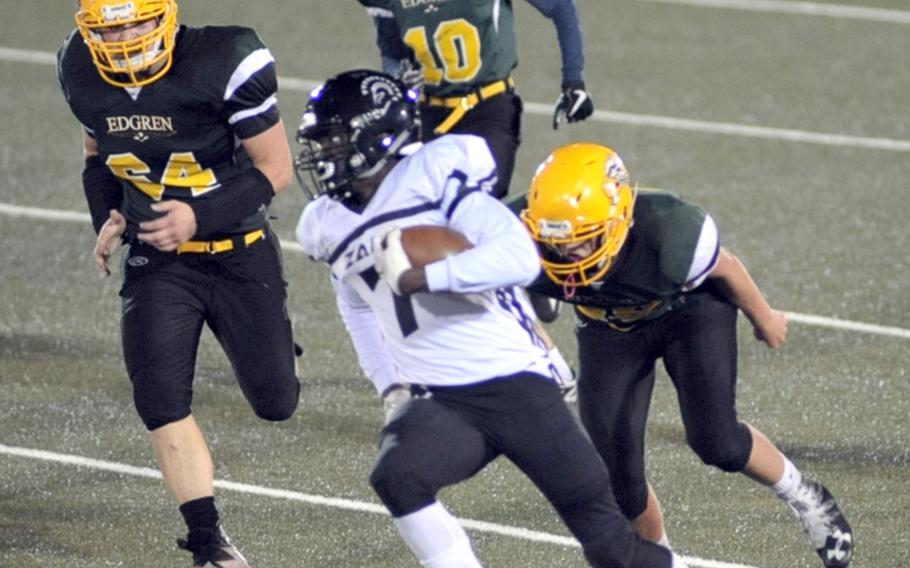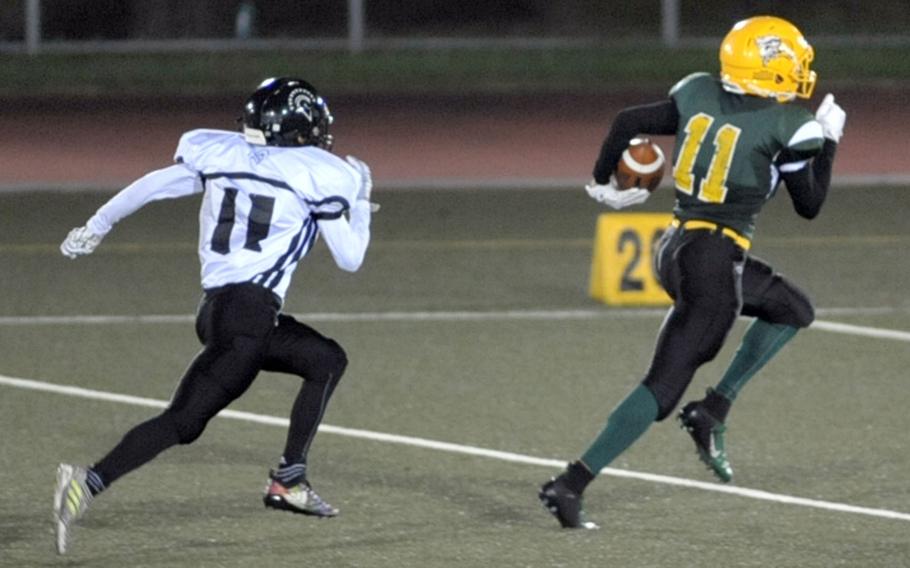 MISAWA AIR BASE, Japan – Thanks to the right arm and fleet feet of Nick Canada, Zama is headed to the Far East Division II football championship game for the first time since 2012.
The senior quarterback rushed for two touchdowns and passed for four more, including two TD strikes to his brother Sean, as the Trojans raced ahead 22-0 at halftime, then held off host Robert D. Edgren 44-22 on Friday at Eagles Field.
"It's a sigh of relief, because it's always tough to win at Edgren," coach Scott Bolin said of his Trojans, 4-2 overall and 4-0 against DODEA-Japan D-II opponents.
With the victory, the Trojans clinched host rights to the D-II final, scheduled for 7 p.m. Nov. 10. Zama will host Osan.
The win was far from a perfect performance by the Trojans, Bolin said – and he sounded a cautionary note that they'll have to perform better than they did in the second half if they want to beat the Cougars in the D-II final.
"This was a great opportunity for us to look at what we need to fix" going into the Far East final, starting with playing "48 minutes of solid football," Bolin said.
"We can't take anybody lightly and we won't. We want to be masters of our own fate." Likewise, coach Jeremy Sanders said his Eagles might have had a chance at beating Zama, and hosting the D-II final, had they put two solid halves of football together.
"It all went back to us playing disciplined football on the back end" on defense, Sanders said. "It didn't happen in the first half, and we ended up giving up some easy points. We came out strong in the second half. A tale of two halves. Great first half, awful second half."
Canada also threw a touchdown pass to Caen Hammond. Luke Singer rushed 15 yards for a touchdown. One of Sean Canada's TD catches was set up on a blocked field goal and a long return by Dominic Peruccio.
All the Eagles points were the result of long passes to A.J. Nelson by Raphael Lykins, 60, 40 and 35 yards. Nelson also scored a pair of two-point conversions.
"I'm still proud of this team," Sanders said of an Eagles team that almost wasn't, barely beating an Aug. 31 deadline to have enough players to play a season. They began play on Oct. 6. "In my heart of hearts, we now have an identity. We have something brewing."
Edgren concludes its shortened four-game season with a visit to Matthew C. Perry next Friday at 6 p.m.
Meanwhile, Zama finishes its regular season and tunes up for the D-II final with a home date against American School In Japan on Friday at 7 p.m. The Trojans have a week off before the D-II title game.
"We have to play a complete game and do our part and the rest will take care of itself," Bolin said.