Far East wrestling
Yokota, St. Mary's earn team championships
---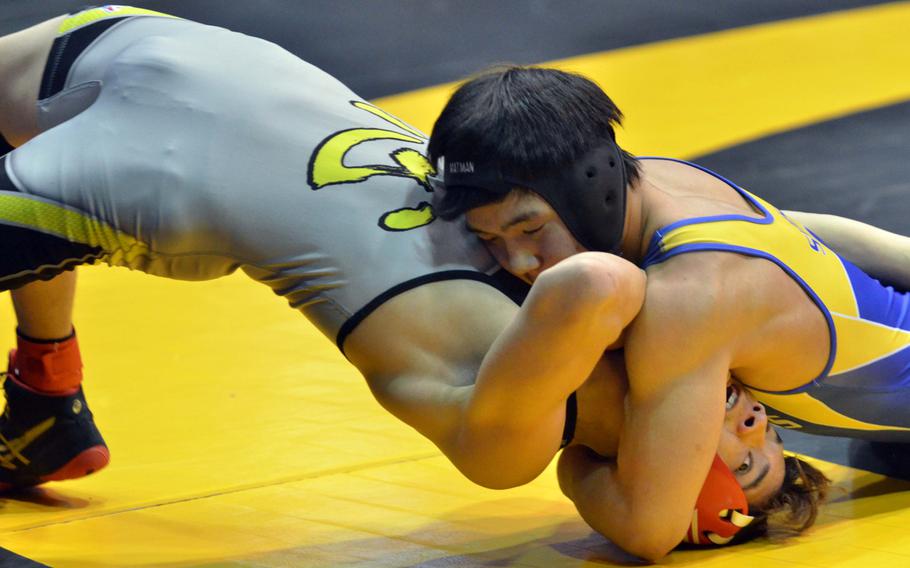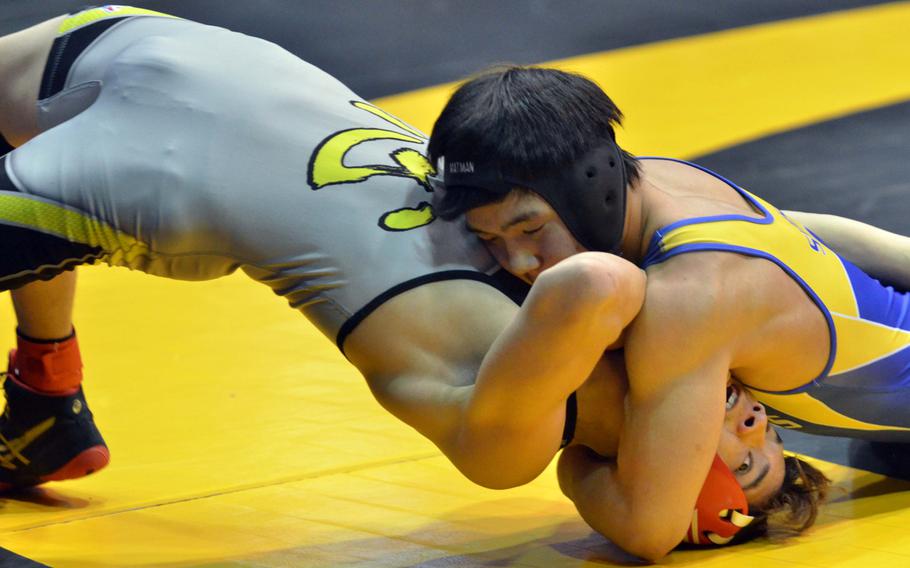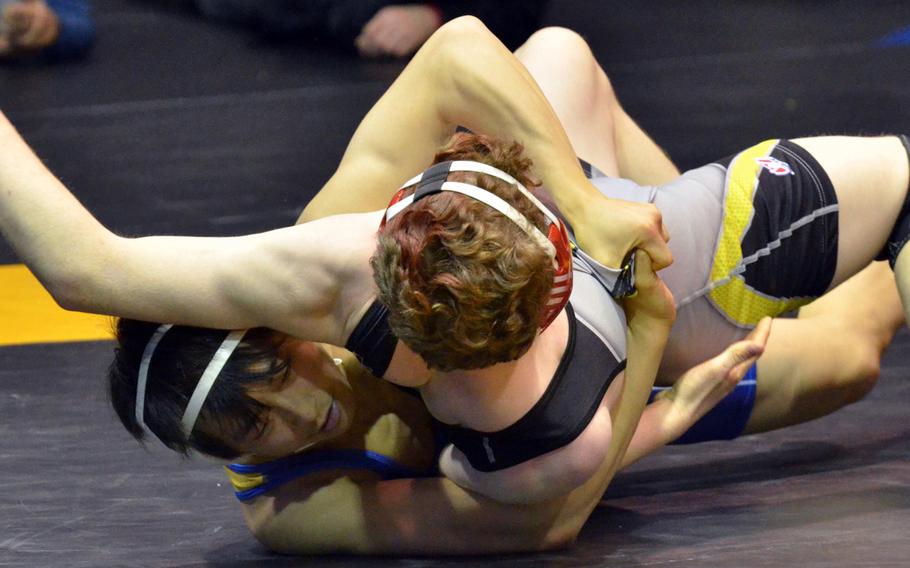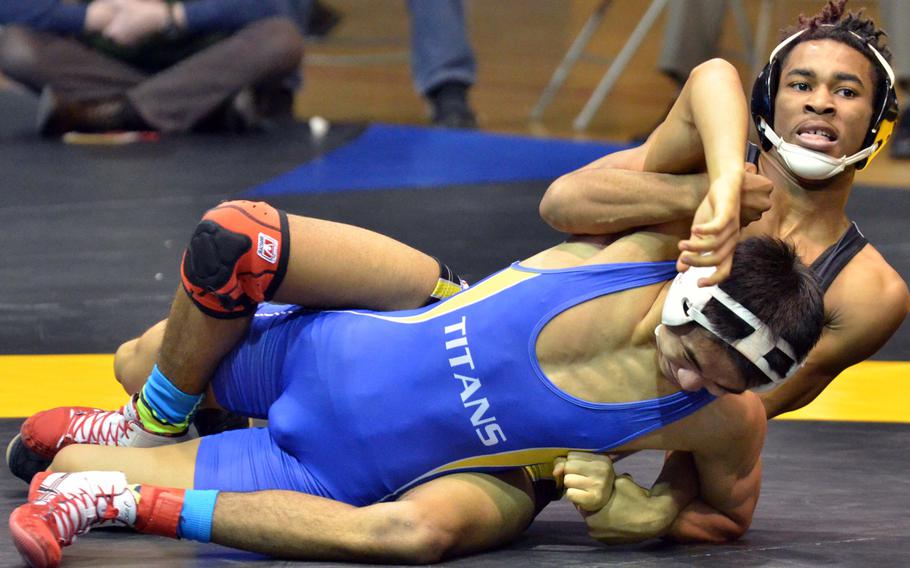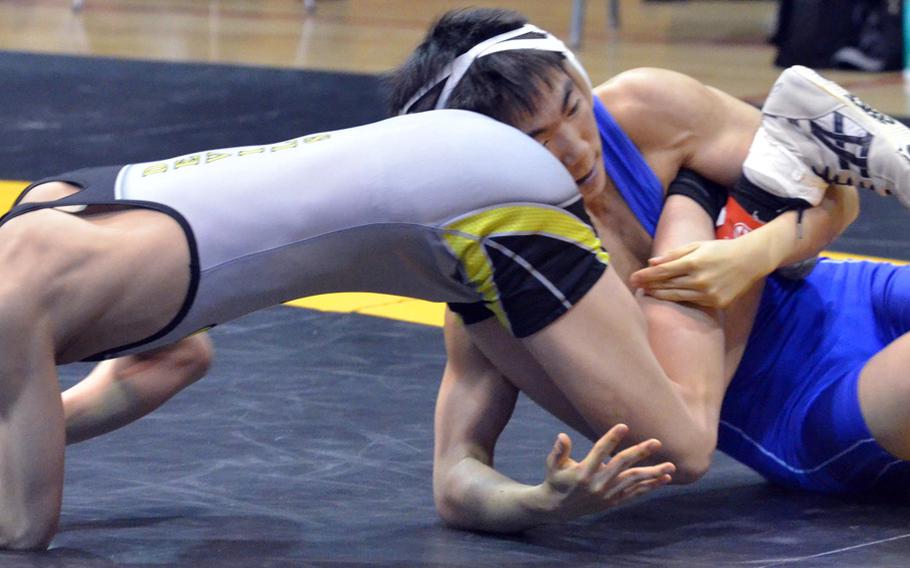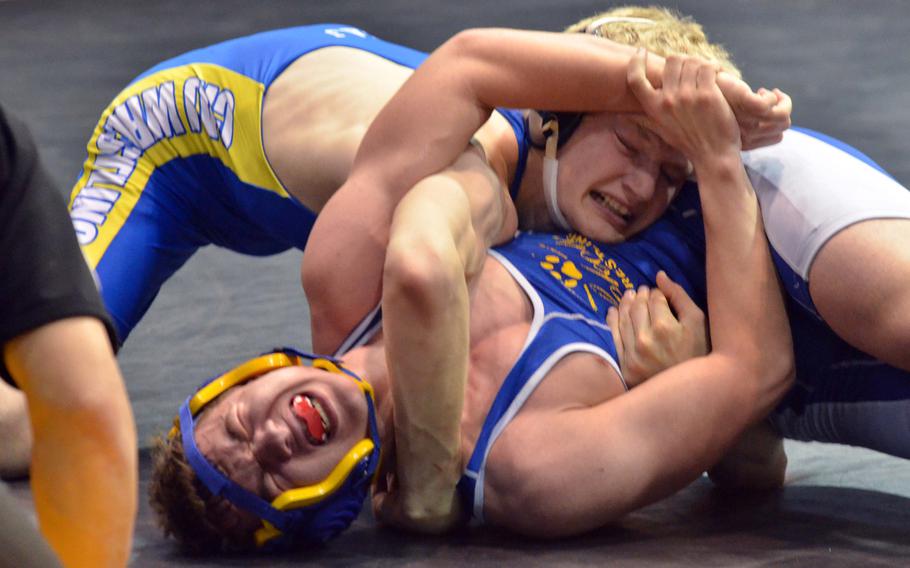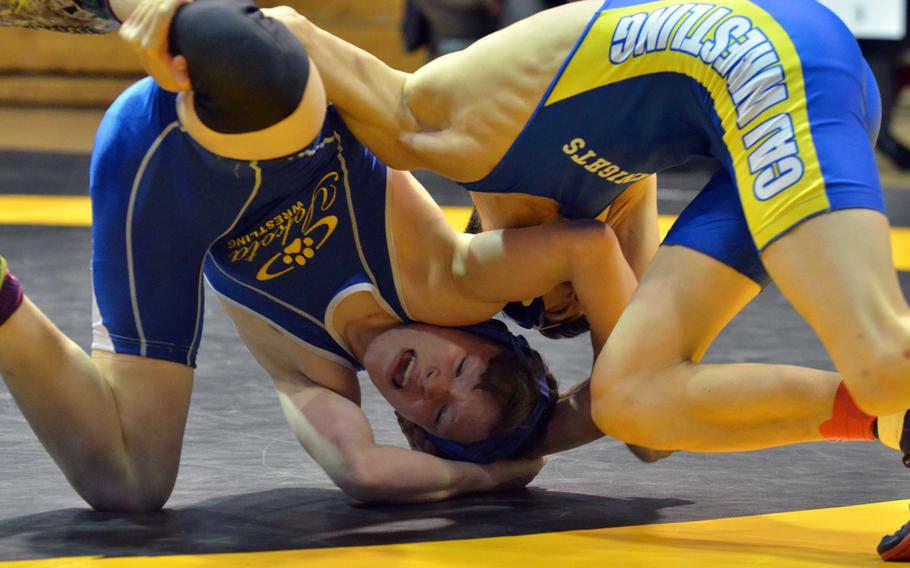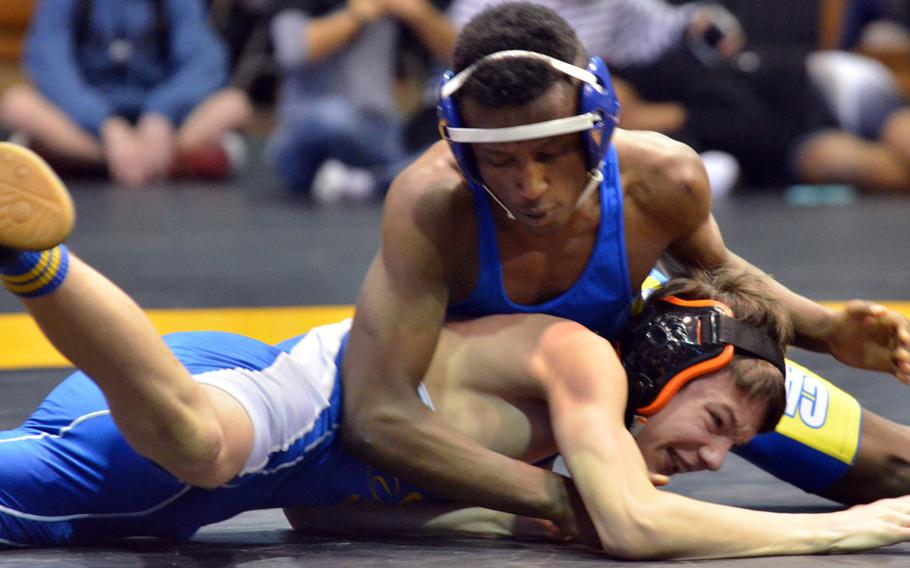 OSAN AIR BASE, South Korea – Hunched over, breathing heavily, hands on knees, Emerson Gaume looked in every measure the poster child of the exhausted wrestler.
Willem Van Dam, his Christian Academy Japan opponent, was giving the Yokota senior 148-pounder everything he had. Gaume could have given in, but instead heeded the instructions of his coach and father, Ty: Don't get pinned or lose by technical fall; if you lose, lose by decision.
"I knew that, for my team, I needed to man up a bit," said Gaume, after he scored a late takedown and tilt against Van Dam. He didn't win – Gaume lost 17-10 – but it kept Yokota in the hunt just enough Saturday to win its second straight Far East Wrestling Tournament dual-meet title.
Yokota and CAJ deadlocked 31-31 in the Division II final, but the Panthers won the title via tie-breaker. They had six five-point victories – four by walkover and two by pin – to just four for the Knights, who had won the individual freestyle tournament title the previous day.
It tied for the tightest finish in a Far East dual-meet tournament, matching Nile C. Kinnick and Kubasaki in 2005, who tied 26-26, with the Dragons winning a similar classification-point tie-breaker.
While not quite as dramatic as the D-II, the Division I final was still close, coming down to the last bout. St. Mary's scored its second successive title sweep, hanging on to edge Nile C. Kinnick 31-26, scoring its 16th D-I title, second most in the event's 40-year history.
Division II"Amazing," Emerson Gaume said. "Last match of the season. It might have been a loss. Lose the battle, but win the day."
Given that Yokota lost 34-18 to CAJ in the regular season, every point mattered, Ty Gaume said, in Saturday's D-II final. He said he and his assistant coaches stayed up late Friday night game planning and strategizing for every single Knights wrestler.
"I was up in the business center until 12:46" Saturday morning, Ty Gaume said, "trying to figure out what we had to do to fight (CAJ's) eight-senior monster. It worked almost down to the last point. No matter how much a coach plans, the wrestlers have to do the work. And they did. Exactly what we asked."
Yokota roared ahead 20-4 early, getting pins from Caleb Heino (101 pounds) and Luke Alexander (122), while Austin Grimes (108) and Cameron Mister (129) won by walkover. Jordan Van Druff got CAJ's lone points in that stretch with a technical fall.
The Knights worked their way back, getting a technical fall from Yeol Ryoo (135) and a pin by Nathan Bolinger (141) to cut it to 20-13. Van Dam's decision victory trimmed the gap to 21-16, then CAJ's Callum Marshall (158), JinWhi Park and Lawrence Yamaguchi followed with pins.
But the Knights had nobody at 215 and heavyweight, which resulted in the tie, giving the Panthers the title.
"It is what it is," CAJ coach Morris Yaegashi said. "We have to try to be stronger so we don't have to go to that criteria. We were short-handed, but no excuses. We were the No. 1 seed, we faced Yokota with a full lineup and they were wise with their strategies."
Division IIt came down to the 215-pound bout, where St. Mary's Shane Koslow won a 13-2 technical fall in 3 minutes over Kinnick's Cameron Joley. The Titans led 27-20 entering the bout; a Joley win would have clinched it for the Red Devils, since Kinnick heavyweight Marc Domery won by walkover.
Titans coach Shu Yabui said he was happier with this year's title than last year's, "because I had a very strong team last year and I had a lot of confidence in them.
"This year, I wasn't so sure," Yabui said.
He lost two key seniors after last season, didn't have a heavyweight this year and lost 122-pound champion Rio Lemkuil in Friday's freestyle final.
"I was worried we might not beat Kinnick. So, because I had to go through so many ups and downs, I'm really happy. The boys wrestled hard."
The Titans got early technical-fall victories from Eshan Singhi (101) and JongPyeong Lee (108) and Tatsuhito Matsumoto's decision over 115-pound champion Chon Dareing and were never in serious trouble.
Lucas Wirth won by walkover at 122 and Devoney Stanley scored a technical fall at 129 to briefly get the Red Devils back in the hunt. But four-time gold-medalist Chang Young Lee (135) followed with a technical fall and two-time champion Ryo Osawa (141) got a pin to follow.
More drama occurred at 148 pounds, where Kinnick's Jacob Castro was awarded a win by disqualification when St. Mary's Jihoon Seo apparently bit Castro on the forearm. Officials discussed the situation, then tournament director Michael Paul made the decision to DQ Seo.
Koslow's brother Austin won by decision at 158, then Mitchell Krcelic (168) won a technical fall. (158) by decision and Shane (215) by technical fall, and Mitchell Krcelic (168) also won by technical fall. Kinnick 180-pounder Dwayne Lyon then won a technical fall.
Outstanding wrestlerFor the first time in the tournament's 40-year history, a Daegu wrestler captured the Outstanding Wrestler award.
Hunter Lane, a 148-pound junior, lost the freestyle final bout a year ago at the same weight class to Kazuho Kawashima of St. Mary's, who was then voted Outstanding Wrestler. Now, not only did Lane win the weight class this year, he succeeded the champion who vanquished him a year ago.
"It feels great," Lane said. "Redemption."
Twitter: @ornauer_stripes
---
---
---
---