Far East softball preview
Yokota seeks to duplicate basketball's success
By
Dave Ornauer ornauer.dave@stripes.com
May 14, 2015
---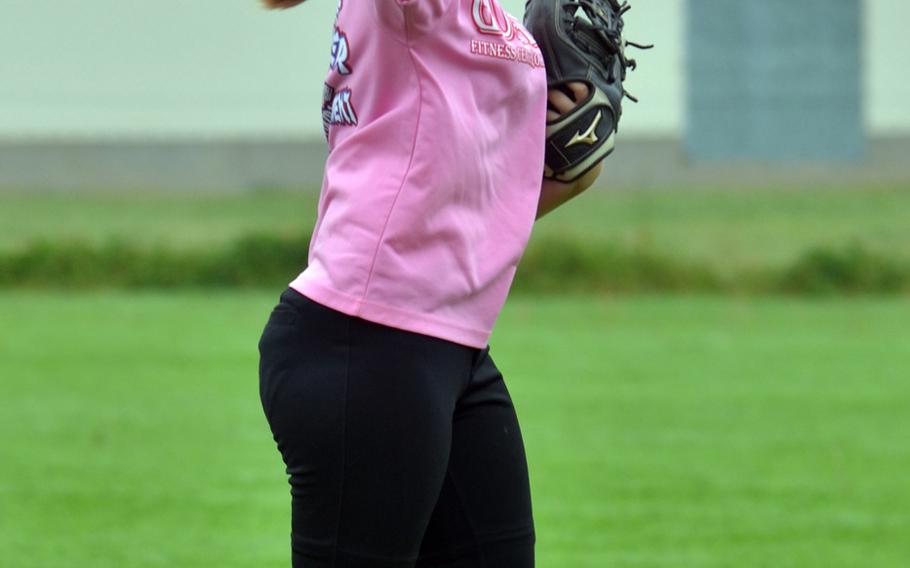 There's much to smile about for Yokota softball this season, coach Ty Gaume says.
Left-hander Anysia Torres and the rest of Gaume's Panthers walked off Headley Field on Thursday, just having beaten American School In Japan 13-9 to capture a share of the Kanto Plain Association of Secondary Schools title.
And they'll not only be playing the Far East Division II Tournament next week, they'll be hosting it in their first year as a small school.
"Now, we're actually competing against same-sized schools, which is how it's done in the States," said Gaume, who watched Yokota's basketball teams capture both the boys and girls D-II titles. That made Yokota the first DODDS school to win Far Easts at the small and large level.
"We saw that with our basketball teams being competitive and not have to beat a Goliath every time out. Instead of playing just for third or fourth, it's good for the kids to know that they have a chance to play for something," Gaume said.
It's the largest D-II field in the tournament's six-year history – eight teams, five from Japan and three from Korea, playing pool games on the high school field and Friendship Field on Yokota's east side.
Torres, hitting star Kaia Austin and the Panthers could face some stern opposition in Kimani Ferguson, Kay-Lea Mancuso and Felicia Salcido of Zama; Shiona Lonesky and Jaenalyn Laurente of E.J. King; and defending champion Osan. This is the first time the Far East tournaments for both small and large schools will be held in separate venues. Nile C. Kinnick hosts the D-I event.
With Yokota playing small schools, the tournament is down to five teams. Kadena is the reigning champion and is trying to win back-to-back titles and in an odd-numbered year for the first time.
While the Panthers would love to do that, and send outgoing shortstop Macalah Danielsen (transferring to Fort Leonard Wood, Mo.) a winner, coach Kelli Wilson said the team isn't carrying those expectations. "I don't think we're thinking about that too much, just saying we're the defending champions and we want to win again, instead of wanting to win in an odd year," Wilson said. "We have four pitchers, we have a lot of returners, catchers, multiple infielders and outfielders. I think we'll be there." As for Danielsen: "I want it really badly. I don't know how to explain it," she said. "There is the drive to want to win. We all want it just as badly."
Their most likely challenger would appear to be island-rival Kubasaki, whom the Panthers beat twice last weekend for their 12th Okinawa title in the 13th season of softball as a high school sport.
Besides ASIJ, Seoul American is breaking in new pitchers but did win the DODDS Korea title, while host Kinnick is enduring a rare down season.
Twitter @ornauer_stripes
---
---
---
---