Prep roundup
Yokota bats, pitches way into favorite role before spring break
by
Dave Ornauer
March 24, 2018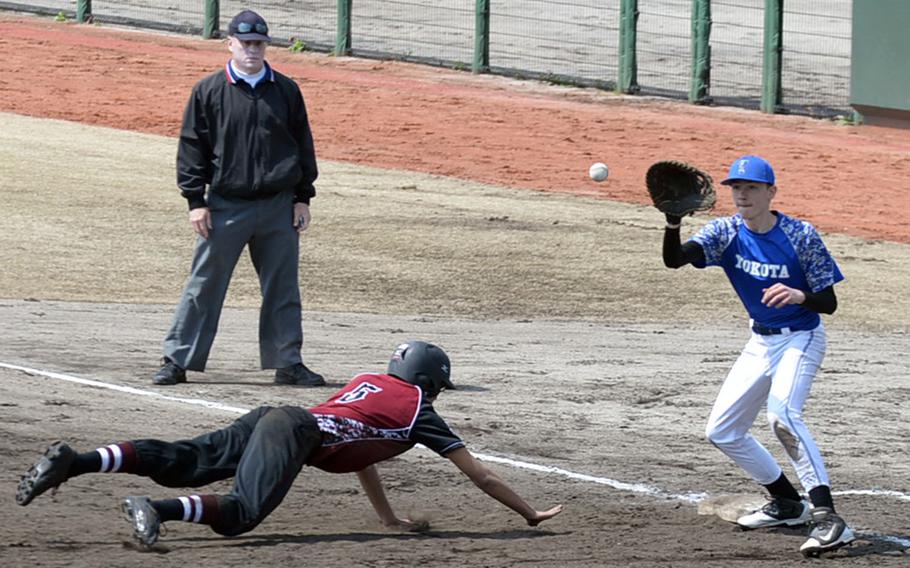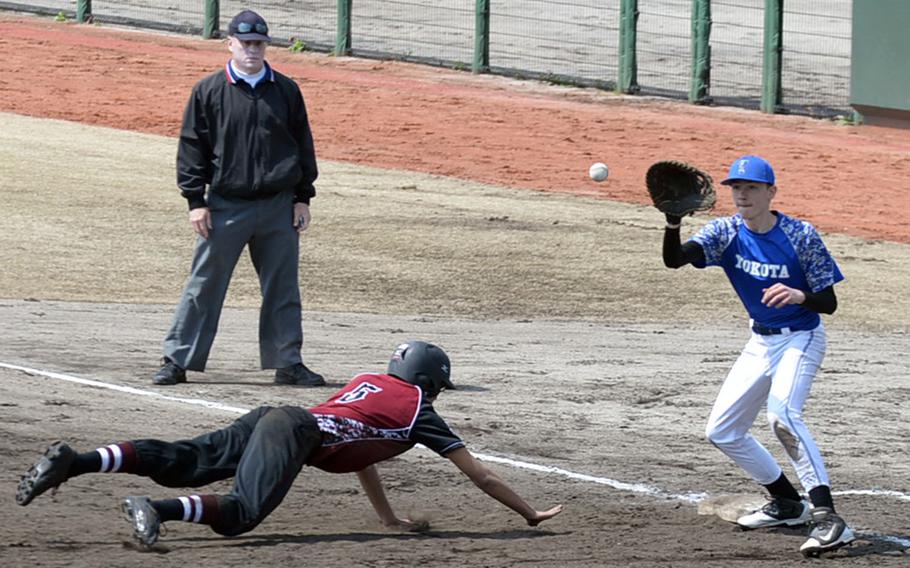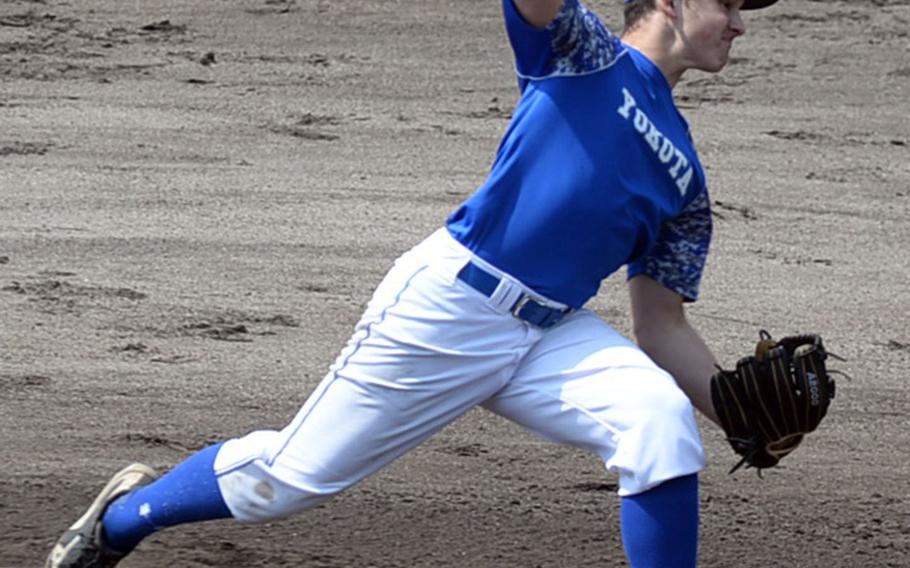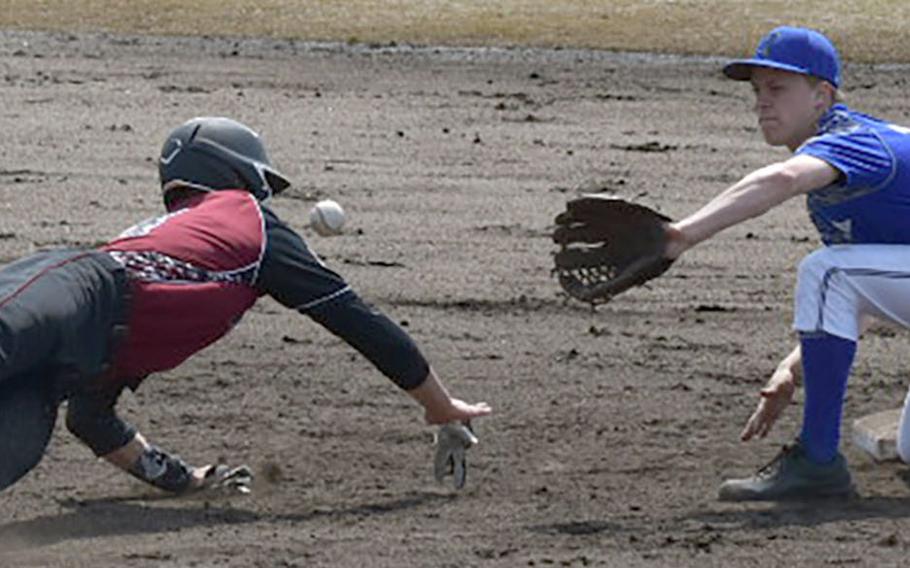 IWAKUNI, Japan – The Yokota baseball team still has much work to do to return to its Far East Division II Tournament championship level of 2015-16.
You'd not know it gazing at the box score of Saturday's game against the team that dethroned the Panthers, Matthew C. Perry.
Glen Willingham batted 3-for-3 with a double and five RBIs and Sean Caffrey shut down the Samurai on two hits and two walks with seven strikeouts over three innings as the Panthers routed the Samurai 16-0. That was just hours after Yokota edged Perry 4-2 on a frigid Friday.
"We have a strong pitching staff; that really helps, and the hitters are coming through big for us," outgoing Panthers coach Steven Ferch said. "But we have a long way to go. We have to clean up all of our errors."
Miscues were not an issue Saturday, when the Panthers went errorless. But two errors on Friday did lead to two first-inning unearned runs, and the Panthers had to come from behind with two runs each in the third and fourth innings.
Still, it was a measure of vengeance for Yokota. Ferch sounded a cautionary note to his charges to not look too far ahead.
"The team is starting to gel," Ferch said. "But we can't take anybody lightly. We have to stay humble and focused."
Ferch spoke highly of Caffrey, who has been with the Panthers program all four of his high school years.
"He's come along really strong," Ferch said. "He's got a good head on his shoulders, he's a good leader, a good individual."
The Panthers have one more playing date, a Thursday twin bill at Zama, before taking two weeks off for the spring break. Saturday's game was the last for the Samurai before the break.
Humphreys gets school-first girls soccer win over OsanOSAN AIR BASE, South Korea – Hayden McMillan continues scoring goals for Humphreys, and the Blackhawks continue achieving milestones in their fifth season as a program.
McMillan notched two goals, giving her 10 for the season, and Elayna Snyder stopped six shots in net as Humphreys shut out defending Korea Blue Division regular-season and tournament champion Osan 4-0, the first win in school history against the Cougars.
"Isn't that amazing? Absolutely," said Spencer Walton, the team's first-year coach who transferred to Humphreys mid-school year from Seoul American.
It could be just the start, Walton said, since units and families will continue moving to Humphreys from Yongsan Garrison and Humphreys' enrollment will continue to grow.
"As the girls grow together as a team, if we can keep the consistency and add new players, they're going to be a formidable team."
"We knew it was going to happen sooner or later," Cougars coach Sung Plourde said. "It was something we have to watch for. They have new players, good speed and ball skills."
Edgren, Kubasaki girls making track stridesYOKOTA AIR BASE, Japan – While Nile C. Kinnick continues to rule the DODEA-Japan track and field roost, Robert D. Edgren continues making strong strides and could soon become a Far East D-II contender, if not a power.
Trinity Fiers, a senior thrower, swept the discus and shot put, Edgren's girls won the 400 and 3,200 relays and Jada Flowers took the long jump and the Eagles girls finished with 121 points, second to Kinnick and tops among Division II girls teams.
Okinawa track and field resumed after a two-week hiatus and Kadena took first in every boys event except the long jump, far outdistancing Kubasaki 116 ½-61 ½. But Kubasaki's girls won a regular-season meet for the first time this season, downing Kadena 117-84.
Ja'Tavia Callier won the high jump and the 100 and 300 hurdles, Savannah Fermin took the short sprints and Elizabeth Joy the 800 and 1,600 for the Dragons girls. Hayden Bills led Kadena's boys with victories in the 800 and 1,600 and Eric McCarter won the 100 and 200.
Over in Korea, poor air quality forced league officials to cancel a regular-season meet. Meet officials said they would try to reschedule.
Twitter: @ornauer_stripes