D-II football final
Trojans, Cougars face unfamiliar foe
by
Dave Ornauer
November 9, 2018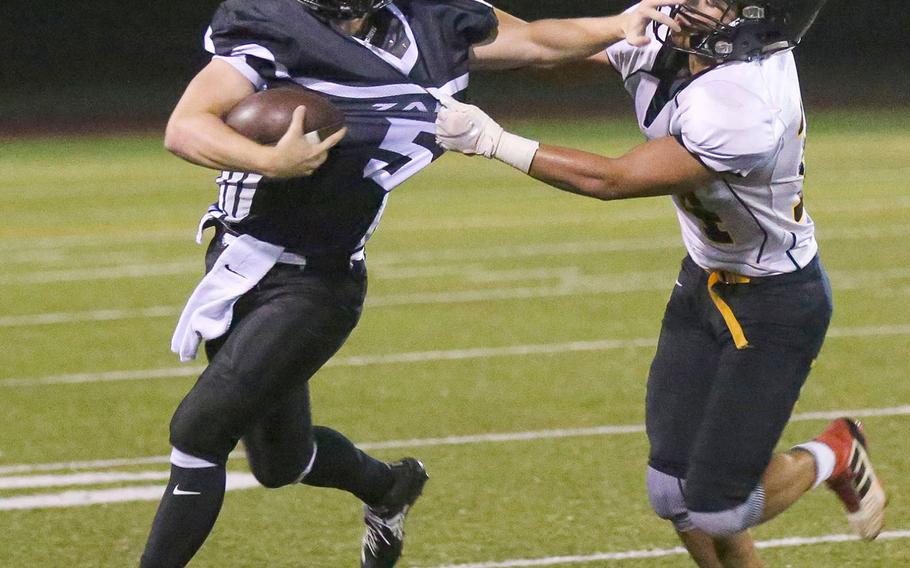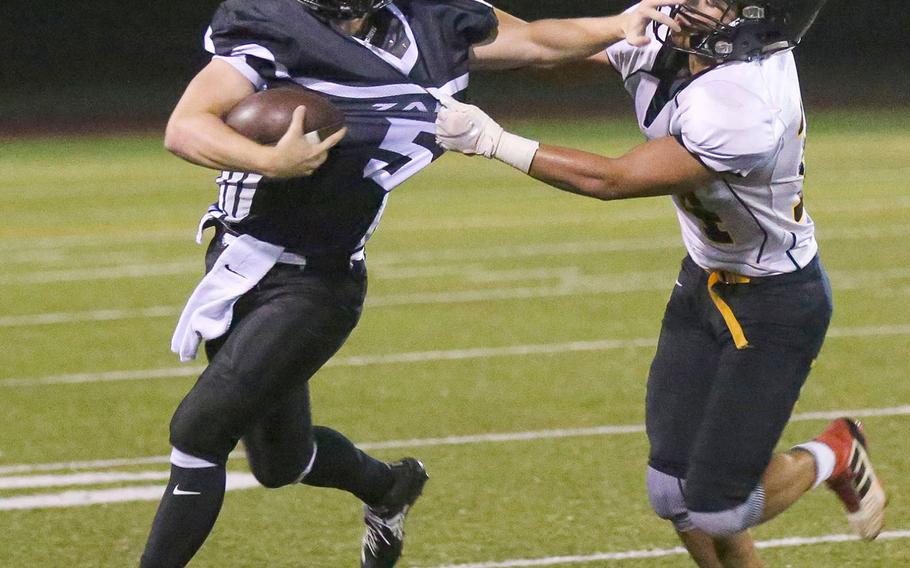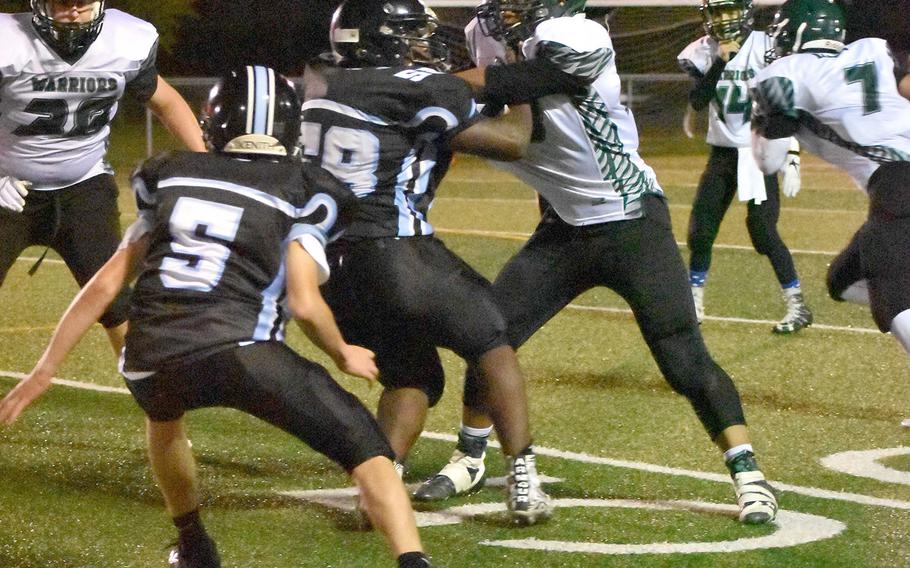 Follow the game via livestream. It's been awhile since either visiting Osan and host Zama have played for the Far East Division II football title.
The Trojans host the Cougars in the small-schools championship game, scheduled for 7 p.m. Saturday at Barry Huitema Memorial Field on the Zama campus. It shapes up as a showdown of teams vaulting out of an abyss lasting several seasons.
The Trojans last competed for the championship at the end of a four-year run that saw them win twice and lose twice in the D-II final. Osan won the inaugural D-II final in 2005 and lost in its appearances in 2006 and 2008 at Robert D. Edgren.
And very much like those early days of the Far East playoffs, when teams knew very little about each other entering their games, Osan and Zama come into this one having not played each other.
"We have to take care of the unknown on game night," Trojans coach Scott Bolin said. "We've never played against them. We have to be in our top form all game long."
Top form was hardly what the Trojans could have called themselves the past three years under Bolin. They went 3-19 and took plenty of lumps along the way, before turning on the burners in 2018, going 4-3 and winning all their games against D-II opponents.
"We're confident in the preparation we've had the entire season," Bolin said. "The games against the D-I teams toughened us up, and in the D-II games, we were able to compete."
While Zama is ending a five-year title-game drought, Osan is enjoying the fruits of a revival from a dark period that saw the Cougars shut down for a time in the mid-2010s. Injuries forced Osan to suspend operations midway through 2015 and not field a team at all in 2016.
The Cougars played a non-varsity schedule in 2017, before Jerome Learman came in from Michigan to take Osan's reins.
"It definitely was not expected," Learman said. "We were just happy to have enough players to field a team. Then we had a few more come out as the season progressed. And the progress the players have made, on and off the field, was amazing to watch."
Much of each team's success centered around a player key to their fortunes. In Zama's case, it was senior quarterback Nick Canada. He accounted for 20 of Zama's touchdowns, 15 of them in the air to a gang of speedy, sure-handed receivers.
Canada has been making "steady progress" since his freshman year, and he's "jumped out to where we knew he could be," Bolin said. "He'll make good decisions when things get tough. He's taken some hard knocks and applied that experience to this season."
In Osan's case, it's a converted soccer player whose skills have translated to the gridiron, Learman said.
Joey Betts, the son of Osan Air Base's 51st Fighter Wing commanding officer, has become Osan's own commander in chief – Betts rushed for 199 yards and two touchdowns on 24 carries that helped Osan beat Daegu 15-8 on Oct. 12, which clinched the title-game berth for the Cougars.
"He likes to run, he's a hard worker, he does everything you ask of him," Learman said. "Soccer is his sport, but he has a lot of skills as a football player, too."
Like the Trojans, the Cougars will make adjustments on the fly, Learman said: "We're going to focus on doing our job and be ready for whatever they throw at us," he said.