Far East track - Day 1
Three more Pacific records fall
---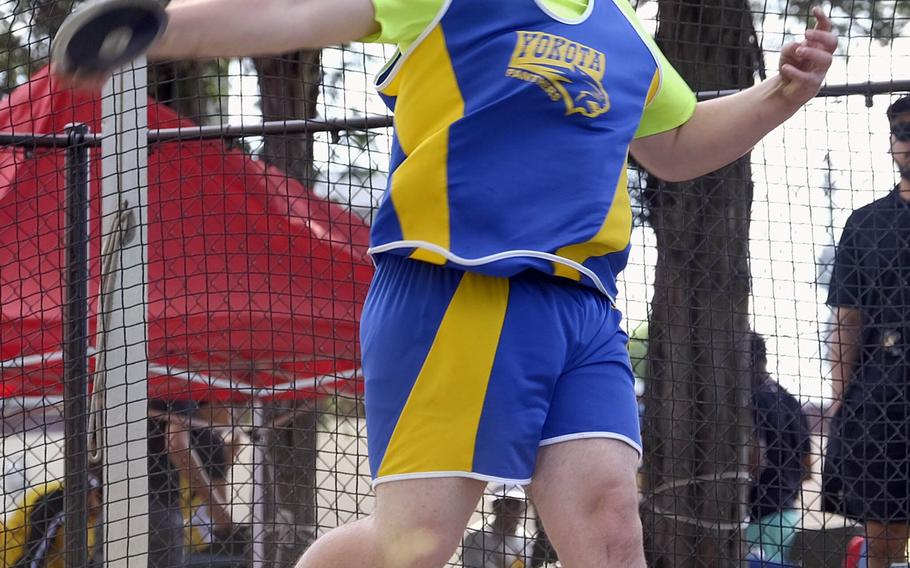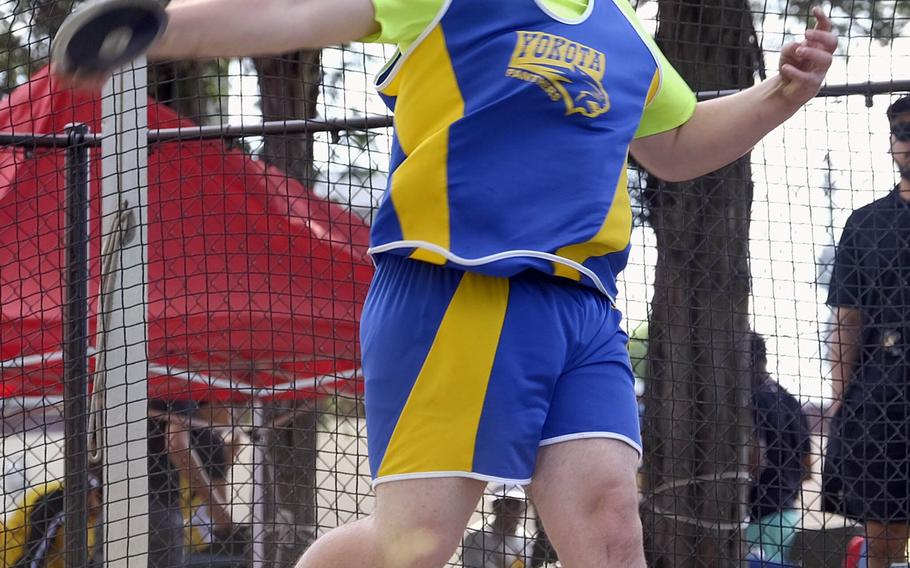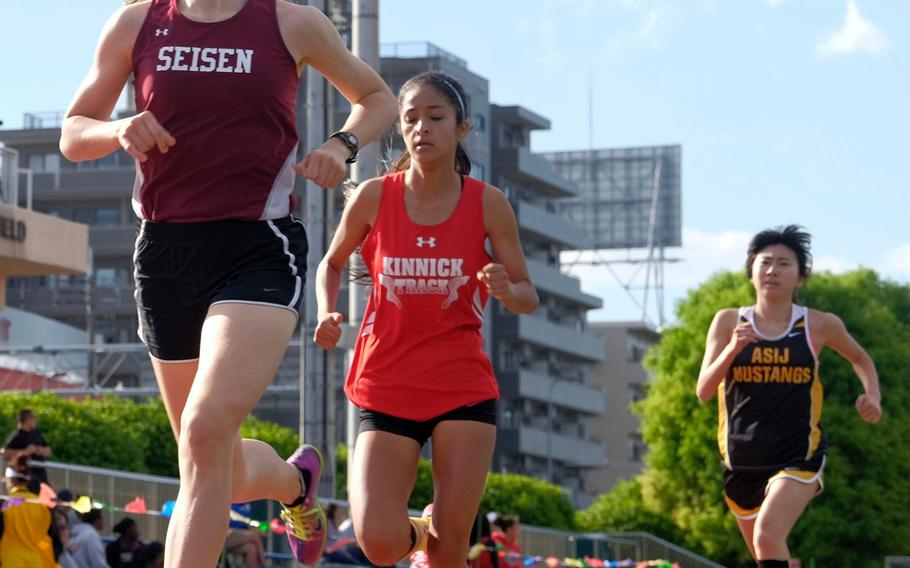 YOKOTA AIR BASE, Japan – Even with a new Pacific and Far East meet record in hand, Christian Sonnenberg said he wasn't satisfied, either with his throw or the windy conditions he felt hindered it.
The Yokota sophomore threw the discus 51.99 meters on Thursday, the opening day of the Far East High School Track and Field Meet at Yokota High School's Bonk Field. But he said the throw could have been longer if the elements were different.
"I'm kind of mad because it tilted left, the wind blew it left," Sonnenberg said. "Otherwise, it might have gone 55." His record throw reads 170 feet, 6 inches in American imperial measurements.
He broke his own Pacific record of 50.85 set last month, a record that stood for 27 years. He also broke the year-old Far East meet mark of 45.28 set by Seoul American's Cameron Harris.
Northwest winds averaging between 4 and 8 meters per second greeted the nine DODDS and six international schools as the meet got under way, mostly with preliminary events and a handful of finals. For sprinters, it was a tailwind that negated any marks that otherwise would have registered as meet or Pacific records; wind aid applies to events of 200 meters or fewer.
The wind died down later in the day enough for another record showing, this time by Kubasaki's Kaelyn Francis. All season long, she said she'd been trying to break a record in one of her two signature events, the 100 and 200. She topped the meet mark of 25.81 and the Pacific record 25.78 with a 25.73 clocking in preliminaries.
"Amazing," Francis said afterward, adding that she wasn't trying her hardest, considering it was only for qualifying for Friday's finals. "I think I can run faster," she said.
One runner not affected by wind limits at all was Pacific 400 record holder Jabari Johnson of Nile C. Kinnick.
He was timed in 49.27 seconds in the preliminaries, topping his own Far East meet record by .3 seconds.
He later shaved .05 seconds off his meet record 22.04 in the 200.
"We try to tell him to just remember, these are preliminaries and to save himself for the finals," Red Devils coach Tony San Nicolas said. "But it's nice to have an athlete like that because he only knows one level, and that's all out."
There was also Seisen freshman Brittani Shappell, who broke her own Pacific record and the Far East meet record in the 1,600, clocking 5:07.45. Her old Pacific mark was 5:08.28 and the meet mark was 5:25.63.
"I really wanted to go under five; that's the really big thing," said Shappell, whose family is moving to Israel over the summer. "Next year."
Yokota's Daniel Galvin, who missed much of the season with a strained right hamstring, proved his fitness in his second meet back, winning the 1,600 in meet-record time of 4:23.45, just .03 off the Pacific record he set in last year's DODDS Japan finals.
"I feel fine," he said when asked if his leg was all right. "No pain at all.""
His coach, former Hong Kong Olympian Maggie Chan-Roper, admitted she was concerned enough to hold Galvin out of the 3,200 relay. "But I think he's OK," Chan-Roper said.
Twitter: @ornauer_stripes
---
---
---
---