There's plenty of Joy for Kubasaki at Petty meet
by
Dave Ornauer
March 30, 2018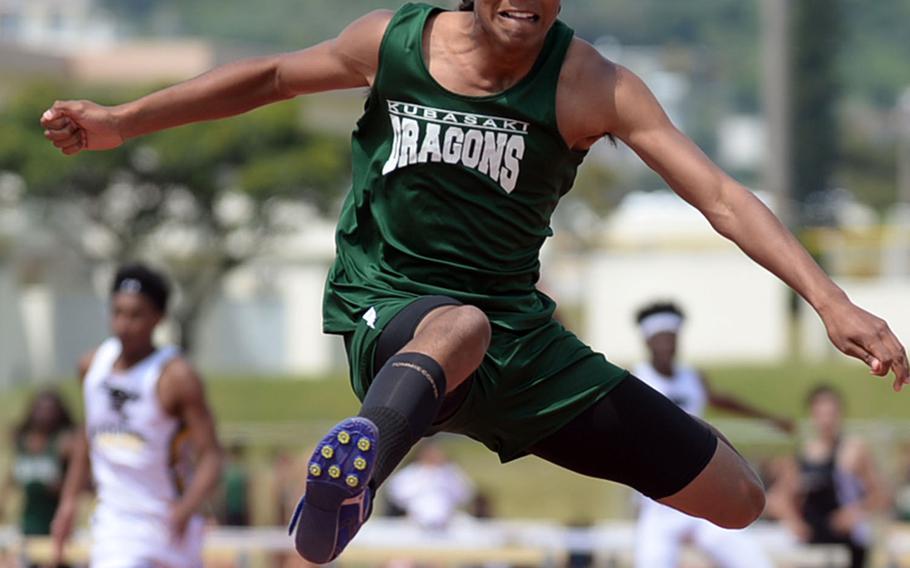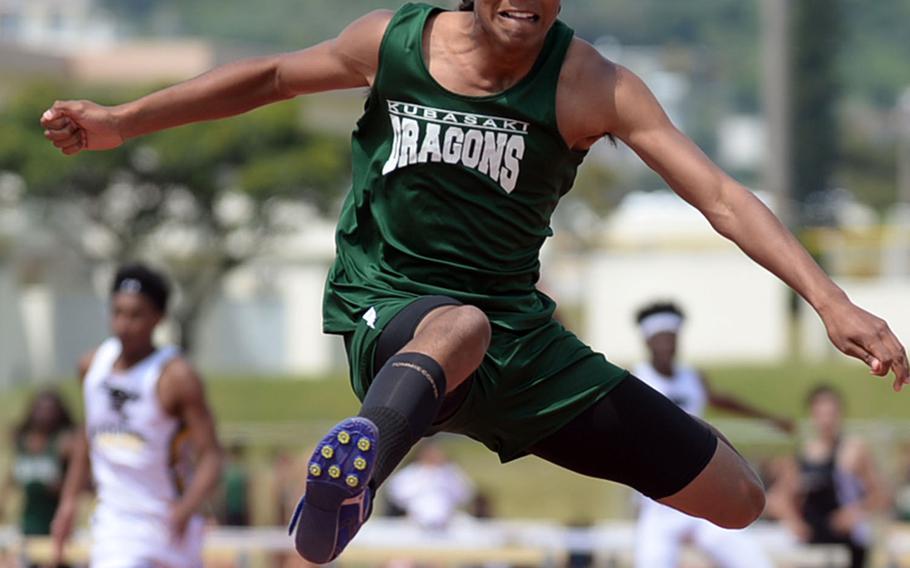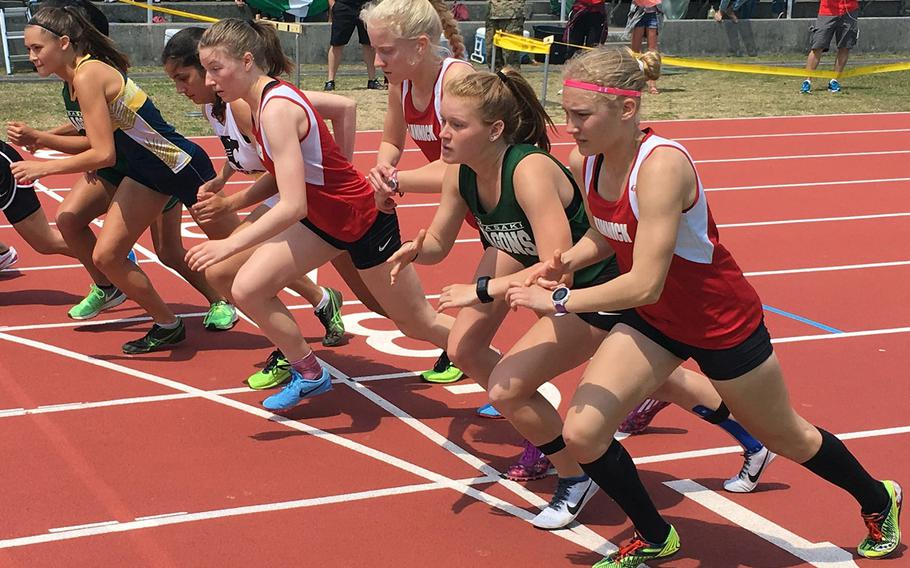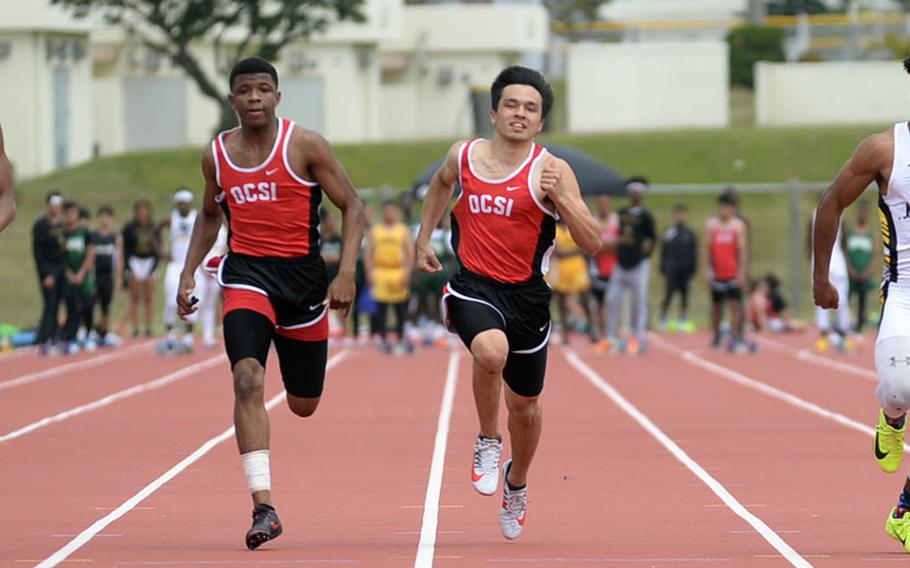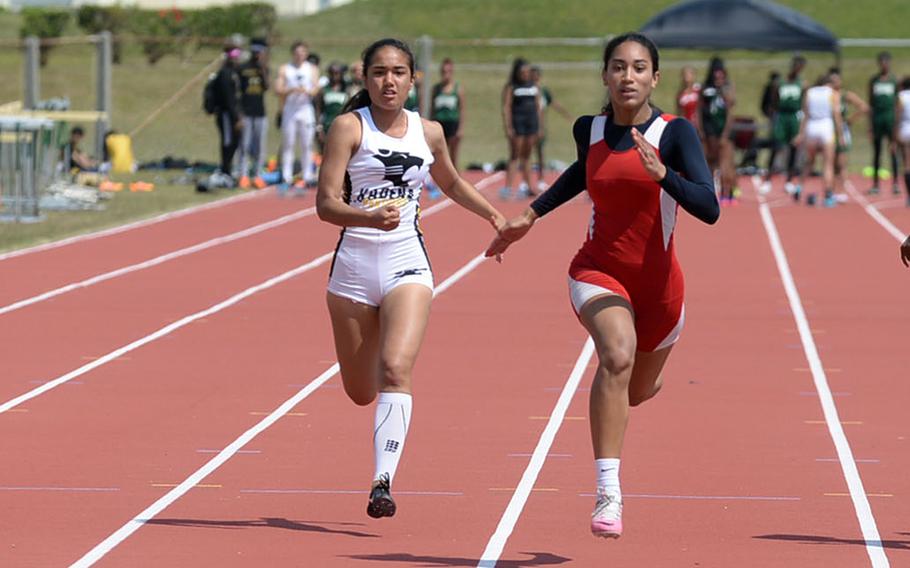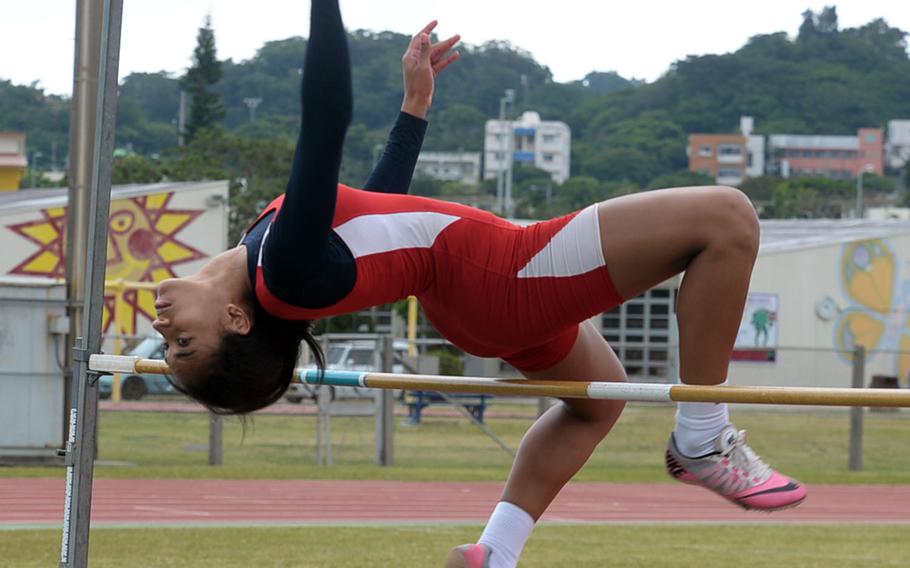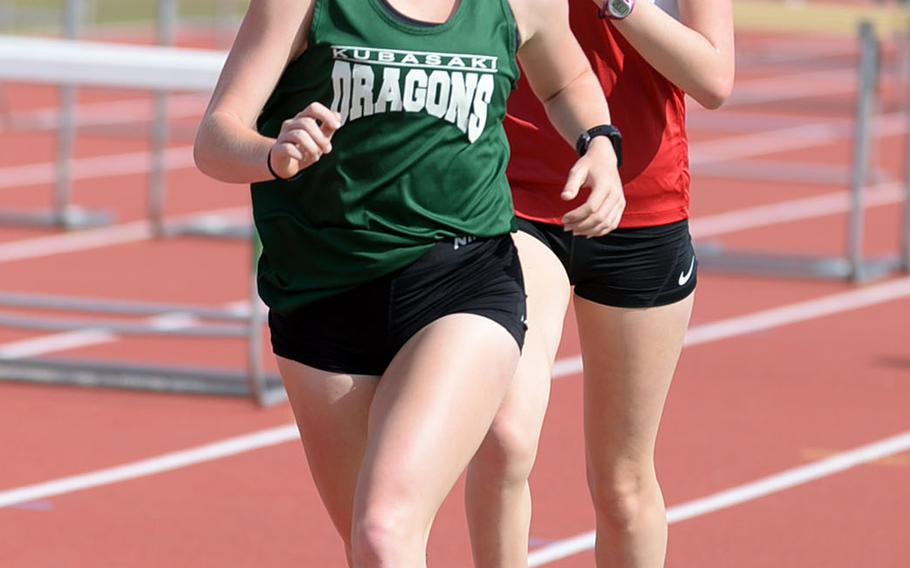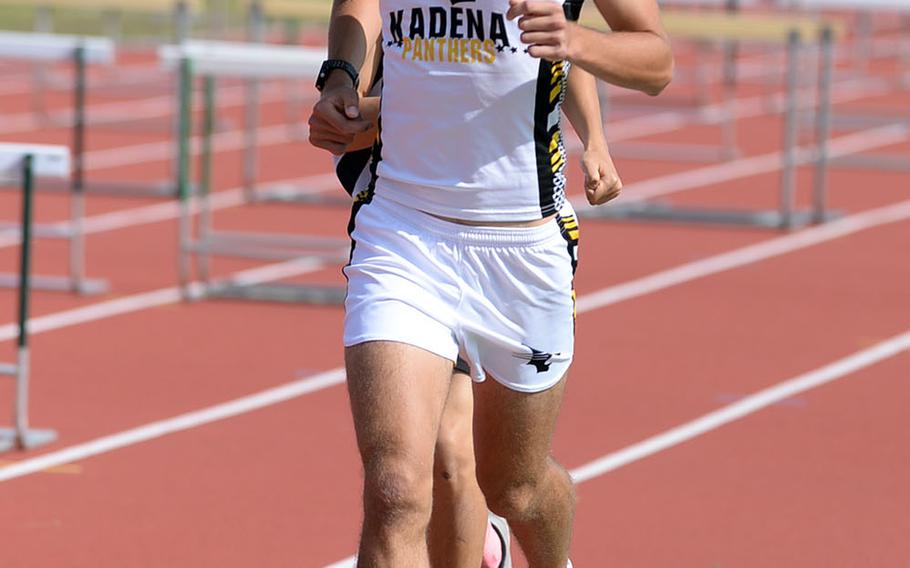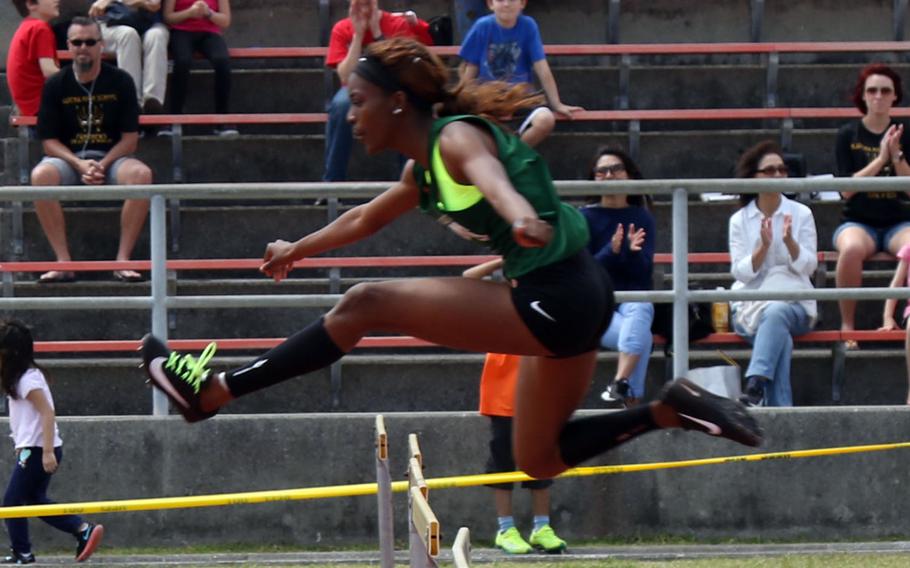 CAMP FOSTER, Okinawa -- Call it Triple Crown Friday for Kubasaki's Elizabeth Joy.
The sophomore distance specialist and reigning Okinawa cross country champion outran two other district champions, swept the 800, 1,600 and 3,200 and led the Dragons to the team title in the 14th Alva W. "Mike" Petty Memorial Track and Field Meet on Friday.
"I couldn't have done it without the other athletes pushing me beyond what I was capable of," Joy said. She ran personal bests of 5 minutes, 36.94 seconds in the 1,600 and 12:24.62 in the 3,200 and just missed a PR in the 800, running 2:30.24.
Joy credited Guam High senior and reigning island track and cross country champion, Emma Sheedy and Nile C. Kinnick's Erin Stonebarger, Rissa Eilmes and reigning Japan and Far East cross country champion Taryn Cates-Beier for giving Joy the competition she had hoped for.
"I believed I could do this, knowing those ladies were coming here; I knew I would get the push that I needed," Joy said.
Her victory triple helped Kubasaki's girls to 179 team points, vastly outdistancing Kadena (92) and three-time defending Far East Division I champion Kinnick (89).
This was Sheedy's first time running against other DODEA Pacific athletes besides her own Guam High teammates. She won the island championship in the 400 and 800 last season and briefly held the island records in the 800 and 1,500.
"I loved it," said Sheedy, who finished fourth in the 800, third in the 400 and second in the 1,600. "It was fun to run against other DODEA kids and it's nice to know where I'm starting off my season."
Guam's track and field season starts next Friday at Guam High School. The Panthers as well as other schools on the island cannot attend Far East by DODEA rule.
Cates-Beier placed second in the 800 and third in both the 1,600 and 3,200. Eilmes pushed Joy most of the way in the 3,200 before coming in second at the end. Stonebarger took third in the 800.
"This was definitely a new experience," said Stonebarger, who has lived in Japan since she was 3 years old but had never been to Okinawa. "And this helped me prepare to run" at the Far East meet May 21-23 at Yokota.
Other athletes who helped Kubasaki's girls to the team title included Ja'Tavia Callier, a senior who swept the two hurdles events, the 300 in near-Pacific record fashion, and helped win the 1,600 relay. And came in second in the high jump.
"I still have a lot of work I need to put in, but it's doable," Callier said after running the 300 hurdles in 46.81 seconds, .2 short of the three-year-old Pacific record of 46.61 held by Jenna Doyno of American School In Japan.
"She'll rise to the occasion, I have no doubt," Kubasaki coach Kenneth Gipson said.
Kubasaki senior boys hurdler Juan Guerrero also just missed a Pacific record in the 300, clocking 40.99, 1.74 shy of the 17-year-old region mark of 39.25 held by Darrell Bradford of Simon Sanchez on Guam. Guerrero also won the high jump.
Led by distance runners Hayden Bills and Guy Renquist and sprinter Eric McCarter, Kadena's boys captured the team title, scoring 192 points, well ahead of Kubasaki's 105. Bills won the 1,600 and ran the lead leg of the 3,200 relay, while Renquist won the 3,200. McCarter swept the short sprints, winning the 100 after almost falling out of the blocks.
"When I fell behind, I knew I had to push harder and come out with the lead," said McCarter, who ran alongside Kinnick's Isaiah Brown and Okinawa Christian's Sam Calvin and Patrick Houston. "I was so glad I was in their heat. I knew it would be big competition."
Kinnick did not go home empty-handed. Though the Red Devils brought just nine athletes, they scored 137 points between them.
Senior Exotica Hall said she was hoping for a crack at the six-year-old Pacific high jump record of 1.70 meters but had to settle for 1.60. She holds the Far East meet record of 1.64 set in 2016; her personal best is 1.65 set last May 16. In between jumps, Hall also won the 100.
Hall said 1.7 is possible "if I allow myself to be confident and know that anything's possible, but I have to work hard for it. I know it won't be easy."
Brown took home the boys 400 title, clocking 51.39 seconds and looking as if he was "relaxed," coach Luke Voth said. "He's been wanting to go 50 or faster. He's going to get it," Voth said.
And senior Kameron Leon Guerrero of Kinnick captured first in the shot put, with a throw of 11.18 meters. He said he wanted to hit 11.2 or 11.3, "just take everything I do in practice and throw it, get better as we progress throughout the season."
Twitter: @ornauer_stripes