Prep roundup
Spring weather adds extra challenge for athletes
by
Dave Ornauer
April 14, 2018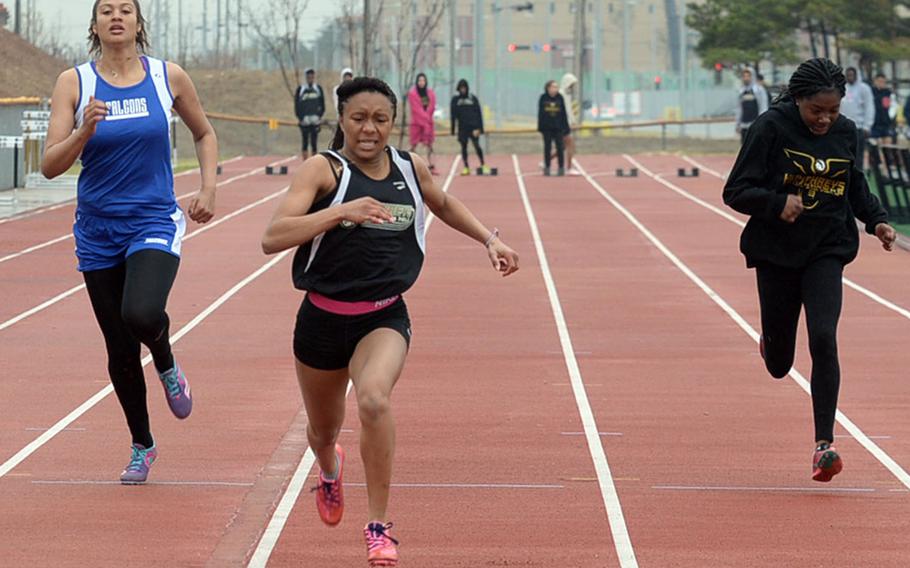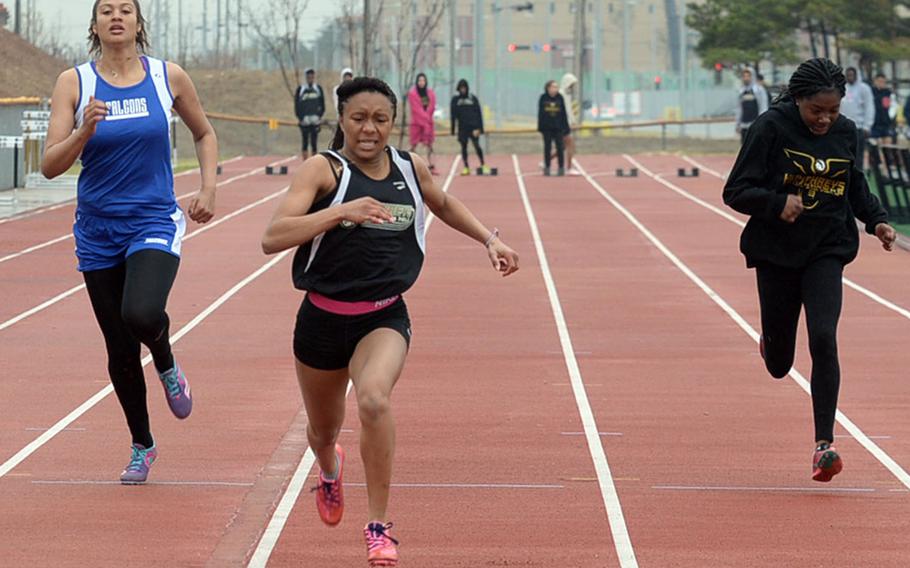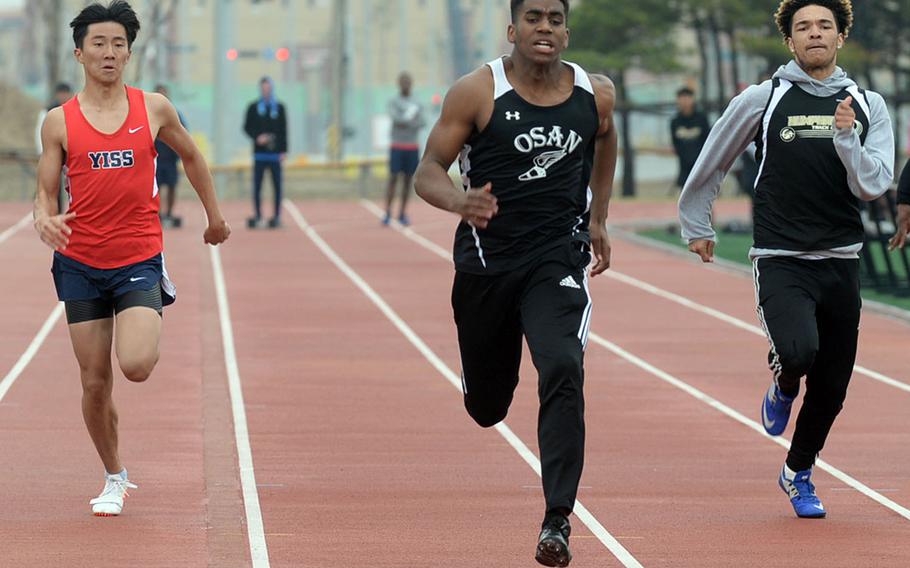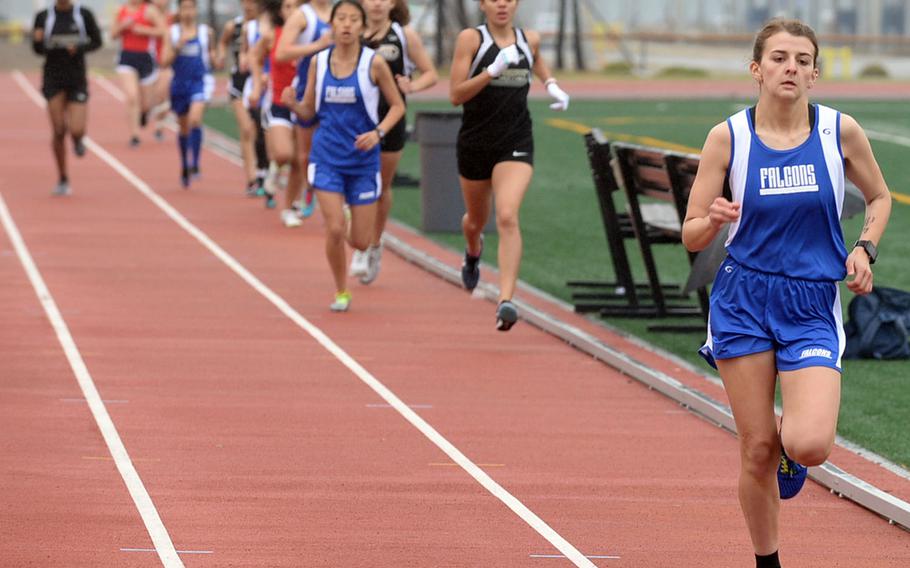 CAMP HUMPHREYS, South Korea – Alyse Neal's face furrowed into a frown of disappointment. Sure, Saturday morning dawned chilly and rainy, and organizers would have been forgiven if the scheduled track and field meet at Humphreys High School got called off and Neal, a Seoul American senior, hadn't gotten the chance to long jump at all.
But Neal did jump. And she matched her Far East meet record with a leap of 5.3 meters in Korea's first competition in four weeks. She had jumped that in a meet previously this season and had gone longer in practice. Despite the conditions, Neal said she had hoped to jump longer.
"If she did that under these conditions, she knows she can do better in nicer weather," said Falcons coach Joseph O'Connor about Neal, who continues to chase the eight-year-old Pacific record of 5.42 meters.
"She's strong, she's been looking stronger in practice" since spring break ended last week," O'Connor said. "She's going to have a great culminating senior year. She's an example of working hard and consistency. She's going to do exceedingly well at Far East."
Hours later, after the meet was done, Neal smiled as she discussed her chances of exceeding her Far East and the Pacific records. "If I set my boundaries, then I feel I can make a certain distance," Neal said.
At times Saturday morning, the question was whether Korea's six track teams would go without yet another meet, after the scheduled meet March 17 at Humphreys was called off due to poor air quality.
In fact, weather forced organizers to call off baseball and softball games among the four DODEA Korea schools at Osan; no makeup dates were announced. Also, six baseball and softball games featuring DODEA-Japan teams at Iwakuni were not played.
Track did get off the ground after a delay of nearly 2½ hours at Humphreys, but rain continued to fall from time to time and the fully automated timing system failed to function properly.
And only a handful of events were held: throws, long jump, 100, 400, 800, 1,600 and 3,200 relay. All events were hand-timed, rendering the results unofficial for purposes of qualifying for next month's Far East meet and district standings.
Many athletes said they feared the meet would be scratched altogether, which would have left three meets before Far East May 21-23 at Yokota.
"We were thinking it would get called off," said Osan sprinter Cameron Jones, who won the 100. "I like to compete, no matter the circumstances. I want to run. Even in super hard rain, I want to run."
Soccer also went on at Osan, where the Cougars boys got striker Joey Betts back after missing six weeks with an ankle injury. He scored four goals and Osan got its first win of the season, 7-0 over Daegu.
"Finally," coach Andrew Grant said. His Cougars went 0-7-2 in their first nine games. Betts had scored two goals in the first match before going down with the injury.
"Everyone healthy and everyone here. That was a big thing," Grant said, adding that Betts brought a level of confidence and playmaking that had been absent before. Betts assisted Osan's other three goals.
While Betts' return may spark a turnaround for the Cougars, Humphreys' girls continued the best season in school history by matching the result of their season opener, beating Daegu 4-0 on Friday.
The freshmen tandem of Arielle Stickar and Hayden McMillan continued leading the way for the Blackhawks, who are 4-3-1, fifth in the Korea Blue division, but have outscored their opponents 19-7.
Given that many of the Blackhawks players are trying soccer for the first time, it's surprising "that we've come this far," Stickar said. "We work together well. We have a kind of synergy on the field."
"It's kind of like family," said McMillan, who has a team-leading 14 goals; Stickar has the other five for the Blackhawks (4-3-1).
Humphreys boys likewise shut out Daegu, and got a six-goal performance from James Rivet, who transferred from Seoul American over the summer. Rivet has 14 goals for the Blackhawks, 5-3 this season.
Rivet's old team, the Falcons, got a second-half goal from Ben Nagy and Seoul American held on the rest of the half to tie league-leading Seoul Foreign 1-1; the Crusaders are 7-0-2 this season.
On the Japan pitch, junior Kai Lange ignored the rain and wind on Saturday to score eight goals in three matches to run his Pacific-leading total to 43.
His Matthew C. Perry Samurai went 3-0 on the weekend, as did Yokota's girls, who got three goals from Caleigh Garcia.
At Misawa Air Base, Yokota baseball swept three games from Robert D. Edgren, with Sean Caffrey's four RBIs pacing the Panthers to a 12-4 win in the weekend finale.
On the Eagles pitch, Maggie Donnelly scored four goals each in two matches as defending Far East Division I champion Nile C. Kinnick's girls remained unbeaten, beating Edgren 8-1 and 6-1. Kai Sullivan's five goals powered Kinnick's boys past Edgren 6-1 and 7-1.
On Okinawa, where rain and chill were hardly a bother, Kadena's boys and girls soccer teams captured the weekend. Adri Gomez and Phoebe Bills each had two goals as the Panthers girls shut out Itoman 4-0.
Brennon Slinger, Kian Smith and Antwaine Holeness each scored twice as Kadena's boys shut out Okinawa Christian 3-0, then took two from Okinawa Institute of Science and Technology 3-2 and 3-0.
Twitter: @ornauer_stripes