Prep roundup
Sonnenberg, Hunter better own marks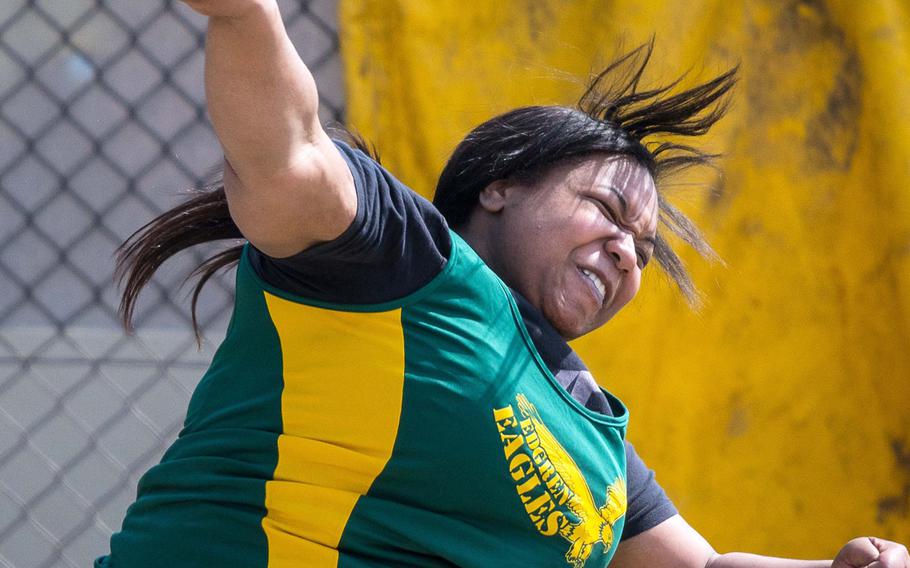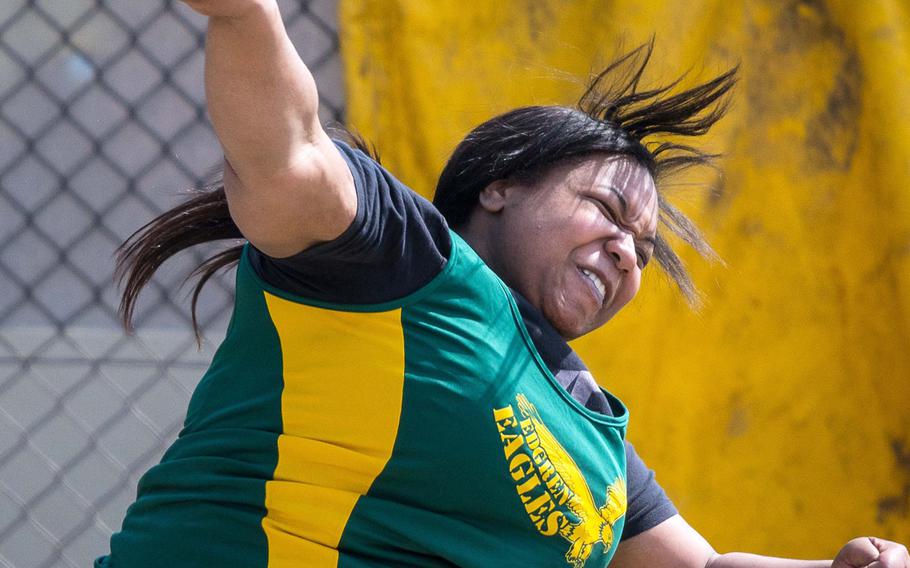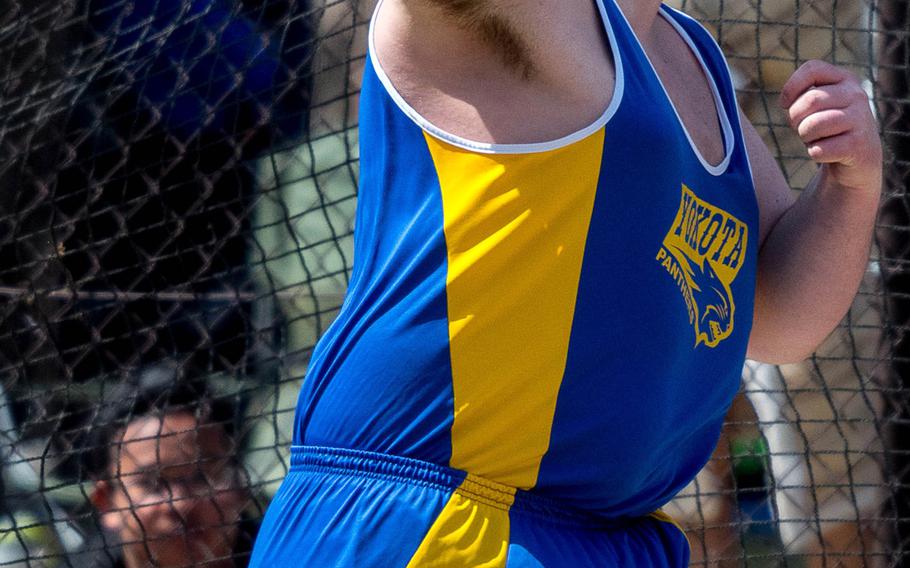 YOKOTA AIR BASE, Japan – Christian Sonnenberg said he didn't expect to beat his own personal best – and the Pacific record – in the discus after flying from New York and arriving just less than a day before Saturday's second meet of the season.
One has to wonder how well he would have done and how far he could have thrown the discus on normal rest and no jet lag.
Sonnenberg threw 58.04 meters on the first of his six attempts Saturday at Yokota's Bonk Field. And he admitted afterward he hadn't given it his all, that it would take time to get used to being back in Japan.
"I wasn't really trying on that throw; I took it really easy," Sonnenberg said after breaking his own Pacific record of 56.40 set almost a year to the date. "I was glad to get that one in my six throws."
"That's a pretty impressive start," Yokota coach Dan Galvin said. "Step off the plane, step into the ring, yawn and throw a big one. Sometimes, everything comes together and you uncork one."
Meanwhile, in the shot pit at the opposite end of Yokota's Headley Field, Brianna Hunter of Robert D. Edgren continued her record-setting ways, tossing the shot 12.33 meters. That broke the record she set just last week, 11.79, at the same location.
Sonnenberg had been training in Ohio, and was scheduled to return earlier Friday, but his return flight was delayed until he finally caught an All-Nippon Airways flight out of New York's JFK Airport. It landed at Narita at about 11 p.m. Friday.
Sonnenberg, who already has committed to Division I Utah State for college, has stated his goals for this season are to throw the discus 61 meters, which would put him just over 200 feet.
"It's hard to say," Galvin said. "I still think he'll get over 60."
"If I stay on the same plan, I'll keep progressing and hit 61 by the end of the season," Sonnenberg said.
Sonnenberg is ranked 12th out of 23,141 athletes registered at Athletic.net.
Just a week after splashing onto the scene by breaking the Pacific's 20-year-old shot-put mark, Hunter, a senior, came .02 meters short of her personal best, set in last year's Missouri state finals.
She's the first Edgren track and field athlete to hold a Pacific record. Hunter's throw Saturday was 3.65 meters better than her closest rival, Edgren junior teammate Trinity Fiers. Out of 18,808 registered at Athletic.net, Hunter stands tied for 76th best.
Cougars girls returning to title huntIt's been four years since Osan girls soccer won the last of their record eight Far East Division II Tournament titles. Though it's a bit early to predict, coach Sung Plourde believes his charges might be back on a winning track.
Lizzy White and Jana Rafi each scored twice as the Cougars improved to 2-0-1 Saturday with a 4-0 shutout of Humphreys. But the key to the weekend was Osan's 1-1 draw with Korea Blue Division powerhouse Seoul Foreign on Friday on the road.
"That was a good tie for us; it gives us confidence going into the rest of the season," Plourde said after Saturday's match. "It's a good early start."
White is one of a handful of returning players, but it's newcomers, particularly Jana Rafi, who has three goals, and senior Allyson Marek, a senior transfer from Texas, who have contributed greatly; Marek has three goals and four assists.
Trojans continue to find weaponsTwo seasons ago, Megan Hurley of Zama led Pacific girls soccer strikers in scoring with 43 goals. In 2016, Rachel Norton didn't lead the region in goals, but had 34 to lead the team.
One of Zama's top playmakers last year, Amanda Stephens, is taking on that role this season. She has 16 goals in five matches, just three behind Pacific-leading Bobbi Hill of Matthew C. Perry, and the Trojans have opened 4-1, including a 4-1 upset of two-time defending D-II champion Yokota.
Just how does Zama come up with so many goal-scoring options year after year?
"We've been fortunate to have girls with a lot of desire, who really want to get after it, and so far this season, it's Amanda," coach Manny Duarte said.
Stephens spent part of last season shelved by an ankle injury. "So far, she's healthy and we'll see if she can keep it going," Duarte said.