Seoul American playing a numbers game
by
Dave Ornauer
August 31, 2017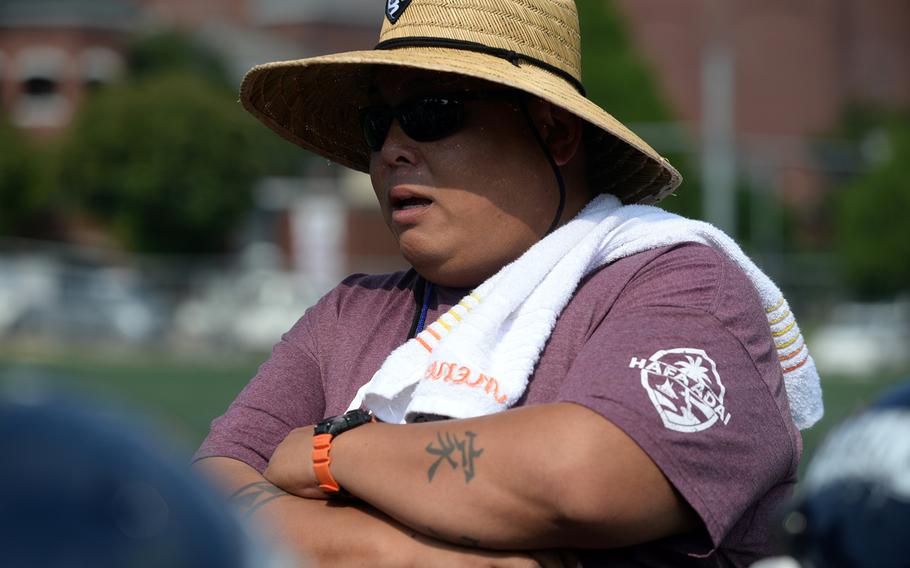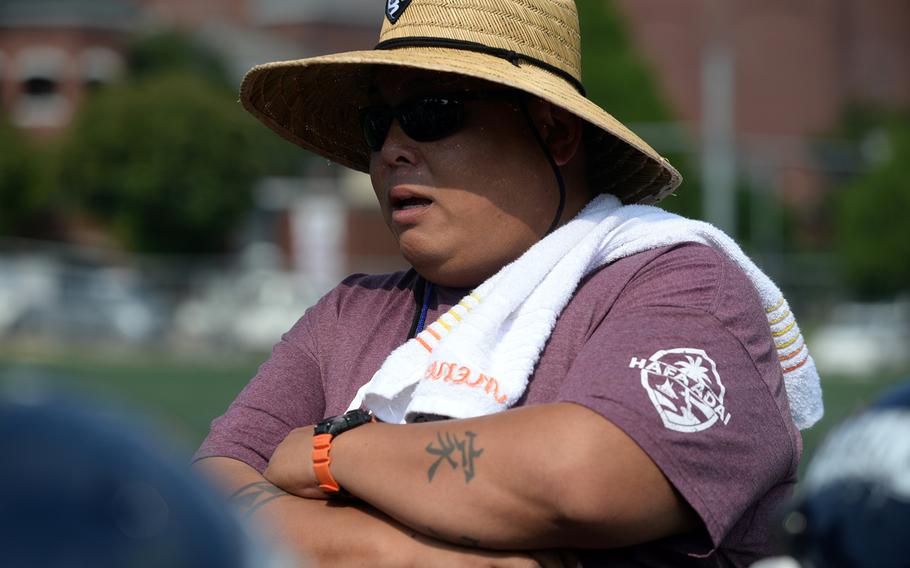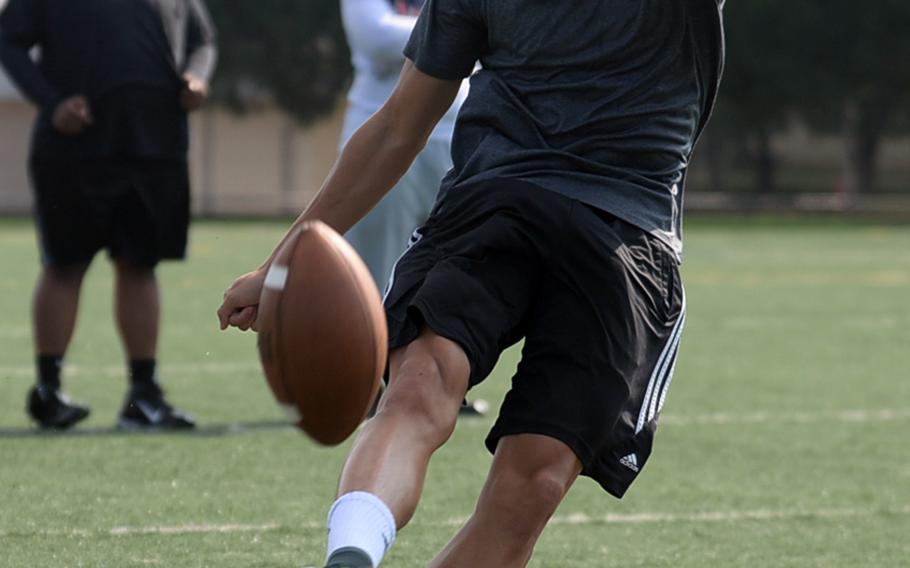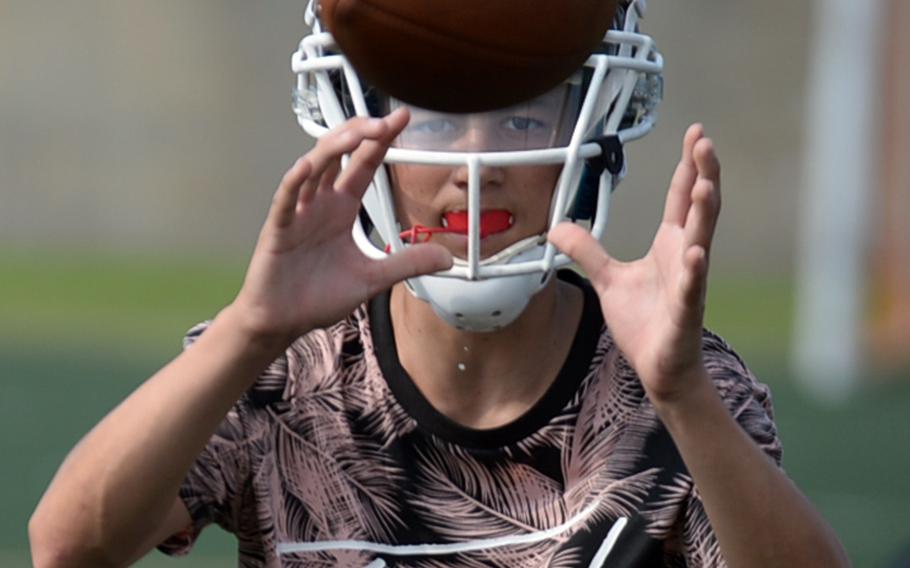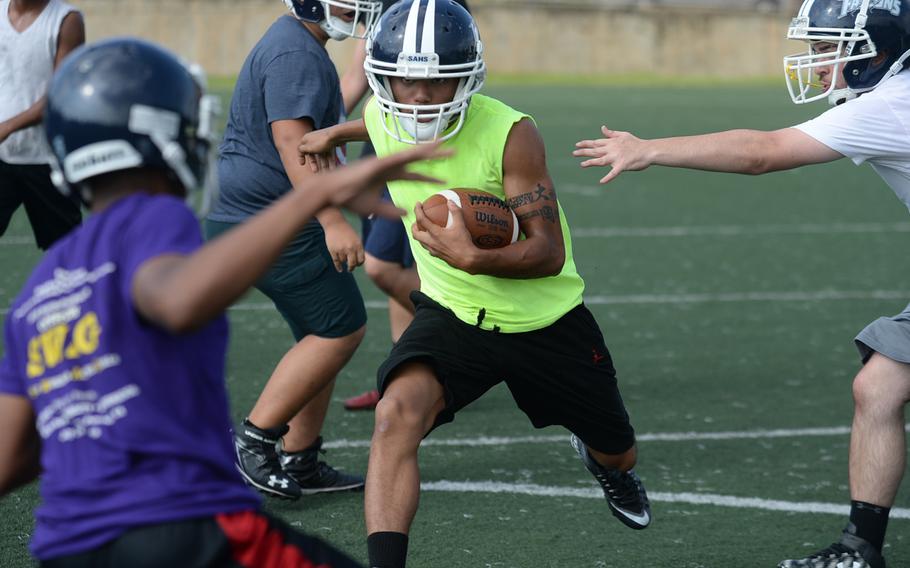 Twelfth in a series of DODEA-Pacific high school football previews.
YONGSAN GARRISON, South Korea – New coach Reggie Meno and a small handful of returners know Seoul American's recent football history – two winning seasons since 2011, no Far East Division I title since 2008, the first winless season in school history a year ago.
Worse, the school's enrollment has dropped to 329, less than half of what it was a year ago, and that pool of potential players will continue to shrink as the transformation from Yongsan Garrison to Camp Humphreys continues.
So there's a bit more of a sense of urgency in Falcon football country, Meno said: To get the team back on a winning keel, especially considering Seoul American might be moved to the small-schools division, or perhaps shut down altogether at the end of the current school year.
"This school could become Division II or even close," said Meno, who moved to Seoul American from Hohenfels, Germany, and takes over from Shawen Smith, who has transferred to Bahrain. "It would be nice to end on a good footing."
That might be something of an undertaking. Meno becomes the third Falcons head coach in three seasons. Only seven players return to Falcon Navy blue and white, and just two started games last year. And having the memories of a "0" in the win column can be wearing on a team.
"We've been doing our best to get that out of their minds," Meno said. "A new slate, a new coaching staff, a new system. Hopefully, that will lead to the expectation that we can win."
One of those returning starters, senior lineman Ethan Register, echoes Meno's optimism. "Our team is 10 times better than last year," said Register, who played at Nile C. Kinnick and Yokota in Japan before transferring to Yongsan last summer.
He feels that while football is more aggressive and hard-hitting in Japan, the game is more technical in Korea. "We have more size here. Our line is good, and our running backs are really quick," Register said.
Senior Jordan Ooka transferred to Seoul American at midseason last year, and also feels good things may be coming in Falcon country.
"This year, hopefully, it changes," said Ooka, who lines up in the backfield. "We have a lot of confidence. We work together, we run a lot, when we're on the field, we're like family. I have their backs and I know them have mine. I'm glad I'm with them."
"This is a family, this is a team and they push and help each other," Meno said.
One area where the Falcons should see improvement is on special teams, Meno said. Seoul American did not attempt a field goal last year and tried two-point conversions after most every touchdown, but that may change with the addition of junior kicker David Brown from the soccer team.
"He has a really good leg," Meno said, adding that Brown's been launching 40- and 50-yard placements. "It can make a big difference. This game can be won by one point or three points."
While the Falcons are young and raw, the players have been proverbial sponges, taking in everything the coaching staff has been teaching.
"Everybody's going to play a role, whether they're starting or coming off the bench," Meno said. "They've been showing their potential at all times, showing me what they can do every time they get their hands on the football."
Seoul American will have its hands full again with its Division I schedule, which has them playing Kubasaki twice, home and away, and Kadena, Nile C. Kinnick and American School In Japan once each.
"Every team will be gunning for each other," Meno said. "But we'll go into each game with confidence."
Twitter: @ornauer_stripes