Seoul American - from D-I to no football in a season
by
Dave Ornauer
September 2, 2018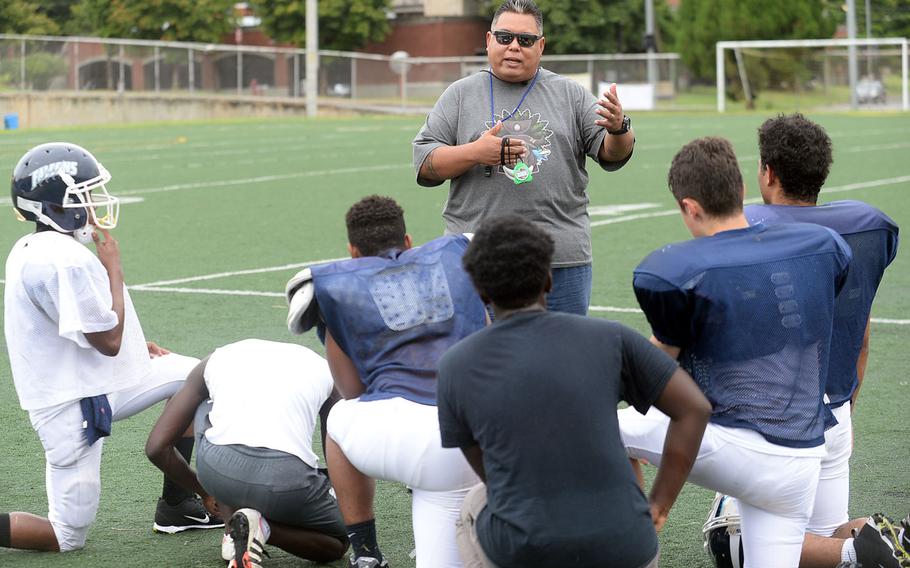 Seoul American won't have a football team for the first time in school history. Robert D. Edgren will, but the Eagles won't take the field until Oct. 6. And after only a week back at Division I, Yokota returns to the small-schools pool where it played the last three seasons.
That's the outcome for three programs after a week of discussion between directors and administrators DODEA's Japan and Korea districts, as confirmed by DODEA-Pacific officials on Okinawa late Friday.
The Falcons and Eagles entered last week well short of their respective districts' set minimum of players needed to field a team, 18, and while Edgren was successful in recruiting, Seoul American fell well short, with just six players by week's end.
"I'm a bit disappointed," said Reggie Meno, who was entering his second year as Falcons coach. "In all my years of playing and coaching, I've never been to a school that didn't have a program."
Meno said he did "everything he could" to try to recruit players, but the drop in enrollment at Seoul – from 392 last August to 160 last week – and changes in interests among youngsters contributed to the dropoff. "There just seems to be no interest at all here," Meno said.
"I was really looking forward to it (but) it is what it is," said sophomore Karsten Brown, one of three players who would have returned from last season. He plans to play volleyball now.
Brown, too, tried to recruit players and was told "they didn't really like football or they were too scared to get hit."
Seoul American dominated the early days of the Far East playoffs that began in 2005. The Falcons won Far East Division I titles in 2006 and 2008 and were to play at Division II for the first time this season.
Edgren ruled the D-II roost in the playoff's early days, winning in 2006-08 after reaching the 2005 final.
The Eagles began last week with just 12 players but found enough to field a team, thanks to in-school recruiting and community activism.
They'll play a limited four-game slate this season and will be eligible for the D-II title, DODEA officials said.
"It looks like we're back on," Eagles coach Jeremy Sanders said.
However, Edgren won't take the field until Oct. 6, when the Eagles host Daegu. Aside from the new players not having the required 10 practices, many have never played football before, school and team officials said.
"Until we're actually back on the field, we can't afford to lose any bodies," Sanders said.
Another team short on players, Yokota, began workouts on Aug. 13 intending to play a Division I schedule, which it did until the 2014 season. The Panthers won D-I titles in 2011-12, but a drop in enrollment relegated Yokota to D-II starting in November 2014.
The Panthers will play the most games among DODEA-Pacific teams. DODEA officials said they would play a full D-I schedule to avoid having to completely redo the large-school slate, but would also play all Japan D-II schools and be eligible to play for the small-schools title.
While Yokota has the biggest and Edgren the smallest schedules, Osan and Daegu in Korea each have five games on their docket.
The Cougars, who played a non-varsity slate a year ago, will face Daegu twice, travel to Matthew C. Perry and play a Humphreys junior varsity squad twice. Because they're facing Daegu twice, the Cougars are eligible for the D-II title for the first time since 2014.
Osan athletics and administration said they were also seeking a game late in the season against Singapore American and hoping Daegu could also play. It would give the Cougars and Warriors six games each. Only preliminary discussions have been held at this point.