Seisen serves notice it's a challenger at Far East volleyball
by
Dave Ornauer
October 14, 2017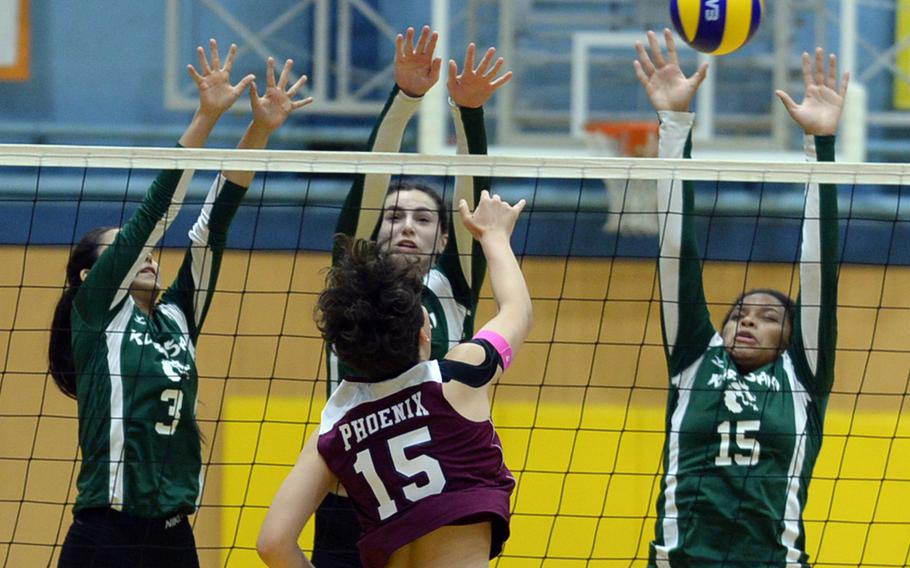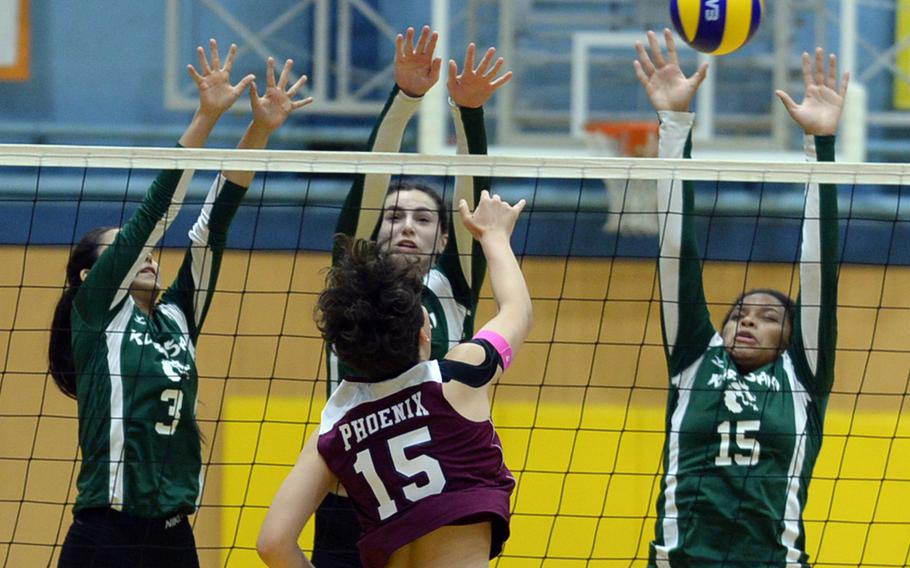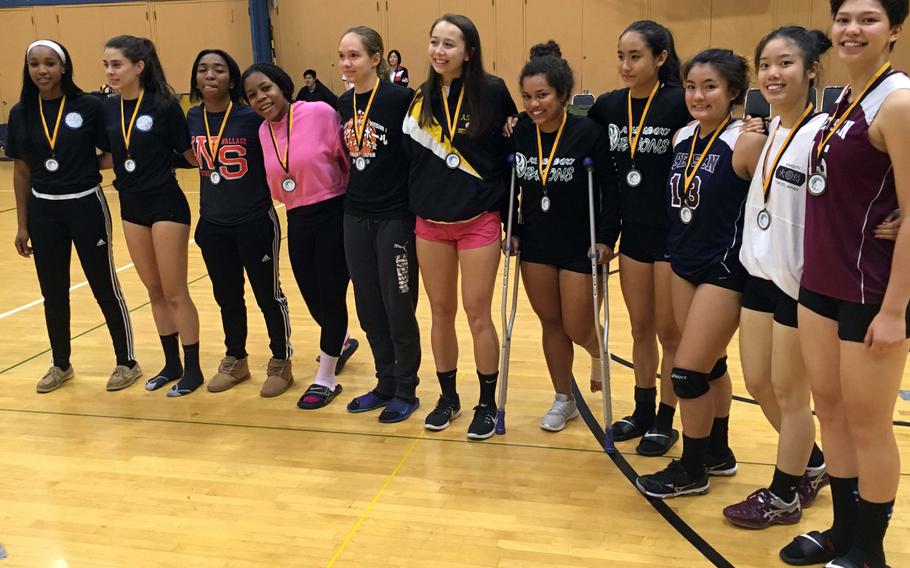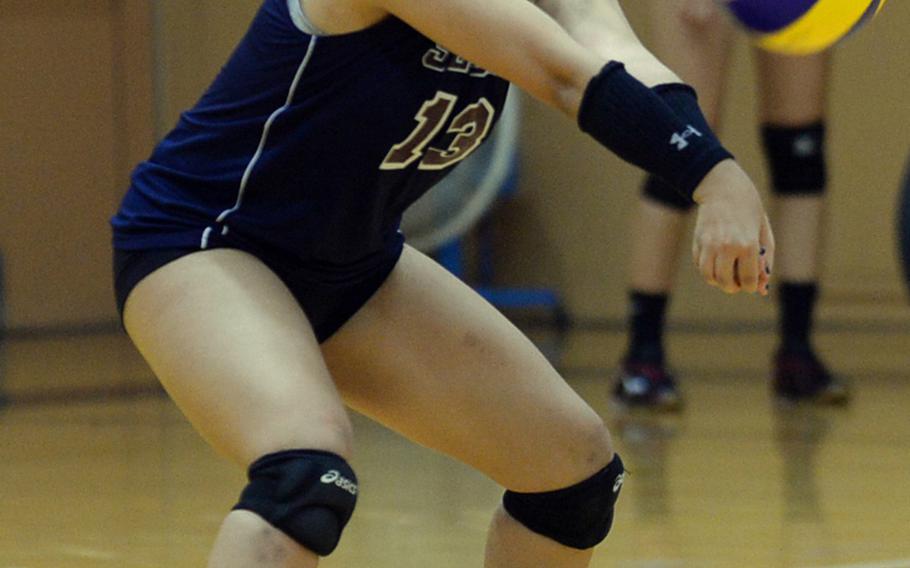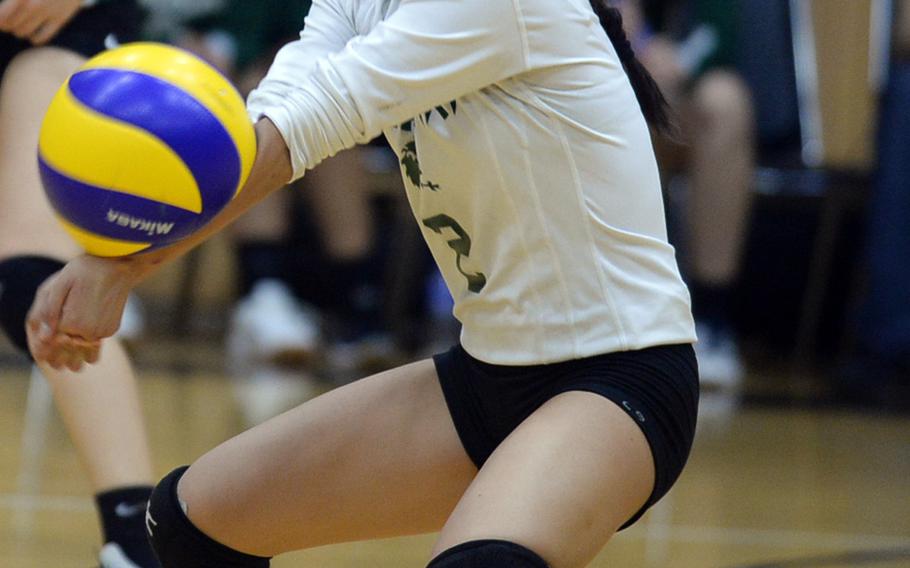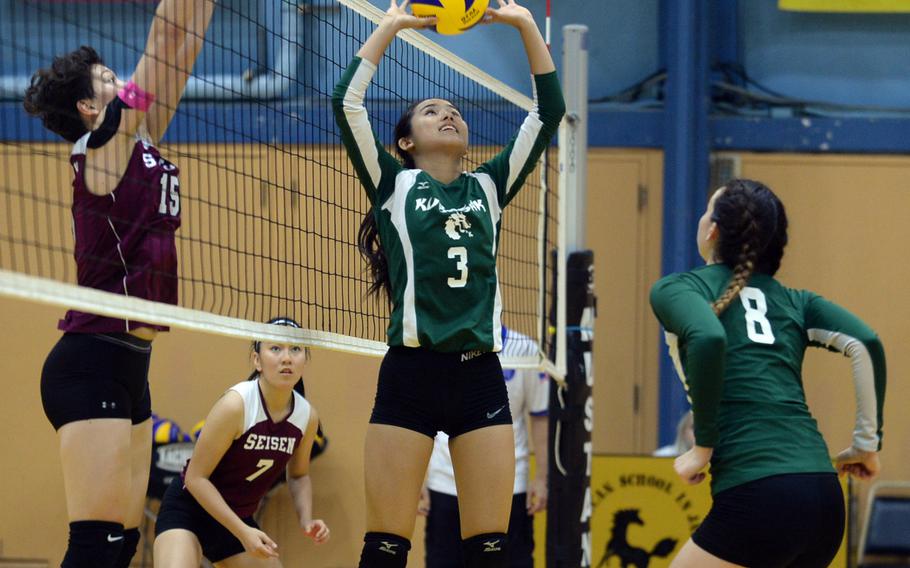 TOKYO – Elizabeth Jury was a sophomore playing volleyball for DeWitt (Mich.) and sporting the Panthers' blue and gold the last time Seisen of Tokyo won a Far East girls tournament.
Now, Jury rocks Seisen maroon and white – "Phoenix forever," she's fond of saying – and has coached Phoenix volleyball into a situation the team has not been in since last winning a DODEA-Pacific Far East title. That was in 1998, the first year of the Division II tournament.
But after Seisen captured the title in the American School In Japan-YUJO III Tournament, Jury feels the Phoenix are ready to make a deep run at the title in the Far East D-I tournament.
"They're completely capable," Jury said after Seisen swept three-time defending Far East D-I Tournament champion Kubasaki 25-16, 25-20, 26-24 Saturday in the ASIJ-YUJO final. "They absolutely can do it. It is within reach."
It would be a first for Seisen since capturing that D-II title 19 years ago at Camp Walker, South Korea. The Phoenix also have three D-I tournament titles to their credit, the last one coming in 1993. They've not reached a Far East final since winning the 1998 D-II title.
Amanda Wood, MVP of the YUJO tournament, had 11 kills on Saturday as did junior Lilu Vandercamme as the Phoenix raced ahead in the first set and were seriously threatened once in the second set and again late in the third, which became wide open until Seisen clinched it.
"It's a new experience … it's so amazing," Wood said. "I'm so proud of my teammates and my coaches, how hard we worked."
Angela Chou had 24 assists and Wood three block points for the Phoenix. They helped offset a strong performance by Dragons senior duo Donatella Barone, who had 22 kills, and setter Mimi Larry, who had 26 assists. Kubasaki has reached all three ASIJ-YUJO finals, losing the last two.
The Dragons may have spent too much emotional energy just getting to Saturday's final. They overcame a one-set deficit and 13-5 gap in the second set to overcome host and defending YUJO champion ASIJ 12-25, 25-21, 26-24 in the semifinals.
"Particularly the younger girls," coach Mike Hogen said. "They're not used to this. Tella and Mimi were ready. The younger players gave it all they had. They just hadn't been through it. They have now and it will make them stronger."
The ASIJ-YUJO tournament featured four DODEA teams, including reigning Far East champions Yokota in D-II and Kubasaki in D-I. The tournament served as a dress rehearsal for the Far East tournaments coming up Oct. 25-28, D-I at Kadena and D-II at Zama.
Asked if Seisen can challenge for its first Far East title in 19 years, Chou said: "Of course, definitely. With all our hearts, I believe we can do it."
Twitter: @ornauer_stripes