D-I baseball final
Sapsford stars as ASIJ retains championship
---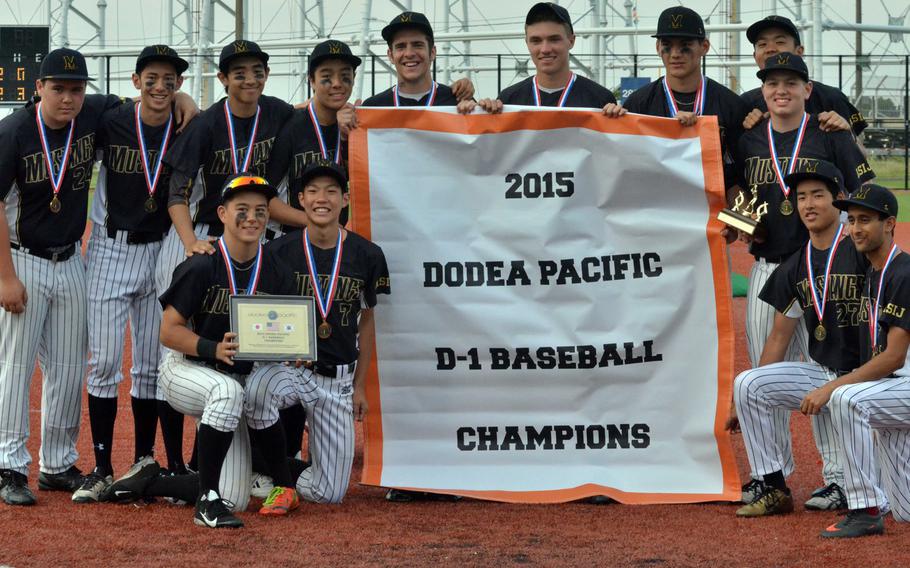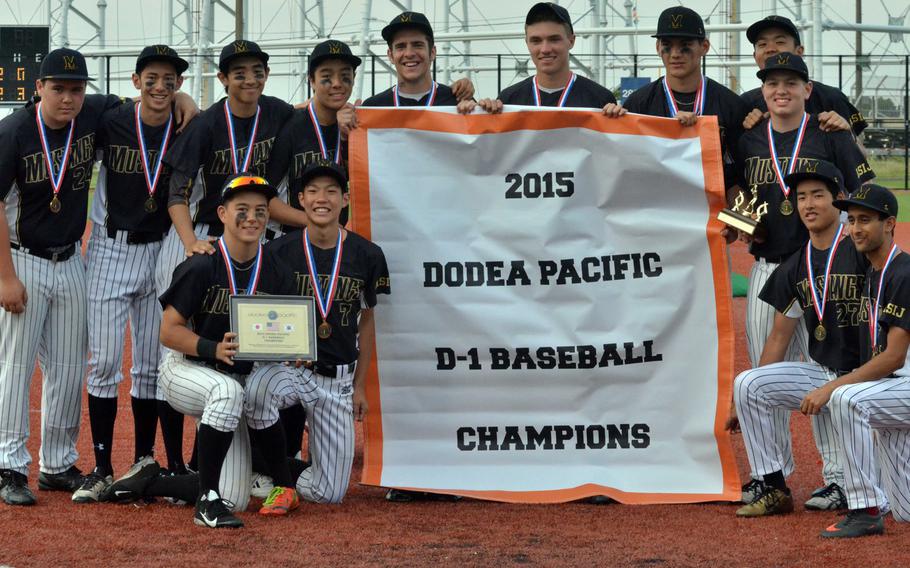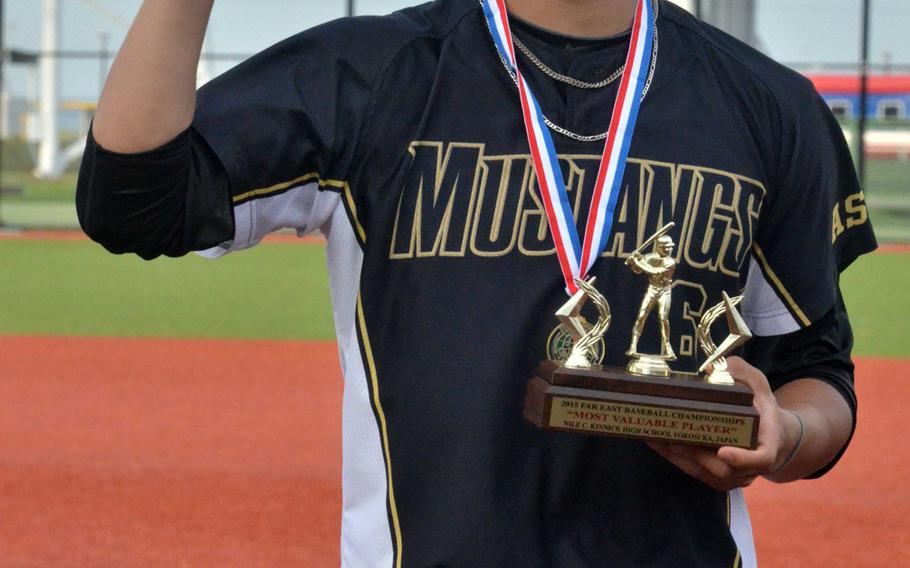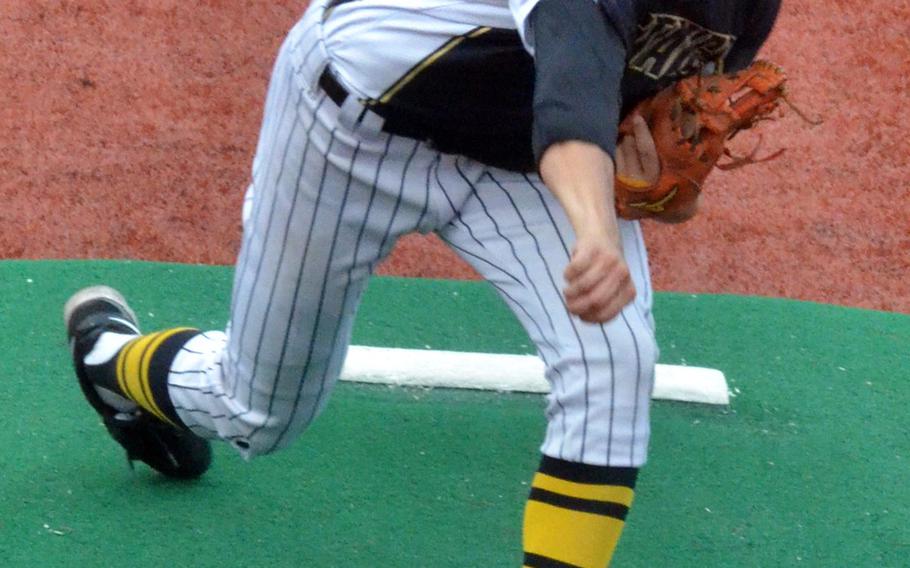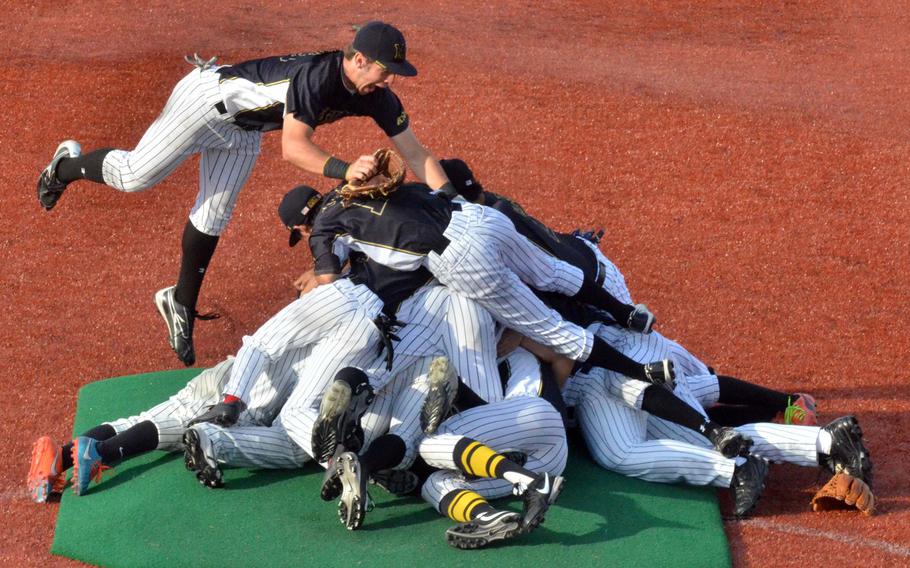 YOKOSUKA NAVAL BASE, Japan – Good at the plate, even better on the mound.
Tyler Sapsford did it all Saturday for American School In Japan, now Far East Division I Baseball Tournament champions for the third time and second straight year.
The junior right-hander struck out 13, helped himself with a solo home run and came a triple away from hitting for the cycle as the Mustangs routed their unlikely opponent, Kubasaki, 12-2 in the D-I final at Yokosuka's Berkey Field.
"He had quite a game; he's had quite a year," coach John Seevers said of Sapsford, who batted .480 for the season and whose pitching has been "outstanding," he said.
Sapsford has verbally committed to Yale and is "excited about playing there after next year, and it works out having him back one more year," Seevers said.
Two former Mustangs from last year's title team are playing college ball, Mizuki Shumsky at Miami of Ohio and Justin Novak at Virginia. The team also lost veterans John Yonamine and Ryan Glasenapp and had a pedestrian – by Mustangs' standards – 13-7 record entering Far East.
"We had quite a few guys we missed," Seevers said, adding that newcomers Senichi Shibayama and Brandon Rogers, both seniors, and sophomore Ryan Vo came in and "they were able to contribute right away and fill some big shoes. We also knew we had good kids coming back."
Sam Linder hit a sacrifice fly, Max Fu singled in a run and Rogers and Jay Gokhale each hit two-run singles as ASIJ put up six first-inning runs and never looked back. Sapsford led off the second with a first-pitch solo homer off starter and losing pitcher Kristian Palmer.
The fourth saw Linder belt a two-run shot following Sapsford's leadoff double. Rogers followed with a tremendous two-run blast that landed in the Berkey softball field, a good 350 feet away. J.T. Judd's sixth-inning RBI single capped the Mustangs' scoring.
Sapsford, meanwhile, retired the first 12 batters he saw and only got in trouble twice. He fanned pinch-hitter P.J. Washam with the bases loaded and two out in the fifth. Two innings later, with runners on second and third and two out, Washam reached on an infield error, with both runners scoring.
It was a most improbable championship pairing. Kadena had been the pre-tournament favorite, but lost for the first time in five games to Kubasaki in Friday's semifinal 6-5. Alex Eisenberg hit a two-out, three-run, full-count homer off Panthers reliever Justin Sego to rally the Dragons. The Mustangs had a much easier time beating eventual third-place team and host Nile C. Kinnick 14-3 in the other semifinal.
Asked if this was more special than the titles ASIJ won in 2011 and last year, Seevers said they were all special. "When you get a group of kids who start working together really well and get that good chemistry, that's what makes it so satisfying," he said.
Twitter: @ornauer_stripes
---
---
---
---