Far East cross country
Samurai newcomers cross line first in school first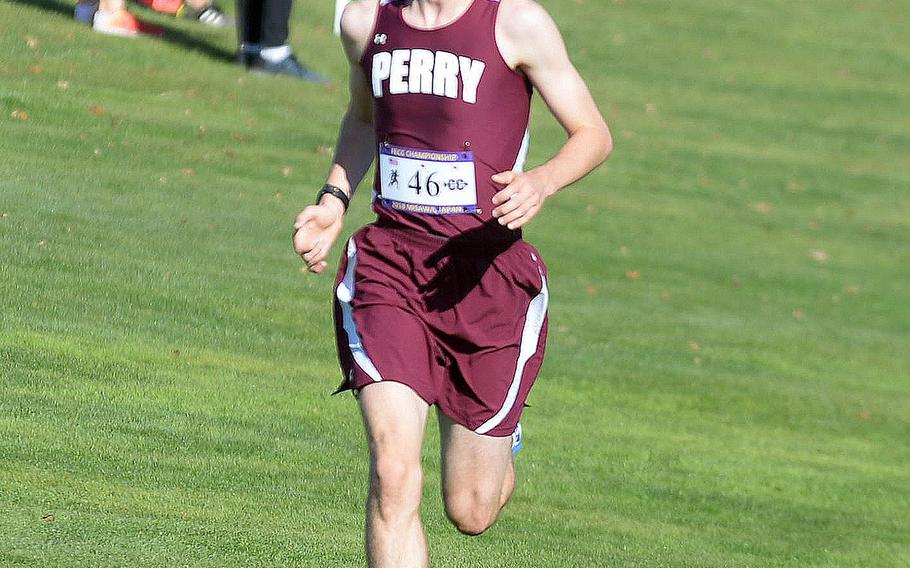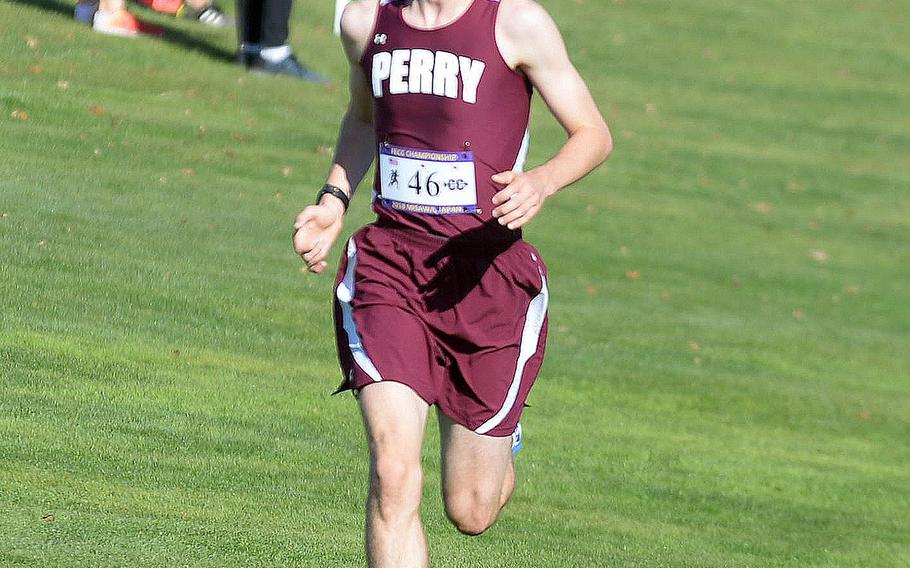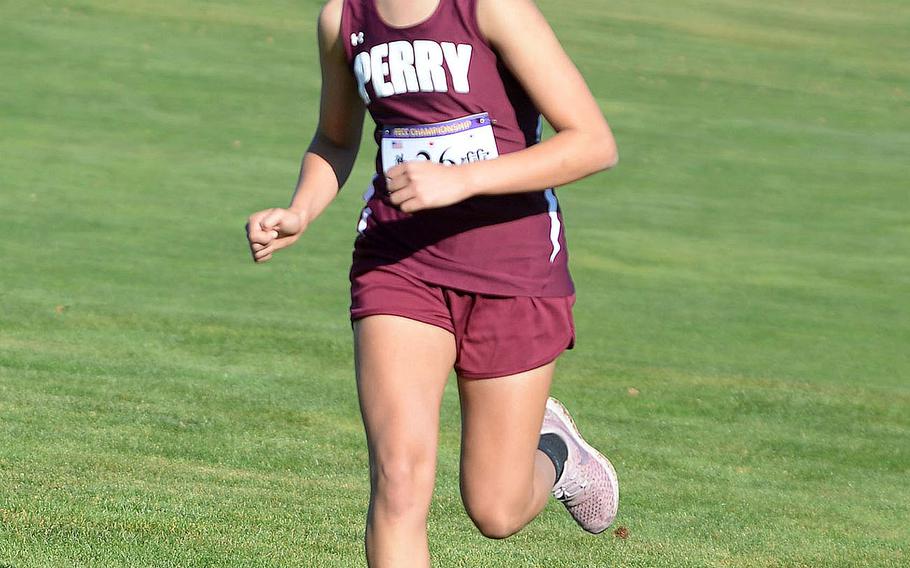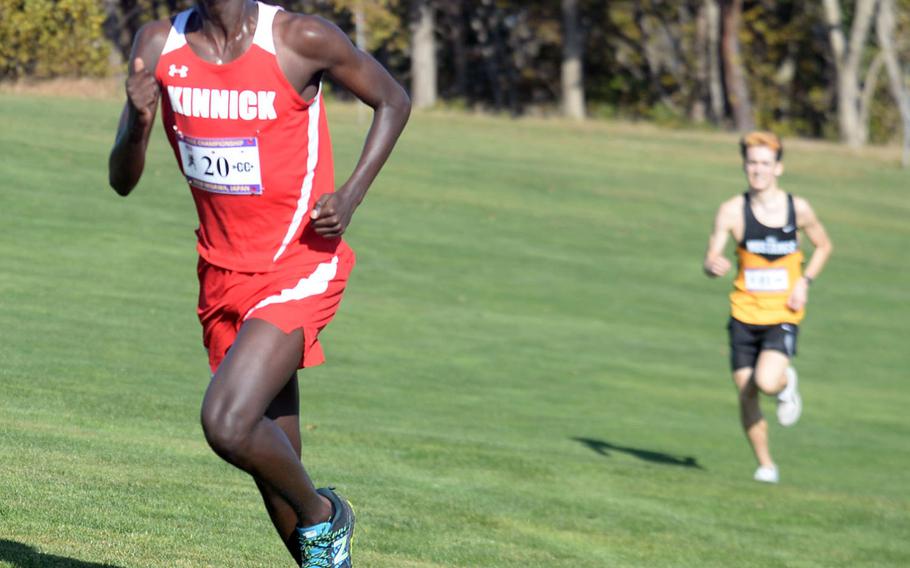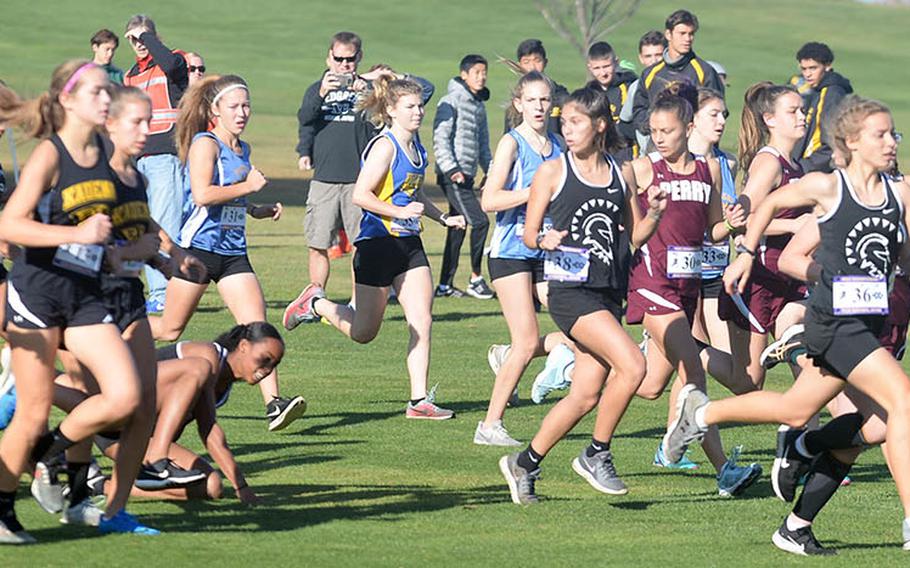 MISAWA AIR BASE, Japan – After suiting up for Matthew C. Perry's volleyball team her first two years of high school, Angelique Armijo tried her hand at cross country this season.
It paid off big for her during Monday's Far East meet.
The junior captured top individual Division II honors. She clocked the 5-kilometer grass trail on Misawa's Gosser Memorial Golf Course in 20 minutes, 27.6 seconds, almost a minute ahead of Yokota's Aiko Galvin under pastel-blue skies with 55-degree temperatures.
"It feels rewarding that everything I've done to get here has paid off," Armijo said. Though Armijo's Samurai came in second in the team standings for both boys and girls, Perry nonetheless made Far East and school history.
Fellow junior Owen Young, a transfer from Zama, won the boys D-II crown, giving Perry top D-II individual honors for both boys and girls for the first time.
Young was timed Monday in 17:04, 7.3 seconds ahead of Yokota's Mickey Galvin. Young said he was able to pace himself by keeping on the right shoulder of Kadena's Trevor Williams, who took third among Division I boys.
"I felt better about this race than a lot of others," Young said. "It was fun to run with this many people. I caught up to Trevor and he just dragged me along the rest of the race."
Young at one time held the fastest time among Pacific boys this season, clocking 16:25 on Oct. 13 at his home Marine Corps Air Station Iwakuni course; that held up as the third-fastest of the season. Armijo ran 19:44 the same day, the second-fastest among girls this season.
"I'm proud of my team," Armijo said. "We all did this together. I couldn't have done this without the motivation of my team."
Young and Perry's boys came in second in the D-II team standings to Yokota, by a score of 15-25. It was Yokota's boys' fourth straight D-II title. The Panthers girls edged the Samurai 21-25 to win their second straight D-II title. Yokota also won its third straight school banner.
"The kids saved it for the best meet of the year," Panthers coach Dan Galvin said. "A great day. Great course. Perfect conditions."
On the Division I side, the Pacific's fastest boys runner, Nile C. Kinnick senior Akimanzi Siibo, was timed in 16:45.5 seconds, with American School In Japan senior Trevor McAuliffe on his right shoulder from start to finish.
"That was not easy," Siibo said. "He (McAuliffe) was there the whole way. That really scared me. It was a good rivalry the whole season. There were some big runners out here today who did their best. We should all be proud."
McAuliffe finished with a personal-best 16:47.10, 4.7 seconds ahead of Williams. Going into Monday's Far East race, "I was a little intimidated," Williams said, adding that he had a chance to talk to some of his rivals and that "calmed me down. We got to know each other. It was a good race."
ASIJ's and Kadena's boys tied atop the D-I boys standings with 31 points, but the Mustangs won the title due to a higher finish by their boys' fifth runner, Take Zoot, a freshman. The top four runners each scored team points, with the fifth serving as a tiebreaker.
"Our fifth runner made the difference," ASIJ coach Steve Welckle said, adding that Zoot told him after the race that he felt he let the team down. "It ended up that he was the one who mattered most."
Mustangs sophomore Marina Ten Have was the top girls D-I finisher, rallying past Kinnick senior Annabel Stafford in the stretch for the win. Ten Have was timed in 20:14.6, .6 ahead of Stafford.
"I just chilled behind her, kept her close and when she slowed, I just kicked at the end," Ten Have said.
ASIJ also won the girls D-I team title and the overall D-I school banner, the 10th in school history.