Rain not only thing falling at Petty meet
---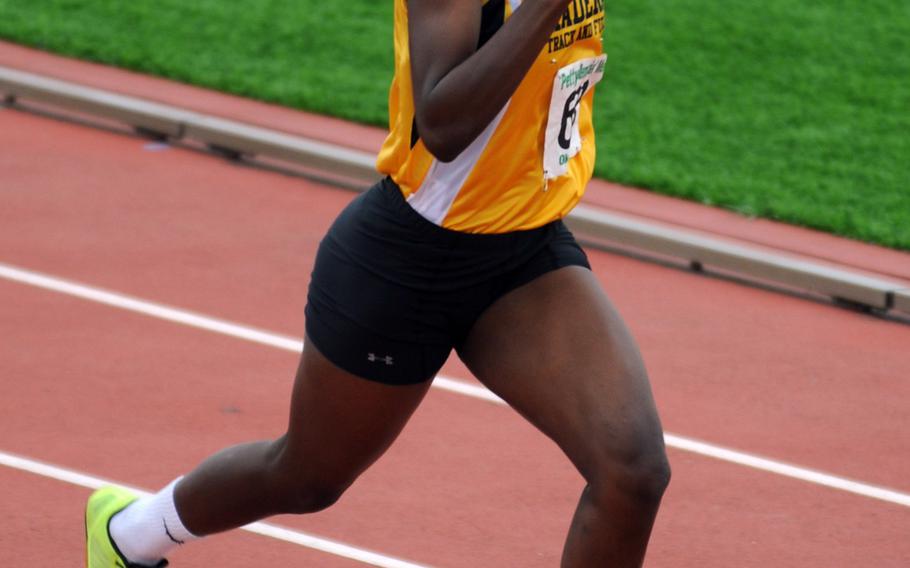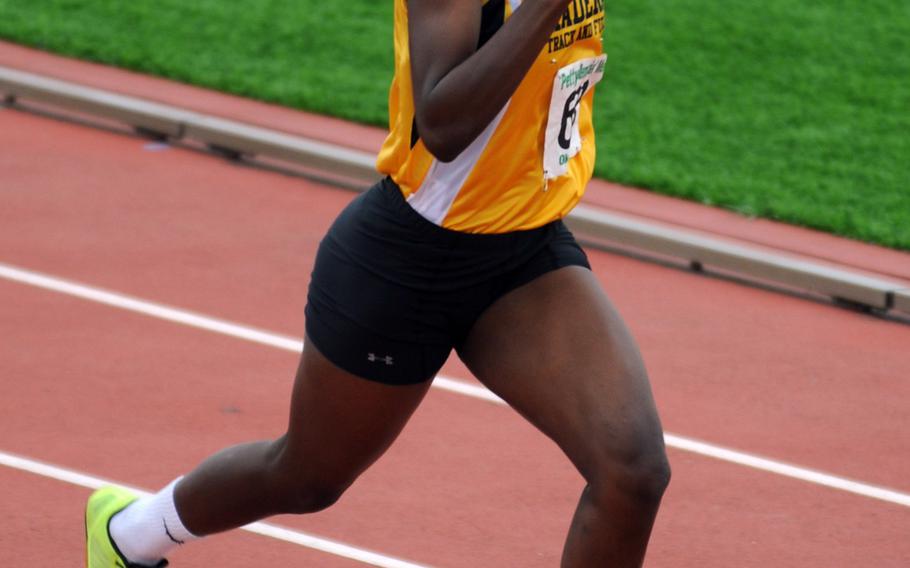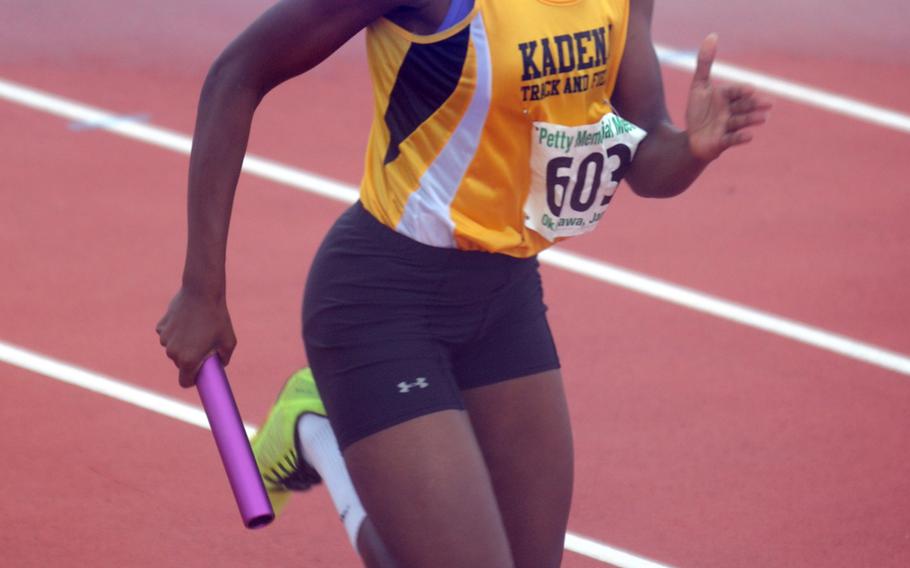 KADENA AIR BASE, Okinawa – Derrick Taylor says he's been wanting to make a splash in hurdling events in this, his swan-song track and field season. On Saturday, he got his chance.
The Kadena senior broke his own meet record in the 300 hurdles and just missed topping the 110-hurdle mark, while the girls 400 relay team struck gold in record fashion as the 10th Alva W. "Mike" Petty Memorial Meet came to a somewhat saturated end.
"That's an improvement," Taylor said after topping his 300 mark by a half-second, to 41.25, just .34 ahead of Zama American's Mitchell Harrison. "That's what I was trying to go for, end my senior year with a bang."
Taylor also edged Harrison 15.59 to 15.68 in the high hurdles, and just .12 off the meet record of 15.47. Taylor says he knows he'll face Harrison again. "If anything, Far East will be the real challenge."
The record performance, along with four other meet records, rang down the curtain on the most unusual meet in the decade-old event's history. Saturday's hurdles, 1,600 runs and boys discus events were held in driving rain, while the girls high jump took place in the gymnasium at Kadena High School – the third of three venues used for Petty.
The meet began Friday at Kubasaki's Mike Petty Stadium, where action was halted by rain in the early afternoon, the meet's first-ever rain delay. Short-sprint qualifying resumed Friday evening; those finals were held Saturday at Kadena Air Base's Ryukyu Middle School.
"Kids pay a lot to get here, so you try to give them a meet," Petty timer and DODDS Okinawa district superintendent Michael Thompson said. "Makes a good argument for a dome." While Kubasaki won more events than Kadena, 13-8, the Panthers seized top team honors over the Dragons in both boys and girls. Kubasaki was second in each.
Helping the Panthers' sweep was the Panthers' girls 400 relay team, which set a meet record after the rain finally stopped and sustained 30-mph winds and 38-mph gusts began drying off the Ryukyu track.
In the newly named Charles Burns 400 relay, named for the Petty meet's founder and former Kubasaki coach, Kadena's girls clocked a 52.15, beating the old record of 52.38 set by the Panthers in 2010. The Kubasaki boys ran a 44.78 to shatter the old meet mark of 45.13 set by Kadena in 2010.
"I knew it (wind) would affect me badly, but I just had to push through and keep my head low," girls anchor Janika Caines said. She also just missed topping her own 100-meter dash record of 12.66 set last year.
Anchor Rahman Farnell and Kubasaki's boys ran their best time of the season after practicing baton handoffs all week. "We messed up those the last two weeks," he said, adding that with more work, "We can try to drop it (time) to 42 seconds, maybe."
Farnell later blazed well ahead of the pack in the 200 in 22.31 seconds. That on paper broke the 2006 meet mark of 22.7 set by Kadena's Jeff Morton, but meet organizers entered the results of the 100 and 200 finals as wind-aided.
The other two record breakers came in the 1,600-meter run and also wore Dragons green and white.
Kubasaki sophomores Jessica Ircink and Erik Armes, who had set personal bests in an Okinawa quadrangular the week before, were timed in 5:30.06 and 4:31.73. Ircink beat the old record by almost nine seconds and Armes by just under six seconds.
Ircink credited Kadena's Ana Hernandez for setting the pace the first three laps. "She did awesome. I couldn't have done it without her." "I was the rabbit," Hernandez said, then turning to Ircink: "Amazing. I love you."
Likewise, Armes' teammate Ryan Bugler also paced the victor. "Awesome," Armes said. "It was a good race. … We just did our thing with 300 meters to go. We put in a strong kick and just went for it." Armes was timed by his distance coach Paul Campbell in 58 seconds on the final lap. "First time he's done that," Campbell said. "For them to do that in those conditions, they (Ircink and Armes) improved."
Events postponed, canceled by bad weatherPetty wasn't the only event interrupted by the wet stuff over the weekend. The Kubasaki Spring Fling Baseball Tournament was one victim, canceled early Saturday morning due to the dismal forecast, organizer and Dragons coach Randy Toor said.
The opening meet of the DODDS Korea track and field circuit had to wait as well. Day-long rain forced organizers to scrap Saturday's tri-dual at Pyongtaek Civic Stadium near Camp Humphreys. It's been rescheduled for next Saturday, Seoul American coach Jesse J. Smith said.
Kadena and Okinawa Christian School International canceled their boys and girls soccer matches Friday due to the heavy rain.
Some events did get played despite the weather. Matthew C. Perry's boys soccer team survived day-long rain to end Senri Osaka International's seven-year winning streak in the host Sabres' annual Futsal Tournament. And Yokota split a baseball doubleheader on St. Mary's International's turfed field.
---
---
---
---