Rain hijacks Day 1 of D-I soccer; Osan girls, YIS boys shine at D-II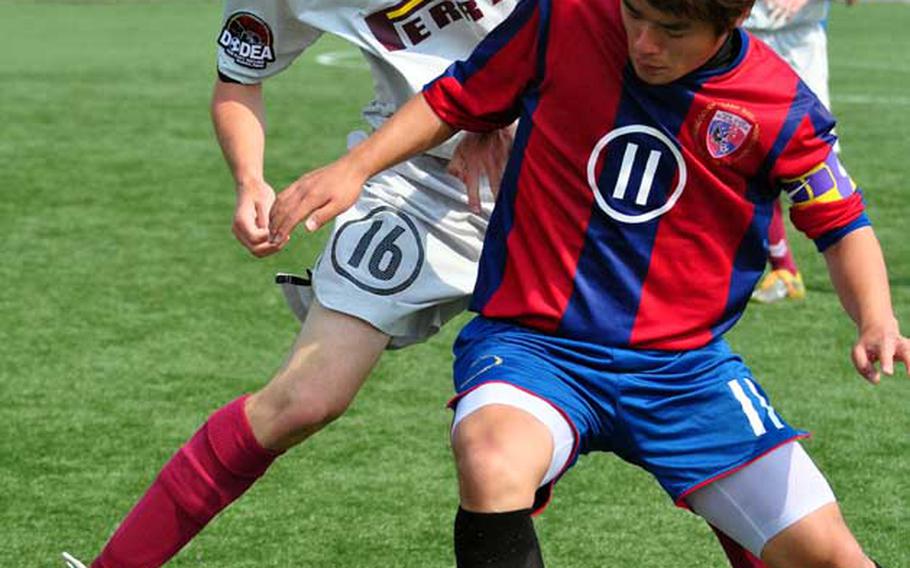 Unwanted history was made on Day 1 of the first Far East High School Boys and Girls Division I Soccer Tournaments to be played concurrently in the same location.
Not one match was completed Monday due to day-long rainfall which made fields at Kadena and Kubasaki unplayable. That forced organizers to either revamp the pool-play match schedule, in the girls tournament's case, or push back scheduled pool-play matches until Tuesday as in the boys' case.
And the forecast for Tuesday didn't look any more promising than Monday, in which just over 1½ inches of rain fell, according to Kadena Air Base 18th Wing Weather Flight officials.
"I'm not too optimistic for today or tomorrow," DODDS Pacific Far East athletics coordinator Don Hobbs said. He added that organizers Monday checked three fields on Kadena and two on Camp Foster, none of which were playable.
Only one match, in the boys tournament, got underway Monday on Kubasaki's Upper Field, which was pocked with puddles and, with players slipping and sliding everywhere, resembled a muddy ice rink. Finally, 13 minutes into the second half, play was halted when the field was deemed unsafe.
That left players and coaches to head indoors to Kubasaki's gym, where they kicked around soccer balls, tried heading balls into baskets around the gym, then later played an impromptu futsal tournament.
"What are you supposed to do in a situation like this?" Kubasaki boys coach Chris Eastman said. "They're kids who like to have fun. I'm not sure they feel the pressure of the tournament now. If nothing else, they're hanging with their friends and having a good time."
Nile C. Kinnick coach Nico Hindie is a veteran of such wars, having seen whole days of play halted in Girls Division I tournaments in 2004 and 2008.
"You can't do anything about Mother Nature," Hindie said. "Maybe it's time to think about getting turfed fields."
Never before had whole days of play been erased due to weather from the schedules of two Far East soccer tournaments on the same day.
Meanwhile, at Camp Humphreys, South Korea, where the fields are turfed and bad weather was hardly a bother, three-time champion Yongsan International-Seoul earned the overall No. 1 seed in the Boys Division II Tournament.
Jimmy Kim scored his 21st goal of the season in the closing minutes as the Guardians handed defending champion Matthew C. Perry, Japan's top DODDS team, just its second loss of the season 1-0.
"Interesting day. Tough matches," said Perry coach Mark Lange. "I wasn't happy losing that match that late, but that's the group of death for you."
Perry was grouped with YIS-Seoul, Korea's No. 2 Division I team, and International Christian-Uijongbu, Korea's top Division II side. The three teams combined to go 36-3-3 during the regular season. Osan American and Zama American earned the other top seeds into the double-elimination playoffs.
Bre'Onna Ray scored three goals, giving her a Pacific-best 41 for the season, as host Perry's girls took early command of pool play in the Girls Division II Tournament, but to hear Samurai coach Rick Stanford say it, two-time defending champion Osan American won the day.
"They came out powerful," Stanford said of the Cougars, who trail Perry by just two points, 23-21, entering Tuesday's last day of pool play. Zama American was third with 18. "It's anybody's ball game. Anything can happen. It's going to be a great tournament."Daegu American student-journalist Erika Brun, Osan American student-journalist Taylor Mynderup and Matthew C. Perry student-journalists J.C. Chambers, Danielle Rosales and Nick Krenek contributed to this report.
---
---
---