D-II boys soccer final
Perry wins fourth straight championship
---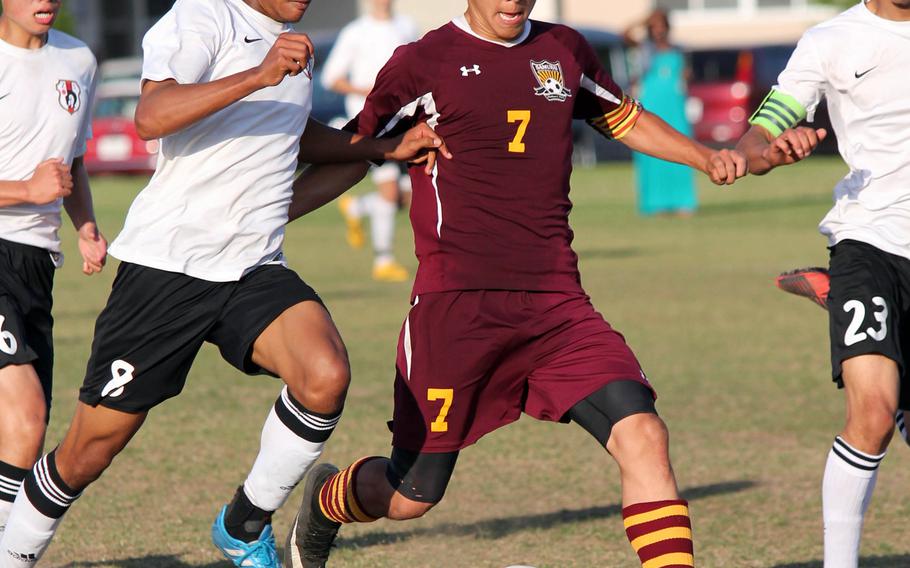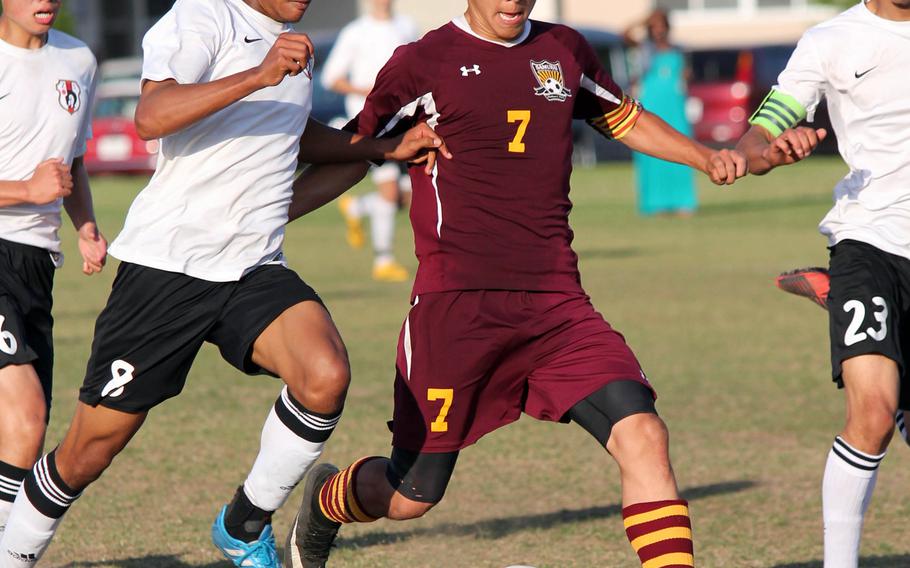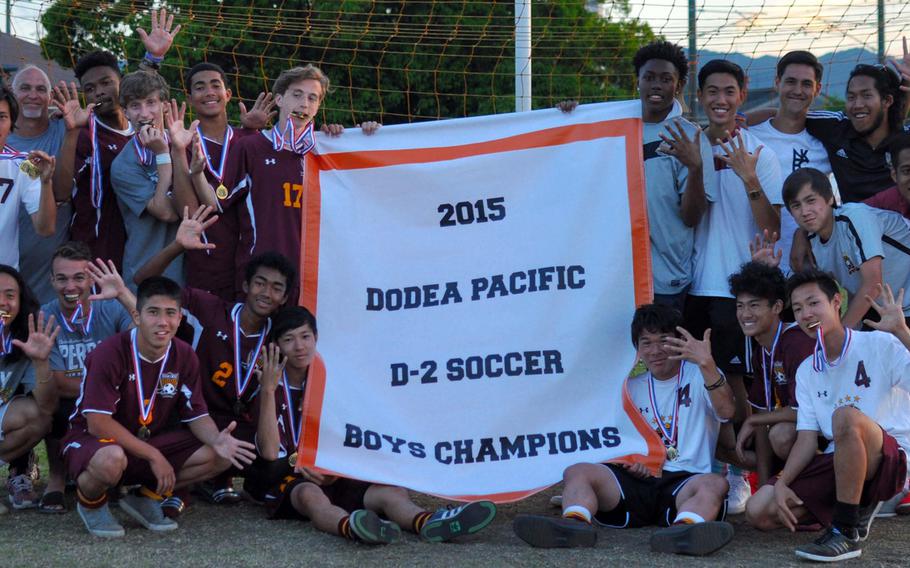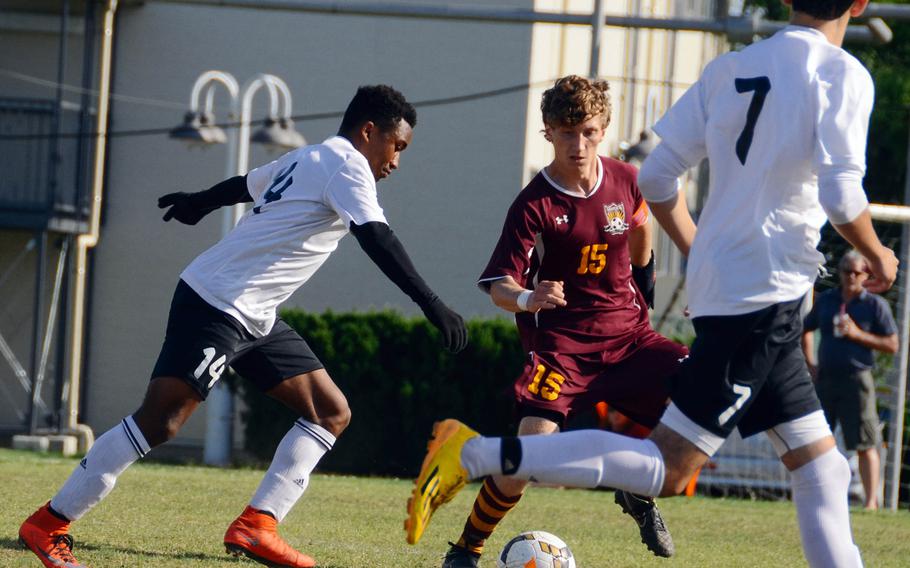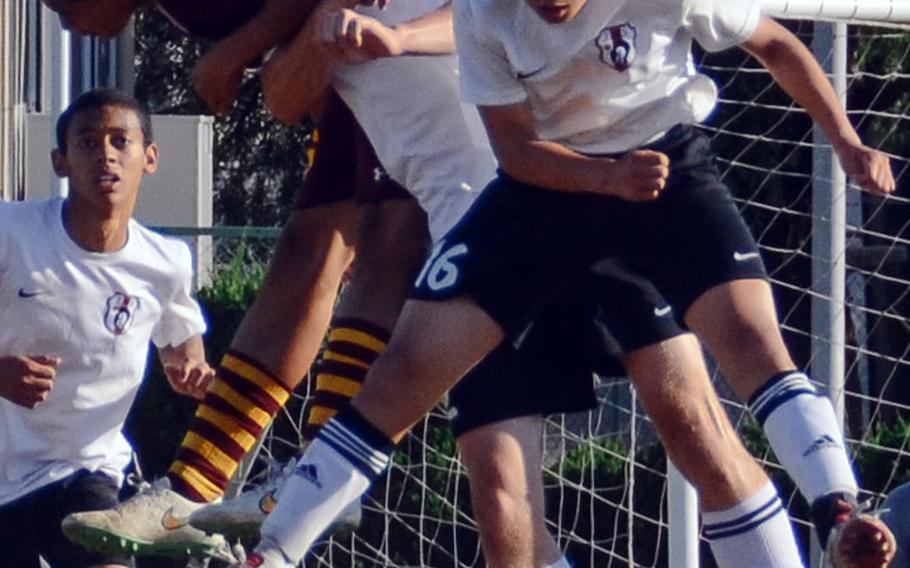 MARINE CORPS AIR STATION IWAKUNI, Japan – Tyson Moore went from the guy who nearly got left off the roster to unlikely hero in the span of less than a week.
Moore, a sophomore, had just two goals to his credit entering the Far East Division II Boys Soccer Tournament. So he was one of the players that coach Mark Lange, whose Matthew C. Perry side was aiming for a fourth straight title - and fifth in the last six years - was weighing whether to cut or to keep.
"Luckily, that coach changed his mind," Lange said after Moore scored two second-half goals, including the tie-breaker with under 20 minutes left, to help the Samurai rally past Zama for a second straight 3-1 D-II title-match victory over the Trojans.
"He was unbelievable, timely, fantastic, Johnny on the spot goals," Lange said of Moore, who earned the tournament's Golden Boot award with 10 goals over four days.
The win capped a 20-1-4 season for a Samurai team that has lost just one match dating back to last March 29 - against Zama in last month's DODDS Japan tournament final. And again, the Samurai led the Pacific in goals with 110 in those 25 matches, an average of 4.4 goals per match.
But it was defense, Lange said, that rose to the challenge of keeping the championship streak alive – particularly with regular goalkeeper Jarell Davis away on emergency leave.
Lange then turned to freshman backup Dylan Ernst, who stepped up to the challenge "and the defense stepped up in front of him as well," Lange said.
As for bringing fourth the title, Lange said he had mixed feelings about referring to his team as a dynasty. "I'm afraid to use that word," he said. "It's hard for a DODDS team to be that successful with so many kids PCS-ing. But that word does sound pretty."
Lange tipped his hat to the team that vanquished his in the DODDS Japan last month. "They're a very good team. They played very well," he said.
The fact that Perry won the D-II yet again "hasn't really settled in. I'll probably wake up tomorrow morning and go, wow, we did it. Four in a row. It's very special. We'll enjoy that."
---
---
---
---