Perry shuts down injury-depleted Edgren
---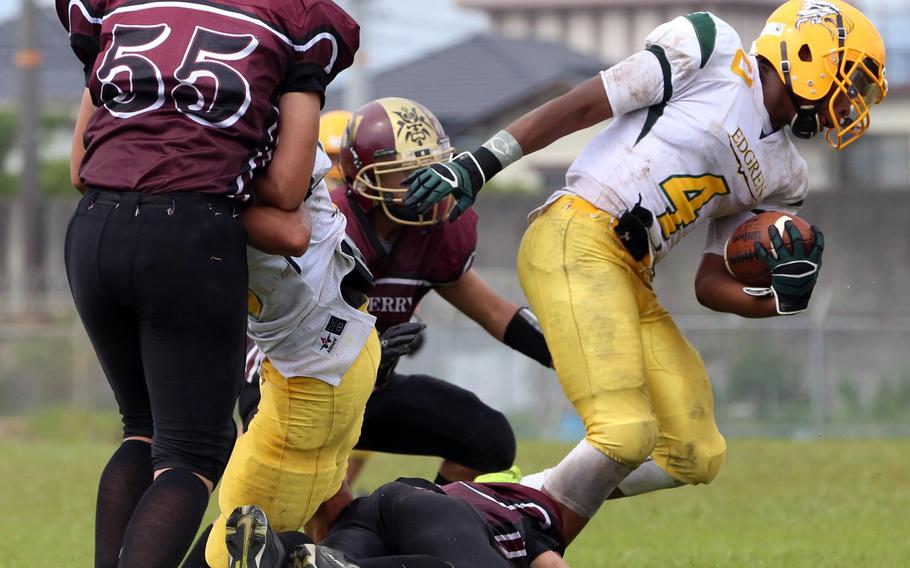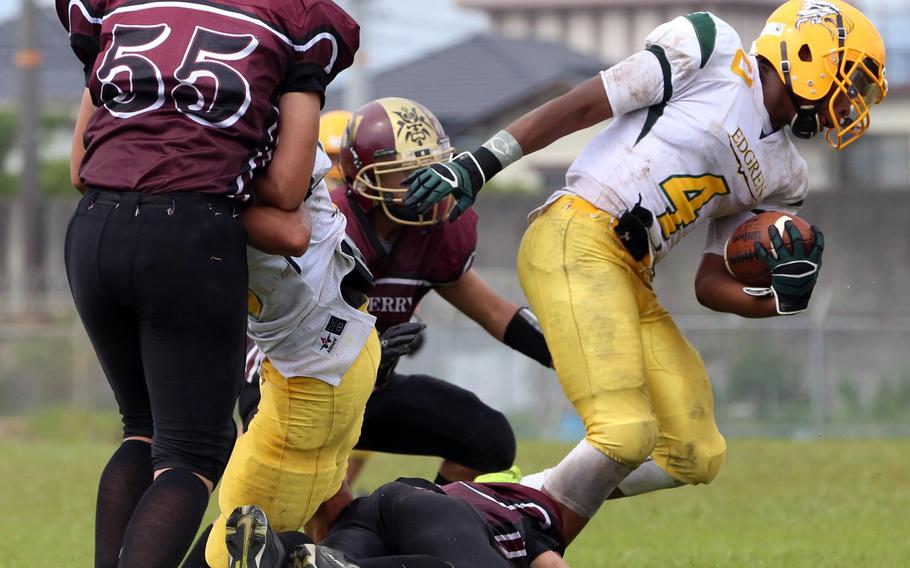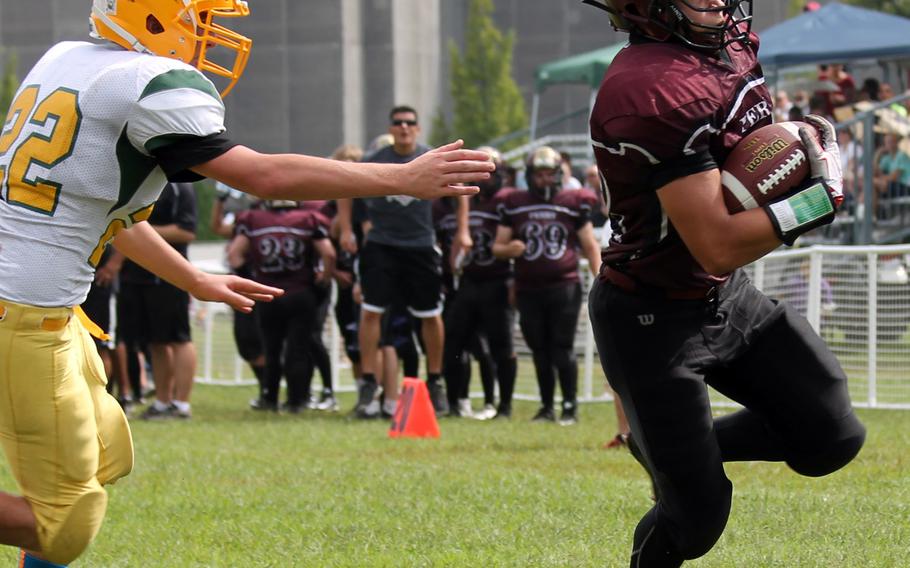 MARINE CORPS AIR STATION IWAKUNI, Japan – Matthew C. Perry won its second football game in as many starts Saturday against a Robert D. Edgren team that may have played its last game of the season due to injuries.
Caleb Ricafrente, a senior back, rushed for three scores, giving him eight touchdowns on the season, and the Samurai shut out the Eagles 23-0 in a game called with 4 minutes, 23 seconds left in the first half when Edgren ran out of players. The Eagles brought 14 and had 10 left when the game was halted.
"They didn't have enough to continue," Samurai coach Frank Macias said. Edgren coach Jeremy Sanders asked if the game could be stopped and "I said let's call it," Macias said. "We don't want to hurt more kids unnecessarily."
It was the sixth game forfeited in Pacific high school football this season, five in the first two weeks of the Guam season alone.
Perry could have found itself in a similar pickle Sept. 2 when it was supposed to play at Nile C. Kinnick, but didn't have enough players with the required 10 practices.
"I'm just thankful we had more bodies this time," Macias said. "We have 25, but an injury or two and we'd be in a different situation."
The Samurai will make up the game at Kinnick next Saturday at 5:30 p.m.
Whether the Eagles, who began the season with 17 players, can continue to play remains open to question, Sanders said. "We have to evaluate when we get back to Misawa," he said, adding that he plans to talk to athletics director Andre Thibert and principal Georgia Watters.
Thibert was away on personal business and couldn't be reached for comment. DODEA-Pacific athletics coordinator Tom McKinney said he would discuss the matter Monday with Thibert and Watters.
Perry racked up 110 yards and held the Eagles to minus-7 in the 19 minutes, 37 seconds that were played. The game was played with a running clock from 6:23 left in the first half on, when Edgren lost its third player to injury, and stopped altogether when a fourth went down.
Ricafrente rushed five times for 30 yards and three touchdowns and had four tackles. Dylan Ernst added 21 yards on six carries plus an interception. Mason Graydon led Perry with five tackles plus an interception. Zach Brown rushed five times for 29 yards.
Edgren's next game is scheduled Friday at Yokota. If the Eagles can't play, that would give Yokota four weeks between its 22-6 opening win and its road rematch Sept. 30 against Zama.
In the event Edgren can't continue, that would make it the second Division II program to fold this season. Osan had too few players to begin its season in Korea and suspended operations for 2016.
---
---
---
---