Perry runs over Humphreys for 44-6 victory
---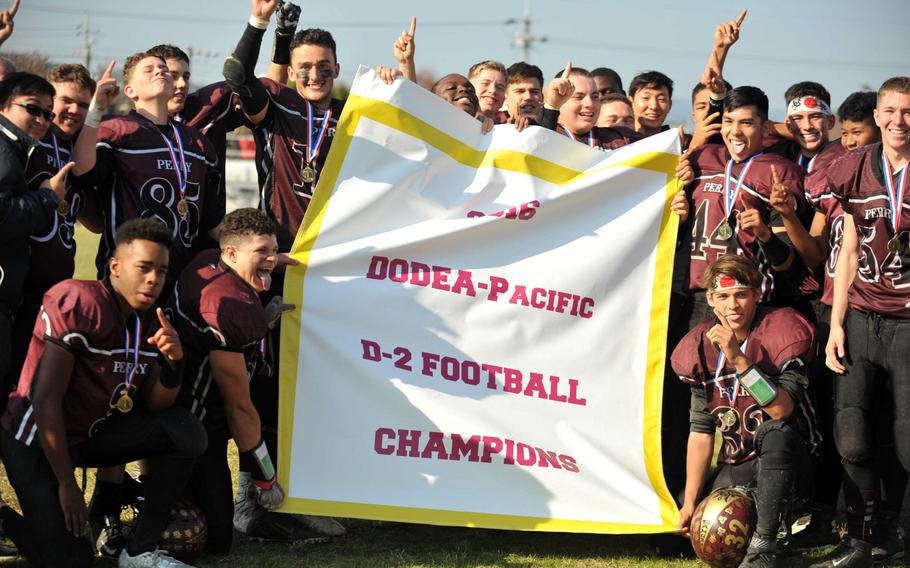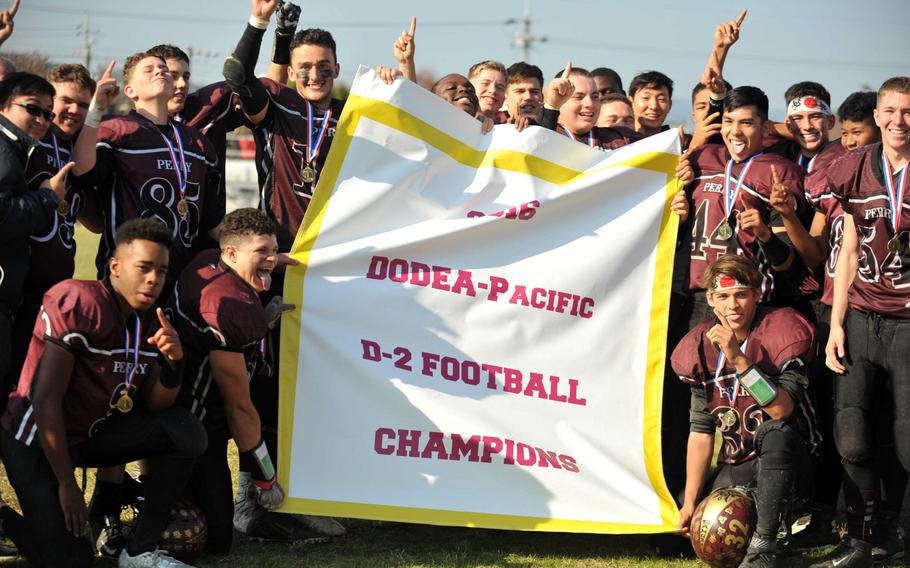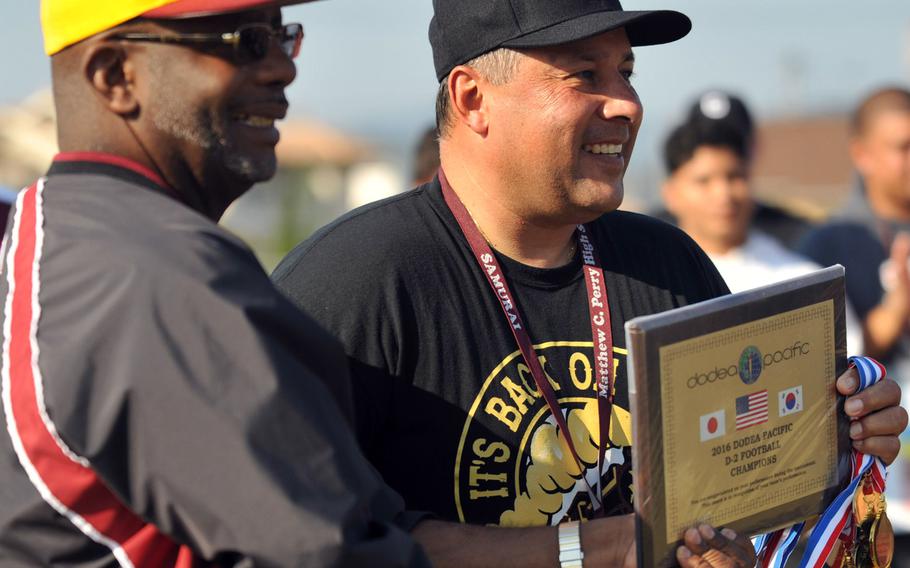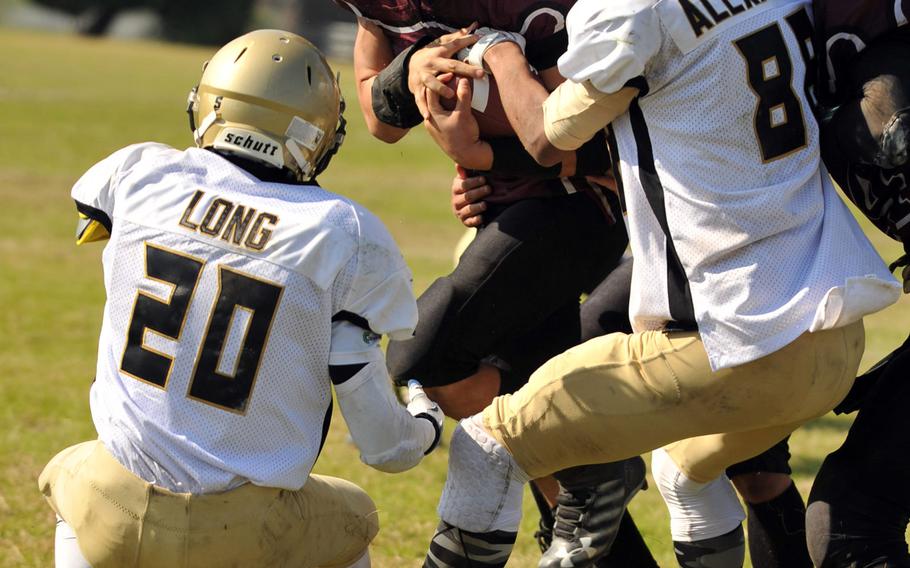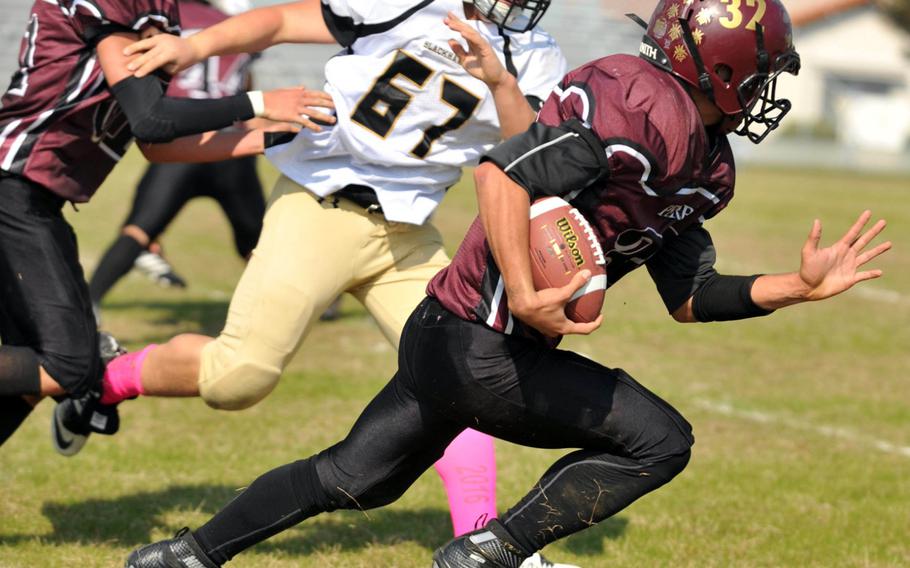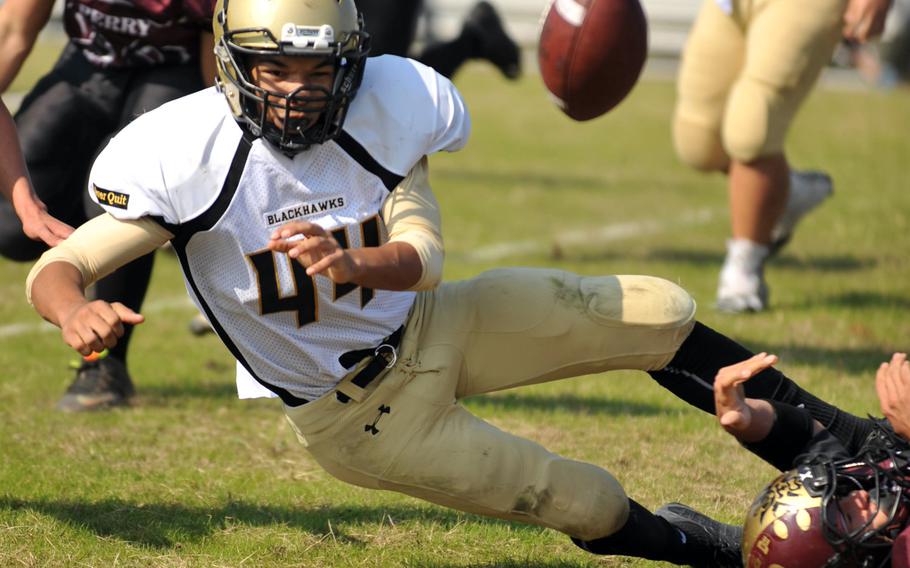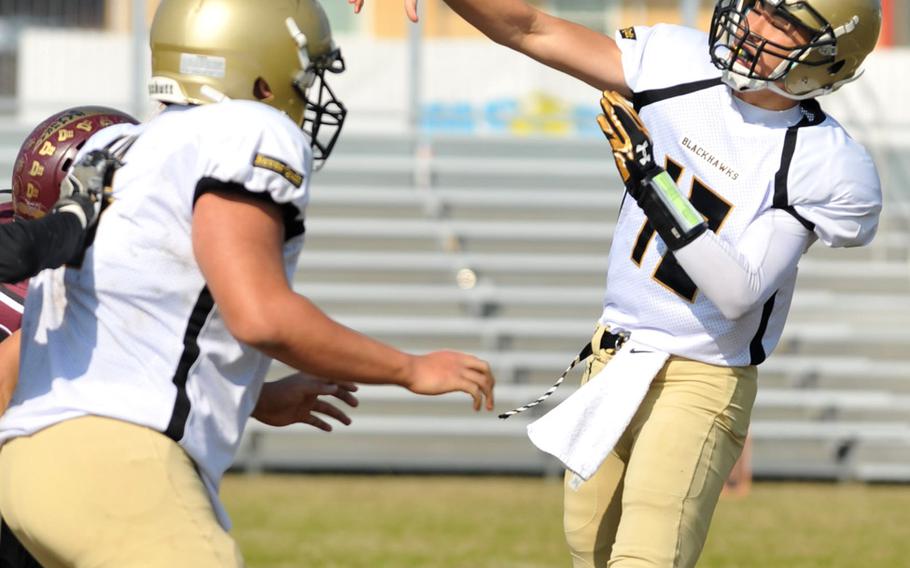 MARINE CORPS AIR STATION IWAKUNI, Japan – Keep things simple and take care of the football.
That philosophy paid off Saturday for Caeleb Ricafrente and Matthew C. Perry football. The senior scored three touchdowns and the ground-oriented Samurai overwhelmed the Humphreys air express for Perry's first Far East Division II football championship.
"It's hard to put into words," said coach Frank Macias, whose Samurai redeemed themselves for their 60-50 D-II title-game loss in 2014 to Daegu on the same Samurai Field.
"To build a program, to build a culture, to get these guys to believe that a school of 140 students can someday win a banner, the hard work that these guys put in, the commitment the dedication. I'm so proud of them," Macias said.
It was the completion of the 2012 reboot of a program that was disbanded after the 2003 season due to lack of players.
"It's amazing," said Macias' son, junior quarterback Garrett Macias. "It's not just the players here. I give credit to the players who started the program when it came back. I'm proud of those guys. I'm proud of this community."
Humphreys, which entered the game as the only remaining unbeaten DODEA-Pacific team, fell in its first trip to the D-II final. The weary Blackhawks traveled in two groups via roundabout air routes and arrived at their hotel just before midnight Friday. Kickoff was 12 hours later.
"The situation and circumstances that presented themselves in this whole exercise, the guys came out and fought the best way they could," Blackhawks coach Steven Elliott said.
The Samurai worked the ball patiently, engineering three drives of 61 yards or more, lasting as long as 5 minutes, 25 seconds. Every one of their offensive plays except one two-point conversion pass came on the ground and they did not punt once. They didn't punt in their last five games.
And they made precious few mistakes, turning over the ball once, while forcing the Blackhawks into two turnovers, sacking Humphreys quarterback Brice Bulotovich four times and holding the Blackhawks to 146 yards of offense.
"Just do what you do and do it well," the elder Macias said.
"We don't do a whole lot. But what we do, we do well. When you run a few plays and you run them well, you're going to keep the ball. On defense, we just can't wait to get the ball and then we're going to march it down. That's what we do. That's what we've done all season."
Ricafrente, who finished with 212 yards on 22 carries, got the Samurai on the board first with a 10-yard run 3:37 into the game, capping a 63-yard, nine-play drive.
Immediately, Bulotovich went to the air, hitting Nate Hellams for what appeared to be a 65-yard TD pass, which was called back on a holding penalty. Two plays later, Humphreys fumbled and Garrett Macias recovered.
He scored seven plays later to make it 12-0. Humphreys then tried to drive downfield, Bulotovich completing a 48-yard pass to Owen Williams and the Blackhawks reaching the Perry 24. But a bad snap cost Humphreys 20 yards and Bulotovich was sacked on fourth down.
Perry then drove 61 yards on nine plays with Ricafrente racing 15 yards to make it 20-0 1:57 into the second period. Andrew Borrero's interception two plays later set up his own 3-yard scoring run to make it 28-0 6:44 before halftime.
The Blackhawks tried some razzle-dazzle on their next drive, a halfback pass from Miles Brice to Tyrell Alexander, who caught the ball on a deflection at the Perry 4. But a Samurai goal-line stand kept Humphreys off the board; Hellams dropped a sure TD pass on second and goal.
Alexander netted the Blackhawks' first break on the next series when he recovered a Ricafrente fumble at the Samurai 14. Brice scored from the 5 three plays later with 1:30 left in the half.
Ricafrente triggered a running clock with 5:36 left in the third quarter when he capped a 71-yard, 12-play drive with a 32-yard touchdown run. Borrero sealed it late in the fourth quarter when he raced 52 yards for a score.
"This was a team effort," said Ricafrente, who finished with a Pacific-leading 24 touchdowns and a team-high 875 yards on 118 carries. "I could not have done anything without my line. My line puts the effort up and I just go with what they have."
Borrero finished with 118 yards on 16 carries, a team co-leading six tackles and his interception. Zach Brown had five tackles and three sacks and Elijah LeBron had six tackles.
Bulotovich went 8-for-18 for 126 yards and closed the season 57-for-140 for 1,142 yards. Williams had three catches for 71 yards and Alexander two for 59 yards. Da'Shun Cline had 117 all-purpose yards.
While disappointed in defeat, Bulotovich, a junior, said the game could serve as the trigger for good things for Blackhawks football. "We have the foundation. Better than last year. We just need to work harder," Bulotovich said.
"I'm very proud of the way they performed all year and I'm still proud of the way they performed in this game," Elliott said. "It was an uphill battle from the word go and they kept driving and doing the best they knew to do."
Twitter: @ornauer_stripes
---
---
---
---