Perry runs over Edgren for second straight triumph
---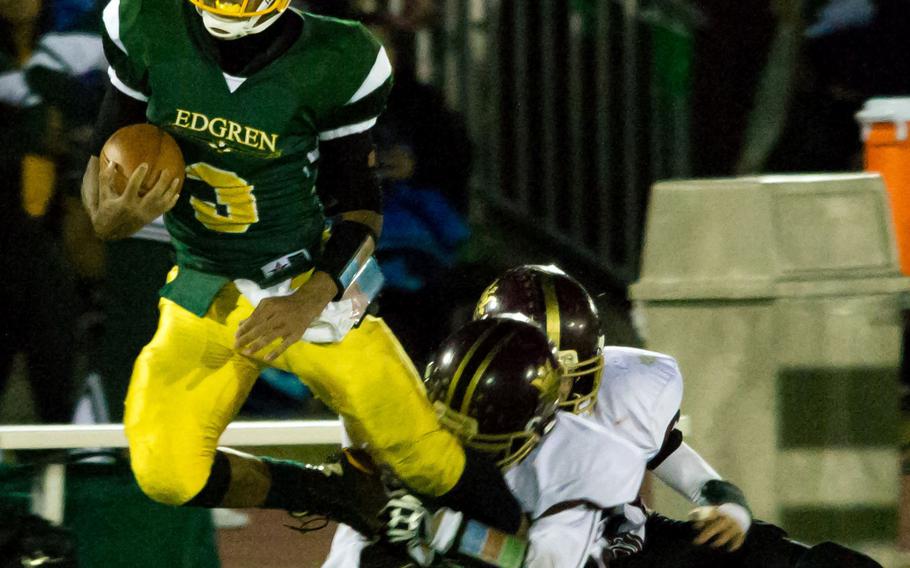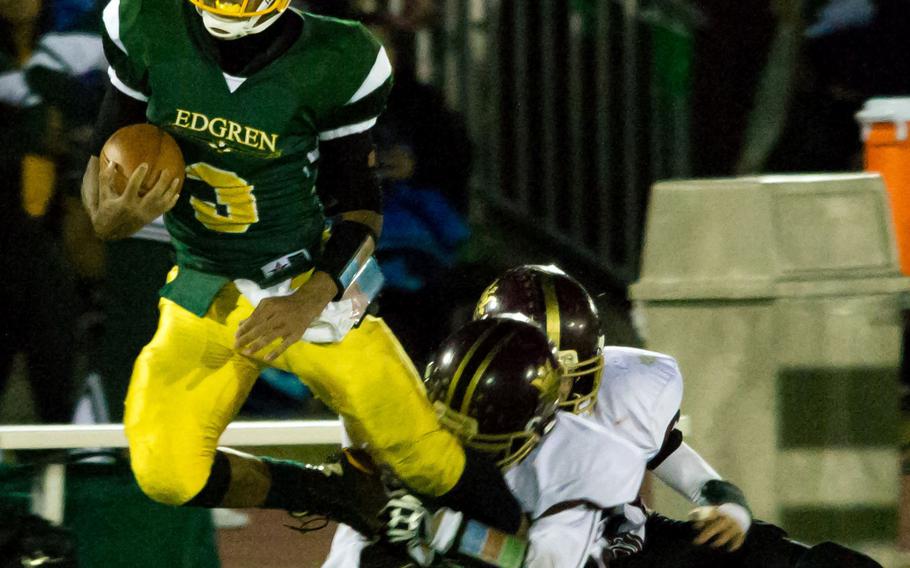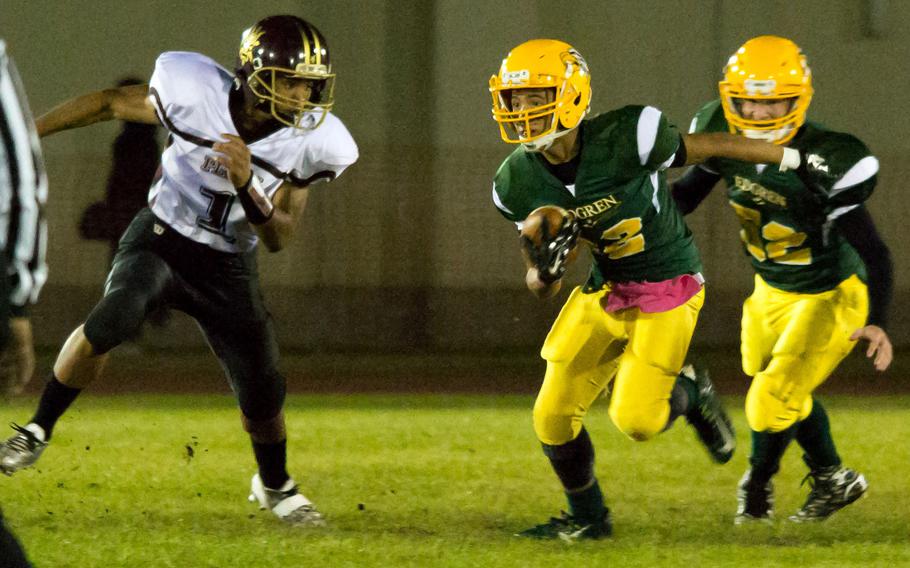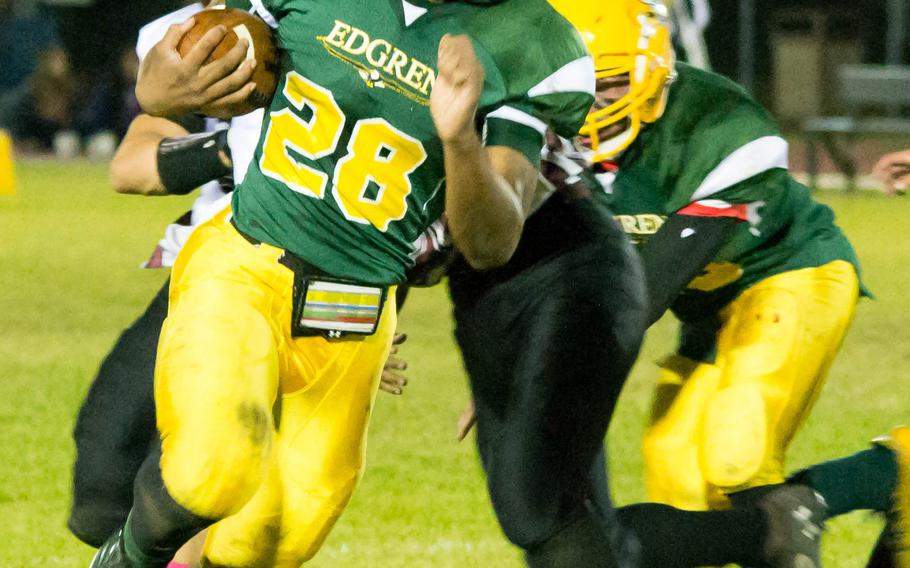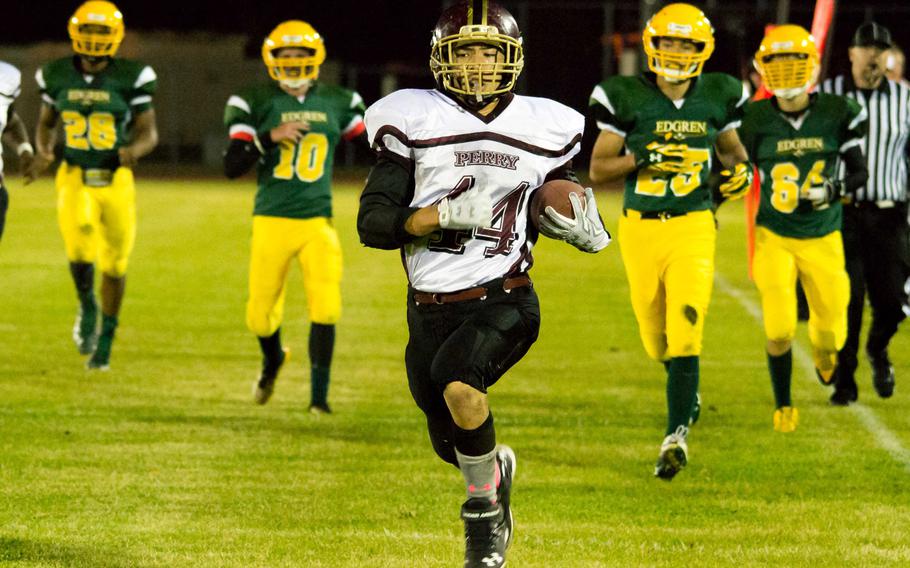 MISAWA AIR BASE, Japan – Returning to the ground attack that led them to the Far East Division II title game last season continues to agree with Matthew C. Perry football.
Caeleb Ricafrente rushed 12 times for 220 yards and three touchdowns and R.J. Bolduc and Jason DeGrace each added scoring runs as the Samurai won back-to-back games for the first time this season, rolling past Robert D. Edgren 40-14 on Friday.
It was the continuation of success the Samurai have had since switching back to its ground-based package late last month, steering away from the spread-option sets they used to open the season.
"The guys call it the 'Samurai Freight Train,' and it was rolling," coach Frank Macias said. Bolduc added 159 yards on 13 carries and DeGrace 47 yards on nine attempts.
With the victory, the Samurai ended the Eagles' faint hopes of catching DODDS Japan Division II-leading Yokota, which has already beaten the Samurai twice and the Eagles once.
Defensive stars shined for Perry (4-2) as well. Tyson Moore intercepted a pass and his brother Desmond returned another one 22 yards for a score. Andrew Borrero led the defense with 11 tackles and Andrew Jenkins blocked a punt.
"We're finally starting to gel," Macias said, adding that he and his players wish they could have another crack at Yokota, which beat the Samurai 55-7 and 35-14 earlier this season.
The Eagles (1-3) were beset by injuries, coach Jeremy Sanders said. "Rough night for us," he said. "They were dropping like flies."
Edgren got its two touchdowns on passes by Shawn Robinson-Ortiz to Vincent Doria, three fewer touchdowns than Robinson-Ortiz threw last week. Macias credited Samurai defensive coordinator Kevin Peterson for establishing a game plan to throttle Robinson-Ortiz. "He gives fits to everybody," Macias said.
The Eagles next host American School In Japan at 7 p.m. Friday. Perry plays its last game of the season on Oct. 23 at Zama; kickoff is 7 p.m.
---
---
---
---