Perry has a lot of work to do to get back to title game
by
Dave Ornauer
August 20, 2018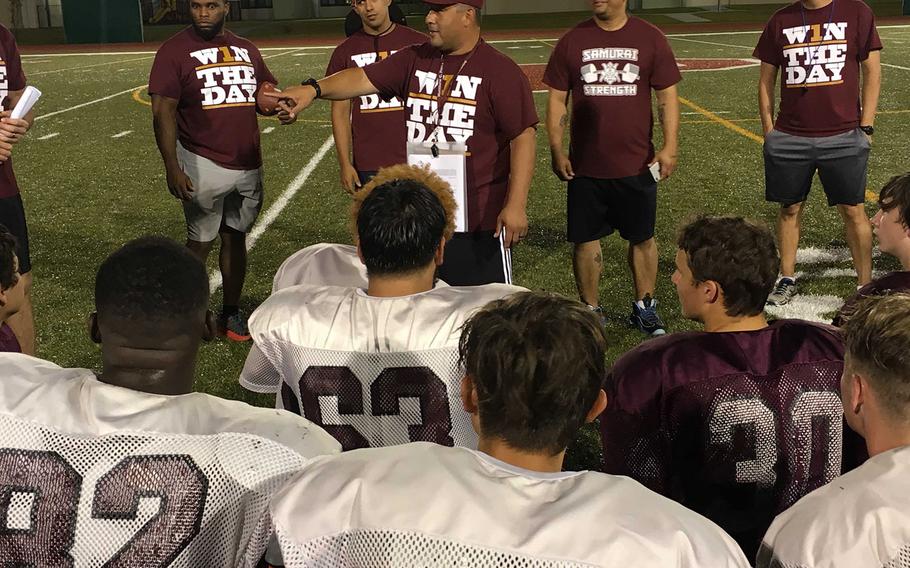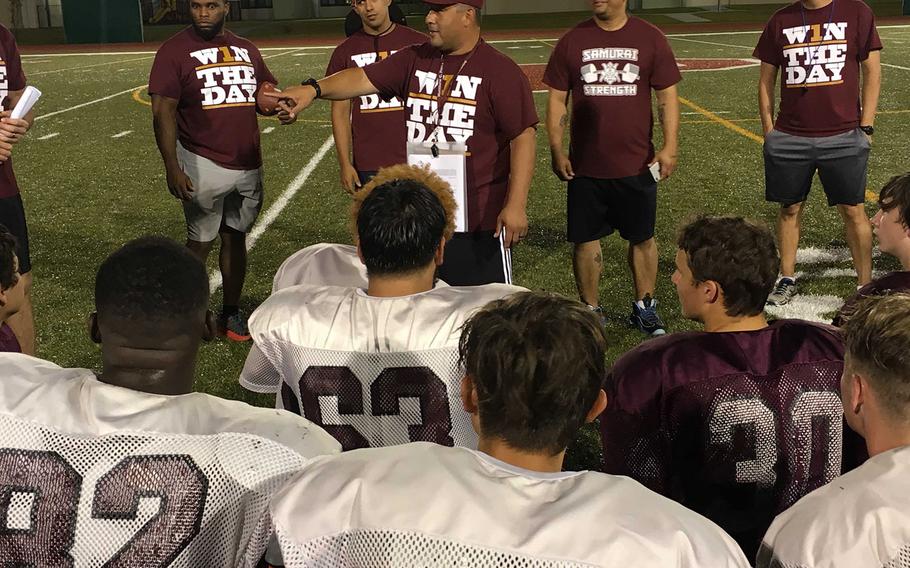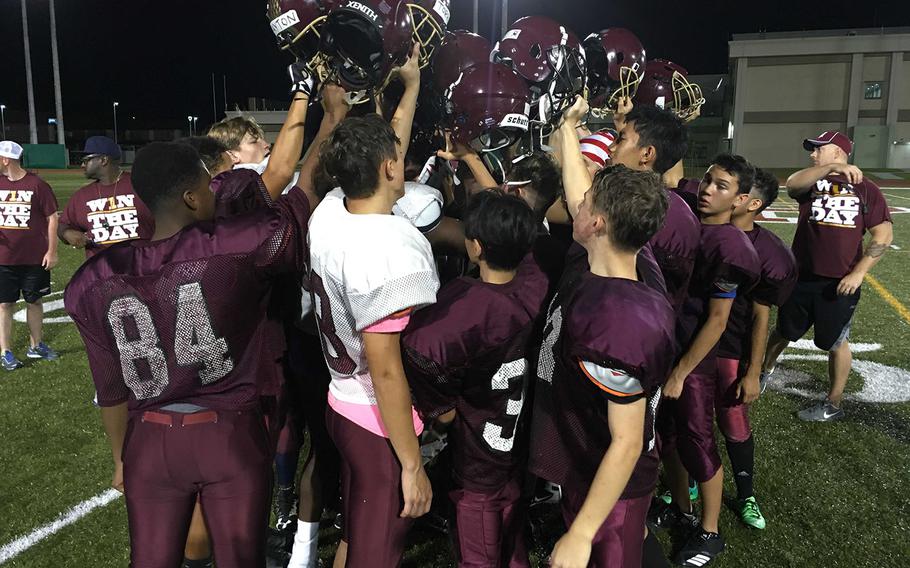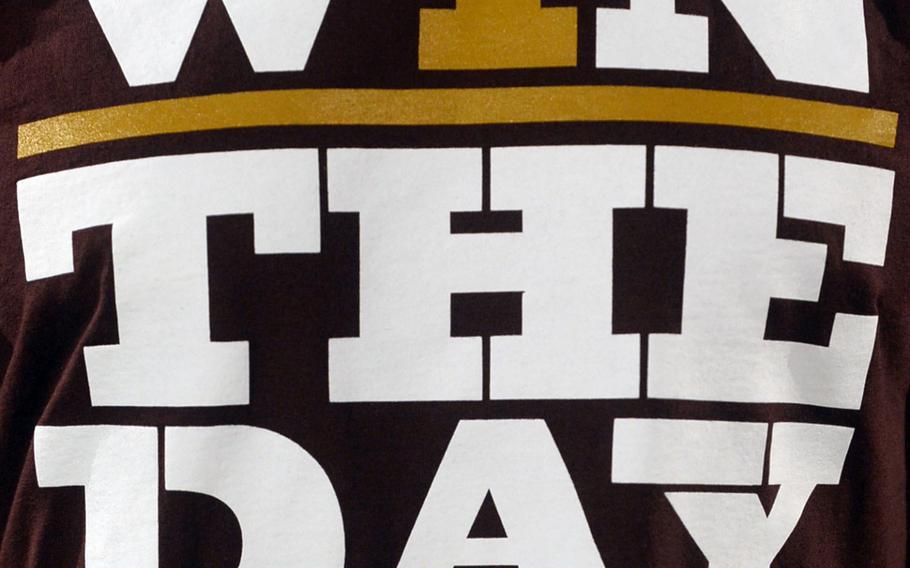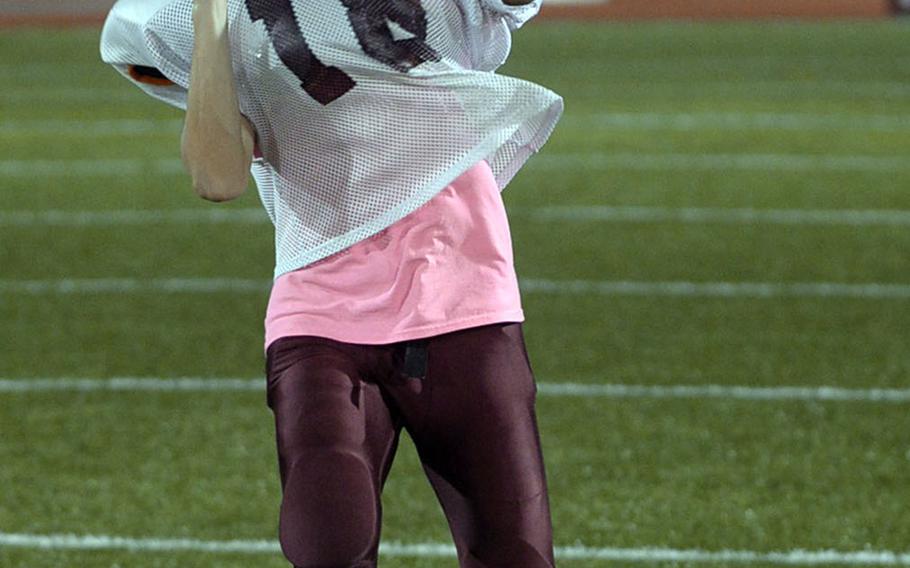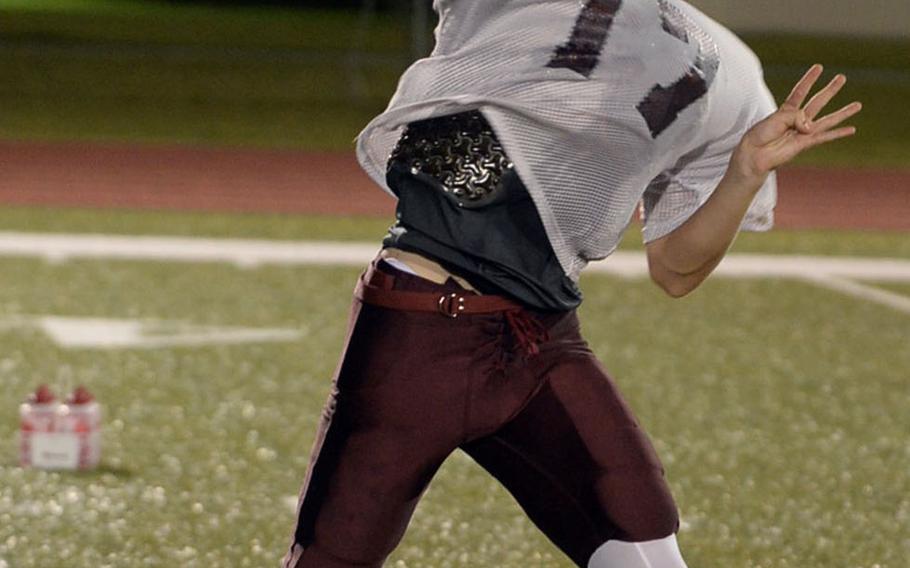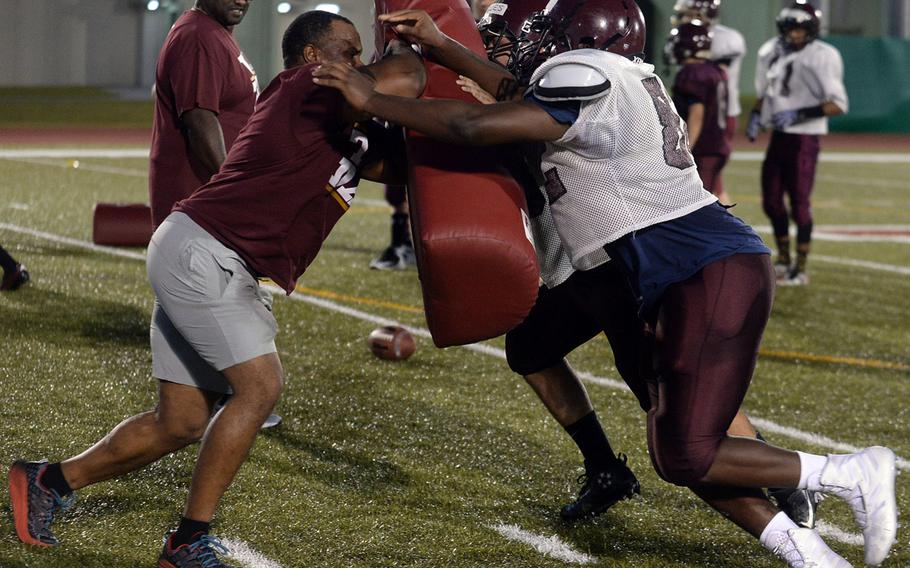 Fourth in a series of looks at high school football camps around the Pacific theater.
MARINE CORPS AIR STATION IWAKUNI, Japan – After playing in the last two Far East Division II championship football games, Matthew C. Perry finds itself starting over almost completely.
What graduation didn't claim among the Samurai's veterans, transfers finished. And the Samurai are left with just seven returning starters, with just one truly sizeable player in junior Marshall China.
But China and his fellow returnees say they're not worried about following the previous Samurai teams' acts, but creating one of their own.
"We have good discipline and teamwork," China said. "If we just play good football, we can still hang a banner."
"It's a whole new crew," coach Frank Macias said. "They're enthusiastic, they're excited about carrying on who we are, but doing it in our own way. But we coaches have our work cut out for us."
That work starts in the interior, where just two sizeable players line up, China and senior Derek Jacques. Experience is lacking in the rest of the line, as well as a pronounced lack of size.
"That's a very real thing," Macias said of the experience level. And for the moment, only 27 bodies are out for practices, so depth is also an issue "We don't have the depth this year that we had. If our front five isn't solid, nothing works."
Then, there's the matter of replacing the team's top five running backs who totaled 1,356 yards and 22 touchdowns on 262 carries. The leading rushing returner is China (63 yards, 1 TD, 15 carries), but he's needed in the line.
And for the first time since Macias transferred to Perry eight years ago, the Samurai don't have a player named Macias on the roster. The starting quarterback the last three years, Garrett Macias, graduated last June.
In many ways, Macias said, the team reminds him of the first one he coached at Perry, in 2012, when the program rebooted following a nine-season hiatus.
"But the coaches are hopeful" the Samurai can build with time, the elder Macias said. "The kids are working hard. They ran their own practices during the summer. There's a hunger here that wasn't quite here last year."
Already, two players are battling to fill the quarterback shoes, sophomore Matthew Ramp and junior Matthew Torrecillas. Each can also line up at wide receiver; the Samurai might incorporate some passing to complement the team's trademark double-wing offense.
"They're really learning," Macias said of his two quarterback protégés. "Replacing Garrett is tough, but we don't talk about what we don't have. They're working hard. We'll see what happens."
As to how much they'll pass instead of run, Macias remains one who prefers to coach a running game. "We have to keep it simple," he said. "Three yards and a cloud of dust tends to work the best."
It's just a question, Macias says, of how steep the learning curve is that will determine how quickly the Samurai will get well.
"The kids have a good work ethic, they're putting in the time and the effort, they're enthusiastic and they have a good attitude," Macias. "The wins and losses will take care of themselves. I'm excited."