Wrestling AOY
Paylor went from novice to champion
by
James Kimber
March 2, 2015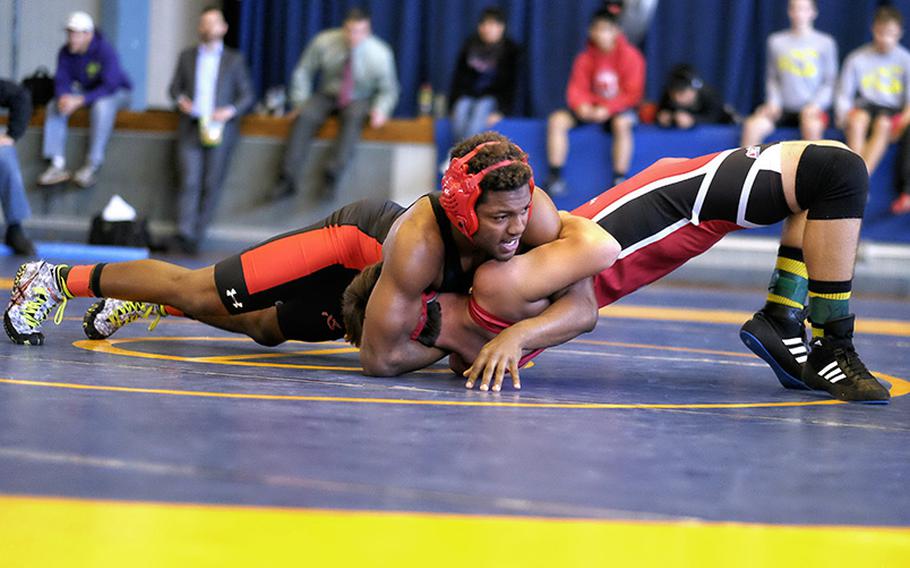 YOKOSUKA NAVAL BASE, Japan -- For three years, the coaching staff of Nile C. Kinnick's wrestling team tried to convince Dre Paylor, the school's star running back, to give wrestling a try.
They felt his strength, athleticism and agility would translate well to the mats.
Finally, the junior running back said yes. And what would follow would be an unexpected 22-1 season resulting in the 168-pound champion at the Far East Tournament and several others.
"It was hard as the season went on," Paylor said. "I found that wrestling wasn't about how much stronger you are than the other guy, but it's all mental. It's a mind game. If you can get in their head, you got him."
Paylor learned the hard way in his first match of the season against Ricky Salinas, then of E.J. King. Paylor, who bullied his way to more than 3,500 yards rushing as Kinnick's workhorse back on the gridiron, found his strength could be minimized by a seasoned technical wrestler such as Salinas.
"I learned a lot about technique like wrist control," Paylor said. "If the other guy gets a hold of your wrist and circles around you, it don't matter how strong I am anymore."
Paylor, the Stars and Stripes wrestling Athlete of the Year, lost that match and was already beginning to feel like he would regret the decision to join the wrestling team. He credits his dad for getting his focus back on the right track.
"He reminded me about my freshman year in football, how I wasn't starting," Paylor said. "He reminded me about how hard I practiced and how hard I hit the weight room to get bigger and stronger and I was rewarded with a starting job later. I took that and opened my mind up to listen to what the coaches were telling me and if I work hard enough, I'll be rewarded one way or another."
Paylor said he asked his coach, Gary Wilson, what he did wrong and how to not lose again.
"Coach told me that I can't try to force anything and I was trying to outmuscle the other guy. If I get too aggressive, they can use that against me, so I had to learn a lot about patience and restraint."
Restraint may have been the key to refining his technique. Wilson often had Paylor wrestle the 101 and 108-pound wrestlers in practice.
"I wasn't allowed to throw or lift those guys, of course, so it was all about technique," Paylor said. "And it's really hard to out-technique Lucas [Wirth] because he's so quick. But I could tell that he was making me better." And it wasn't just Wirth. Paylor credits the entire team to making him better.
"They're everything to me, it's like being in a room full of coaches," Paylor said. "They all knew how to motivate me in their own way and telling me what to do to be better next time. It was hard for me to see the progress, but they ensured me I was getting better every day and I trusted they were right."
That trust was eventually rewarded at Far East. Paylor earned some revenge on Salinas via 15-4 technical fall for the 168-pound title. Then helped the Red Devils take the team dual title the next day.
St. Mary's had built a sizeable lead over Kinnick before Paylor's match.
Paylor's technique work thwarted Mitchell Krcelic's attacks long enough before he was able to use the strength he spends so many hours in the weight room to obtain. Paylor worked himself into position for a four-point throw that turned the match and meet literally and figuratively on its head. The momentum carried Kinnick on to victory.
"It was the same thing I worked on with Wirth," Paylor said. "I established inside control, kept my shoulders and hips balanced and lower than his and waited until he opened up enough for me to lift him. I was really surprised at how all that time practicing technique really worked."
Paylor hopes to take what he learned as a wrestler to the football field when he moves to Texas next fall. Despite his success on the mats, he thinks he may be done with wrestling now that the season is over.
"It just makes me so tired," Paylor said.