DII boys
Panthers top Humphreys to hold onto crown
by
James Kimber
February 18, 2016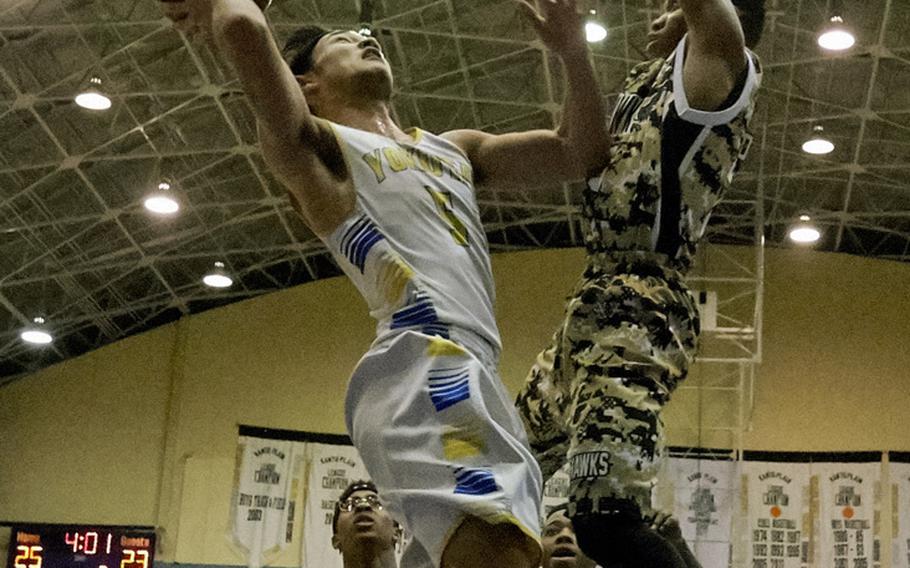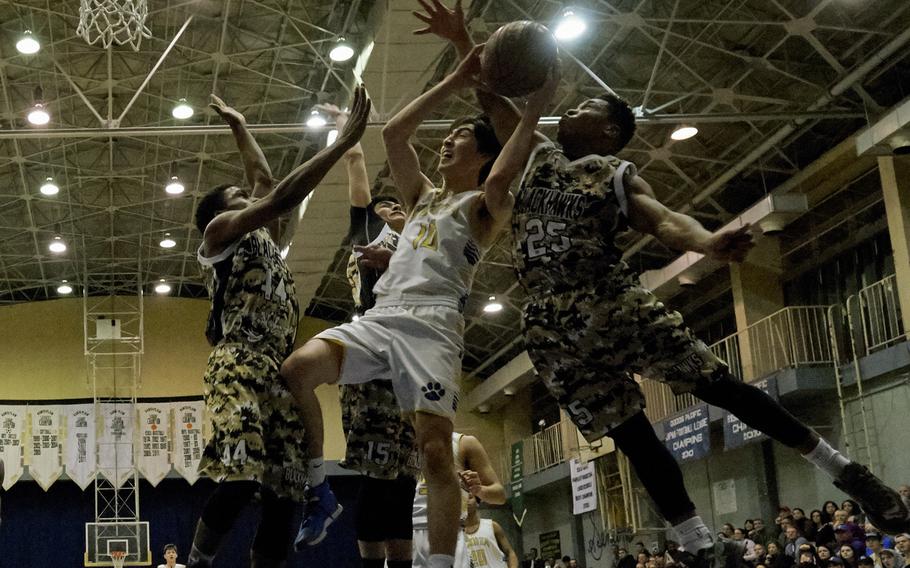 YOKOTA AIR BASE, Japan – The Yokota Panthers sit at the top of the food chain once again.
The hosts defeated the upstart Humphreys Blackhawks 67-51 on Thursday to repeat as the Far East Tournament Boys Division II champions.
Known for fast pace and efficient starts, Yokota came out uncharacteristically slow against a very athletic, swarming Humphreys team and trailed 17-13 after the first quarter.
"They're a big, fast team who likes to run," Yokota first-year coach Dan Galvin said. "We got caught playing their style of basketball early. We needed to stay true to who we are, play the way we play and see what happens."
Led by Shota Sprunger (game-high 23 points) and Marquis Smith-Brown (17 rebounds), Yokota sprang out on a 10-0 run to start the second quarter and gained the lead for good with 5 minutes, 37 seconds remaining. The Panthers held a 39-25 halftime lead.
Humphreys could never cut the deficit to less than nine the rest of the way. Bashr Edmonds led the Hawks with 13 points.
"I had faith in my teammates that we would pull off our goal to go back-to-back," said Tournament MVP Hunter Cort, who poured in 21 points. "Shota [Sprunger], Marcus [Henagan] and I were asked by Coach [Galvin] to still run Coach [Paul] Ettl's program because we already knew the system and it works really well for us. It's always a total team effort."
Ettl was Yokota's longtime head basketball coach who retired after last season's championship season.
Cort, who expects to be back next season, is well aware of his team's status of being the hunted and welcomes the challenge next season to make it a three-peat.
"It'll be tough losing some of the leadership we have right now, but we also had some young guys step up in this tournament and everyone made crucial plays for us; all nine of us. I'm confident we'll be ready for next season."
For Humphreys, the defeat is a disappointing end to a successful season. After a six-win 2015 season, the Hawks won 18 this season and their first title in Korea.
Coach Ron Merriweather is excited for another run at the school's first Far East title next year.
"I'm sad for my guys right now, but I couldn't be prouder of everything they've accomplished in such a short amount of time," Merriweather said. "They'll definitely take this experience to grow on and use it as fuel for our championship run next year."